2008 Australian Senior Track Championships - CN
Dunc Gray Velodrome, Sydney, February 4-10, 2008
Day 1 - February 4: Men U19 kilometre TT, LC & CP time trial
Milton back in the saddle with sights set on Beijing
Michael Milton (ACT) on his way
Photo ©: John Veage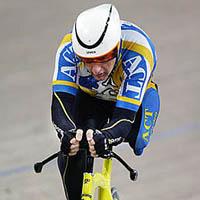 Michael Milton returned to the Australian Track Cycling Championships tonight to win gold just five months after undergoing surgery to remove his oesophagus and a malignant tumour. Tonight he contested the AWD (athletes with a disability) LC3 men's kilometre time trial and posted a time of 1:23.072 sec, clipping three seconds off the time he rode on debut in 2007.
"I'm relatively happy with my performance - what I rode today was actually around a PB from where I was at last April," said Milton. "You've got to be happy with that [but] there's still a lot of work to be done to achieve my goal and qualify for Beijing.
"I think I need to find around two and a half seconds somewhere and there's not much time to do it now, I've got to do it in the next eight weeks or so," he said.
Milton lost a leg as a result of bone cancer as a child but went on to claim six time Paralympic gold medals in skiing and is now trying to gain selection for the summer Paralympic Games where he hopes to add to his medal tally.
He began his quest at last year's Australian Championships where he set an Australian record in the 3km pursuit (LC3 division) to earn selection in the team for the Para-Cycling World Championships. But three months later, in July, he was diagnosed with cancer of the oesophagus forcing his withdrawal from the team. Prior to his latest battle with cancer Milton was focussed on the pursuit, but admits the time off the bike to recover has forced him to reassess his goals.
Former skier Michael Milton (ACT)
Photo ©: John Veage

"There's still some question marks in my coach's mind and my mind about which event we're really going to push to try and qualify in," said Milton. "The pursuit is going to be a little harder to get ready for, because in reality I've only been carrying a decent training load for four or five weeks.
"Probably where last year the pursuit was my better event, this year it is going to be the kilo at this stage," he said. "I've done so little training, it's a little bit of an unknown but we'll go for a hitout on Wednesday in the pursuit and see how we go.
"Training to come back from a serious illness, it's so hard to know how fast you can come back, what your body is going to do and what your body is not going to be able to do, you've just got to take it as it comes," he added. "It's really a tough balance to find and at this stage, it's a matter of just taking it where it's at and not having too high an expectation, because that can be really dangerous, to really force you into a corner, you're (then) in a lose-lose situation because your body is just not going to be ready."
Milton says the lure of Beijing has been a motivating force for him and his background in skiing has given him a mental advantage.
Scott Law (NSW) waves to fans
Photo ©: John Veage

"There's no doubt that qualifying for a Paralympic Games in track cycling is a huge carrot for me," said Milton. "Qualifying for a Paralympic Games into a team that had every member medal at the last Games, you've got to be punching out world-class times (and) if I do make it into the Paralympic Games, it's going to be by the skin of my teeth.
"One of my strengths as an athlete is I'm a mature athlete - I'm 34, I've been around the block, maybe not in cycling, but in skiing," he said. "Standing at the top of a speed ski run and trying to ski at 200km/h, you've got to have your head screwed on straight and the strength of the mental preparation is really....one of my key strengths.
"That's going to stand me in good stead when it comes to pressure situations.
Dual Athens Paralympic Games champion, Chris Scott,
Photo ©: John Veage

In other AWD competition in the opening session Sydney's Jayme Paris knocked three tenths of a second off the world record she set in France at last year's Para-Cycling World Championships to win gold in the CPDiv3 500m time trial. Paris, who is only 18 years old, rode a time of 46.611sec for the two lap event.
New Zealand's Paula Tesoriero gave the Championships a second world record in the opening session when she rode 44.237 sec in the LC3 women's kilometre final to defeat Canberra's Jane Armstrong. New Zealand picked up a second gold medal with Fiona Southorn's ride in the LC1 women's kilometre. West Australian, Claire McLean claimed the silver medal.
Victorian Michael Gallagher, the reigning world champion and world record holder, collected the gold medal in the LC1 kilometre time trial while in the LC4 competition for the kilometre gold medal Queensland's Greg Ball triumphed. Dual Athens Paralympic Games champion, Chris Scott, defeated Tasmanian Trent Deacon in the CPDiv4 one kilometre time trial.
In the junior U19 men's kilometre time trial reigning junior World Champion, Thomas Palmer, from Canberra had to settle for second place behind Scott Law (NSW) who posted 1:04.221 sec. Palmer, who rode immediately after Law, was level with his rival's time at the halfway mark but faded to finish four tenths of a second slower for the silver medal. Victorian Ben Sanders was third.
Photography
For a thumbnail gallery of these images, click here
Images by John Veage
Results
M19 1000m Time Trial Final
 
1 Scott Law (NSW)            1.04.20 (56.06 km/h)
2 Thomas Palmer (ACT)        1.04.60
3 Ben Sanders (VIC)          1.06.00
4 Peter Lewis (NSW)          1.06.30
5 Paul Fellows (NSW)         1.06.50
6 Stephen Hall (WA)                 
7 James Glasspool (SA)       1.06.90
8 Alex Carver (NSW)          1.07.90
9 Ethan O'Dell (QLD)         1.08.80
10 Ivan Cook (QLD)           1.08.90
11 Aaron Box (VIC)           1.09.20
12 Peter Loft (TAS)          1.09.50
13 Andrew Dolan (TAS)        1.11.50
DNS Trevor Griffiths (VIC)          
 
CP4 Men 1000m Time Trial Final
 
1 Christopher Scott (QLD)    1.12.80
2 Trent Deacon (TAS)         1.14.90
 
LC4 Men 1000m Time Trial Final
 
1 Gregory Ball (QLD)         1.23.30
2 Michael Eaddy (VIC)        1.30.50
 
LC3 Men 1000m Time Trial Final
 
1 Michael Milton (ACT)       1.23.10
2 Wayne Beckett (NZL)        1.25.80
 
LC1 Men 1000m Time Trial Final
 
1 Michael Gallagher (VIC)    1.12.70
2 Waine Harding (NZL)        1.17.80

CP3 Women 500m Time Trial Final
 
1 Jayme Paris (NSW)          0.46.61 
 
LC3 Women 500m Time Trial Final
 
1 Paula Tesoriero (NZL)      0.44.24
2 Jane Armstrong (ACT)       0.45.74
 
LC1 Women 500m Time Trial Final
 
1 Fiona Southorn (NZL)       0.42.11
2 Claire Mclean (WA)         0.43.33