Track World Cup 05-06 Round 4 - CDM
Sydney, Australia, March 3-5, 2005
Main Page Results Previous Day
Day 3 - March 5: Women: Scratch; Keirin
Men: Team sprint; Madison 40 km final
Dutch courage pays while women take centre stage
By Les Clarke in Sydney
The Nederlands
Photo ©: Mark Gunter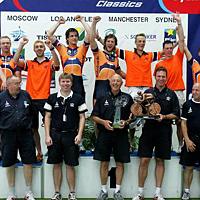 On the final day of competition in Sydney there more surprises and more speed as the women's keirin and men's team sprint combined with the women's scratch and men's Madison to entertain yet another strong crowd which showed that Sydney loves their track racing.
Women's keirin
Jennie Reed looked strong in the first round of the women's keirin, leading over the last two laps to easily hold off China's Mu Di in the first heat. In the second heat Yvonne Hijgenaar continued where she left off in the 500m tt last night to win ahead of China's Jonjie Gong. The second round saw Reed, Italy's Annalisa Cucinotta and Ukranian Lubov Shulyka qualify for the final from the first heat, while in the second heat Tamilia Abassova, Mu Di and Elisa Frisoni rode into the final after great work to position themselves ahead of quality riders such as Kristine Bayley and Yvonne Hijgenaar
In the final for 7th-12th, China's Jinjie Gong showed good pace over the final bend to secure 7th place ahead of Hijgenaar, with New Zealander Fiona Carswell and Lithuanian Viktorija Lomsargyte involved in a final-bend crash. Both riders thankfully escaped serious injury. The final for gold was won by Chinese rider Mu Di after leading out early in the final lap.
The womens Keirin final
Photo ©: Mark Gunter

It came down to a Reed-Di sprint, with Reed appearing to get a better run out of the final bend than her Chinese opponent - but it was Di who prevailed in a very close finish ahead of Reed and Italian Elisa Frisoni. Speaking after the finish, Reed was a little disappointed with her performance, admitting she may have underestimated Di in the finale. "There were a lot of moves I had to cover - there was a lot going on, and to be honest I think I underestimated the Chinese rider a little bit," said Reed after the finish. "I waited too long to have a run and come over the top, and although I thought I had with the bike throw, I guess I didn't."
She also added that, "I think we were pretty even and I made a little mistake; I was a little high coming around, which isn't typical of me but I thought I wouldn't have any problems coming around. That itself was probably a mistake." But having said that she's looking forward to world's and her recent strong form, which should serve her well in Bordeaux next month.
Men's team sprint
The french trio
Photo ©: Mark Gunter

In qualifying for the men's team sprint, Malaysia came out early to post a time of 46.620 before they were bettered by the New Zealand crew, who stopped the clock at 46.501. But these were blasted by the Dutch team of Theo Bos, Teun Mulder and Tim Veldt who posted a time of 44.479 to put themselves at the head of the leaderboard. France's trio of Gregory Bauge, Francois Pervis and Arnaud Tournant came out and rode a very respectable time of 44.769 to place themselves into the final against the Dutch.
Poland came out strongly in their ride-off for bronze against Japan but it wasn't enough to secure third place after the Japanese trio posted a time of 45.341 to take a medal deserving of their solid ride. In the gold medal race France came out strongly against the Dutch trio, with Gregory Bauge riding his usual excellent first lap to set up what could've been a slight upset. But it wasn't to be, as Bos, Mulder and Veldt powered through on each of their turns to stop the clock with a time of 44.628, just one tenth of a second faster than the French team.
It was a closely fought affair, with the Dutch riders only just keeping their noses in front throughout the race to provide another enthusiastic crowd with an entertaining performance. Speaking after the finish, Holland's boss on the track, Theo Bos played down his team's acheivement, saying that, "The world championships will decide who the best sprinters in the world are and which team is best," but that isn't to say he wasn't happy with the performance of his crew. He does know, however, that they could bring their time for the event down to be in with a real shot next month in France.
Women's scratch race
Nikki Harris (Great Britain)
Photo ©: Mark Gunter

It was a cagey affair in the women's scratch race, with Russia's Yulia Aroustamova timing her sprint to perfection to take the win ahead of the Czech Republic's Jarmilia Machacova. With none of the field prepared to make a real attempt at breaking away from the bunch, it always looked likely that the race would come down to a sprint over the closing laps - this was the case, and although there were surges of speed from various riders it became apparent nothing was going to stick.
Great Britain's Nikki Harris kept trying her luck off the front, putting in a number of attacks, but without any other riders expressing any interest in working together to get away the field kept coming back together. Coming into the final two laps Machacova made a brave effort to lead out a very long sprint, in fact setting Aroustamova up perfectly to power home through the final bend for the win.
Men's Madison
Denmark
Photo ©: Mark Gunter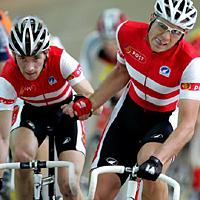 With Australia's pairing of Richard England and Simon Clarke featuring against the Great Britain duo of Mark Cavendish and Thomas Geraint it was expected that these two teams would fight it out for the win. The Danish pairing of Alex Rasmussen and Michael Morkov didn't read the script, however, leading from early on and holding on to take the win.
The Australians started the race strongly, with England and Clarke taking points on offer during the first three sprints but it was the teams of Denmark, Italy, Ukraine and Great Britain that blew the race open shortly before the fourth sprint when they made their way off the front to lap the field. From there it was a race between these four pairs, with the Danish duo keeping a watchful eye on the Ukranians, who were shaping up as their main rivals.
There were plenty of attacks from the remaining teams, now a lap behind, but none had any sting in them until the German pair of Christian Lademann and Erik Weispfennig were able to make their way onto the lead lap through sustained attacking riding. An excellent effort from the two Germans which was rewarded with a solid fifth place at the finish. But it was all about Denmark's two riders, who added another gold medal to their country's win in the team pursuit the previous night.
Team manager Heiko Salzwedel was extremely pleased with the pair, saying after the finish, "They rode a really smart Madison, doing all the right things and from my point of view I didn't have to make many corrections during the race."
The legendary coach was enthusistic about his team's performances at the meet, saying, "Denmark hasn't been on the podium for 14 years - and to now be on top of the podium is very exciting. These two young guys - Alex is still 22 and Morkov is just 21 - they still have a long way to go, and it's very exciting."
Photography
For a thumbnail gallery of these images, click here
Images by Mark Gunter/www.pbase.com/gunterphotograph
Results

 
Women scratch
 
Qualifying
 
Heat 1
 
1 Adrie Visser (Netherlands)
2 Sung Eun Gu (Korea)
3 Lyudmyla Vypyraylo (Ukraine)
4 Belinda Goss (Australia)
5 Jarmila Machacova (Czech Republic)
6 Yulia Aroustamova (Russia)
7 Monia Baccaille (Italy)
8 Nikki Harris (Great Britain)
9 Karolina Janik (Poland)
10 Mandy Poitras (Canada)
11 Uracca Leow Hoay Sim (Malaysia)
12 Sima Trapp (USA)
13 Maria Tzoumanika (Greece)
 
Heat 2
 
1 Annalisa Cucinotta (Italy)
2 Olaberria Dorronsoro L. (Spain)
3 Elizaveta Bochkaryova (Ukraine)
4 Lauren Franges (USA)
5 Alena Prudnikova (Russia)
6 Gina Grain (Canada)
7 Catherine Sell (New Zealand)
8 Noor Azian Alias (Malaysia)
9 Pascale Schnider (Switzerland)
10 Katarzyna Jagusiak (Poland)
11 Skye-Lee Armstrong (Australia)
12 Yumari Gonzalez (Cuba)
13 Iona Wynter Parks (Jamaica)
14 Songee Han (Korea)
 
Final
 
1 Yulia Aroustamova (Russia)
2 Jarmila Machacova (Czech Republic)
3 Alena Prudnikova (Russia)
4 Monia Baccaille (Italy)
5 Olaberria Dorronsoro L. (Spain)
6 Belinda Goss (Australia)
7 Catherine Sell (New Zealand)
8 Nikki Harris (Great Britain)
9 Gina Grain (Canada)
10 Annalisa Cucinotta (Italy)
11 Adrie Visser (Netherlands)
12 Sung Eun Gu (Korea)
13 Lyudmyla Vypyraylo (Ukraine)
14 Lauren Franges (USA)
15 Mandy Poitras (Canada)
16 Pascale Schnider (Switzerland)
17 Karolina Janik (Poland)
18 Noor Azian Alias (Malaysia)
19 Elizaveta Bochkaryova (Ukraine)
20 Katarzyna Jagusiak (Poland)
 
Women keirin
 
First round
 
Heat 1
 
1 Jennie Reed (USA)
2 Mu Di (China)
3 Elisa Frisoni (Italy)
4 Lubov Shulyka (Ukraine)
5 Fiona Carswell (New Zealand)
6 Magdalena Sara (Poland)
7 Kristine Bayley (Australia)
 
Heat 2
 
1 Yvonne Hijgenaar (Netherlands)
2 Jinjie Gong (China)
3 Elisabeth Williams (New Zealand)
4 Annalisa Cucinotta (Italy)
5 Jin A You (Korea)
6 Tamilia Abassova (Russia)
7 Viktorija Lomsargyte (Lithuania)
 
Repechage
 
Heat 1
 
1 Elisa Frisoni (Italy)
2 Jin A You (Korea)
3 Annalisa Cucinotta (Italy)
4 Kristine Bayley (Australia)
5 Magdalena Sara (Poland)
 
Heat 2
 
1 Lubov Shulyka (Ukraine)
2 Tamilia Abassova (Russia)
3 Fiona Carswell (New Zealand)
4 Viktorija Lomsargyte (Lithuania)
5 Elisabeth Williams (New Zealand)
 
Second round
 
Heat 1
 
1 Jennie Reed (USA)
2 Annalisa Cucinotta (Italy)
3 Lubov Shulyka (Ukraine)
4 Jinjie Gong (China)
5 Jin A You (Korea)
6 Viktorija Lomsargyte (Lithuania)
 
Heat 2
 
1 Elisa Frisoni (Italy)
2 Mu Di (China)
3 Tamilia Abassova (Russia)
4 Fiona Carswell (New Zealand)
5 Yvonne Hijgenaar (Netherlands)
6 Kristine Bayley (Australia)
 
Final 1-6
 
1 Mu Di (China)
2 Jennie Reed (USA)
3 Elisa Frisoni (Italy)
4 Lubov Shulyka (Ukraine)
5 Tamilia Abassova (Russia)
6 Annalisa Cucinotta (Italy)
 
Final 7-12
 
7 Jinjie Gong (China)
8 Yvonne Hijgenaar (Netherlands)
DNF Viktorija Lomsargyte (Lithuania)
DNF Fiona Carswell (New Zealand)
DNS Kristine Bayley (Australia)
DNS Jin A You (Korea)
 
Men's Madison
 
1 Denmark                                    14 pts
 Michael Mørkøv
 Alex Rasmussen
2 Italy                                      11
 Fabio Masotti
 Marco Villa
3 Great Britain                              10
 Mark Cavendish
 Geraint Thomas
4 Ukraine                                     8
 Lyubomyr Polatayko
 Volodymyr Rybin
5 Germany                                     6
 Christian Lademann
 Erik Weispfennig
 
One lap behind
 
6 Russia                                     13
 Alexander Khatuntsev
 Sergey Kolesnikov
7 Australia                                  10
 Simon Clarke
 Richard England
8 Korea                                       5
 Sun Jae Jang
 Sung Baek Park
9 Netherlands                                 5
 Jens Mouris
 Niki Terpstra
10 Belgium                                    0
 Nicky Cocquyt
 Davy Tuytens
11 Argentina                                  0
 Jose F. Antogna
 Juan Gaspari
 
Two laps behind
 
12 Canada                                     5
 Zach Bell
 Martin Gilbert
13 Spain                                      1
 Miguel Alzamora Riera
 Unai Elorriaga Zubiaur
 
Three laps behind
 
14 Switzerland
 Maxime Bally
 Grégory Devaud
DNF Belarus
 Siarhei Daubniuk
 Dzmitry Smirnou
DNF Hong Kong
 King Wai Cheung
 Kam Po Wong
 
Men team sprint
 
1 Netherlands                     44.479  (60.702km/h)
 Theo Bos
 Teun Mulder
 Tim Veldt
2 France                          44.769  (60.309km/h)
 Grégory Bauge
 François Pervis
 Arnaud Tournant
3 Japan                           45.393  (59.480km/h)
 Masaki Inoue
 Takashi Kaneko
 Kazunari Watanabe
4 Poland                          45.395  (59.477km/h)
 Lukasz Kwiatkowski
 Tomasz Schmidt
 Damian Zielinski
5 Australia                       45.724  (59.049km/h)
 Ben Kersten
 Joel Leonard
 Shane Perkins
6 Spain                           45.768  (58.993km/h)
 Alvaro Alonso Rubio
 Alfredo Moreno Cano
 José Antonio Villanueva Trinidad
7 China                           45.861  (58.873km/h)
 Yong Feng
 Zhang Lei
 Qiming Wang
8 New Zealand                     46.501  (58.063km/h)
 Justin Grace
 Nathan Seddon
 Adam Stewart
9 United States                   46.547  (58.005km/h)
 Benjamin Barczewski
 Giddeon Massie
 Christian Stahl
10 Malaysia                       46.620  (57.915km/h)
 Junaidi Mohd Nasir
 Josiah Ng On Lam
 Mohamed Rizal Tisin
11 Canada                         46.829  (57.656km/h)
 Cam Mackinnon
 Yannik Morin
 Travis Smith
12 Korea                          47.679  (56.628km/h)
 Yeong Gyu Jeon
 Dong Jin Kang
 Hee Chun Yang
 
Gold final
 
1 Netherlands                     44.628  (60.500km/h)
 Theo Bos
 Teun Mulder
 Tim Veldt
2 France                          44.730  (60.362km/h)
 Grégory Bauge
 François Pervis
 Arnaud Tournant
 
Bronze final
 
1 Japan                           45.341  (59.548km/h)
 Masaki Inoue
 Takashi Kaneko
 Kazunari Watanabe
2 Poland                          45.552  (59.272km/h)
 Lukasz Kwiatkowski
 Tomasz Schmidt
 Damian Zielinski