Track World Cup 04-05 Round 4 - CDM
Sydney, Australia, February 18-20, 2004
Sydney plays host to Track World Cup finale
Canada's Olympic gold medalist Lori-Ann Muenzer
Photo ©: epicimages.us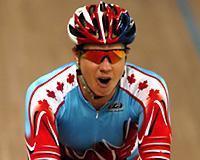 The Dunc Gray Velodrome in Sydney will host riders from 26 countries in this week's fourth and final round of the UCI Track Cycling World Cup Classics Series, February 18-20. The World Cup is the final international event before the March World Championships in Los Angeles and has attracted a stellar field.
Athens Olympic gold medallist, World Champion and world record holder for the 500m time trial, Anna Meares, 21, will be in action in the sprint, the event in which she claimed the bronze medal in Athens and the silver medal at last year's World Championships. Headlining the sprint will be Canadian Lori-Anne Muenzer, the reigning Olympic Champion who was recently in Adelaide competing at the Australian Championships as preparation for Sydney.
"I think it will give me some more confidence because I haven't had a lot of racing this year," said Muenzer. "And racing is what it's all about."
The 38 year old was one of only three Canadians to win gold in Athens and she admits her life since the victory has been frantic. "It's been an absolute whirlwind and the hardest part has been balancing school and community speaking requests and it's been inspirational for me and I hope for the children I've spoken to," said Muenzer who unlike most of her rivals didn't take a break after Athens. "It's best to strike while the iron's hot and training is the easy part. My main aim is to try a few more things out, learn a few new things and have fun in Sydney."
Not only will Muenzer have to face Anna Meares, she'll also have to match Kerrie Meares, the 2002 Commonwealth Games sprint champion who this week, in her comeback from a back injury that ruled her out of last year's Olympic Games, defeated Muenzer in two straight heats in the semi finals of the women's sprint.
Olympic sprint silver medallist and reigning sprint World Champion, Theo Bos of the Netherlands has been in Sydney for a couple of weeks training at the Dunc Gray Velodrome in advance of next week's event. Bos who defeated West Australian Ryan Bayley for gold at the World Championships last year had to settle for silver when Bayley turned the tables on him in Athens. Whilst Bayley will miss Sydney and the upcoming World Championships due to injury Bos will face in-form South Australian Jobie Dajka who this week claimed the Australian sprint crown. Also lining up in the men's sprint events is Polish star Damien Zielinski, 23, who last year was fourth at the World Championships and seventh at the Olympic Games.
France's fast men in eight time World Champion, Laurent Gané, 31, and nine time World Champion, Arnaud Tournant will return and traditionally perform well on the Sydney track.
Sydney's Ben Kersten, who after four days of competition at the Australian Championships already has two gold medals and a silver, will line up for the kilometre time trial as his main event in Sydney whilst Kate Bates, another dual gold medallist in Adelaide with her pet event, the points race, still to come is expected to dominate the women's endurance competition. Already this year she has blitzed the international competition picking up three gold medals in last month's World Cup round in Manchester.
More information: www.cyclingnews.com/sponsors/sydneytrackwc/