Sydney Track World Cup - CDM
Sydney, Australia, May 14 - 16, 2004
Preview Event program and results
The world arrives in Sydney
Buzz builds for final world cup round
New Zealand on the way to victory in 2003
Photo © Mark Gunter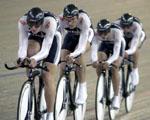 A host of world and Olympic champions will be in action in 16 events over three days when more than 200 cyclists from 41 nations contest the fourth and final round of the UCI Track World Cup Classics series being staged at Sydney's Dunc Gray Velodrome from May 14 to 16. A host of world and Olympic champions will be in action in 16 events over the three days.
Australia's team includes 2002 keirin World Champion, Jobie Dajka, who this week returned from Japan where he has been contesting the lucrative Japanese International Keirin Series. Dajka, who last year claimed silver medals in both the keirin and the sprint at the World Championships in Stuttgart, Germany, will be keen to impress after missing the Australian Championships. But he will face tough opposition from the likes of American Marty Nothstein who won gold in the sprint at the Sydney Olympic Games and is back on track ahead of his bid to gain selection for the Athens Olympic Games.
The Great Britain team is expected to perform strongly with 2002 kilometre time trial World and Commonwealth Games Champion, Chris Hoy, racing in his pet event and then teaming with Craig McLean and Jamie Staff in the teams sprint event. Hoy and McLean were members of the silver medal teams sprint trio in Sydney 2000 and with Staff claimed gold at the 2002 World Championships.
The British team also boasts 2002 points race World Champion, Chris Newton.
Three time World Champion, Franco Marvulli, will head the Swiss contingent. Marvulli won gold in both the Madison and scratch race at last year's World Championships. It was his second consecutive gold in the scratch race. His Madison partner at last year's World Championships, Bruno Risi, is also starting in Sydney.
Bathurst cyclist, Mark Renshaw, has returned from Europe where he races with the Fdjeux.com professional road team, to contest the World Cup while Sean "Big Man' Eadie (NSW) continues his successful comeback from injury. The Australian team also boasts a wealth of younger talent being given a chance to shine in the world senior ranks including Michael Ford (Vic), who at the recent Australian Championships broke the world record for the 3km individual pursuit which had been set by Brad McGee in 1994. Ford is unlikely to line up in the individual pursuit in Sydney (the senior distance is 4km) but will be a member of the teams pursuit line up.
Rochelle Gilmore (NSW) and Amy Safe (SA) are late scratchings from the Australian team, both due to illness, but Australian Championships pursuit silver medallist and points race champion Alexis Rhodes will add the scratch race to her World Cup program. Rosealee Hubbard (SA), who recently claimed the Australian Title in the keirin has been added to the team.
Track World Cup: "Anything could happen" says Aussie coach
By Karen Forman
Australia will present what is probably its youngest team ever at this weekend's final round of the UCI track world cup in Sydney - and although coaches say they don't know what will happen, they are confident the Aussies will be giving the international visitors a run for their money.
Endurance coach Gary Sutton, who arrived at the Dunc Gray velodrome on Wednesday to greet the team, fellow endurance coach Rod McGee and sprint coach Martin Barass, told Cyclingnews he was looking forward to a weekend of top notch racing.
"But I can't say much more, other than we don't know what to expect," he said. "This is probably one of the youngest teams we've ever put on the track. It will be a fantastic exposure for our young seniors, like CJ [his son, Chris Sutton] and Chris Pascoe, who are 18 and 19, and juniors like Michael Ford and Miles Olman. Then there is Alex Rhodes who is 18 and Bec Ellis is 20, so it's very exciting."
The "oldies" on the team, like Sean Eadie and Jobie Dajka, would be the main hopes, he said. "I would expect that everyone will give 100 per cent. The standard is very, very high in every area. Most teams are running their best athletes. Like, the French are here, the Mexicans. Sean and Jobie and Anna [Meares] will be up against some strong opposition in every event."
Sutton said it was disappointing that scratch race specialist Rochelle Gilmore had had to withdraw from the team due to illness, but that "the priority is to get Rochelle's health right. It's disappointing that she's not here, but we will have her going well at the Worlds."
Sutton said while the team hoped to do well in Sydney, the World's was the main priority. "That's where we need to perform," he said. "Whatever we do here is a bonus."