2004 CQU Rockhampton Cup on Wheels
Queensland, Australia, January 16-17, 2004
Australia's richest two-day track carnival north of Sydney
Kerrie Meares (AIS)
Photo ©: Brett Ruff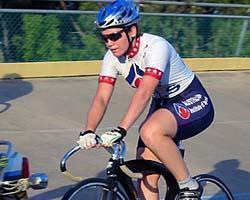 The central Queensland Australian centre of Rockhampton is the focus of the country's leading track cyclists this weekend with the hosting of annual Central Queensland University Rockhampton Cup on Wheels. While the country's best road cyclists will do battle this weekend several thousand kilometres to the south in Victoria on the roads of Ballarat in the Australian Open road championships, the trackies are heading north.
Over 160 entries have been received for the two-day track carnival that runs from Friday, January 16 to Saturday January 17, 2004 with over AUS$15,000 prizemoney up for grabs at the Kenrick Tucker Velodrome.
The CQU Rockhampton Cup on Wheels caters for riders from U/9 through to Masters and this year has such high nominations from the women that separate female and male catergories will be run in every age division on offer except masters.
Rockhampton is rich in cycling talent for an Australian regional city of 65,000. The Rockhampton Cycling Club has produced four World Junior Track Champions in the last four years, with Kerrie Meares in 2000, Anna Meares in 2001, Wade Cosgrove in 2002 and Miles Olman in 2003 under the guidance of the great coaching infrastructure the club has in place. The club also has several riders who ride in the professional circuits overseas, including Glen Chadwick who rides for Giant Asia in Europe.
Tyler Wright (Rockhampton) grins for the camera
Photo ©: Brett Ruff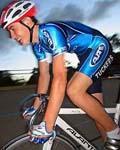 The CQU Rockhampton Cup on Wheels will play host to our own Kerrie Meares and Miles Olman, as well as Michael Ford of Victoria who is a 2003 Silver medallist at the World Junior Track Championships in Moscow in the Individual Pursuit and the Teams Pursuit, Geoff Hopkins of Bankstown and Rebecca Ellis of New South Wales. The women will race for $1000 prizemoney in the 5-lap Capricornia Cup and the men will race for $2000 prizemoney in the 5-Lap Rockhampton Cup. The men will also be racing the madison on Saturday night.
More News
Sponsors back local racing
Masters on the edge
Results
Day 1 - January 16
Day 2 - January 17
Photos
Images by Brett Ruff