World Junior Track Cycling Championships - CDM
Australia, August 21-25 2002
Miranda Vierling - brains over brawn in the points race
By Karen Forman In Melbourne
With coach Peter Pieters
Photo: © Tom Balks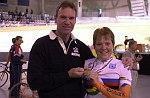 On the road she's a sprinter, but when it comes to racing a bike on the track, Miranda Vierling has always thought herself more of an endurance rider.
That's why she targeted the individual pursuit when she came Down Under to contest the 2002 World Junior Track Championships. She thought that after her fifth placing in the IP at the recent European championships, she might manage to finish in medals contention in Australia.
But the competition on the velodrome at Melbourne's Vodafone Arena was very tough and the tiny blonde finished sixth in her pet event on Saturday night, behind German Julia Kurtzke.
She was disappointed, but didn't have time to lament. There was another event to prepare for - Sunday night's points race - and although it wasn't her favourite genre, she did place fifth in the race at the Euros . . .
Of course, not being a sprinter physiologically meant she would have to ride this sprinter's race a little differently to those among her rivals with eminently perfect short twitch muscle fibres.
And so the 18 year old fitness centre worker from the large city of Denhaag put into practice something she had seen a few days since the introduction of the new UCI points and scratch race rules.
"I knew that if I could get away and go around to stay behind the bunch, I could maybe get enough points and then go forward (to the front of the bunch) and get 10 points for lapping the field," she said.
"I knew I would not be able to sprint fast and win points that way, so I did it this way I had seen a few times before.
"I went (off the front) and they didn't go after me. So I just went around and stayed behind."
In fact, Vierling collected an extra 15 points by doing this, because the commissaires did not declare the field lapped for 12 laps.
Victorious
Photo: © Tom Balks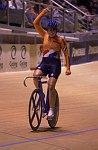 The move was the subject of some controversy around the track, but Vierling was happy with her win.
"I wanted to get enough points and then go forward to the front," she said. "When I was told to go forward, I had enough points." She collected an extra 10 for lapping the field.
Backing up on the final night of competition tonight (Sunday) for the women's scratch race Vierling was optimistic about her chances for a medal. That optimism was in spite of a night of little sleep - caused, she said, by the "many phone calls" of congratulations she had received, combined with a constant need to eliminate the large quantity of water she had been required to ingest for drug testing.
"I was feeling good," she said. "Not too tired."
However, she found the pace a bit tough, along with the fact that her gold medal the previous night meant she was marked by other riders.
"Every time I tried to go, they came with me," she said.
She stayed with the bunch and with two laps to go led a charge around the outside but was eclipsed by eventual winner Russian Ekaterina Merzlikina and placegetters Korean Eun Gu Sung, Australian Belinda Goss and Japanese Tomoko Endo.
She also managed to avoid a devastating crash with 30 metres to go, which brought down four riders.
Vierling headed back home Monday where she will ride on the road for a while. She says she likes both disciplines equally and isn't sure what she wants to do with her cycling from here.
She started when she was eight, following her father and sister into the sport. But after her world championship this week, she has become the most successful rider in her family.
Olympics, then?
"I am not thinking of that right now," she said, modestly.