Introduction to Track Racing - What's a Wheelrace? - Introduction to Six Day racing - UCI codes
USA Elite National Track Championships - CN
USA, October 1-5, 2008
Main Page Results Overall standings Previous Day Next Day
Day 3 - October 3: Men: Individual pursuit, Sprint semifinal, final, Scratch race final; Women: Individual pursuit, Keirin, Scratch race final
Phinney records new track record on way to third national title
18 year-old captures second straight elite individual pursuit title
Taylor Phinney (Garmin / Chipotle)
Photo ©: Mitch Clinton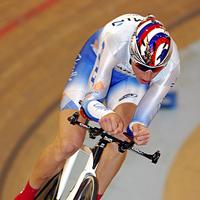 Taylor Phinney (Garmin-Chipotle) set a new track record in the men's 4,000-meter individual pursuit and won his third national title of the week on Friday at the 2008 USA Cycling Elite Track National Championships at the ADT Event Center velodrome.
Phinney clocked a time of four minutes, 23.514 seconds in the qualifying round to establish the new record before beating Daniel Harm (Wash./Broadmark) in the gold medal final to win his second consecutive elite title in the individual pursuit and complement his kilometer time trial and team pursuit titles from earlier in the week. Third-place finisher Julian Kyer (RMCEF Racing) took the bronze medal ahead of Daniel Lionberg (Colorado State University) and also earned the U23 national championship.
In the women's 3,000-meter individual pursuit, Kimberly Geist (Metro Volkswagen) claimed the national title over Alison Powers (Colavita-Sutter Home). Powers qualified first with a mark of 3:50.496, but fell to Geist in the head-to-head final by less than a half second. Geist, 21, was also awarded the U23 championship. In the race for the bronze medal, Shannon Koch (Texas/Metro Volkswagen) beat Annette Williams (Avanti).
Kimberly Geist (Metro VW)
Photo ©: Mitch Clinton

The men's and women's scratch races were also contested as Daniel Holloway (Garmin-Chipotle) and Shelley Olds (Proman Paradigm) claimed victory. Holloway lapped the field in his 15-kilometer race to secure the men's title as Kenny Williams (First Rate Mortgage) and Cody O'Reilly (Successful Living) finished second and third overall. In the women's race, Olds outsprinted Kacey Manderfield (Verducci Breakaway Racing) and Rebecca Quinn (Southbay Wheelmen) in the 15-kilometer contest to take the win.

After the men's match sprint field was pared down to the final four on Thursday, Jimmy Watkins (Momentum) beat Stephen Hill (East Point Track Club) in two straight rides to claim the gold medal while Lanell Rockmore (Gotham Cycling) was awarded the bronze. Michael Blatchford (Cody Racing) withdrew before his semifinal match against Hill due to a lingering injury but was still awarded the U23 title.

In the final title decided on Friday, Cari Higgins (Proman-Paradigm) won the women's keirin over runner-up Dana Feiss (Tri State Velo) and Cristin Walker (Northwest Cycling Club).
Photography
For a thumbnail gallery of these images, click here
Images by Rob Evans/www.otbphoto.com
Images by Mitch Clinton/www.clintonphoto.com
Results
Men's Individual Pursuit

Third place race

1 Julian Kyer (RMCEF Racing)                4.46.7 (50.227 km/h) 
2 Daniel Lionberg (Colorado State Unive)    4.50.6

Final

1 Taylor Phinney (Garmin / Chipotle)    4.23.5 (54.646 km/h)
2 Daniel Harm (Broadmark)                       

Ranking by time

1 Taylor Phinney (Garmin / Chipotle)         4.23.5 (54.646 km/h)
2 Daniel Harm (Broadmark)                    4.39.6
3 Daniel Lionberg (Colorado State Unive)     4.43.5
4 Julian Kyer (RMCEF Racing)                 4.44.1 - U23 champion
5 Roman Kilun (Health Net presented)         4.47.4
6 James Stangeland (Gin Optics Cycling)      4.49.0
7 Devon Vigus (California Giant Ber)         4.51.7
8 Ian Burnett (Fort Lewis)                   4.52.0
9 Phillip Gaimon (Fiordifrutta)              4.53.8
10 Andrew Kruse (SPEEDFIX p/b Cane Cr)       4.59.1
11 Tom Hanley (Indiana Hand Center)          5.03.8
12 Josh Horowitz (Liquid Fitness)            5.04.1
13 Christopher Mosora (Lucas Oil Cycling)    5.04.7
DNS Matt Tamel (BPG / Montano Velo)                  
DSQ David Swanson (SummitVelo)
 
Women's Individual Pursuit

Third place race

1 Shannon Koch                                3.58.8 (45.228 km/h)
2 Annette Williams (Avanti)                   4.06.7
 
Final

1 Kimberly Geist (Metro Volkswagen)           3.52.8 (46.387 km/h) - U23 champion
2 Alison Powers (Colavita/Sutter Home)        3.53.2

Ranking by time

1 Alison Powers (Colavita/Sutter Home)        3.50.5 (46.855 km/h)
2 Kimberly Geist (Metro Volkswagen)           3.53.3
3 Annette Williams (Avanti)                   3.59.3
4 Shannon Koch (Metro Volkswagen Cyc)         4.00.0
5 Megan Guarnier (PROMAN Racing)              4.01.4
6 Greta Neimanas (XXX Racing-AthletiCo)       4.04.3
7 Taitt Sato (ValueAct Capital)               4.04.9
8 Julia Manley (Colorado State U.)            4.06.9
9 Morgan Kapp (SouthBay Wheelmen)             4.07.3
10 Jennifer Reither (SouthBay Wheelmen)       4.09.2
11 Kelli Jones (SouthBay Wheelmen)            4.10.8
12 Jeanie Bihlmaier (Specialized/River Ci)    4.13.4
13 Heather Ross (The Bike Rack)               4.25.2
DNS Andrea Fisk (Velo Bella-Kona)                     

Men's Scratch Race

1 Daniel Holloway (Garmin/Chipotle)    18.41.7 (48.143 km/h) - U23 champion

One lap behind

2 Kenny Williams (First Rate Mortgage)        

Two laps behind

3 Cody O'Reilly (Successful Living)           
4 Andrew Armstrong (Matrix / RBM)             
5 Roman Kilun (Health Net Presented)          
6 Daniel Heeley (South Bay Wheelmen)          
7 Daniel Lionberg (Colorado State Unive)      
8 Rob Evans (Montano Velo Track)              
9 Kevin Schiller (Adams Avenue Bicycle)       
10 Lanell Rockmore (Gotham Cycling)           
11 Jason Garner (Northbrook Bicycle C)        
12 Jackie Simes (Time Pro Cycling)            
13 Rahsaan Bahati (Rock Racing)               
14 Austin Carroll (Rock Racing)               
15 Steve Pelaez (Hiball)                      
16 Zach Watson (Athletes By Design)           
17 Colby Pearce (Garmin/Chipotle)             
DNF James Stangeland (Gin Optics Cycling)     
DNF Andrew Crater (Team Wheel & Sprocke)      
DNF Justin Williams (Rock Racing)             
DNF John Walsh (Time Factory)                 
DNF Kirk O'Bee (Healthnet/Maxxis)             
DNF Phillip Gaimon (Fiordifrutta)             
DNF Dan Vogt (Sonance/Specialized)            
               
 
Women's Scratch Race

1 Shelly Olds                  
2 Kacey Manderfield            
3 Rebecca Quinn                
 
Men's Sprint

Semifinals

Heat 1

Race 1
1 Jimmy Watkins          11.297 (63.734 km/h)
2 Lanell Rockmore

Race 2
1 Jimmy Watkins          11.264 (63.92 km/h)
2 Lanell Rockmore

Heat 2

Race 1
1 Stephen Hill
DNS Michael Blatchford

Race 2
1 Stephen Hill
DNS Michael Blatchford

Race for 5th - 8th

5 David Espinoza         11.987 (60.065 km/h)
6 Peter Billington      
7 Taylor Olson          
8 John Mathieson  

Third place race

Race 1
1 Lanell Rockmore 
DNS Michael Blatchford 

Race 2
1 Lanell Rockmore 
DNS Michael Blatchford 

Final

Race 1
1 Jimmy Watkins          11.398 (63.169 km/h)
2 Stephen Hill

Race 2
1 Jimmy Watkins          12.547 (57.384 km/h)
2 Stephen Hill

Final standings

1 Jimmy Watkins         
2 Stephen Hill          
3 Lanell Rockmore       
4 Michael Blatchford - U23 champion
5 David Espinoza        
6 Peter Billington      
7 Taylor Olson          
8 John Mathieson        
9 Kelyn Akuna           
10 Dean Tracy           
11 Giovanni Rey         
12 Ryan Cornell         
13 Jonathan Fraley      
14 Tom Hanley           
15 Kieran Cox           
16 Steve Pelaez         
17 Chris Ferris         
18 Jason Garner         
19 Daniel Walker        
20 Eric Manuel          
         
 
Women's Keirin

Heat 1
 
1 Elizabeth Newell                                     13.991 (51.462 km/h)
2 Valerie Brostrom (Team Get a Grip Cycl)           
REL Liz Reap-Carlson (Verducci/Breakaway R)    
DNF Becky Lang (Home Depot Center)                   
DNF Jen Featheringill (Bike Central)                 
 
Heat 2
 
1 Heather Vanvalkenburg (Team Rubicon)                 13.510 (53.294 km/h)
2 Cristin Walker (Northwest Cycling Cl)            
3 Julia Manley (Colorado State U.)                   
4 Camille Hook (Bike Central)                        
5 Michelle Dykstra (Team Pegasus)                    
 
Heat 3
 
1 Cari Higgins (Proman/Paradigm)                       13.209 (54.508 km/h)              
2 Dana Feiss (Tri State Velo)               
3 Shelby Reynolds (Sugar Cycles)                     
4 Kacey Manderfield (Verducci/Breakaway R)           
REL Amelia Bjesse-Puffin (Bike Central)        
 
Heat 4
 
1 Anna Lang (Aaron's Pro Cycling)                      12.929 (55.689 km/h)      
2 Colleen Hayduk (Bicyclingworld.Com /)     
3 Catherine Fiedler (Home Depot Center Te)           
4 Andrea Fisk (Velo Bella-Kona)                      
5 Linsey Hamilton (Grumpys / LGR)                    

Place 7-12

1 Heather Vanvalkenburg (Team Rubicon)                  12.879 (55.905 km/h)      
2 Valerie Brostrom (Team Get a Grip Cycl)    
3 Andrea Fisk (Velo Bella-Kona)              
4 Elizabeth Newell (Unattached)              
DNS Anna Lang (Aaron's Pro Cycling)          
DSQ Liz Reap-Carlson (Verducci/Breakaway R)  

Final

1 Cari Higgins (PROMAN/Paradigm)                       12.488 (57.655 km/h)            
2 Dana Feiss (Tri State Velo) - U23 champion                 
3 Cristin Walker (Northwest Cycling Cl)       
4 Kacey Manderfield (Verducci/Breakaway R)    
5 Colleen Hayduk (BicyclingWorld.com /)       
6 Becky Lang (Home Depot Center)              

Women's Scratch Race

1 Shelley Olds (PROMAN/Paradigm)                       14.05.8 (42.563 km/h)
2 Kacey Manderfield (Verducci/Breakaway R) - U23 champion    
3 Rebecca Quinn (SouthBay Wheelmen)            
4 Anna Lang (Aaron's Pro Cycling)              
5 Theresa Cliff-Ryan (Verducci/Breakaway R)    
6 Catherine Fiedler (Home Depot Center Te)     
7 Colleen Hayduk (BicyclingWorld.com /)        
8 Cassandra Holman (Home Depot Center Te)      
9 Christen King (South Bay Wheelmen)           
10 Annette Williams (Avanti)                   
11 Shannon Koch (Metro Volkswagen Cyc)         
12 Megan Guarnier (PROMAN Racing)              
13 Alison Powers (Colavita/Sutter Home)        
14 Elizabeth Newell (Unattached)               
15 Julia Manley (Colorado State U.)            
16 Kimberly Geist (Metro Volkswagen)