Introduction to Track Racing - What's a Wheelrace? - Introduction to Six Day racing - UCI codes
USA Elite National Track Championships - CN
USA, October 1-5, 2008
Main Page Results Overall standings Next Day
Day 1 - October 1: Men: 250m time trial, Kilometre time trial, Mass start test; Women: Mass start test
'Mini-Phinney' takes kilometre title
By Andy Lee, USA Cycling
Taylor Phinney
Photo ©: Mitch Clinton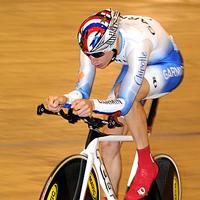 The 2008 USA Cycling Elite Track National Championships opened at the ADT Event Center velodrome at the Home Depot Center on Wednesday as three national champions were crowned on the first day of competition. Following a meteoric rise in the individual pursuit event since last year's championships, 18-year-old Taylor Phinney (Boulder, Colo.) scored an elite title in the men's kilometer time trial.
Phinney clocked a winning time of 1 minute, 3.208 seconds to best silver medalist Jimmy Watkins (Bakersfield, Calif./Momentum Cycling) by more than two seconds, while Stephen Hill (Winston, Ga./East Point Track Club) finished third. In the U23 classification of the kilometer time trial, sixth-place overall finisher David Espinoza (Breiginsville, Pa./Herbalife) was awarded the national title with a mark of 1:07.370.
Although only 18, Phinney was ineligible for a U23 championship since he is still considered a Junior. In the only other title awarded on Wednesday, Michael Blatchford (Cypress, Calif./Cody Racing) clocked a time of 18.388 seconds to win the standing 250-meter time trial over Lanell Rockmore (Bethlehem, Pa./Gotham Cycling) and Watkins.
Photography
For a thumbnail gallery of these images, click here
Images by Mitch Clinton/www.clintonphoto.com
Results
Men's Kilometer Time Trial

1 Taylor Phinney                                 1.03.21 (56.955 km/h)
2 Jimmy Watkins (Momentum cycling)               1.05.78
3 Stephen Hill (East Point Track Clun)           1.05.80
4 Lanell Rockmore (Gotham Cycling)               1.07.01
5 Steven Beardsley (Gentle Lovers)               1.07.32
6 David Espinoza (Herbalife)                     1.07.37
7 Daniel Lionberg (Colorado State University)    1.07.46
8 Bobby Walthour (Team Walthour)                 1.07.85
9 Peter Billington (Whole Athlete)               1.08.67
10 Giovanni Rey (Montano Velo Track)             1.08.79
11 John Mathieson                                1.09.08
12 Allen Vugrincic (Adobe/Schwalbe)              1.09.12
13 Tom Hanley (Indiana Hand Center)              1.09.79
14 Andrew Weathers (GCCA-Toyota)                 1.10.29
15 Kieran Cox (Kaiser Permanente)                1.10.35
16 Stuart Press (Kahala-LaGrange)                1.10.67
17 Jason Garner (Northbrook Bicycle Club)        1.10.70
18 Jason Macom (Landrover-Orbea)                 1.11.76
19 Brent Kay (OUCH Sports Medical)               1.12.20
20 Andrew Kruse (SPEEDFIX p/b Cane Creek)        1.12.30
21 Nathan R Frechen                              1.12.71
22 Larry Verdugo (Santa Clarita Velo)            1.13.10
23 Curtis Bergquist                              1.13.11
24 Jack Lindquist (Vegan Death Squad)            1.13.39
25 Joshua Schwartz (Organic Athlete)             1.13.49
26 Matthew Martinez (Veritas)                    1.19.75
 
U23 Kilometre
 
1 David Espinoza (Herbalife)                     1.07.37 (53.436 km/h)
2 Tom Hanley (Indiana Hand Center)               1.09.79
3 Curtis Bergquist                               1.13.11

  
Men's 250-Meter Time Trial

1 Michael Blatchford (Cody Racing)               0.18.39 (48.945 km/h)
2 Lanell Rockmore (Gotham Cycling)               0.18.72
3 Jimmy Watkins (Momentum cycling)               0.18.73
4 Kelyn Akuna (Veritas Cycling Team)             0.18.79
5 David Espinoza (Penn State)                    0.18.81
6 Dean Tracy (Land Rover - Orbea)                0.18.88
7 Justin Williams (Rock Racing)                  0.19.14
8 Stephen Hill (East Point Track Club)           0.19.18
9 Ryan Cornell                                   0.19.28
10 Daniel Walker (Northwest Cycling Club)        0.19.43
11 Ryan Crane (Hurricane Ike Surviv)             0.19.53
12 Taylor Olson (SpeedFix)                       0.19.60
13 Andrew Farquhar (Matrix)                      0.19.75
14 Brian Abers (Bike Central)                    0.19.78
15 Larry Verdugo (Santa Clarita Velo)            0.19.79
16 Jonathan Fraley (VCBikesport)                 0.19.81
17 Kevin Mansker                                 0.19.86
18 Allen Vugrincic (Adobe/Schwalbe)              0.19.90
19 John Mathieson                                0.20.07
20 Kieran Cox (Kaiser Permanente)                0.20.07
21 Joshua Schwartz (Organic Athlete)             0.20.23
22 Giovanni Rey (Montano Velo Track)             0.20.25
23 Vann Johnson (GS Adams Avenue)                0.20.30
24 Mark Godfrey (Bike Central)                   0.20.45
25 Curtis Bergquist                              0.20.59
26 Joshua Ryan (Team Get A Grip Cycling)         0.20.74
27 Jason Macom (Landrover-Orbea)                 0.20.82
28 Victor Mcquaide (Eddie B)                     0.20.84
29 Eric Manuel (Team Planet-X Master)            0.20.85
30 Kevinn Matthews (PowerBar Team Elite)         0.20.97
31 Matthew Martinez (Veritas)                    0.21.11
32 Brent Kay (OUCH Sports Medical)               0.21.31
33 Tim Montagne (Easton-Sugar CRM)               0.21.39
34 Andew Moyers (Eddiebcycling.com)              0.21.89
35 Andrew Weathers (GCCA-Toyota)                        
 
U23 250m TT
 
1 Michael Blatchford (Cody Racing)               0.18.39
2 David Espinoza (Penn State)                    0.18.81
3 Justin Williams (Rock Racing)                  0.19.14
4 Kevin Mansker                                  0.19.86
5 Curtis Bergquist                               0.20.59