Introduction to Track Racing - What's a Wheelrace? - Introduction to Six Day racing - UCI codes
68th Zesdaagse Vlaanderen - 6D1
Gent, Belgium, November 18-23, 2008
2007 results Schedule Start List Past winners
Schedule
Keisse primed for home six
Track cyclist Iljo Keisse and his father Ronny Keisse
Photo ©: AFP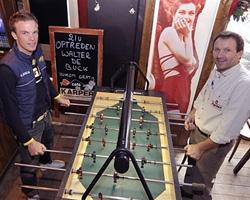 Having taken out the Munich Six Day earlier this month, Iljo Keisse and Robert Bartko will go into the Gent Six as favourites. Starting tonight in one of Belgium's iconic cycling cities, the 68th edition of the Zesdaagse van Gent will be the chance for Keisse to secure a home turf win.
"The six lives in Gent. People talk to me on the street and wish me lots of happiness," Keisse told Sporza.be. "It is the first time I've been called the favourite. Now, I feel like I've won already. [Robert] Bartko and I are looking forward to this edition."
Franco Marvulli, who normally pairs with Bruno Risi, will be absent due to an illness which forced him to drop out midway through the Dortmund Six Day earlier this month. Also absent will be Robert Slippens, teammate of Danny Stam. Stam will instead team up with fellow Dutchman Peter Schep, while Risi will pair with his countryman Alexander Aeschbach.
"We will most likely get tough competition from the duo of Zabel and Lampater," he said, while adding that the win in Munich was an important step in cementing themselves as a pairing to watch throughout the season. "That was a prestigious victory. Bartko and I showed that we are the strongest tandem of the moment."
Keisse explained the reasons for the duo's success thus far. "I have a good relationship with Bartko," he said. "He is a super champion in super form and we are extremely complementary; he is strong and I'm fast."
Start pairings for the Zesdaagse van Gent: Iljo Keiss / Robert Bartko, Bruno Risi / Alexander Aeschbach, Danny Stam / Peter Schep, Erik Zabel / Leif Lampater, Mark Hester / Luke Roberts, Angelo Ciccone / Fabio Masotti, Tim Mertens / Andreas Muller, Leon Van Bon / Pim Ligthart, Kenny De Ketele / Andreas Beikirch, Casper Jörgensen / J-E.Madsen, Dimitri De Fauw / Steven Deneef and Nicky Cocquyt / Ingmar Depoortere
Start list
1 Iljo Keisse (Bel) / Robert Bartko (Ger) Topsport Vlaanderen             
2 Bruno Risi (Swi) / Alexander Aeschbach (Swi) Mercator                   
3 Danny Stam (Ned) / Peter Schep (Ned) VDK Spaarbank                      
4 Erik Zabel (Ger) / Leif Lampater (Ger) Mega Doe-Het-Zelf Deschacht      
5 Luke Roberts (Aus) / Marc Hester (Den) Callant - Groep                  
6 Angelo Ciccone (Ita) / Fabio Masotti (Ita) Geka Kaas                    
7 Tim Mertens (Bel) / Andreas Muller (Ger) JDK                            
8 Leon Van Bon (Ned) / Pim Ligthart (Ned) Fischer                         
9 Kenny De Ketele (Bel) / Andreas Beikirch (Ger) Capri-Sonne              
10 Casper Jörgensen (Den) / Jens-Erik Madsen (Den) Jartazi                
11 Dimitri De Fauw (Bel) / Steven Deneef (Bel) Camoso                     
12 Nicky Cocquyt (Bel) / Ingmar Depoortere (Bel) AVS                      

Past winners
2007 Iljo Keisse (Bel)/Robert Bartko (Ger)
2006 (no winner declared)
2005 Matthew Gilmore/Iljo Keisse (Bel)
2004 Robert Slippens (Ned)/Danny Stam (Ned)
2003 Matthew Gilmore (Bel)/Bradley Wiggins (GBr)
2002 Bruno Risi (Swi)/Kurt Betschart (Swi)
2001 Matthew Gilmore (Bel)/Scott McGrory (Aus) 
2000 Matthew Gilmore (Bel)/Silvio Martinello (Ita)
1999 Jimmi Madsen/Scott McGrory (Den/Aus)
1998 Silvio Martinello/Marco Villa (Ita)
1997 Etienne De Wilde/Matthew Gilmore (Bel/Aus)
1996 Bruno Risi/Kurt Betschart (Swi)
1995 Etienne De Wilde/Andreas Kappes (Bel/Ger)
1994 Danny Clark/Etienne De Wilde (Aus/Bel)
1993 Bruno Risi/Kurt Betschart (Swi)
1992 Etienne De Wilde/Jens Veggerby (Bel/Den)
1991 Etienne De Wilde/Tony Doyle (Bel/GBr)
1990 Danny Clark/Roland Günther (Aus/Ger)
1989 Etienne De Wilde/Stan Tourné (Bel)
1988 Urs Freuler/Roman Hermann (Swi/Lie) 
1987 Danny Clark/Etienne De Wilde (Aus/Bel)
1986 Danny Clark/Anthony Doyle (Aus/GBr)
1985 Stan Tourné/Etienne De Wilde (Bel)
1984 Gert Frank/Hans Henrik Oërsted (Den)
1983 René Pijnen/Etienne De Wilde (Ned/Bel)
1982 Danny Clark/Donald Allan (Aus)
1981 Patrick Sercu/Gert Frank (Bel/Den)
1980 Patrick Sercu/Albert Fritz (Bel/Ger)
1979 Danny Clark/Donald Allan (Aus)
1978 Patrick Sercu/Gerry Knetemann (Bel/Ned)
1977 Patrick Sercu/Eddy Merckx (Bel)
1976 Danny Clark/Donald Allan (Aus)
1975 Patrick Sercu/Eddy Merckx (Bel)
1974 Graeme Gilmore/Julien Stevens (Aus/Bel)
1973 Patrick Sercu/Graeme Gilmore (Bel/Aus)
1972 Patrick Sercu/Julien Stevens (Bel)
1971 Patrick Sercu/Roger De Vlaeminck (Bel)
1970 Patrick Sercu/Jean/Pierre Monseré (Bel)
1969 Rudi Altig/Sigi Renz (Ger)
1968 Peter Post/Leo Duyndam (Ned)
1967 Patrick Sercu/Eddy Merckx (Bel)
1966 Peter Post/Fritz Pfenninger (Ned/Swi)
1965 Patrick Sercu/Eddy Merckx (Bel)
1961 Rik Van Looy/Peter Post (Bel/Ned)
1960 Rik Van Looy/Peter Post (Bel/Ned)
1959 Rik Van Steenbergen/Fred De Bruyne (Bel)
1958 Reginand Arnold/Rik Van Looy (Aus/Bel)
1957 Rik Van Steenbergen/Fred De Bruyne (Bel)
1956 Reginald Arnold/Fernando Terruzi (Aus/Ita)
1955 Lucien Gillen/Fernando Terruzi (Lux/Ita)
1954 Rik Van Steenbergen/Stan Ockers (Bel)
1953 Achiel Bruneel/Arsène Rijckaert (Bel)
1952 Walter Bücher/Armin Von Büren (Swi)
1951 René Adriaensens/Albert Bruylandt (Bel)
1950 Gerrit Schulte/Gerrit Peters (Ned)
1949 Gerrit Schulte/Gerrit Boeyen (Ned)
1948 Achiel Bruneel/Camile De Kuysscher (Bel)
1947 Gerrit Schulte/Gerrit Boeyen (Ned
1937 Frans Slaats/Cees Pellenaars (Ned)
1936 Camile De Kuysscher/Albert Billiet (Bel)
1927 Maurice Dewolf/Hilaire Hellebaut (Bel)
1926 César Debaets/Emile Thollembeek (Bel)
1925 César Debaets/Jules Van Hevel (Bel)
1924 Alois Persijn/Jules Verschelden (Bel)
1923 Lucien Buysse/Victor Standaert (Bel)
1922 Marcel Buysse/Oscar Egg (Bel/Swi)

 
Past winners by Mario Stiehl, www.world-of-cycling.com