Introduction to Track Racing - What's a Wheelrace? - Introduction to Six Day racing - UCI codes
Revolution #3 - NE
Vodafone Arena, Melbourne, Australia, June 12, 2008
Meares storms her way to Beijing
By Malcolm Sawford in Melbourne
Anna Meares rode the new 'BT Blade' to a stunning time
Photo ©: Fiona Carnibella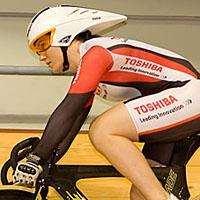 Billed as the "Farewell to Beijing", an opportunity for local fans to get up close and personal with the Australian track team for the Beijing Olympics, Revolution 3 saw all five riders pre-nominated for the sprint squad take to the boards at Melbourne's Vodafone arena before a near capacity crowd.
The highlight of the night came in only the second event, a specially arranged flying 200 metre time trial for Anna Meares to confirm her pre-nomination with a target time of 11.77 seconds or better. Australian head coach Martin Barras and Meares were both confident that despite Meares' severely limited preparation since her terrible crash in the Los Angeles world cup, which resulted in a fractured C2 vertebra and extensive shoulder injuries, her recent training form would see her on track for a time around 11.5 seconds.
Meares demolished their predictions, storming around the track to stop the clock in a sizzling 11.189 seconds, a track record, and less than two hundredths of a second outside her personal best "which was at Manchester which is the fastest track in the world!"
While her initial reaction to the time is unprintable, Meares acknowledged it was good to end any doubts in her mind. "I've had lots of ups and downs, whether I was going to qualify, whether I was fit enough. Hopefully now the selectors will write my name down in ink on that ticket to Beijing! It's a kind of 'thank God!' feeling, it's really been uncertain the whole last five months.
I'm really pleased with that and I know that all the pain and the discomfort I've been through in the last couple of months and all the hard work that I've put in has started to pay off."
When asked if she now considered herself a realistic chance of a medal in the sprint at Beijing, she responded cautiously "it gives me a lot more confidence that I'm going to be in good enough condition to compete, and I've always had the mentality that I've got to go believing that I can win and now I really have the extra backing behind me having done that time. While I've given my rivals a head start, I think I've caught up a fair way, which is a good feeling. They'll all see this time and know I'm coming!"
Barras, as one of the selectors was "suitably impressed! That seals the question without any doubt," he continued, "I can honestly say, no, I did not expect that, but then again it is Anna Meares and she always has something special in reserve. We consider this the beginning of the season for her, ever since we got her back in training and on the bike. Typically she's a very slow starter to the season, and she's starting her season two hundredths away from a PB and that's an extraordinarily good platform to start from."
Phil Thuaux failed to make the cut
Photo ©: Fiona Carnibella

Meares' success came in stark contrast to an attempt by Phil Thuaux to claim a place in the endurance squad at the games. Faced with a 4000 metre individual pursuit qualifying time of 4 minutes 20, over two seconds under his personal best, Thuaux started strongly and appeared to be riding to coach Gary Sutton's schedule up to the halfway point, before falling behind in the final laps to record a time of 4:24.522.
A disappointed Thuaux was candid in his review of his ride. "Whether it is was a technical thing or whether it was a horsepower thing I don't know. Whether I just wasn't good enough or I didn't deliver it properly, four seconds is a bit of time. I suspect it's probably a bit of both."
A starting gate malfunction saw Thuaux roll out of the pneumatic gate during the 30 second count down , necessitating a re-start, but Thuaux refused to blame the incident. "I don't think it was a factor. A minute delay here or there, that doesn't change the months and years of training I've done. It doesn't change what I'm capable of. That middle section of the race, I've had other races where I've responded better, but that was early in my pursuiting days when I was not so good technically but had the horse power for that sort of time."
Thuaux officially has until June 23 to produce the required 4:20 ride, but wouldn't commit to whether he would plan another attempt. "It was a good opportunity coming to Revolution with the crowd and the atmosphere, both mentally and physically with the temperature and things [organizers had arranged for the venue to be heated to a warm 25 degrees to give both qualifiers ideal conditions]. To re-create that is going to be hard and expensive. I'll sit down with Sutto and consider things, I'm not going to rush into any decisions now."
Men's Endurance
To start the night, Brett Aitkin (Savings&Loans) was
Photo ©: Fiona Carnibella

Sydney Olympics Madison gold medalist Brett Aitken (Savings & Loans) was a clear winner of the opening two endurance events, outlasting Adrian Hanson (Degani Café) and Mitch Docker (Drapac Porsche) in a modified elimination race that gave the field two laps between eliminations.
He was too strong in the derny paced stayers race also, and made a strong move into the lead with five laps remaining. Docker was the only rider able to follow Aitken's attack but had to settle for second, with early leader Sean Finning (Jayco VIS) third.
The enduro's closed the night with a 40 lap race: the first 20 laps were motorpaced, before the second half was run as a points race. Aitken was well positioned for the first sprint but couldn't overhaul Tom Palmer (Real Aussie Kids) and was never really in contention. Rohan Dennis (NSWIS) won the second sprint with a solo break before Finning, the Commonwealth Games points race champion, combined with Luke Durbridge (WAIS) to distance the field. Finning won both the final sprints to take the race ahead of Durbridge, while Dennis took fourth in the final sprint to give him third place overall.
Men's Sprint
Bayley was too strong for Shane Kelly
Photo ©: Fiona Carnibella

Malaysian pocket rocket Azizul Awang caused something of an upset in the keirin, getting the better of the field which included Ryan Bayley, reigning Australian champion Mark French and Shane Kelly. Awang drew the derny in the ballot and while the more fancied Australians jockeyed for position two laps from home, produced an impressive turn of speed that left Kelly and French to fight for the minor places.
The Malaysian sprinters, who train in Melbourne under local coach John Beasley, had more unexpected success in the team sprint, holding off the Australian trio by the narrowest of margins. Daniel Ellis had a shocker of a start, when his unweighted rear wheel spun dramatically which put the Aussies half a second behind at the first change, a margin that proved insurmountable despite French and Bayley's best efforts.
Bayley regained some honour for the local sprinters with a commanding win in the sprint. In a three up final, his jump at the bell saw him open a five length lead on French, and take the win still two lengths clear. "It's been a tough night, but a good night" he said. "Beating Shane Kelly [in the second round of the sprint] hurt me a lot, and then the team sprint put me in the coffin, so it was good to finish like that."
Despite the hiccup in the team sprint earlier in the night and Australia's poor result at the world championships, Bayley is confident the team will impress in Beijing. "We've had a good preparation and we're going to be going really good." Bayley won individual gold medals in Athens in the sprint and keirin but thinks he can go one better in August. "I'd like to go for three! We've got a good team going."
Women's Sprint
Shortly after her time trial, Anna Meares was back on the track to contest the sprint derby, and made short work of both her heat and the final to take the win ahead of Annette Edmonson (QAS) and Kaarle McCulloch (NSWIS).
McCulloch turned the tables in the keirin however, after Meares was forced to use a lot of energy early to move from last wheel to second while the derny still controlled the tempo. Once the derny left the track, Meares took over the pace making at two to go and charged for home, but succeeded only in giving McCulloch a perfect lead out. The pair hit the line side by side, but the photo showed McCulloch had prevailed by the width of her tyre.
Future Stars
Racing for the leading under 17 riders saw close racing, with a different winner in each of the four races. Josh Vincino (Brunswick) took the men's scratch with a late solo attack, while Steph Hansen (Carnegie Caulfield) rode the field off her wheel to win the women's scratch race.
Maddison Hammond (Northcote) won the final two sprints to overhaul George Tansley (Shepparton) and take out the men's points race, and a close tussle in the women's points saw Shannon McCurley (Latrobe City) win the opening two sprints to see off the challenge from Hansen.
Tech News
At a media launch earlier in the day, Cycling Australia and Bike Technologies unveiled the new BT Blade, the new frame designed for Australia's track endurance riders. At Revolution 3, two sprinters, Anna Meares and Mark French, put the new machine to the test. Both have been testing the new model for around four weeks.
Cyclingnews spoke to Meares moments after her amazing time trial and asked if the new bike was a factor. "The new bike's great – it went really well, didn't it!" she replied. "It's about a kilo and half lighter, which really helps with getting the gear rolling."
French is the only male sprinter who has opted for the BT Blade over the current sprint frame, the BT Stealth. "Personally, I love it. For sprinters, it's one of those bikes when you get on it you either love it or you don't. I've been doing PB's on it ever since I got it. It's more aero, which is better. Anna hopped on and she's doing great times straight away too. All the signs are it's an awesome bike."
He was also impressed with the reduction in mass, but stressed for him the key factor was "the aerodynamics and the way it's built suits me a lot better for the way that I ride. When I sit on it I feel like I'm in an lounge chair, so I feel like I'm comfortable on the bike and that means fast [is that sprinter code for laterally stiff but vertically compliant?] and I'll definitely use it at the Olympic Games.
Photography
For a thumbnail gallery of these images, click here
Images by Fiona Carnibella
Images by Carl Brewer/www.aboc.com.au
Results
Cyclecover Insurance Elimination

1 Brett Aitken                                                 
2 Adrian Hanson                                                
3 Mitch Docker                                                 
 
BHP Billiton Fyling 200 metre time trial

1 Anna Meares                                           0.11.19
 
Baum Revolution Keirin 

Heat 1
1 Ryan Bayley                                           0.10.84
2 Edrus Yunus                                                  
3 Jason Niblett                                                
 
Heat 2
1 Azizul Awang                                          0.10.73
2 Daniel Ellis                                                 
3 Paul Fellows                                                 
 
Heat 3
1 Mark French                                           0.10.82
2 Shane Kelly                                                  
3 Josiah Ng                                                    
 
Tuff Gloves Future Stars Junior Men Double Kilo Dash

1 Joshua Vincino                                               
2 Maddison Hammond                                             
3 Gavin Sittampalan                                            
 
Tuff Gloves Future Stars Junior Women Double Kilo Dash

1 Stephanie Hansen                                             
2 Ainslee Bennett                                              
3 Madeleine Cardillo                                           
 
The Swanston Hotel Women's Sprint

Heat 1
1 Anna Meares                                           0.12.12
2 Fatehah Mustapa                                              
 
Heat 2
1 Kaarle McCulloch                                      0.12.31
2 Apryl Eppinger                                               
 
Heat 3
1 Emily Rosemond                                        0.12.07
2 Kerrie Meares                                                
 
Baum Revolution Keirin 

1 Azizul Awang                                          0.10.51
2 Shane Kelly                                                  
3 Mark French                                                  
 
Madass Bikes Champions Stayers Race

1 Brett Aitken                                                 
2 Mitch Docker                                                 
3 Sean Finning                                                 
 
Tuff Gloves Future Stars Junior Women Points Race

1 Shannon McCurley                                           13 pts
2 Stephanie Hansen                                           11
3 Ainslee Bennett                                             6
 
Skilled Men's Sprint Round 1

Heat 1
1 Ryan Bayley                                           0.10.63
2 Junaidi Nasir                                                
 
Heat 2
1 Daniel Ellis                                          0.11.02
2 Risal Tizing                                                 
 
Heat 3
1 Mark French                                           0.10.96
2 Edrus Yunus                                                  
 
Heat 4
1 Shane Kelly                                           0.11.18
2 Ben Sanders                                                  
 
Heat 5
1 Azizul Awang                                          0.11.73
2 Paul Fellows                                                 
Heat 6
1 Josiah Ng                                             0.11.39
2 Scott Sunderland                                             
 
4000m Individual Pursuit Olympic Qualifier

1 Phil Thuaux                                            4.24.52
 
The Swanston Hotel Women's Sprint Final 

1 Anna Meares                                           0.11.87
2 Annette Edmonson                                             
3 Kaarle McCulloch                                             

4 Kerrie Meares                                         0.12.58
5 Apryl Eppinger                                               
6 Fatehah Mustapa                                              
 
Skilled Men's Sprint Round 2

Heat 1
1 Mark French                                           0.10.87
2 Josiah Ng                                                    
 
Heat 2
1 Azizul Awang                                          0.10.63
2 Daniel Ellis                                                 
 
Heat 3
1 Ryan Bayley                                           0.10.58
2 Shane Kelly                                                  
 
Tuff Gloves Future Stars Junior Men's Points Race

1 Maddison Hammond                                           10 pts
2 George Tansley                                              8
3 Joshua Vincino                                              5
 
Skilled Olympic Team Sprint

1 Azizul Awang, Josiah Ng, Risal Tizing (Malaysia)      0.45.59
2 Daniel Ellis, Mark French, Ryan Bayley (Australia)    0.45.55
 
HLB Mann Judd Women's Keirin

1 Kaarle McCulloch                                      0.11.81
2 Anna Meares                                                  
3 Fatehah Mustapa                                              
 
San Benedetto 20/20 motorpace & points race

1 Sean Finning                                               10 pts
2 Luke Durbridge                                              6
3 Rohan Dennis                                                6
 
Skilled Men's Sprint Final

1 Ryan Bayley                                           0.10.72
2 Mark French                                                  
3 Azizul Awang