Introduction to Track Racing - What's a Wheelrace? - Introduction to Six Day racing - UCI codes
Golden Wheelrace - NE
Pennsylvania, USA, August 8, 2008
Armstrong surprises in Wheelrace
Andrew Armstrong
Photo ©: Donna Chiarelli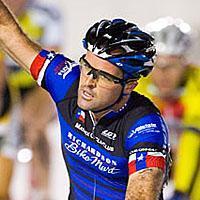 For the third year in a row, the Golden Wheel Race and Ondra Huyett Corporate Challenge was a great success as the Valley's biggest organizations took to the track along with the pro's. Last year's champion, Lehigh Carbon Community College finished in a close second with long time participants Bicycling Magazine taking the win.
The wheel race final took a surprise ending when U.S. rider Andrew Armstrong beat out top sprinters Jason Niblett of Australia and Leandro Bottasso of Argentina. The field was strong with a mix of endurance riders and sprinters such as Pete Fitzpatrick, Shane Kline, and Doug Repacholi. Fitzpatrick came back strong in the repechage after not qualifying in the scratch race heats, but was unable to tackle Armstrong, who placed first in his scratch heat and made a big move in the finals to take the win in the Golden Wheel Race Final.
In the men's Miss-and-Out, David Espinoza stayed in the race and sprinted for the win passing Taylor Brown and Mario Mazza by a bike length. It was Shane Kline who had a strong performance during the 10-lap prime where he crossed the finish line first in the final sprint making that the third lap of the race where he earned a prime. Chris Ruhl and Pete Fitzpatrick finished second and third respectively.
For the women it was Australian national sprint team rider Kaarle McCulloch who took the win in the final wheel race. McCulloch has proved to be unstoppable in T-Town this summer as she has gone home a winner after each feature race she has competed in here. Fellow Aussie Laura McCaughey created some tough competition for the women but fell just short to McCulloch and took second place.
Kaarle McCulloch
Photo ©: Donna Chiarelli

McCaughey kicked the racing into high gear during the women's 15-lap Scratch Race, shutting out both Liz Reap Carlson and Golden Wheel Race champion Kaarle McCulloch. In another outstanding finish, McCaughey sprinted hard for the final lap of the women's Miss-and-Out, leaving Theresa Cliff-Ryan and Veronica Martinez close behind.
The Corporate participants gave it their all in several grueling Italian Pursuits in order to earn bragging rights in the Lehigh Valley. As previously mentioned, Bicycling Magazine took the big win of the evening with LCCC in second, Rodale Composite taking third, Air Products in fourth, and Valley Preferred finishing fifth. The hard work that these teams have put in over the months has paid off and the Cycling Center looks forward to another great Corporate Challenge in 2009.
Don't miss the final World Series of Bicycling event on August 22nd with the Red Robin Madison Cup XXXII featuring the Air Products Finals.
Photography
For a thumbnail gallery of these images, click here
Images by Donna Chiarelli
Results
Wheelrace qualifier - 3km scratch race
 
Heat 1
1 Brent Morehouse                          
2 Bruce Donaghy                            
3 Andrew Kuklis                            
4 Matt Diefenbach                          
 
Heat 2
1 Andrew Armstrong                         
2 Espes Harris                             
3 Thomas Mains                             
4 Chris Ruhl                               
 
Heat 3
1 Nick Reinert                             
2 Ben Barczewski                           
3 Jason Niblett                            
4 Lanell Rockmore                          
 
Wheelrace repechage (2 km)
 
1 Leandro Bottaso                          
2 Peter Fitzpatrick                        
3 Mike Miller                              
4 Shane Kline                              
5 Douglas Repacholi                        
6 Rodney Santiago                          
7 Stephen Meyer                            
8 Gary Ryan                                
 
Prime race
 
Lap 9
1 Jason Niblett                            
2 Ryan Gary                                
 
Lap 8
1 Jason Niblett                            
2 Espes Harris                             
 
Lap 7
1 Ben Barczewski                           
2 Espes Harris                             
 
Lap 6
1 Douglas repacholi                        
2 Stephen Myer                             
 
Lap 5
1 Douglas repacholi                        
2 Lanell Rockmore                          
 
Lap 4
1 Andrew Armstrong                         
2 Nicholas Reinert                         
 
Lap 3
1 Andrew Armstrong                         
2 Peter Fitzpatrick                        
 
Lap 2
1 Shane Kline                              
2 Peter Fitzpatrick                        
 
Lap 1
1 Shane Kline                              
2 Peter Fitzpatrick                        
 
Final
1 Shane Kline                              
2 Chris Ruhl                               
3 Peter Fitzpatrick                        
 
Elimination
 
1 David Espinoza                           
2 Taylor Brown                             
3 Mario Mazza                              
4 Mike Chauner                             
5 Simon VanVelthooven                      
 
Men's Golden Wheel Race (2000m)
 
1 Andy Armstrong                           
2 Leandro Bottaso                          
3 Espes Harris                             
4 Douglas Repacholi                        
5 Shane Kline                              
6 Lanell Rockmore                          
7 Peter Fitzpatrick                        
8 Nick Reinert                             
9 Chris Ruhl                               
10 Brent Morehous                          
 
5km Scratch
 
1 Laura McCaughey                          
2 Elizabeth Carlson                        
3 Kaarle Mcculloch                         
4 Mary Castelloe                           
5 Davina Summers                           
 
Elimination
 
1 Laura McCaughey                          
2 Thersa Cliff-Ryan                        
3 Veronica Martinez                        
4 Elizabeth Carlson                        
5 Laurei Anna Dupont-Renaud                
 
Women's Golden Wheelrace
 
1 Kaarle Mcculloch                         
2 Laura McCaughey                          
3 Dana Feiss                               
4 Davina Summers                           
5 Thersa Cliff-Ryan                        
6 Mary Costelloe                           
7 Veronica Martinez                        
8 Karine Cota                              
9 Kate Veronneau                           
10 Laurei Anna Dupont-Renaud               

Corporate challenge

Qualifying
 
1 LCCC (Defending Champion)         2.32.96
2 Bicycling                         2.35.19
3 Air Products 1                    2.38.88
4 Rodale Composite                  2.39.15
5 Valley Preferred 1                2.39.16
6 Red Robin 1                       2.42.54
7 Ondra-Huyett                      2.44.17
8 Mack Trucks                       2.44.45
9 St. Lukes Rehab Home Straight     2.45.03
10 Fuji                             2.45.92
11 VSAS                             2.49.94
12 Valley Preferred 2               2.50.82
13 Dual Temp                        2.51.02
14 Valley Preferred 3               2.56.29
15 Red Robin 2                      3.01.21
16 Air Products 2                   3.04.32
 
Finals
 
1 Bicycling                                
2 LCCC                                     
3 Rodale Composite                         
4 Air products 1                           
5 Valley Preferred 1                       
6 Red Robin 1                              
 
Women Scratch Race
 
1 Jen Hetrick                              
2 Kim Procaccino                           
3 Gail Kelley                              
4 Unknown                                  
5 Sue Williams                             
6 Teri Reuvers                             
 
Men Scratch Race
 
1 David Tidey                              
2 Chris Mammarella                         
3 Jimmy Hessler                            
4 Justin Park                              
5 Ben Steward                              
6 Angelo Procaccino                        
7 Ken Rachwal                              
8 Brian Dries                              
9 Kevin Servass                            
10 Jeff Hashagen