Introduction to Track Racing - What's a Wheelrace? - Introduction to Six Day racing - UCI codes
Fastest Man on Wheels - 3IM
Pennsylvania, USA, August 1, 2008
Niblett and McCulloch earn 'fastest' titles
Kaarle McCulloch earned the title of fastest woman on wheels
Photo ©: Donna Chiarelli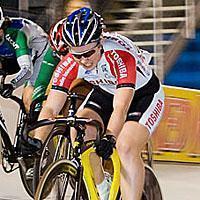 This past Friday the Valley Preferred Cycling Center hosted an exciting evening of racing at the UCI sanctioned Hilton Garden Inn Allentown West Fastest Man on Wheels and Hall of Fame Awards. Some of the world's hardest hitting sprinters took to the track to find out who are the fastest man and fastest woman of 2008.
The night started out with the 2km Dash for Cash heats where several riders collided on the back straight causing rider Ben Fetterman of Emmaus, PA to go over the wall. This is only the second time in 32 years that a rider has actually gone over the boards and fortunately Fetterman made it out of the crash with no broken bones. The racing continued on and Stephen Hill of Atlanta, Georgia took the win in the 2km Dash for Cash finals.
In the Fastest Man Keirin events, the competition was fierce between Australian national team member Jason Niblett and New Zealand's Simon VanVelthooven. After several rounds of racing, it was Niblett who took the title for 2008 of the Fastest Man on Wheels. For the women it was Niblett's team-mate Kaarle McCulloch who earned herself the title of the Fastest Woman on Wheels with up and coming junior rider Dana Feiss in a very close second.
Jose Medina took the win in the Artie Greenburg Memorial
Photo ©: Donna Chiarelli

Friday night also played host to the induction of two distinguished cyclists into the Lehigh Valley Track Cycling Hall of Fame, Mark Whitehead and Patrick Gellineau. It was an emotional evening for both men as they relived some of the best experiences in their careers at T-Town. Whitehead gave a speech thanking everyone from his family to the fans for supporting his career. Gellineau stated that along with being named to the 1972 Trinidad and Tobago Olympic team, this was the greatest moment in his career as a cyclist.
The night of racing finished out with the Artie Greenburg Memorial 10 Mile where Chile's Jose Medina stomped the competition after 48 grueling laps on the track. Local rider Chris Ruhl kept up with Medina right until the end capturing second place with Andrew Armstrong of Plano Texas in third. The excitement lasted right up until the last lap of the evening making for a great night of racing at the 2008 Hilton Garden Inn Allentown West Fastest Man on Wheels.
The Cycling Center will hold the next World Series of Bicycling event this Friday, August 8 with the Golden Wheel Race featuring the Ondra Huyett Corporate Challenge. For more information please go to www.valleypreferredcycling.com.
Photography
For a thumbnail gallery of these images, click here
Images by Donna Chiarelli
Results
Junior Men 2km Scratch Final
 
1 Lanell Rockmore (USA) Gotham Cyclists                     
2 Espes Harris (USA) FCS Cycling Club                       
3 Roberto Torres (PuR)                                      
 
Junior Women 3km Scratch Final
 
1 Colleen Gulick (USA) Colivata                      5.32.00 (32.53 km/h)
2 Colleen Hayduk (USA) Kutztown Inn                         
3 Morgan Farnsworth (USA)                                   
4 Kate Potylychy (USA) JVR Sports                           
 
Elite Women One-Mile Track Record Attempt
 
1 Kaarle Mc Culloch (Aus) St George CC               1.58.97 (48.687 km/h)
2 Colleen Hayduk (USA) Kutztown Inn                         
3 Davina Summers (Aus) Northern Districts                   
4 Veronica Martinez (Arg) JVR Sports                        
5 Kim Geist (USA) Metro Volkswagon                          
6 Elizabeth Carlson (USA) Verducci/Breakaway                
7 Dana Feiss (USA) Tri State Velo                           
8 Mary Costelloe (USA) South Mountain                       
9 Kate Veroneau (Aus) Budget                                
10 Colleen Gulick (USA) Colivata                            
11 Joanna Wiersma (Can) PDQ                                 
12 Shelbe Eck (USA) Alliance Environment                    
 
Elite Men 2km Dash for Cash Finals
 
1 Stephen Hill (USA) East Point Track                2.24.60 (49.797 km/h)
2 Simon Van Velthooven (NZl) Palmerston North               
3 Lanell Rockmore (USA) Gotham Cyclists                     
4 Espes Harris (USA) FCS Cycling Club                       
5 Leandro Bottaso (Arg) Cordobesa                           
6 Peter Fitzpatrick (Aus) Team Australia                    
7 Taylor Brown (USA) PA Lightning                           
8 Rodney Santiago (USA) Colavita/Sutterhome                 
9 Barry Miller (USA) American Cycling                       
10 Doug Repacholi (Aus) Melville Fremantle                  
11 Andrew Armstrong (USA) Matrix/RBM                        
12 Larry Detris (USA) Cycledrome                            
13 Daniel Walker (USA) NWCC                                 
14 Randy Smargiassi (USA) Gotham Cycles                     
15 David Espinoza (USA) Herbal Life                         
16 Ray Ignosh (USA) Gotham Cyclists                         
17 Stephen Meyer (Can) Coach Chris                          
18 Giovanni Rey (USA) Moalano Velo                          
DNS David Short (Aus) St. George                            
DNF Bruce Donaghy (USA) Morgan Stanley                      
DNF Matt Deifenbach (USA) Team Alliance                     
DNF Jorge Romero (USA) JVR Sports                           
DNF Shane Kline (USA) Lateral Street Velo                   
DNF Nicholas Reinert (USA) Gotham Cyclists                  
 
Elite Women Five Mile Record Attempt
 
1 Kim Geist (USA) Metro Volkswagon                          
2 Colleen Hayduk (USA) Kutztown Inn Jim Thorpe PA           
3 Elizabeth Carlson (USA) Verducci/Breakaway                
4 Mary Costelloe (USA) South Mountain Allentown PA          
5 Veronica Martinez (Arg) JVR Sports Perth AUS              
6 Davina Summers (Aus) Northern Districts Spring City PA    
7 Colleen Gulick (USA) Colivata                             
8 Kate Veroneau (Aus) AustraliaBudget                       
DNF Shelbe Eck (USA) Alliance Environment                   
DNS Kaarle Mc Culloch (Aus) St George CC                    
 
Elite Men Super Sprint
 
1 Shane Kline (USA) Lateral Street Velo                     
2 David Espinoza (USA) Herbal Life                          
3 Peter Fitzpatrick (Aus) Team Australia                    
4 Doug Repacholi (Aus) Melville Fremantle                   
5 Rodney Santiago (USA) Colavita/Sutterhome                 
6 Espes Harris (USA) FCS Cycling Club                       
7 Fernandez Gerardo (Arg) Frayssee Sports                   
8 Andrew Kuklis (USA) Gotham Cyclist                        
9 Taylor Brown (USA) PA Lightning                           
10 Stephen Meyer (Can) Coach Chris                          
11 Chris Ruhl (USA) PA Lightning                            
12 Pete Muto (USA) Gotham                                   
13 Nicholas Reinert (USA) Gotham Cyclists                   
14 Brett Jacoby (USA) Penn State Hersey                     
15 Andrew Armstrong (USA) Matrix/RBM                        
16 Ray Ignosh (USA) Gotham Cyclists                         
17 Matt Deifenbach (USA) Team Alliance                      
18 Randy Smargiassi (USA) Gotham Cycles                     
19 Barry Miller (USA) American Cycling                      
20 Michael 0Chauner (USA) PA Lightning                      
21 Jorge Romero (USA)                                       
22 Larry Detris (USA) Cycledrome                            
23 Tynan Farley (USA) Young Medalists                       
24 Giovanni Rey (USA) Moalano Velo                          
25 Simon Van Velthooven (NZl) Palmerston North              
26 Daniel Walker (USA) NWCC                                 
27 Stephen Shiselko (USA) Liberty Cycle                     
28 Leandro Bottaso (Arg) Cordobesa                          
29 Jose Medina (Chi)                                        
30 Jamie Russell (Can) Independent                          
31 Stephen Hill (USA) East Point Track                      
 
Elite Women Keirin Finals 1-6
 
1 Kaarle Mc Culloch (Aus) St George CC               0.12.36 (58.252 km/h)
2 Dana Feiss (USA) Tri State Velo                           
3 Elizabeth Carlson (USA) Verducci/Breakaway                
4 Colleen Hayduk (USA) Kutztown Inn                         
5 Veronica Martinez (Arg) JVR Sports                        
6 Joanna Wiersma (Can) PDQ                                  
 
Elite Women Keirin Minor Final 7-12
 
1 Kim Geist (USA) Metro Volkswagon                   0.13.49 (53.373 km/h)
2 Davina Summers (Aus) Northern Districts                   
3 Shelbe Eck (USA) Alliance Environment                     
4 Colleen Gulick (USA) Colivata                             
5 Mary Costelloe (USA) South Mountain                       
DNS Karine Cote (Can) Piste                                 
 
Elite Men Keirin Finals 1-8
 
1 Jason Niblett (Aus) Horsham Cycling                0.11.14 (64.649 km/h)
2 Simon Van Velthooven (NZl) Palmerston                     
3 Lanell Rockmore (USA) Gotham Cyclists                     
4 Leandro Bottaso (Arg) Cordobesa                           
5 Peter Fitzpatrick (Aus) Team Australia                    
6 Shane Kline (USA) Lateral Street Velo                     
7 Daniel Walker (USA) NWCC                                  
8 Jamie Russell (Can) Independent                           
 
Elite Men Keirin Minor Final 9-16
 
1 Stephen Hill (USA) East Point Track                       
2 David Espinoza (USA) Herbal Life                          
3 Espes Harris (USA) FCS Cycling Club                       
4 Giovanni Rey (USA) Moalano Velo                           
5 David Short (Aus) St. George                              
6 Jude Codrington (Tri) TrindadRig                          
7 Joseph Veloce (Can) Acuila                                
 
Artie Greenburg Memorial 10 Mile Final
 
1 Jose Medina (Chi) Mike Frayssee Sports                    
2 Chris Ruhl (USA) PA Lightning                             
3 Andrew Armstrong (USA) Matrix/RBM                         
4 Stephen Meyer (Can) Coach Chris  
                         
One lap behind

5 Simon Van Velthooven (NZl) Palmerston North               
6 Doug Repacholi (Aus) Melville Fremantle                   
7 Espes Harris (USA) FCS Cycling Club                       
8 Peter Fitzpatrick (Aus) Team Australia                    
9 Bruce Donaghy (USA) Morgan Stanley                        
10 Taylor Brown (USA) PA Lightning                          
11 Michael Chauner (USA) PA Lightning                       
12 David Espinoza (USA) Herbal Life                         
13 Jamie Russell (Can) Independent                          
14 Shane Kline (USA) Lateral Street Velo                    
15 Andrew Kuklis (USA) Gotham Cyclist                       
16 Larry Detris (USA) Cycledrome                            
17 Barry Miller (USA) American Cycling                      
18 Randy Smargiassi (USA) Gotham Cycles                     
19 Nicholas Reinert (USA) Gotham Cyclists                   
20 Pete Muto (USA) FogelsvilleGotham                        
21 Brett Jacoby (USA) Penn State Hersey                     
22 Fernandez Gerardo (Arg) Frayssee Sports                  
DNF Leandro Bottaso (Arg) Cordobesa                         
DNF Lanell Rockmore (USA) Gotham Cyclists                   
DNS Ben Fetterman (USA) Cycledrome                          
DNF Matt Deifenbach (USA) Team Alliance                     
DNS William Lampe (Can) Independent                         
DNF Jorge Romero (USA)                                      
DNF Tynan Farley (USA) Young Medalists                      
DNF Stephen Hill (USA) East Point Track                     
DNF Giovanni Rey (USA) Moalano Velo                         
DNS Daniel Walker (USA) NWCC                                
DNS Kurt Begemann (USA) T-Town Express                      
DNS David Short (Aus) St. George                            
DNF Ray Ignosh (USA) Gotham Cyclists                        
DNS Stephen Shiselko (USA) Liberty Cycle                    
DNF Rodney Santiago (USA) Colavita/Sutterhome