Introduction to Track Racing - What's a Wheelrace? - Introduction to Six Day racing - UCI codes
Indiana University Little 500 - IM
Bloomington, Indiana, USA, April 11-12, 2008
Main Page Results Overall standings Next Race
Race 1 - April 11: Women's race,
Delta Gamma's surprise attack nets first ever win
By Mark Zalewski, North American Editor in Bloomington, Indiana
Coach and rider happy
Photo ©: Mark Zalewski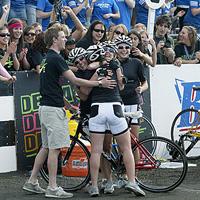 The 21st running of the women's edition of the Little 500 race at Indiana University saw multiple firsts - the first ever Presidential candidate visit in Barack Obama, and the first ever win by the Delta Gamma sorority, the fourth women's greek team to win the race. The first place came in an unorthodox manner as well, with DG rider Jess Lander attacking with four three laps to go, and successfully holding off the field for the solo win.
"We all said it's been four years, so leave everything on the track," Lander told Cyclingnews about her team's pre-race mood. "The plan was to follow the pack for the final sprint, but there was no pack in front of me! So I just kept going and looking back to see if anyone was there. I didn't even know when I crossed the finish line that the race was over until I looked back and saw it!"
Mid-way through the 100 lap, 25 mile race, four teams had emerged together on the lead lap - Delta Gamma, 2005 champion and top qualifying Teter, perennial favorites Kappa Alpha Theta and Delta Sigma Pi. The rest of the race the four teams traded blows and covered each other, but with no team successfully able to take a clear advantage. But even though Delta Gamma had qualified second, most everyone was looking at Teter and Theta, since both had a history of winning.
Barack Obama shook every rider's hand
Photo ©: Mark Zalewski

It looked like the race would play-out like it usually does, with each team strategizing what lap to put its sprinter on the bike. Picking a lap too close to the finish and the rider exchange will cost you position - a lap too far from the finish and the sprinter could be burned out for the final kick.
"We had been planning for a sprint because nobody had been able to shake the contenders," said Delta Gamma's coach Ryan Knapp. "[Lander's] last instructions were to get in position behind and wait for the sprint."
But Delta Gamma exchanged its sprinter a lap before the others, which turned out to be pivotal. "We put our rider on a little earlier, with like five to go," said Knapp. "But we had gotten a great burn-out from our second-to-last rider, Kristina [Heath.] She had gotten a good gap so that when Jess got on the bike she held it for the next lap just waiting to see what the rest of teams were going to do. And then when they brought their riders in [for the final exchange] it gave us an even bigger gap. It was three-and-a-half to go and when she came by again I realized we had a gap, I changed all the plans as said just time trial it!
"She dug really deep and was able to hold it. I couldn't believe it, that just doesn't happen -- it's picture perfect for a senior going out!"
Traditional exchange
Photo ©: Mark Zalewski

"I have no idea how [Delta Gamma] got all the way up there," said Sarah Rieke, the anchor of the favored Teter team. "I was just worried about me getting on the bike and when I looked up I saw her up there. I guess they were going to keep whoever they had on the bike last to get a leg up on the sprint. When we realized she had a big gap I tried to go and get her, but we went too late. I would have gotten her if there was one more lap!"
Rieke, widely considered one of the strongest riders in the field, made the rest of the field sweat early in the race. On lap 25 she put in an attack that was aided by a crash. If an incident on the track is deemed serious enough the officials raise yellow flags, like in auto racing, neutralizing the race until the incident is cleared. Riders must ride slow while maintaining their position on the track, or face time penalties for advancing. Rieke knew that when the green flag dropped again, she would get it a few hundred metres before the rest of the field.
"There was a yellow flag and right before it I had done a little attack just to warm my legs up," she said. "I realized that when it turned green I would have a gap, so I went ahead and attacked again. But it was too far, too long away from the end. If we could get it we would take it, but the race throws different things in your face."
"We were worried about it because it was so early in the race," said Kristen Metherd (Kappa Alpha Theta) regarding the Teter attack. "So we just worked together and off each other. It took all four of us together quite a bit of time [to catch Teter,] but it shows the strength of our team."
Photography
For a thumbnail gallery of these images, click here
Images by Mark Zalewski/Cyclingnews.com
Results

1 Delta Gamma       1.12.20
2 Teter                0.02
3 Delta Sigma Pi       0.03
4 Kappa Alpha Theta    0.06
5 Kappa Delta          0.12