Introduction to Track Racing - What's a Wheelrace? - Introduction to Six Day racing - UCI codes
37th Bendigo Madison - IM
Australia, March 9-11, 2007
2006 Results Results Past winners
Youth prevails once more in Bendigo
By Mal Sawford
The winners
Photo ©: fyxomatosis.com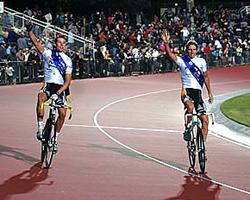 Five time champion Brett Aitken was unsuccessful in his attempt to claim a record sixth win in the 200 lap Bendigo Madison, with the young pairing of Nic Sanderson and Miles Olman, both South Australia.com/AIS professional road riders, taking the honours on a windy night.
"I want to win a third one, now," said Sanderson, a previous winner of the race in 2005 (with Simon Clarke). He and Olman dominated the sprints, with all attempts to take a lap on the field failing in the tough conditions.
"To win is a fantastic feeling," said Olman. "I wasn't 100 per cent going into the race, but Nic had plenty of confidence that we could win."
Nine of the thirty-four sprints went the way of the winners, and they picked up points in all but four of the remaining sprints to finish with 86 points, well clear of the Drapac-Porsche pairing of Mitchell Docker and Travis Meyer on 67.
German pair Lars Teutenberg and Christian Bach finished further back in third place and 43 points. The best of the local riders was 'veteran' Tim Decker, who rode with young South Australian Jack Bobridge and racked up 33 points to finish fourth, a single point ahead of Leigh Howard and Richard England.
The pairing of Hamish Taylor and Brad Edmunds was well placed early, before fading in the closing stages to finish sixth.
Dempster too strong in lightning fast criterium
The Criterium is a recent addition to the Bendigo Madison Carnival, and kicks off three days of world class racing in one of Australia's provincial cycling havens. Held as a twilight race around Bendigo's main shopping precinct, riders tackle 55 laps with tight corners traditionally favouring strong, front running riders.
This year's edition was no different, with an initial charge off the start line splitting the bunch, and seeing eight riders go clear, and pull rapidly away from the hard chasing bunch. The eight leaders lapped the main field before the half way mark, with the race for the win effectively starting when the main bunch was called of the circuit with ten laps to race.
Local star David Pell launched a huge attack, which only Zak Dempster (South Australia.com/AIS) and Australian Under 23 Criterium champion Dean Windsor (Drapac-Porsche Cycling Team) could follow. Dempster had too much speed at the line and took the win ahead of Windsor and Pell, while Brett Aitken (Savings and Loans) led Nic Sanderson (South Australia.com/AIS) and the rest of the break home.
New South Wales rider Warren Scott took out the valuable Sprint King prize.
Photography
For a thumbnail gallery of these images, click here
Images by fyxomatosis.com
Images by Carl Brewer/www.aboc.com.au
Results
Bendigo International Madison

1 Miles Olman/Nic Sanderson         86 pts
2 Mitchell Docker/Travis Meyer      67
3 Lars Teutenberg/Christian Bach    43
4 Tim Decker/Jack Bobridge          33
5 Leigh Howard/Richard England      32
6 Hamish Taylor/Brad Edmunds        26

Bendigo International Criterium

1 Zak Dempster
2 Dean Windsor
3 David Pell
4 Brett Aitken
5 Nic Sanderson

Past winners
2006 Zac Dempster/Mitchell Docker (Aus)
2005 Nic Sanderson/Simon Clarke (Aus) Victorian Institute of Sport
2004 Brett Aitken (Aus)/Eric Weispfennig (Ger)
2003 Steve Wooldridge (NSW)/Rodney McGee (NSW) NSW Institute of Sport
2002 Scott McGrory (Victoria)/Brett Aitken (South Australia)
2001 Scott McGrory (Vic)/Brett Aitken (SA)
2000 Stephen Pate/Baden Cooke (Aus)
1999 Stephen Pate/Darren Young (Aus)
1998 Stephen Pate/Baden Cooke (Aus)
1997 Stephen Pate/Brett Aitken (Aus)
1996 Chris White/Tim Decker (Aus)
1995 Matthew Gilmore/Dean Woods (Aus)
1994 Brett Aitken/Stuart O'Grady (Aus)
1993 Pat Marcucci/David Maltby
1992 Roland Gunther/Andrew Stirling
1991 Roland Gunther/Michael Grenda
1990 Wayne McCarney/Pat Marcucci
1989 Bruno Hollenweger/Peter Steiger
1988 Dieter Geibken/Tom Sawyer
1987 Stan Tourne/Max Rainsford
1986 Danny Clarke/Tony Doyle
1985 Rik Patterson/Glenn Clarke
1984 Steele Bishop/Hans Kanel
1983 Gary and Shane Sutton
1982 Danny Clarke/Shane Sutton
1981 Danny Clark/Paul Medhurst
1980 Don and David Allan
1979 Danny Clark/Don Allan
1978 Malcom Hill/John Thorsen
1977 Don Allan/Phil Sawyer
1976 Don and David Allan
1975 Danny Clark/Frank Atkins
1974 Keith Oliver/Bob Whetters
1973 Keith Oliver/Bob Whetters
1972 Keith Oliver/Bob Whetters
 
Past winners by Mario Stiehl, www.world-of-cycling.com