Introduction to Track Racing - What's a Wheelrace? - Introduction to Six Day racing - UCI codes
USA Cycling Tandem Sprint Nationals - IM
Pennsylvania, USA, July 6, 2007
Lakatosh and Barczawski set new record
By Nathan Carrick
Lakatosh and Barczewski (TTown Express)
Photo ©: Zui Hanafusa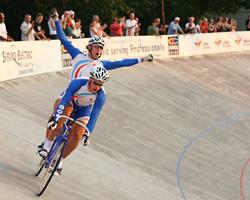 Andy Lakatosh (T-Town Express) and Ben Barczewski (T-Town Express) saw double Friday night as they looked down from the top step of the Lehigh Valley Velodrome podium. Not only did the new track record for fastest flying lap on a tandem have their names below it, they also bagged the tandem sprint national championships.
"We've ridden tandem together, but we've only been training for about a week and a half to get ready for tonight," Lakatosh said about their ride at the first of two nights of Dan's Camera City Tandemonium.
"Our main focus was the track record," Barczewski added. Set in 1993 by Australians Steven Pate and Danny Day, the time of 17.49 was truly a high mark to aim for, and Lakatosh and Barczewski beat the mark with a 17.34.
"To beat the record of a team that trained exclusively for tandem," Barczewski said, still breathless just moments after the effort, "that really means something."
Mike Beers (Rite-Aid) drove the second fastest qualifying tandem, the Rite-Aid team, stoked by Ryan Nelman (T-Town Express). Beers has won a national title on the tandem before and knows what it takes to produce a fast ride. "You have to be in very good synch with your driver or stoker, depending on what position you're in," he said. "A lot of it's being able to finesse the bike right. If you come into the corner wrong or someone wiggles a little, you end up moving up track and losing time instantly. To go that fast, it's all about being smooth, really."
The podium for the tandem national championship.
Photo ©: Todd Leister

Barczewski was stoker for the T-Town Express team, and during the record-setting qualifying ride he was all concentration, too. "I closed my eyes during the ride, so I don't really know what happened," he said, "but I know that from when we stood, over there until the finish, I was going full. This was by far the hardest thing I've ever done. My legs never hurt so much."
"I was concentrating on being smooth," he continued. "I put my head on Lacky's back so I can feel where he's going. I don't need to see the corner to know we're going into a corner. It's really important for the stoker and driver to be in complete unison."
"Actually, this bike fits us horribly," said Lakatosh. "It's too short for me and it's midget-sized for Ben. But driving was pretty easy because Ben's a good stoker. He's real smooth and follows my every move. It's really just like driving a long, heavier version of my bike."
Before the qualifying ride, Barczewski and Lakatosh said they were more concerned with setting the record than winning the national championship, but the sprint tournament went on anyway.
The multi-national affair was well represented.
Photo ©: Zui Hanafusa

In the quarterfinals, the last minute entry of Aussies Darren Harry (SouthAustralia.com-AIS) and Pete Dawson (SouthAustralia.com-AIS) were matched against the Island Boys, Haseem Maclean of Trinidad and Peter Fitzpatrick of Australia. Harry and Dawson qualified on a borrowed bike while Jack Simes III dusted off a classic for them to use in the sprint rounds. Simes said the frame dated to the 1960s, and once carried riders to a fourth place in the world championships.
Unfortunately an over-tightened collar split the seat tube during a last minute adjustment at the line, and the Aussies were forced to scratch. But don't worry - Simes says the bike can probably be fixed and will live to ride another day.
The sprint tournament came down to the team of Barczewski and Lakatosh facing off against Beers and Nelman in the finals. In two highly tactical rides, T-Town Express beat Rite-Aid soundly to secure the national title - its second victory of the night. Despite their focus being the record, after winning the sprint tournament, Barczewski and Lakatosh were thrilled.
The field was hungry
Photo ©: Zui Hanafusa

"I feel just amazing," Barczewski said. "The combination of the record and the national championship…there's no way this night could have gone better. We smashed the track record and decisively won nationals. The key was teamwork. Lacky and I seemed to work really well together, and I couldn't have asked for a better driver."
"And I couldn't ask for a better stoker," Lakatosh chimed in, as if finishing Barczewski's sentence. "I mean, I thought we were hauling ass in training, but I had no idea we were going that fast."
"I was concerned about sprints as well as the record," Lakatosh continued. "Winning a national championship is never on my list of things not to do." But he may have summed up the first night of doubles at the velodrome with one simple phrase. "It was good".
Photography
For a thumbnail gallery of these images, click here
Images by Todd Leister/www.leisterimages.com
Images by Zui Hanafusa/www.keirin.us
Results
Tandem 1-lap Time Trial
 
1 Ben Barczewski/Andy Lakatosh (USA) T-Town Express        0.17.4
2 Sergio Guatto/Leandro Bottaso (Arg) Argentina            0.00.6
3 Mike Beers/Ryan Nelman (USA) Rite Aid                    0.01.0
4 Pete Dawson/Darren Harry (Aus) Australian                0.01.1
5 Pete Fitzpatrick/Haseem Maclean (Trin/Aus) Trinidad      0.01.3
6 Ray Ignosh/Andy Kuklis (USA) Bicycling Magazine          0.01.6
7 Jim Alvord/Matt Diefenbach (USA)                         0.02.3
8 Brian Lawney/Stephen Fratini (USA) Cornell               0.04.1
9 Raphael Gomez/Vincente Gomez (USA) South Bay Wheelmen    0.05.6
 
Tandem quarterfinals
 
Heat 1
1 Barczewski/Lakatosh                                            
2 Lawney/Fratini                                                 
Heat 2
1 Guatto/Bottaso                                                 
2 Alvord/Diefenbach                                              
Heat 3
1 Beers/Nelman                                                   
2 Ignosh/Kuklis                                                  
Heat 4
1 Fitzpatrick/Maclean                                            
2 Dawson/Harry                                                   
 
Tandem Semifinals
 
Heat 1
1 Barczewski/Lakatosh                                            
2 Fitzpatrick/Maclean                                            
Heat 2
1 Beers/Nelman                                                   
2 Guatto/Bottaso                                                 
 
Tandem Finals
 
1-2 Final
1 Barczewski/Lakatosh                                            
2 Beers/Nelman                                                   
3-4 Final
1 Guatto/Bottaso                                                 
2 Fitzpatcick/Maclean                                            
 
Tandem Final Standings
 
1 Andy Lakatosh/Ben Barczewski                                   
2 Ryan Nelman/Mike Beers                                         
3 Leandro Bottaso/Sergio Guatto                                  
4 Pete Fitzpatrick/Haseem Maclean                                
5 Ray Ignosh/Andy Kuklis                                         
6 Jim Alvord/Matt Diefenbach                                     
7 Stephen Fratini/Brian Lawney                                   
8 Pete Dawson/Darren Harry                                       
 
Women's Elimination
 
1 Ashley Kimmet (USA) Miya Shoji                                 
2 Theresa Cliff-Ryan (USA) Verducci Breakaway                    
3 Jess Mclean (Aus) Verducci Breakaway                           
4 Liz Reap (USA) T-Town Express                                  
5 Monique Hanley (Aus) Blackburn Cycling                         
6 May-Britt Hartwell (Nor) YMCC                                  
7 Veronica Martinez (Arg) JVR Sports                             
8 Rebecca Larson (USA) Aaron's/LS Flyers                         
 
Men's 5 Mile Finals
 
1 Pete Dawson (Aus) Australian                                   
2 Giddeon Massie (USA) T-Town Express                            
3 Darren Harry (Aus) Australian                                  
4 Peter Fitzpatrick (Aus)                                        
5 Emile Abraham (Tri) Priority Health                            
6 Ryan Oelkers (USA) PA Lightning                                
7 Taylor Brown (USA) PA Lightning                                
8 Jackie Simes (USA) PA Lightning                                
9 Adam Myerson (USA) NERAC Pro                                   
10 Mario Mazza AF Pro                                            
 
Women's 5km Scratch Final
 
1 Ashley Kimmet (USA) Miya Shoji                                 
2 Lauren Shirock (USA) Capital Cycling                           
3 Rebecca Larson (USA) Aaron's/LS Flyers                         
4 Theresa Cliff-Ryan (USA) Verducci/Breakaway                    
5 Kacey Manderfield (USA) Verducci/Breakaway                     
6 Cindy Lakatosh (USA) Tri State Velo                            
7 Elspeth Huyett (USA) Young Medalists                           
8 Julia Bradley (Can) Team R.A.C.E.                              
 
Men's Elimination
 
1 Pete Dawson (Aus) Australian                                   
2 Emile Abraham (Tri) Priority Health                            
3 Pete Fitzpatrick (Aus)                                         
4 Darren Harry (Aus) Australian                                  
5 Ryan Oelkers (USA) PA Lightning                                
6 Taylor Brown (USA) PA Lightning                                
7 Jackie Simes (USA) PA Lightning                                
8 Chris Ruhl (USA) Team Alliance                                 
 
Women's 10-lap Tempo
 
1 Monique Hanley (Aus) Blackburn Cycling                         
2 Rebecca Larson (USA) Aaron's/LS Flyers                         
3 Kacey Manderfield (USA) Verducci/Breakaway                     
4 Lauren Shirock (USA) Capital Cycling                           
5 Ashley Kimmet (USA) Miya Shoji                                 
6 Liz Reap (USA) T-Town Express                                  
7 Elspeth Huyett (USA) Young Mealists                            
8 Theresa Cliff-Ryan (USA) Verducci/Breakaway                    
 
Men's 5km Preme Race
 
1 Ryan Oelkers (USA) PA Lightning                                
2 Pete Fitzpatrick (Aus)                                         
3 Emile Abraham (Tri) Priority Health                            
4 Taylor Brown (USA) PA Lightning                                
5 Barry Miller (USA) Mike Frayssesport.com                       
6 Marc Prutton (NZl) Pegasus                                     
7 Bruce Donaghy (USA) Morgan Stanley                             
8 Leandro Bottaso (Arg) Argentina