Introduction to Track Racing - What's a Wheelrace? - Introduction to Six Day racing - UCI codes
Madison Cup - 3IM
Lehigh Valley Velodrome - Trexlertown, Pennsylvania, USA, August 24, 2007
Italians dominate Madison Cup
By Nathan Carrick
The Italians with the Madison Cup and VPCC Director Erin Hartwell
Photo ©: Todd Leister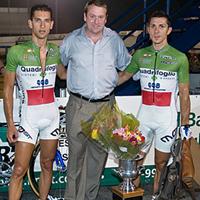 People come a long way to race at the Valley Preferred Cycling Center. Riders from Argentina, Canada, New Zealand, Australia, Great Britain, the Netherlands, Trinidad and Tobago and Italy were on hand for the last night of racing this season, the Red Robin 31st Annual Madison Cup.
Dave Byer (JetFuel) and team-mate Daniele DeFranceschi drove nine hours from Canada just for this one night on the track. Up until last year, Byer worked as a bike messenger in Toronto. After getting a job at Cervelo and training for a year, he couldn't resists taking a long weekend road trip to T-Town to race against the best riders in the world. And can you blame him?
Two Italians from the national team swooped in for a shot at the Madison Cup and they got what they came for. Broken into four events that ran throughout the night, the cup was dominated by Angelo Ciccone and Fabio Masotti.
A 60-lap Madison set the tone for the evening and the Italians beat out Kiwis Hayden Godfrey (Colavita Sutter Homes) and Josh England (North Harbour Cycling Club) by four points to start out strongly.
Next in the Madison cup came back-to-back events that split the 19 teams so each team-mate had to race one of the two races. First was an elimination race and once again the Italians proved fastest, beating Emile Abraham (Priority Health) and Scott Sziwanski (Priority Health). Then immediately after came an eight kilometre scratch race for whichever team-mate sat out for the elimination. The Italians didn't have such great luck here, finishing only seventh. Local sprinter Shane Kline (Salamander Racing) - Tucker Brown's (PA Lightning) partner - took the fast sprint ahead of none other than the Canadian Commuter team of Byer and DeFranceschi.
The scoreboard tells the tale: the Italians on top.
Photo ©: Todd Leister

The final Madison event of the night was a 100-lap blitz that never seemed to slow down. The model for the race was this: an attack goes off the front, gains five bike lengths, then the Italians chase it down. Time and time again they shut down any attempt to gain time on the field. However the Italians never launched any attacks of their own, they simply covered everyone that made an attempt.
The team of Bobby Lea (Toyota-United) and Colby Pearce (CODY) attacked several times but couldn't get away. Zach Bell (Semetrix) and Dave Wiswell (NeracPro) were also on the attack all night, but their efforts proved equally unsuccessful. The Italians were just too strong. Still, Lea and Pearce scored enough points to beat Bell and Wiswell for second. And it was definitely clear from early in the final Madison that the race was for second place.
"It was fast, very fast," Ciccone said after the final race. "More team, more competition, it's hard." Masotti added that he likes riding in Pennsylvania because there are so many fans. The two have been racing Madisons together for six years. Ciccone said Madisons and points races are their speciality.
Breaking up the endurance events throughout the night were sprint tournaments for the men and women. Much of the Australian National Team that has been racing in Trexlertown for the past three weeks made it through the morning sprint rounds. Malaysian Olympian Josiah Ng also made it through the difficult early rounds, which saw local favorites Ben Barczewski (T-Town Express) and Andy Lakatosh (T-Town Express) eliminated.
Ryan Bayley (Australian National Team) advances
Photo ©: Todd Leister

On the women's side, American Jenny Reed (Momentum) qualified only hundredths of a second slower than clear favorite and defending Olympic 500 meter champion Anna Meares (Australian National Team). After burning their way through the rounds, the two met in the sprint finals.
Meares gave Reed a fair amount of distance to start and Reed jumped fairly early. Meares had to ride hard to close the gap, but Reed was able to power down the finishing straight just fast enough to hold her off.
"It was definitely an upset," Reed said. "She's one of the best tacticians in the world. I went out there with nothing on my mind and just tried to do my best. My legs kind of surprised me tonight. They had a little more snap in them than normal. You know, I'm surprised."
On the men's side in the sprints, the finals came down to current Olympic Sprint champion Ryan Bayley (Australian National Team) riding against Olympian Josiah Ng. Although Ng looked strong in his qualifying heats and through the semi-finals, he couldn't match Bayley's speed or jump down the backstretch. Ng led early and opened a significant gap of around 10 bike lengths. With 500 meters to go Ng jumped. But the long sprint didn't quite go his way and with 200 meters to go Bayley rolled him up in a dramatic flourish of speed and raw horsepower. By the time the pair blasted out of turn four and dove for the line, Bayley had pulled ahead and held on for the win.
What a finish! Jenny Reed (Momentum) holds off a hard charging
Photo ©: Todd Leister

Even though Bayley raced his team-mates through the quarter and semi finals, he said there is no love lost among friends.
"It was very difficult even in the quarters," he said, cooling down on rollers after his win. "It's disappointing to come up against my team-mates so often. I mean, we love going overseas and racing different people, but it seems like we always end up racing one another."
Ng, however, was content with second place. "I wanted to win," he said, "but if I had to lose to anyone it'd be Ryan. He's double Olympic champion for a reason. I pulled everything I had though. I didn't want it to be a typical ride."
Ng noted that three of the six riders from the 2004 Olympic Keirin final were riding at the Valley Preferred Cycling Center Friday. He also said that, like most of the other world-class sprinters there, his goal was the 2008 Olympics. The riders have come a long way from Athens to the VPCC. Next step: Beijing.
Josiah Ng (Momentum) goes early and hard, leaving Ryan Bayley
Photo ©: Todd Leister

At the end of the night, velodrome director Erin Hartwell announced this year's riders of the year. For the second consecutive year Peter Fitzpatrick of Australia took the men's title, while Ashley Kimmet won the women's title.
Photography
For a thumbnail gallery of these images, click here
Images by Todd Leister/www.leisterimages.com
Results
 
Men's 60-lap Madison
 
1 Angelo Ciccone (Ita)/Fabio Masotti (Ita) Team Friuli/Team Friame Azzurre                 14 pts
2 Hayden Godfrey (NZl)/Josh England (NZl) Colavita Sutter Home/N Harbour Cycling Cl        10
3 Bobby Lea (USA)/Colby Pearce (USA) Toyota-United/CODY                                    10
4 Anibal Borrajo (Arg)/Alejandro Borrajo (Arg) /Rite-Aid                                    8
5 Zach Bell (Can)/Dave Wiswell (USA) Semetrix/NeracPro                                      8
6 Alejandro Acton (Arg)/Gustavo Artacho (Arg) Colavita Sutter Home/Colavita Sutter Home     8
7 Ryan Mc Kenzie (Can)/Martin Gilbert (Can) Canada                                          2
8 Emile Abraham (Tri)/Sziwanski (USA) Trinidad/Tobago                                       1
9 Tucker Brown (USA)/Shane Kline (USA) PA Ligthning/Salamander Racing                        
10 Jackie Simes (USA)/Ryan Oelkers (USA) PA Lightning/PA Lightning                           
11 Daniele Defranceschi (Can)/Dave Byer (Can) Jet Fuel/Jet Fuel                              
12 Kenny Williams (USA)/Todd Yezefski (USA) Kenmore Wa/NERAC                                 
13 Rich Schenck (USA)/Clay Murfet (Aus) Salamander/Fuji/Fuji/Salamandar                      
14 Leandro Bottaso (Arg)/Guido Palma (Arg) Argentina/Rite-Aid                                
15 Peter Fitzpatrick (Aus)/Jeff Hopkins (Aus) Velocity                                      5 pts
16 Brian Crosby (USA)/Josh Brown (NZl) Uni. Of Minnesota/New Zealand                         
17 Adam Thuss (Can)/Eric Robinson Team RACE/                                                 
18 Ray Ignosh (USA)/Andy Kuklis (USA) Gotham Cyclists/Gotham/Gebsket                         
19 Neil Campbell (NZl)/Simon Vanvelthooven (NZl) New Zealand/New Zealand                     
 
Madison men's 8k
 
1 Brown/Kline                                                                                
2 Defrancesohi/Byer                                                                          
3 Acton/Artacho                                                                              
4 Borrajo/Borrajo                                                                            
5 Lea/Pearce                                                                                 
6 Fitzpatrick/Hopkin                                                                         
7 Ciccone/Masotti                                                                            
8 Mckenzie/Gilbert                                                                           
9 Schneck/Murfet                                                                             
10 Bottaso/Palma                                                                             
11 Bell/Wiswell                                                                              
12 Godfer\Y/England                                                                          
13 Simes/Oelkers                                                                             
14 Williams/Yezefski                                                                         
15 Crosby/Brown                                                                              
16 Abraham/Sziwanski                                                                         
17 Thuss/Robinson                                                                            
DNS Campbell N/ Vanvelth                                                                       
DNS Ignosh/Kuklis                                                                            
 
Madison men's elimination
 
1 Ciccone/Masotti                                                                            
2 Abraham/Sziwanski                                                                          
3 Lea/Pearce                                                                                 
4 Fitzpatrick/Hopkin                                                                         
5 Mckenzie/Gilbert                                                                           
6 Borrajo/Borrajo                                                                            
7 Godfery/England                                                                           
8 Schneck/Murfet                                                                             
9 Brown/Kline                                                                                
10 Bottaso/Palma                                                                             
11 Simes/Oelkers                                                                             
12 Bell/Wiswell                                                                              
13 Williams/Yezefski                                                                         
14 Crosby/Brown                                                                              
15 Thuss/Robinson                                                                            
DNF Acton/Artacho                                                                            
DNS Campbell N/ Vanvelth                                                                       
DNS Ignosh/Kuklis                                                                            
DNF Defrancesohi/Byer                                                                        
 
Men's 100-lap Madison
 
1 Angelo Ciccone (Ita)/Fabio Masotti (Ita) Team Friuli/Team Friame Azzurre                 58 pts
2 Bobby Lea (USA)/Colby Pearce (USA) Toyota-United/CODY                                    43
3 Zach Bell (Can)/Dave Wiswell (USA) Semetrix/NeracPro                                     28
4 Anibal Borrajo (Arg)/Alejandro Borrajo (Arg) /Rite-Aid                                   25
5 Alejandro Acton (Arg)/Gustavo Artacho (Arg) Colavita Sutter Home/Colavita Sutter Home    22
6 Emile Abraham (Tri)/Sziwanski (Tri) Trinidad/Tobago/                                     21
7 Ryan Mc Kenzie (Can)/Martin Gilbert (Can) Canada/                                        20
8 Hayden Godfrey (NZl)/Josh England (NZl) Colavita Sutter Home/N Harbour Cycling Cl        14
9 Daniele Defranceschi (Can)/Dave Byer (Can) /Jet Fuel                                     10
10 Rich Schenck (USA)/Clay Murfet (Aus) Salamander/Fuji/Fuji/Salamandar                     7
11 Jackie Simes (USA)/Ryan Oelkers (USA) PA Lightning/PA Lightning                           
12 Kenny Williams (USA)/Todd Yezefski (USA) Kenmore Wa/NERAC                                 
13 Tucker Brown (USA)/Shane Kline (USA) PA Ligthning/Salamander Racing                     15 pts
14 Peter Fitzpatrick (Aus)/Jeff Hopkins (Aus) Velocity/                                    15
15 Brian Crosby (USA)/Josh Brown NZL Uni. Of Minnesota/New Zealand                           
16 Adam Thuss CAN/Eric Robinson CAN Team RACE/                                               
T17. Neil Campbell NZL/Simon Vanvelthooven NZL New Zealand/New Zealand                       
T17. Ray Ignosh (USA)/Andy Kuklis (USA) Gotham Cyclists/Gotham/Gebsket                       
T17. Leandro Bottaso ARG/Guido Palma ARG Argentina/Rite-Aid                                  
 
Men's 200m TT

1 Mark French (Aus)                                                                     0.10.60
2 Ryan Bayley (Aus)                                                                     0.00.04
3 Jason Niblett (Aus)                                                                   0.00.08
4 Scott Sunderland (Aus)                                                                0.00.16
5 Josiah Ng (Mal)0.00.19
6 Adam Duvendek (USA)                                                                   0.00.22
7 Daniel Ellis (Aus)                                                                    0.00.25
8 Shane Kelly (Aus)                                                                     0.00.26
9 Travis Smith (Can)                                                                    0.00.31
10 Jason Kenny (GBr)                                                                    0.00.32
11 Ryan Nelman (USA)                                                                    0.00.33
12 Kasper Jessen (Den)                                                                  0.00.38
13 Matt Crampton (GBr)                                                                  0.00.44
14 Andy Lakatosh (USA)                                                                  0.00.46
15 Ben Barczewski (USA)                                                                 0.00.47
T16 Gary Ryan (Aus)                                                                     0.00.51
T16 Neil Campbell (NZl)                                                                        
18 Giddeon Massie (USA)                                                                 0.00.52
19 Joel Leonard (Aus)                                                                   0.00.53
20 Tim Veldt (Ned)                                                                      0.00.65
21 Simon Vanvelthooven (NZl)                                                            0.00.66
22 Jonathan Lewis (NZl)                                                                 0.00.88
23 Chris Stern (USA)                                                                    0.01.81
 
Men's sprint 1/8 final

Heat 1

1 Mark French (Aus)                                                                     0.11.58
2 Gary Ryan (Aus)                                                                              

Heat 2

1 Ryan Bayley (Aus)                                                                     0.11.39
2 Ben Barczewski (USA)                                                                         

Heat 3

1 Jason Niblett (Aus)                                                                   0.11.41
2 Andy Lakatosh (USA)                                                                          

Heat 4

1 Matt Crampton (GBr)                                                                   0.11.68
2 Scott Sunderland (Aus)                                                                       

Heat 5

1 Josiah Ng (Mal)0.11.35
2 Kasper Jessen (Den)                                                                          

Heat 6

1 Ryan Nelman (USA)                                                                     0.11.42
2 Adam Duvendek (USA)                                                                          

Heat 7

1 Daniel Ellis (Aus)                                                                    0.11.30
2 Jason Kenny (GBr)                                                                            

Heat 8

1 Shane Kelly (Aus)                                                                     0.11.12
2 Travis Smith (Can)                                                                           
 
Men's sprint 1/4 final

Heat 1

1 Shane Kelly (Aus)                                                                     0.11.13
2 Mark French (Aus)                                                                            

Heat 2

1 Ryan Bayley (Aus)                                                                     0.11.34
2 Daniel Ellis (Aus)                                                                           

Heat 3

1 Jason Niblett (Aus)                                                                   0.11.09
2 Ryan Nelman (USA)                                                                            

Heat 4

1 Josiah Ng (Mal)                                                                       0.11.35
2 Matt Crampton (GBr)                                                                          
 
Men's sprint 1/2 finals

Heat 1

1 Josiah Ng (Mal)                                                                       1.05.37
2 Shane Kelly (Aus)                                                                            

Heat 2

1 Ryan Bayley (Aus)                                                                     1.04.81
2 Jason Niblett (Aus)                                                                          
 
Men's sprint 5-8 final

1 Mark French (Aus)                                                                            
2 Ryan Nelman (USA)                                                                            
3 Daniel Ellis (Aus)                                                                           
4 Matt Crampton (GBr)                                                                          
 
Men's sprint finals

Finals for 3 and 4

1 Jason Niblett (Aus)                                                                          
2 Shane Kelly (Aus)                                                                            

Finals for 1 and 2

1 Ryan Bayley (Aus)                                                                            
2 Josiah Ng (Mal) 
Women's 200m TT

1 Anna Meares (Aus)                                                                     0.11.59
2 Jenny Reed (USA)                                                                      0.00.13
3 Kerrie Meares (Aus)                                                                   0.00.38
4 Liz Reap (USA)                                                                        0.00.60
5 Laura Mccaughey (Aus)                                                                 0.00.67
6 Cindy Lakatosh (USA)                                                                  0.00.92
7 Shelby Allen (USA)                                                                    0.01.13
8 Joanna Wiersma (Can)                                                                  0.01.24
9 Mindi Martin (USA)                                                                    0.01.31
10 Colleen Hayduk (USA)                                                                 0.01.38
11 Veronica Martinez (Arg)                                                              0.01.47
 
Women's 1/8 sprint finals

Heat 1

1 Anna Meares (Aus)                                                                            

Heat 2

1 Jenny Reed (USA)                                                                      0.52.61
2 Veronica Martinez (Arg)                                                                      

Heat 3

1 Kerrie Meares (Aus)                                                                   0.56.66
2 Colleen Hayduk (USA)                                                                         

Heat 4

1 Liz Reap (USA)                                                                        0.56.08
2 Mindi Martin (USA)                                                                           

Heat 5

1 Laura Mccaughey (Aus)                                                                 0.51.08
2 Joanna Wiersma (Can)                                                                         

Heat 6

1 Cindy Lakatosh (USA)                                                                  0.55.19
2 Shelby Allen (USA)                                                                           
 
Women's sprint 1/4 finals

Heat 1

1 Anna Meares (Aus)                                                                     0.53.88
2 Veronica Martinez (Arg)                                                                      

Heat 2

1 Jenny Reed (USA)                                                                      0.55.05
2 Shelby Allen (USA)                                                                           

Heat 3

1 Kerrie Meares (Aus)                                                                   0.57.80
2 Cindy Lakatosh (USA)                                                                         

Heat 4

1 Liz Reap (USA)                                                                        0.56.47
2 Laura Mccaughey (Aus)                                                                        
 
Women's spring semi finals

Heat 1

1 Anna Meares (Aus)                                                                     0.56.79
2 Liz Reap (USA)                                                                               

Heat 2

1 Jenny Reed (USA)                                                                      0.58.56
2 Kerrie Meares (Aus)                                                                          
 
Women's sprint 5-8 final

1 Laura Mccaughey (Aus)                                                                 0.12.75
2 Veronica Martinez (Arg)                                                                      
3 Cindy Lakatosh (USA)                                                                         
4 Shelby Allen (USA)                                                                           
 
Women's sprint final

Finals for 3 and 4

1 Kerrie Meares (Aus)                                                                          
2 Liz Reap (USA)                                                                               

Finals for 1 and 2

1 Jenny Reed (USA)                                                                             
2 Kerrie Meares (Aus)                                                                          
 
Women's 16k points race

1 Vera Carrara (Ita)                                                                         24 pts
2 Gina Grain (Can)                                                                           22
3 Theresa Cliff-Ryan (USA)                                                                   14
4 Laura Mccaughey (Aus)                                                                      14
5 Colleen Hayduk (USA)                                                                        8
6 Mindi Martin (USA)                                                                          6
7 Iona Wynter Parks (Jam)                                                                     5
8 Erica Allar (USA)                                                                           4
9 Lauren Shirock (USA)                                                                        2
10 Julia Bradley (Can)                                                                         
11 Silia Castoldi (Ita)                                                                        
12 Laura Yolsten (Can)                                                                      -20
T13. Veronica Martinez (Arg)                                                                   
T13. Mary Costelloe (USA)                                                                      
 
Women 10k scratch race

1 Veronica Veronica Martinez (Arg) JVR Sports                                                  
2 Jenny Jenny Reed (USA) Momentum                                                              
3 Mindi Mindi Martin (USA) Plane Team Revolutio                                                
4 Laura Laura Mccaughey (Aus) Salamander                                                       
5 Gina Gina Grain (Can) Team Canada                                                            
6 Colleen Colleen Hayduk (USA) Fuji/Salamander                                                 
7 Liz Liz Reap (USA) T-Town Express                                                            
8 Erica Erica Allar (USA) Team Fuji                                                            
9 Theresa Theresa Cliff-Ryan (USA) Verducci Breakaway                                          
10 Vera Vera Carrara (Ita) GS Fiamme Azzurre                                                   
11 Silia Silia Castoldi (Ita) ASD Gruppo Lupi                                                  
12 Iona Iona Wynter Parks (Jam) Colavita Sutter Home                                           
13 Julia Julia Bradley (Can) Team RACE                                                         
14 Laura Laura Mccaughey (Aus) Salamander                                                      
15 Mary Mary Costelloe (USA) ECV                                                               
 
Junior Men 200m TT

1 David Espinoza (USA)                                                                  0.11.24
2 Lanell Rockmore (USA)                                                                 0.00.43
3 William Lampe (Can)                                                                   0.00.61
4 Ted Sheperd (USA)                                                                     0.00.69
5 Epes (Andrew) Harris (USA)                                                            0.00.73
6 Chris Stern (USA)                                                                     0.01.05
7 Matthew Holub (USA)                                                                   0.01.46
 
Junior Men sprint 1/4 final
 
Heat 1
1 David Espinoza (USA) Herbal Life                                                             

Heat 2
1 Lanell Rockmore (USA) Young Medalists                                                        
2 Matthew Holub (USA) Gotham Cyclists                                                          

Heat 3
1 William Lampe (Can)                                                                          
2 Chris Stern (USA) Salamander Racing                                                          

Heat 4
1 Ted Sheperd (USA) Young Medalists                                                            
2 Epes (Andrew) Harris (USA) FCS Cycling                                                       
 
Junior Men sprint semi final

Heat 1
1 David Espinoza (USA)                                                                  0.12.04
2 Epes (Andrew) Harris (USA)                                                                   

Heat 2
1 Lanell Rockmore (USA)                                                                 0.12.35
2 William Lampre (Can)                                                                         
 
Junior Men sprint 5-8 final

1 Ted Sheperd (USA)                                                                            
2 Chris Stern (USA)                                                                            
3 Matthew Holub (USA)                                                                          
 
Junior Men sprint final

Finals for 3 and 4
1 William Lampe (Can)                                                                          
2 Epes (Andrew) Harris (USA)                                                                   
Finals for 1 and 2
1 David Espinoza (USA)                                                                         
2 Lanell Rockmore (USA)                                                                        
 
Junior Men 5k final

1 Lanell Rockmore (USA) Young Medalists                                                        
2 Tynan Farley (USA) Young Medalist                                                            
3 Epes (Andrew) Harris (USA) FCS Cycling                                                       
4 Pete Muto (USA) Gotham Cyclists                                                              
5 Jeremy Shirock (USA) South Moutain                                                           
6 Zack Semian (USA) Young Medalist                                                             
DNF Ted Sheperd (USA) Young Medalists                                                          
DNF William Lampe (Can) Unattached                                                             
DNF Matthew Holub (USA) Gotham Cyclists                                                        
DNF Chris Stern (USA) Salamander Racing                                                        
DNS David Espinoza (USA) Herbal Life