Introduction to Track Racing - What's a Wheelrace? - Introduction to Six Day racing - UCI codes
Sydney Thousand - NE
Canterbury Velodrome, Australia, October 29, 2006
Sydney Thousand Big Success
McEwen sits behind Justin Tomlinson
Photo ©: John Veage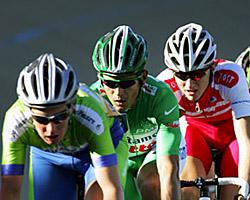 The recently restored Canterbury Velodrome at Tempe hosted the staging of the historic Sydney Thousand last Sunday and came through with flying colours. The cream of Australia's best cyclists including dual Olympic and Commonwealth Games champion Ryan Bayley and three-time Tour de France sprint champion Robbie McEwen contested races on the day, along with Malayasian champions Josiah Ng and Rizal Tesin and the Danish national team. The event thrilled the largest crowd to the attend the Tempe Velodrome since the late eighties.

The feature event, the Sydney Thousand handicap event, was staged for the first time 103 years ago on the hallowed grounds of the Sydney Cricket Ground. This year's edition was won by 2005 national keirin champion Joel Leonard, who powered home over the top of Ryan Bayley in the finishing straight. Bayley looked a certain winner 200 metres from the finish, but his earlier effort in the heat took its toll, and Leonard (who started from the 20 metre mark) proved too strong in the home straight. It was the second successive win by a Victorian following Leigh Howard's win off the 70 metre mark last year.

Steve Fitzpatrick (55 metres) took out the third placing just ahead of Justin Tomlinson of Southern Highlands (130m) with Joel Stewart of the ACT and Gavin Bates of St. George (both of 85m) also in contention.

Bayley turned the tables in the international Keirin when he sped away with one lap remaining of the 333 metre track, and won by 8 lengths from Jason Niblett. Niblett managed to hold off Mark French to claim second, and Kial Stewart was next best in fourth.

Robbie McEwen displayed some excellent track form winning the points race ahead of the in-form Stephen Rossendel and Jens-Erik Madsnm, and then went on to finish second in the Aces scratch race. McEwen was beaten in the final few metres by Adrian Hanson of Coburg, with Rossendal once again picking up a place in third.

Kaarle McCulloch, bronze medal winner in the Junior worlds
Photo ©: John Veage

Bankstown's Rochelle Gilmore topped the winners list for Women by taking out the women's keirin and wheelrace, but was defeated 2-0 by Kaarle McCulloch in their match race. McCulloch, who raced exceptionally well on the day, was pipped in the wheelrace on the line by Gilmore, but raced impressively in all of her events. Kate Bates, the dual Commonwealth Games champion, posted a historic win over world masters champion Keith Oliver in the battle of the sexes. Bates also won the Women's scratch race.
The day also featured a Stars of the Future race, won by Michael Docker of Lidcombe ahead of his team mate Brendan Cole. Travis Smedley from Central Coast was third.
All riders praised the surface of the Canterbury track. The Danish world cup champions claimed a significant win in the 2000 metre teams pursuit challenge, and after the race, Dane Michael Christensen said that the facility was "world class". The Sydney Thousand came off without incident, and the promoters are planning to stage another world class event featuring cyclists and athletes in February.
Photography
For a thumbnail gallery of these images, click here
Images by John Veage
Results
Sydney Thousand Wheelrace Heats - 6 Laps
Heat 1

1 Ryan Bayley (WA)                         Scratch
2 Joel Stewart (ACT)                           85m
3 J. L. Rathnone (Penrith Panthers CC)         80m
4 Michael Lewis (Hunter Dist. CC)              95m
5 Anthony Bennett (Lidcombe Auburn CC)        130m
6 James Schneider (Bicisport CC)              120m
7 Michael Mellish (Bicisport CC)              150m
 
Heat 2

1 Josh Ng (Malaysia)                           15m
2 Angus Morton (Port Macquarie CC)             90m
3 Joel Leonard (Vic)                           20m
4 Steve Fitzpatrick (St George CC)             55m
5 Gavin Bates (St George CC)                   85m
6 Mark Prutton (N.Z.)                         125m
7 Justin Tomlinson (Southern Highlands CC)    130m
 
Heat 3

1 Rizal Jesin (Malaysia)                       45m
2 Dale Scarfe (Central Coast CC)              130m
3 Adrian Hanson (Coburg CC)                    85m
4 Mark French (Vic)                            30m
5 Tyler McLachlan (Southern Cross CC)          90m
6 David Browne (Bicisport CC)                 125m
7 Luis Trueba (Macarthur CC)                  100m
 
Women's Wheelrace - 5 laps

1 Rochelle Gilmore (Bankstown Sports CC)       15m
2 Kaarle McCulloch (St George CC)              30m
3 Elizabeth Georgouras (Bicisport CC)          25m
4 Amanda Spratt (Penrith Panthers CC)          40m
 
Tandem Challenge - 6 Laps

1 Sean Hopkins (NSW)                             
 Ben Demery (NSW)                                
2 Steven Storer (QLD)                            
 Bryce Lindores (QLD)                            
3 Ben Macfie (QLD)                               
 Ben Holmes (QLD)                                
 
Sydney Thousand Final 6 Laps

1 Joel Leonard (Vic)                           20m
2 Ryan Bayley (WA)                         Scratch
3 Steve Fitzpatrick (St George CC)             55m
4 Justin Tomlinson (Southern Highlands CC)    130m
5 Joel Stewart (ACT)                           85m
6 Gavin Bates (St George CC)                   85m
 
Sprint Match Race Round 1

1 Kaarle Mcculloch (St George CC)                
2 Rochelle Gilmore (Bankstown Sports CC)         
 
Aces Keirin

1 Ben Simmonelli (Qld)                           
2 Steve Fitzpatrick (St George CC)               
3 Tyler McLachlan (Southern Cross CC)            
4 Casper Jorgenson (Denmark)                     
5 Stephen Rossendel (Tas.)                       
6 Richard England (Vic.)                         
 
Sprint Match Race Round 2

1 Kaarle McCulloch (St George CC)                
2 Rochelle Gilmore (Bankstown Sports CC)         
 
Battle of the Sexes - 3 Laps

1 Kate Bates (Parramatta CC)                     
2 Keith Oliver (Parramatta CC)                   
 
Mens' Keirin - 6 Laps

1 Ryan Bayley (WA)                               
2 Jason Niblett (Vic.)                           
3 Mark French (Vic.)                             
4 Kial Stewart (ACT)                             
5 Joel Leonard (Vic.)                            
6 Rizal Jesin (Malaysia)                         
 
Masters Scratch Race - 12 Laps

1 Peter Barnard (Bicisports CC)                  
2 Keith Oliver (Parramatta CC)                   
3 Gavin White (Marconi CC)                       
4 Mitchell Stock (Penrith Panthers CC)           
5 Martin Millwood (Randwick Botany CC)           
 
Womens Keirin - 6 Laps

1 Rochelle Gilmore (Bankstown Sports CC)         
2 Elizabeth Georgouras (Bicisport CC)            
3 Kaarle Mcculloch (St George CC)                
4 Amanda Spratt (Penrith Panthers CC)            
5 Skye-Lee Armstrong (Parramatta CC)             
 
2000 Metre Teams International Challlenge

1 Denmark                                        
2 Australia                                      
 
Stars of the Future - 5 Laps

1 Michael Docker (Lidcombe Auburn CC)            
2 Brendan Cole (Lidcombe Auburn CC)              
3 Travis Smedley (Central Coast CC)              
4 Max Pearse (Wagga Wagga CC)                    
5 Lara Batkin (St George CC)                     
6 Nathan Bradshaw (St George CC)                 
 
International Points Race

1 Robbie McEwen (Qld)                            
2 Stephen Rossendel (Tas)                        
3 Jens-Erik Madsenm (Denmark)                    
4 J.L. Rathbone (Penrith Panthers)               
5 Daniel Kreutzfeld (Denmark)                    
5 Michael Lewis (Hunter Dist. CC)                
7 Gavin Bates (St George CC)                     
7 Richard England (Vic.)                         
 
Womens Scratch Race 12 Laps

1 Kate Bates (Parramatta CC)                     
2 Rochelle Gilmore (Bankstown Sports CC)         
3 Kaarle McCulloch (St George CC)                
4 Amanda Spratt (Penrith Panthers CC)            
5 Sally Cowman (Qld)                             
6 Natasha Pearse (Wagga Wagga CC)                
7 Chloe Hosking (ACT)                            
8 Hannah Bush (Vic.)                             
 
U19 Scratch Race - 12 Laps

1 Luke Davison (Randwick Botany CC)              
2 Dale Scarfe (Central Coast CC)                 
3 Paul Fellows (Wagga Wagga CC)                  
4 Dirk Roshier (Wagga Wagga CC)                  
5 Lawrence Van Schie (Central Coast CC)          
 
A Reserve Scratch Race - 16 Laps

1 Michael Lewis (Hunter Dist. CC)                
2 Michael Mellish (Bicisport CC)                 
3 Justin Tomlinson (Southern Highlands CC)       
4 Andrew Herrmenn (Lidcombe Auburn CC)           
5 Luis Trueba (Macarthur CC)                     
6 David Browne (Bicisport CC)                    
 
Aces Scratch Race - 16 Laps

1 Adrian Hanson (Coburg CC)                      
2 Robbie McEwen (Qld)                            
3 Stephen Rossendal (Tas)                        
4 Kial Stewart (ACT)