Introduction to Track Racing - What's a Wheelrace? - Introduction to Six Day racing - UCI codes
USA Elite National Track Championships - CN
USA, October 4-7, 2006
Day 1 - October 4: Men 250m, IP, Keirin, Scratch, Women IP
Hammer breaks 11-year-old national record en route to pursuit title
National Record, Track Record, Personal Best for Reigning World Champion
By Andy Lee, USA Cycling
Sarah Hammer
Photo ©: Mitch Friedman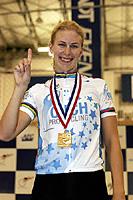 After breaking an 11-year drought with a world title in the women's three-kilometre individual pursuit in April, Sara Hammer (Temecula, Calif./Ouch Pro Cycling) eclipsed another 11-year-old mark Wednesday, setting a new national record in the same event during the opening session of the USA Cycling Elite Track National Championships at the ADT Event Center. In the ensuing finals Wednesday evening, Hammer added another national title to her résumé, catching silver medalist Katie Compton (Colorado Springs, Colo./Spike) six laps into the 12 lap race.
Hammer clocked a time of 3 minutes, 32.865 seconds to smash the previous national record of 3:36.08 set by Rebecca Twigg in Bogota, Colombia in 1995. When Hammer won the world championship in Bordeaux, France six months ago, it was the first time in eleven years an American captured an elite women's world title on the track - a feat also last accomplished by Twigg in 1995.
Hammer's qualifying time shaved over four seconds off her personal best of 3:37.194 - a mark she set in the qualifying round of this year's world championships. In addition to a new personal best and a new national record, Hammer also surpassed the ADT Event Center track record - a mark she already owned after clocking a 3:37.799 at the UCI World Cup in January.
"I had hoped to break the national record," explained Hammer of her pre-race strategy. "That was the goal. Obviously being world champion I wanted that record, but I didn't want to think about it too much because it's only October and training has just started. My times in training have been consistent with what would be on pace to do that, but I didn't think I'd be riding a 3:32, that's for sure. I was thinking maybe a 3:35."
The women's IP podium
Photo ©: Mitch Friedman

Hammer's accomplishments bookend an impressive year for American women in endurance cycling events. After Hammer notched a world championship in April, Kristin Armstrong (Boise, Idaho/Team Lipton) and Christine Thorburn (Menlo Park, Calif./Webcor-Platinum) rode to gold and bronze respectively in the time trial at the UCI Road World Championships in September.
Hammer's latest achievement puts her one step closer to her ultimate goal.
"It makes me confident and a little hungry for that gold medal in Beijing," she stated. "I want that gold medal. That's what I would like to walk away with when I walk away from cycling - world champion, Olympic champion, and at some point, world record holder."
Neva B. Day (Manhattan Beach, Calif./South Bay Wheelmen) won the bronze medal over Christen King (Huntington Beach, Calif./Young's Training Group) to round out the top three in the women's pursuit.
Wednesday also saw several other national champions crowned as this year's event hosts 176 competitors, a slight increase from the 2005 edition.
Adam Duvendeck
Photo ©: Mitch Friedman

In the men's keirin, 2004 U.S. Olympic Team member Adam Duvendeck (Santa Barbara, Calif./Echelon Santa Barbara) outsprinted four Team Spike riders in the six-man final to capture the national title in his return to elite-level racing. Duvendeck held off a closing Kevin Selker (Boulder, Colo./Spike), Giddeon Massie (Colorado Springs, Colo./Spike), Andy Lakatosh (Trexlertown, Pa./Spike), Michael Blatchford (Cypress, Calif./Spike) and Eugene Chacherine (Golden, Colo./Colorado School of Mines) respectively to claim the stars-and-stripes jersey.
Earlier in the day, Massie captured a national title in the men's 250-meter standing time trial. Massie clocked a time of 18.622 seconds to edge silver medalist Ben Barczewski (Breiginsville, Pa./Spike) by just four hundredths of a second over the one-lap race.
In the men's four-kilometre individual pursuit, TIAA-CREF riders Michael Friedman (Pittsburgh, Pa.) and Brad Huff (Fair Grove, Mo.) squared off against each other in the gold-medal final with Friedman getting the best of his teammate. Friedman clocked a time of 4:33.765 in the morning's qualifying session to earn the top seed to Huff's 4:38.505. In the bronze-medal match, newcomer Daniel Harm (Seattle, Wash./Recycled Cycles) surprised the 41-rider field to claim the bronze medal over Roger Rilling (Los Angeles, Calif./Team Stoller).
Jelly Belly rider David McCook
Photo ©: Mitch Friedman

In the men's 15-kilometer scratch race final, seasoned road pro Dave McCook (Mountain View, Calif./Jelly Belly) took home the stars-and-stripes jersey ahead of Cody O'Reilly (Santa Barbara, Calif./Echelon Santa Barbara) and Dan Vogt (Corona del Mar, Calif./Sonance-Specialized).
Three U23 national titles were also awarded Wednesday as Harm earned a championship in the men's pursuit, Kimberly Geist (Emmaus, Pa./Victory Brewing) captured a title in the women's pursuit and Mikkel Bossen (Portland, Ore./Team Oregon) won the men's 15-kilometer scratch race.
The 2006 USA Cycling Elite Track National Championships continue Thursday with finals in the men's kilometre time trial, the women's sprint and the men's points race.
Photography
For a thumbnail gallery of these images, click here
Images by Mitch Clinton/www.clintonphoto.com
Images by Mitch Friedman/www.mitchophoto.com
Results
Men's 250m TT

1 Giddeon Massie (SPIKE Pro Cycling)                                              18.622
2 Benjamin Barczewski (SPIKE Pro Cycling)                                         18.679
3 Ryan Nelman (CKRacing)                                                          18.860
4 Dean Tracy (Rubicon/Chinook Cycl)                                               19.124
5 Kelyn Akuna (Easton/Specialized)                                                19.239
6 David Espinoza (JC Investors)                                                   19.346
7 Eduardo Cocina (Unattached)                                                     19.424
8 Eugene Chacherine (Colorado School of M)                                        19.430
9 Justin Williams (Major Motion)                                                  19.538
10 Mike Lifshotz (Z's Bikes and Fitnes)                                           19.836
11 Mark Sullivan (Southwest Cycling Cl)                                           20.246
12 Chris Ferris (Sub11)                                                           20.287
13 Randy Mclain (Hammer Racing Team)                                              20.305
14 Thomas Valentine (Motortubs/Alliance)                                          21.057
15 Douglas Northcott (Team Taylor)                                                21.065
16 Matthew Martinez (Cyfac)                                                       21.423
17 Victor Copeland (AMD Masters Cycling)                                          21.519
18 Randy Clark (Big City Velo)                                                    22.675
19 Kevinn Matthews (PowerBar Team Eliteâ)                                         22.883
20 Andre Fredy (Z's Bikes/JC Investo)                                             23.241

 
Women's 3000m individual pursuit

1 Sarah Hammer (Temecula, Calif.) 
2 Katie Compton (Colorado Springs, Colo.)
3 Neva B Day (Manhattan Beach, Calif.)
 
Men's 4000m individual pursuit

1 Mike Friedman (USA)
2 Brad Huff (USA)
3 Daniel Harm (USA)
4 Roger Rilling (USA)
5 Todd Yezefski (USA)
6 Tom Zirbel (USA)
7 Marco Hellman (USA)
8 Mike Garrett (USA)
9 Jamiel Danesh (USA)
10 Austin Carroll (USA)
11 Tom Hanley (USA)
12 Hatcher Rosebrock (USA)
13 Sam Jurekovic (USA)
14 Kelly Sparks (USA)
15 Scott Zwizanski (USA)
16 Kirk Winters (USA)
17 Taylor Tolleson (USA)
18 Blake Caldwell (USA)
19 Zach Watson (USA)
20 Keith Miller (USA)
 
Men's Keirin

1 Adam Duvendeck (USA)
2 Kevin Selker (USA)
3 Giddeon Massie (USA)
4 Andrew Lakatosh (USA)
5 Michael Blatchford (USA)
6 Eugene Chacherine (USA)
7 Benjamin Barczewski (USA)
8 Dean Tracy (USA)
9 Spencer Hartfeld (USA)
10 Thomas Valentine (USA)
11 Kelyn Akuna (USA)
12 Chad Millikan (USA)
 
Men's 15 km Scratch Race

1 David Mccook (Jelly Belly Pro Cycl)
2 Cody O'reilly (Echelon Santa Barbar)	  
3 Dan Vogt (Sonance/Specialized)	  
4 Mikkel Bossen (Team Oregon)		  
5 Jackie Simes (Tri State Velo)		  
6 Ryan Luttrell (SPIKE Pro Cycling)	  
7 Taylor Tolleson (Team TIAA-CREF)	  
8 Steve Beardsley (Rubicon/Chinook Cycl)  
9 James Carney (Team FUJI / Salamand)	  
10 Brent Hanlin (Vitamin Cottage)
11 Richard Schenck (Team Fuji)
12 Aron Gadhia (Kahala La Grange)
13 Mike Garrett (Kahala-LaGrange)
14 Danny Pate (Team TIAA-CREF)
15 Chris Lindensmith (PAA/Merrill Lynch/Bi)
16 Chad Hartley (Team TIAA-CREF)
17 Austin Carroll (i.e. Bikes/Californi)
18 Mike Creed (Team TIAA-CREF)
19 Rahsaan Bahati (Team TIAA-CREF)
20 Scott Zwizanski (Kodakgallery.com/sie)
DNF Shane Kline (Team FUJI / Salamand)
DNF Steve Pelaez (GS Lombardi Sports)
DNF Luke Cavender (Wolverine/Fraser)