Introduction to Track Racing - What's a Wheelrace? - Introduction to Six Day racing - UCI codes
43rd Six Days of Munich - 6D
Germany, November 9-14, 2006
Main Page Results Overall standings Previous Day
Day 6 - November 14:
Exciting finale for the Six Days of Munich
Portraits of the winners Erik Zabel (Ger) and Bruno Risi (Swi)
Photo ©: Birke Ulrich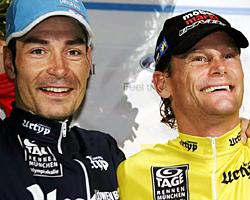 The 43rd Six Days of Munich came to a close with a battle royale for the yellow winner's jersey. Race favorites Erik Zabel (Ger) and Bruno Risi (Swi) had held a strong lead over the first three nights, taking two laps out of their nearest competitors, Franco Marvulli (Swi) and Iljo Keisse (Bel). But Marvulli and Keisse turned the tables on night four, gaining back those two laps and overtaking Zabel and Risi for the lead by 17 points.
But Zabel and Risi did not panic, and held Marvulli and Keisse to the same lap on night five, and then were able to gain back enough points to tie for the lead. The next nearest team, Danny Stam and Peter Schep (Ned), were only one lap behind, but were a long-shot for the overall at 65 points back. The close race set up night six for a barn-burninig finale, and the crowd would not be disappointed.
Early in the evening on night six, Keisse bested Risi in the derny race, which was won by Beikrich, then soundly defeated Zabel and Risi in the 500m time trial, sending the crowd into a frenzy. In the next derny race, Zabel put in a huge late race attack, winning the race over Paolo Bettini, and gaining the lead by one point.
In the final event, the two teams traded attack after attack, but Zabel and Risi had more left in the tank, and were able to answer every move by Marvulli and Keisse. Late in the race, Zabel put in an attack that could not be answered, and pulled his team ahead by a lap. Despite their best efforts, Marvulli and Keisse could not pull Risi and Zabel back, and Zabel was able to take the final two points sprints of the evening and secure his team's victory in the closest edition of the Munich Six Day in recent years.
Photography
For a thumbnail gallery of these images, click here
Images by Birke Ulrich/www.alakarte.de
Images by www.sechstagerennen.infowww.sechstagerennen.info/
Results
1 Erik Zabel / Bruno Risi (Ger/Swi)                  349 pts

One lap down

2 Franco Marvulli /Iljo Keisse (Swi/Bel)             343 pts

Two laps down

3 Danny Stam / Peter Schep (Ned)                     256 pts

Three laps down

4 Juan Llaneras / Isaac Galvez (Spa)                 175 pts

Eight laps down

5 Robert Bartko / Andreas Beikirch (Ger)             124 pts

11 laps down

6 Christian Grassmann / Christian Lademann (Ger)     166 pts

14 laps down

7 Andreas Müller / Alexander Aeschbach (Ger/Swi)     141 pts

16 laps down

8 Paolo Bettini / Marco Villa (Ita)                  145 pts

18 laps down

9 Stefan Löffler / Sebastian Frey (Ger)              114 pts

19 laps down

10 Andreas Kappes / Erik Mohs (Ger)                  124 pts

22 laps down

11 Marc Hester / Mathe Pronk (Den/Ned)               105 pts

24 laps down

12 Gerd Dörich / Frank Kowatschitsch (Ger)            70 pts

28 laps down

13 Christian Bach / Roger Kluge (Ger)                155 pts
14 Angelo Ciccone / Fabio Masotti (Ita)              138
 
UIV Rad Open (Espoirs)

1 Christian Kux / Marcel Kalz (Ger)                  147 pts
2 Michael Arends / Tristan Marguet (Ger)             127
3 Georg Tazreiter / Andreas Graf (Aut)               108
4 Pim Ligthart / Jeff Vermeulen (Ned)                 86
5 Tobias Baumgartner / Beni Baumgartner (Swi)         80
6  Morgan Kneisky / Michael Jeannin (Fra)             76
7 Patrick Betz / Felix Schnönecker (Ger)              73
8 Martin Lollesgaard / Jakob Dyrgaard (Den)           72
9 Rolf Hofbauer / Stephan Lägeler (Ger)               53
10 Dominique Stark / Bruno Menzi (Swi)                53
11 Kilian Moser / Rene Schibli (Swi)                  50
12 Benjamin Edmüller (Ger) / Benedikt Baselt (Ger)    30