Introduction to Track Racing - What's a Wheelrace? - Introduction to Six Day racing - UCI codes
Los Angeles Track World Cup - CDM
ADT Velodrome, Carson, California, USA, January 20-22, 2006
Main Page Results Overall standings Previous Session Next Session
Session 3 - Morning, Saturday January 21: Women: Individual pursuit qual; Men: Sprint qual; team pursuit qual; points race qual
Record falls to Hammer; Staff falls to Blatchford in morning qualifiers
By Rob Jones in Los Angeles
Jamie Staff (UK)
Photo ©: Mitch Clinton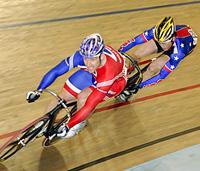 The second day of competition opened in the morning with qualifying for the men's sprint, the Team Sprint, the men's Points Race and the women's Pursuit.
The men's sprint saw one surprise early exit, with Ryan Bayley not making the top-16 cut in the Flying 200M. The first round of sprinting had its own excitement in the heat between Jamie Staff (GBr) and Michael Blatchford (USA). Coming into turn three in the second lap, both riders dived for the sprint lane, with Blatchford getting in first. Staff pushed the issue, forcing Blatchford onto the Cote d'Azur and then back behind him. Out of the final turn, Blatchford came over the top and was clearly gaining on Staff. With 10 metres to go the two collided, with Staff going down hard. As Blatchford came through after a cool down lap, Staff then exacerbated the situation by throwing his helmet at the American, eliciting considerable booing from the crowd.
The official decision, according to Commissaire President Wayne Promario, was that Staff would have received a warning and relegation for the first incident (if he hadn't crashed). For the helmet throw he was ejected from the event. Promario said that video showed that Blatchford had not entered the sprint lane at the end of the race.
Staff had a somewhat different perspective. "I was in the sprinters lane (in the final sprint), and he came down and made unnecessary contact. As far as I could see it was dangerous. Yes, I came down earlier (on the second lap), so they probably would have relegated me. I understand that there are rules and regulations, but some of the stuff they calll is too fine.
USA's Sarah Hammer
Photo ©: Mitch Friedman

Despite being ejected, Staff was happy with the way he is riding. "I'm pretty happy with where I'm at for fitness. This is my first race since the Worlds here (Los Angeles) 10 months ago, so I think I'm on track for the (Commonwealth) Games. From here I go to Sydney (World Cup) and then to Melbourne."
The session ended with the quarter finals, which were all decided in two straight rides. Gregory Bauge (Fra), Lukasz Kwiatkowski (Pol), Mickael Bourgain (Fra) and Blatchford all moved on to the semi's (tonight).
In Team Pursuit qualifying, World Cup leaders Russia will go up against the Netherlands for gold, with Spain and New Zealand fighting it out for bronze.
The women's Pursuit qualifying saw crowd favourite Sarah Hammer (USA) smash the track record (set last year at the Worlds by Katie MacTier) by a full second to win qualifying. She will go up against Maria Calle Williams (Col), the Olympic bronze medalist in the Points Race. Dale Tye (NZl) and Yulia Arustamova (Rus) will go for the bronze
Photography
For a thumbnail gallery of these images, click here
Images by Mitch Clinton/www.clintonphoto.com
Images by Mitch Friedman/www.mitchophoto.com
Images by Steve Cohen
Results
Men sprint
 
Qualifying
 
1 Grégory Bauge (France)                              10.322 (69.753km/h)
2 Lukasz Kwiatkowski (Poland)                         10.409 (69.170km/h)
3 Mickaël Bourgain (France)                           10.446 (68.925km/h)
4 José A. Villanueva Trinidad (Spain)                 10.493 (68.617km/h)
5 Michael Blatchford (USA)                            10.552 (68.233km/h)
6 Tim Veldt (Netherlands)                             10.553 (68.227km/h)
7 Yong Feng (China)                                   10.581 (68.046km/h)
8 Christian Stahl (USA)                               10.589 (67.995km/h)
9 Teun Mulder (Netherlands)                           10.600 (67.924km/h)
10 Travis Smith (Canada)                              10.618 (67.809km/h)
11 Matthias John (Germany)                            10.620 (67.796km/h)
12 Jamie Staff (Great Britain)                        10.621 (67.790km/h)
13 Ricardo Lynch (Jamaica)                            10.637 (67.688km/h)
14 Kazuya Narita (Japan)                              10.646 (67.631km/h)
15 Damian Zielinski (Poland)                          10.647 (67.624km/h)
16 Hernan Sanchez (Colombia)                          10.655 (67.573km/h)
17 Josiah Ng On Lam (Malaysia)                        10.666 (67.504km/h)
18 Ryan Bayley (Australia)                            10.699 (67.296km/h)
19 Jan Van Eijden (Germany)                           10.708 (67.239km/h)
20 Koji Hamada (Japan)                                10.718 (67.176km/h)
21 Roberto Chiappa (Italy)                            10.766 (66.877km/h)
22 Sergey Borisov (Russia)                            10.769 (66.858km/h)
23 Shane Perkins (Australia)                          10.802 (66.654km/h)
24 Zhang Lei (China)                                  10.816 (66.568km/h)
25 Salvador Melia Mangriñan (Spain)                   10.831 (66.475km/h)
26 Denis Dmitriev (Russia)                            10.833 (66.463km/h)
27 Giddeon Massie (USA) Spike                         10.858 (66.310km/h)
28 Benjamin Barczewski (USA) Spike                    10.910 (65.994km/h)
29 Luis Carlos Toussaint (Mexico)                     10.927 (65.891km/h)
30 Vasileios Reppas (Greece)                          10.939 (65.819km/h)
31 Kin Chung (1986) Wong (Hong-Kong)                  10.948 (65.765km/h)
32 Cam Mackinnon (Canada)                             10.949 (65.759km/h)
33 Michael Rodriguez Malaret (Puerto Rico)            11.080 (64.981km/h)
34 Christos Volikakis (Greece)                        11.329 (63.553km/h)
35 Christopher Sellier (Trinidad)                     11.530 (62.445km/h)
36 Sochon Gudiel Jose Alberto (Guatemala)             11.545 (62.364km/h)
37 Haseem McLean (Trinidad)                           11.694 (61.570km/h)
 
Eighth-finals
 
Heat 1
 
1 Grégory Bauge (France)                              11.289 (63.778km/h)
2 Hernan Sanchez (Colombia)
 
Heat 2
 
1 Lukasz Kwiatkowski (Poland)                         11.391 (63.207km/h)
2 Damian Zielinski (Poland)
 
Heat 3
 
1 Mickaël Bourgain (France)                           11.257 (63.960km/h)
2 Kazuya Narita (Japan)
 
Heat 4
 
1 José A. Villanueva Trinidad (Spain)                 11.323 (63.587km/h)
2 Ricardo Lynch (Jamaica)
 
Heat 5
 
1 Michael Blatchford (USA)                            11.176 (64.423km/h)
DSQ Jamie Staff (Great Britain)
 
Heat 6
 
1 Tim Veldt (Netherlands)                             11.133 (64.672km/h)
2 Matthias John (Germany)
 
Heat 7
 
1 Travis Smith (Canada)                               10.975 (65.603km/h)
2 Yong Feng (China)
 
Heat 8
 
1 Teun Mulder (Netherlands)                           10.950 (65.753km/h)
2 Christian Stahl (USA)
 
Quarter-finals
 
Heat 1
 
1 Grégory Bauge (France)                              11.074 11.288
2 Teun Mulder (Netherlands)
 
Heat 2
 
1 Lukasz Kwiatkowski (Poland)                         11.011 11.003
2 Travis Smith (Canada)
 
Heat 3
 
1 Mickaël Bourgain (France)                           10.934 11.221
2 Tim Veldt (Netherlands)
 
Heat 4
 
1 Michael Blatchford (USA)                            11.162 11.432
2 José A. Villanueva Trinidad (Spain)
 
B quarter-finals
 
Heat 1
 
1 Christian Stahl (USA)                               11.196 (64.308km/h)
2 Hernan Sanchez (Colombia)
 
Heat 2
 
1 Damian Zielinski (Poland)                           11.831 (60.857km/h)
2 Yong Feng (China)
 
Heat 3
 
1 Matthias John (Germany)                             11.500 (62.608km/h)
2 Kazuya Narita (Japan)
 
Heat 4
 
1 Ricardo Lynch (Jamaica)
 
B semi-final
 
Heat 1
 
1 Christian Stahl (USA)                               11.301 (63.711km/h)
2 Ricardo Lynch (Jamaica)
 
Heat 2
 
1 Damian Zielinski (Poland)                           11.867 (60.672km/h)
2 Matthias John (Germany)
 
B final
 
Heat 1
 
9 Christian Stahl (USA)                               11.446 (62.904km/h)
10 Damian Zielinski (Poland)
 
Heat 2
 
11 Matthias John (Germany)                            11.151 (64.568km/h)
12 Ricardo Lynch (Jamaica)
 
Men team pursuit qualifying
 
1 Russia                                            4.11.309 (57.299km/h)
   Mikhail Ignatiev
   Serguey Klimov
   Alexander Serov
   Nikolay Trussov
2 Netherlands                                       4.13.090 (56.896km/h)
   Levi Heimans
   Geert-Jan Jonkman
   Jens Mouris
   Niki Terpstra
3 Spain                                             4.14.159 (56.657km/h)
   Sergio Escobar Roure
   Guillermo Ferrer Garcia
   Sebastian David Muntaner Juaneda
   Carlos Torrent Tarres
4 New Zealand                                       4.15.151 (56.437km/h)
   Jason Allen
   Sam Bewley
   Richard Bowker
   Darren Peter Shea
5 Ukraine                                           4.15.331 (56.397km/h)
   Oleksandr Klymko
   Lyubomyr Polatayko
   Vitaliy Shchedov
   Maksym Polyshchuk
6 Omnibike Dynamo Moscow                            4.16.215 (56.202km/h)
   Ivan Kovalev
   Alexander Khatuntsev
   Sergey Kolesnikov
   Alexey Shmidt
7 Team TIAA - CREF                                  4.16.418 (56.158km/h)
   Michael Creed
   Michael Friedman
   Charles Bradley Huff
   Danny Pate
8 Denmark                                           4.16.715 (56.093km/h)
   Michael Christensen
   Casper Jørgensen
   Jens-Erik Madsen
   Alex Rasmussen
9 Belgium                                           4.17.231 (55.980km/h)
   Dominique Cornu
   Kenny De Ketele
   Ingmar De Poortere
   Steve Schets
10 Germany                                          4.17.940 (55.826km/h)
   Sascha Damrow
   Karl-Christian König
   Christian Kux
   Frank Schulz
11 Italy                                            4.25.139 (54.311km/h)
   Angelo Ciccone
   Martino Marcotto
   Claudio Masnata
   Saveriano Sangion
12 Poland                                           4.27.864 (53.758km/h)
   Dawid Glowacki
   Rafal Ratajczyk
   Wojciech Ziolkowski
   Jakub Sredzinki
 
Women individual pursuit qualifying
 
1 Sarah Hammer (USA)                                3.37.799 (49.587km/h)
2 Maria Luisa Calle Williams (Colombia)             3.41.955 (48.658km/h)
3 Dale Tye (New Zealand)                            3.49.090 (47.143km/h)
4 Yulia Arustamova (Russia)                         3.49.422 (47.074km/h)
5 Christina Becker (Germany)                        3.49.707 (47.016km/h)
6 Li Wang (China)                                   3.50.794 (46.794km/h)
7 Pascale Schnider (Switzerland)                    3.51.574 (46.637km/h)
8 Gema Pascual Torrecilla (Spain)                   3.52.240 (46.503km/h)
9 Jarmila Machacova (Czech Republic)                3.54.537 (46.048km/h)
10 Vilija Sereikaite (Lithuania)                    3.54.563 (46.043km/h)
11 Marlijn Binnendijk (Netherlands)                 3.58.301 (45.320km/h)
12 Tatsiana Sharakova (Belarus)                     3.58.503 (45.282km/h)
13 Vera Carrara (Italy)                             4.02.681 (44.502km/h)
14 Katarzyna Jagusiak (Poland)                      4.05.363 (44.016km/h)
15 Iona Parks (Jamaica)                             4.07.082 (43.710km/h)
16 Jessica Jurado (Mexico)                          4.11.613 (42.923km/h)
DSQ Sara Peeters (Belgium)
 
Men points race qualifying
 
Heat 1
 
1 Sebastian Cancio (Argentina)                      28 pts
2 Ioannis Tamouridis (Greece)                       26
3 Rafal Ratajczyk (Poland)                          24
4 Sergey Kolesnikov (Rus) Omnibike Dynamo Moscow    23
5 Mikhail Ignatiev (Russia)                         22
6 Niki Terpstra (Netherlands)                       22
7 Michael Mørkøv (Denmark)                          22
8 Michael Friedman (USA) TIAA-CREF                  10
9 Kam Po Wong (Hong-Kong)                            8
10 Jonathan Mouchel (France)                         6
11 Ingmar De Poortere (Belgium)                      5
12 Taiji Nishitani (Japan)                           4
13 Jorge Soto (Uruguay)                              4
14 Martin Gilbert (Canada)                           2
15 Giuseppe Atzeni (Switzerland)
 
Heat 2
 
1 Joan Llaneras Rossello (Spain)                    27 pts
2 Jozef Zabka (Slovakia)                            25
3 Volodymyr Rubin (Ukraine)                         23
4 Anthony Chapman (New Zealand)                     22
5 Angelo Ciccone (Italy)                            10
6 Milan Kadlec (Czech Republic)                      8
7 Vasili Kiryienka (Belarus)                         8
8 Kyle Swain (South Africa)                          6
9 Carlos Manuel Hernandez (Mexico)                   6
10 Maximo Rojas (Venezuela)                          5
11 Gunn R. Curtis (USA)                              3
12 Paul Che Altamirano (Peru)                        2
13 Oleksandr Polyvoda (Ukr) Alpha Sport Donetsk      1
DNF Perez Laparra Miguel Angel (Guatemala)
DNF Kevin Suhr (USA) Spike
DNS Christian Bach (Germany)