Introduction to Track Racing - What's a Wheelrace? - Introduction to Six Day racing - UCI codes
Los Angeles Track World Cup - CDM
ADT Velodrome, Carson, California, USA, December 10-12, 2004
Main Page Results Previous Session Next Session
Session 3 - December 11 Morning
Team Germany
Photo ©: Mitch Friedman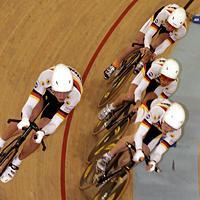 No major upsets in sprint and pursuit qualifying
By Eddie Monnier
The morning session on the second day of racing at the Los Angeles World Cup saw qualifying races in the men's team pursuit, men's sprint and women's individual pursuit.
Men's Team Pursuit
Day 2 of the Los Angeles World Cup opened with the men's team pursuit. Many countries seemed content to give their younger team members a chance to ride this event and that may have contributed to most teams losing a rider along the way. Powered by individual pursuit winner Robert Bartko, Germany didn't drop its fourth rider until a half lap to go to deliver the fastest time of 4:13.143, just 0.331 seconds ahead of next-best New Zealand. The Ukrainian team rode a 4:14.032 and will face Australia, which qualified with a 4:14.798. The team pursuit finals Saturday evening should be quite a nail biter.
Men's sprint
Arnaud Tournant (France)
Photo ©: Mike Novitch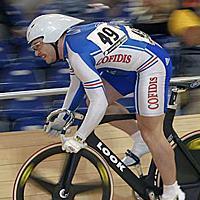 The men continued the show with flying 200 meters to seed the sprint tournament. With three dozen riders participating, the competition would be tough to make the top 16 and advance to the 1/8 finals. Fastest of the day was Arnaud Tournant (France) who rode a blistering 10.445 (68.933 km/h) to just edge out teammate Mickael Bourgain, who scorched a 10.494 (68.611 km/h). Five other riders posted sub-10.6's.
With current US national sprint champion Michael Blatchford still recovering from a nasty training fall several weeks ago, Christian Stahl and Giddeon Massie stepped up to fill the void, qualifying with a 10.793 (66.710 km/h) and 10.811 (66.599 km/h) for 12th and 13th, respectfully. Kin Chung Wong (Hong Kong) rode a 10.873 to grab the final qualifying spot from big-man Sean Eadie. Australia's other fast man, Ben Kersten, also failed to qualify.
The 1/8 finals provided plenty of excitement but no upsets. Top-seeded Tournant again set the fastest time, winning his heat over Wong with a 10.917 (65.952). Teun Mulder (Netherlands) put the pressure on Matthias John (Germany) who rode an 11.028 to win their heat and set the second fastest 1/8 Finals time.
Josiah Ng (Malaysia) hit the deck when trying to tuck back behind Jose Antonio Villanueva (Spain). In the re-ride, Josiah jumped into the lead early to try to ride from the front. Although he gave it his best effort, the third place finisher in the keirin proved too fast. There were obviously no hard feelings between the riders for the earlier mishap as they shook hands several times and encouraged applause for each other.
Katie Mactier (Australia)
Photo ©: Mitch Friedman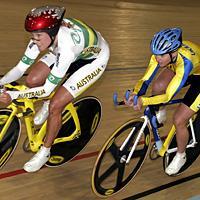 Women's individual pursuit
With just one heat remaining, it looked as if women's points race winner from the prior evening, Erin Mirabella (USA) might make it to the gold medal ride with her then second-fastest qualifying time of 3:48.066. But Olympic individual pursuit silver medalist from Athens Katie Mactier (Australia) had other ideas and stormed to a 3:38.491 to set the fastest qualifying time by over six seconds. Amazingly, she gained four of those six seconds with a fierce kick in the final kilometer. Mactier will face Emma Davies (Great Britain; 3:44.676) in the gold/silver final, while Mirabella will face Elena Chalykh (Russia; 3:48.448) in what should prove to be a close ride for the bronze.
Photography
For a thumbnail gallery of these images, click here
Images by Mike Gladu/www.velodrome.com
Images by Mitch Friedman Photography
Images by Mike Novitch
Images by Dana Ross/www.danarossphoto.com
Results

Women 3000m individual pursuit qualifying
 
1 Katie Mactier (Australia)                  3.38.491  (49.430km/h)
2 Emma Davies (Great Britain)                3.44.676  (48.069km/h)
3 Erin Mirabella (USA)                       3.48.066  (47.355km/h)
4 Elena Chalykh (Russia)                     3.48.448  (47.276km/h)
5 Lyudmyla Vypyraylo (Ukraine)               3.49.912  (46.974km/h)
6 Adrie Visser (Netherlands)                 3.51.632  (46.626km/h)
7 Dale Tye (New Zealand)                     3.53.030  (46.346km/h)
8 Gema Pascual Torrecilla (Spain)            3.58.086  (45.362km/h)
9 Pascale Schnider (Switzerland)             3.58.327  (45.316km/h)
10 Charlotte Becker (Germany)                3.59.387  (45.115km/h)
11 Andrea Hannos (Hungary)                   4.02.687  (44.502km/h)
12 Martina Faccin (Italy)                    4.04.234  (44.220km/h)
 
4000m team pursuit qualifying
 
1 Germany                                    4.13.143  (56.885km/h)
  Leif Lampater
  Robert Bartko
  Robert Bengsch
  Henning Bommel
2 New Zealand                                4.13.474  (56.811km/h)
  Peter Latham
  Marc Ryan
  Timothy Gudsell
  Jason Allen
3 Ukraine                                    4.14.032  (56.686km/h)
  Roman Kononenko
  Volodymyr Dyudya
  Vitaliy Popkov
  Volodymyr Zagorodniy
4 Australia                                  4.14.798  (56.515km/h)
  Bradley Norton
  Ashley Hutchinson
  Sean Finning
  Christopher Sutton
5 Russia                                     4.16.193  (56.208km/h)
  Anton Mindlin
  Alexander Serov
  Sergey Klimov
  Nikolai Troussov
6 Netherlands                                4.16.282  (56.188km/h)
  Wim Stroetinga
  Jos Pronk
  Niki Terpstra
  Geert-Jan Jonkman
7 Spain                                      4.16.609  (56.117km/h)
  Sergi Escobar Roure
  Miguel Alzamora Riera
  Asier Maeztu
  Carlos Castano Panadero
8 Chile                                      4.22.557  (54.845km/h)
  Enzo Cesario Farias
  Francisco Cesario
  José Alfredo Medina Andrade
  Marco Antonio Arriagada
 
Men Sprint 200m Qualifying (16)
 
1 Arnaud Tournant (France)                     10.445  (68.933km/h)
2 Mickaël Bourgain (France)                    10.494  (68.611km/h)
3 José Antonio Villanueva Trinidad (Spain)     10.519  (68.448km/h)
4 Tim Veldt (Netherlands)                      10.549  (68.253km/h)
5 Kazuya Narita (Japan)                        10.554  (68.221km/h)
6 Matthias John (Germany)                      10.585  (68.021km/h)
7 Stefan Nimke (Germany)                       10.587  (68.008km/h)
8 Ross Edgar (Great Britain)                   10.606  (67.886km/h)
9 Lukasz Kwiatkowski (Poland)                  10.651  (67.599km/h)
10 Andrei Vynokurov (Ukraine)                  10.668  (67.492km/h)
11 Teun Mulder (Netherlands)                   10.725  (67.133km/h)
12 Christian Stahl (USA)                       10.793  (66.710km/h)
13 Gideon Massie (USA)                         10.811  (66.599km/h)
14 Josiah Ong Lam Ng (Malaysia)                10.819  (66.550km/h)
15 Damian Zielinski (Poland)                   10.832  (66.470km/h)
16 Kin Chung Wong (Hong-Kong)                  10.873  (66.219km/h)
17 Sean Eadie (Australia)                      10.903  (66.037km/h)
18 Barry Forde (Barbados)                      10.908  (66.007km/h)
19 Travis Smith (Canada)                       10.918  (65.946km/h)
20 Ben Kersten (Australia)                     10.946  (65.777km/h)
21 Stoller Cédric (Switzerland)                10.956  (65.717km/h)
22 Athanasios Mantzoyranis (Greece)            11.024  (65.312km/h)
23 Tisin M Rizal (Malaysia)                    11.045  (65.188km/h)
24 Kasper Jessen (Denmark)                     11.048  (65.170km/h)
25 Ahmed Lopez Naranjo (Cuba)                  11.061  (65.094km/h)
26 Kleanthis Bargkas (Greece)                  11.151  (64.568km/h)
27 Michael Rodriguez (Puerto Rico)             11.162  (64.505km/h)
28 Terufumi Sakakieda (Japan)                  11.167  (64.476km/h)
29 Vladimir Kiriltsev (Russia)                 11.182  (64.389km/h)
30 Andrew Williams (New Zealand)               11.208  (64.240km/h)
31 Angel Martorell (Mexico)                    11.246  (64.023km/h)
32 Yuriy Tsyupyk (Ukraine)                     11.282  (63.818km/h)
33 Daniel Beatson (New Zealand)                11.334  (63.526km/h)
34 Guatto Sergio (Argentina)                   11.518  (62.511km/h)
35 Ricardo Lynch (Jamaica)                     11.648  (61.813km/h)
36 Matthew Chater (Canada)                     11.650  (61.803km/h)
DNS Alexander Cornieles VEN
DNS Jhonny Hernandez VEN
 
Men sprint 1/8 Final
 
Heat 1
 
1 Arnaud Tournant (France)                     10.917  (65.952km/h)
2 Kin Chung Wong (Hong-Kong)
 
Heat 2
 
1 Mickaël Bourgain (France)                    11.475  (62.745km/h)
2 Damian Zielinski (Poland)
 
Heat 3
 
1 José Antonio Villanueva Trinidad (Spain)     11.481  (62.712km/h)
2 Josiah Ong Lam Ng (Malaysia)
 
Heat 4
 
1 Tim Veldt (Netherlands)                      11.310  (63.660km/h)
2 Gideon Massie (USA)
 
Heat 5
 
1 Kazuya Narita (Japan)                        11.188  (64.355km/h)
2 Christian Stahl (USA)
 
Heat 6
 
1 Matthias John (Germany)                      11.028  (65.288km/h)
2 Teun Mulder (Netherlands)
 
Heat 7
 
1 Stefan Nimke (Germany)                       11.154  (64.551km/h)
2 Andrei Vynokurov (Ukraine)
 
Heat 8
 
1 Ross Edgar (Great Britain)                   11.298  (63.728km/h)
2 Lukasz Kwiatkowski (Poland)