Introduction to Track Racing - What's a Wheelrace? - Introduction to Six Day racing - UCI codes
Clarence St Cyclery Cup - NE
Dunc Gray Velodrome, Sydney, Australia, November 27, 2004
2004 Results Results Past winners
Kersten comes back
Excluded Olympian takes Cup and keirin revenge
By John Stevenson with additional reporting by Les Clarke
Ben Kersten
Photo ©: Mark Gunter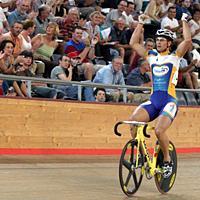 Ben Kersten won the blue riband Clarence St Cyclery Cup wheelrace and the New South Wales keirin championships at Sydney's Dunc Gray Velodrome this evening in a pair of fine displays of power and panache that had the crowd on its feet roaring approval for the local hero's comeback performance.
Kersten says he's not out to prove anything after not being given a start in any of the Olympic track events (the 23-year old from Wollongong gained an Olympic berth when Jobie Dajka was excluded from the team for misleading the Anderson enquiry). But tonight, riding against members of that Olympic track team including Shane Kelly, Sean Eadie and Ryan Bayley, Kersten's legs were doing the talking and they were sending a strong message: where's my Olympic medal.
Kersten was handicapped to ride from scratch in the Clarence St Cup wheelrace, the only one of the event's four scratchmen to make it through the heats. With a massive deficit to make up Kersten teamed up with the only other top-class rider in the field, team pursuit world champion Ashley Hutchinson (10m) and the two set off in blistering pursuit of a field that was spread round the track at Dunc Gray right out to the 240m mark.
Apprehending a strong field of middle-markers looked like a tough task, but with Hutchinson's pursuiting class to carry them through, the duo made contact with about a lap and a half to go. With a lap to go Hutchinson seemed to be stuck in traffic in the middle of the chaotic pack, but the truth was more prosaic, " I just blew," he said, "I got Ben within striking distance and that was all I had."
An extraordinary line-up
Photo ©: Gerard Knapp

But that had been the plan, and for Hutchinson it was mission accomplished. "Once we made contact with the main field, it was a matter of carting Ben to the front so he didn't get stuck in traffic in the final sprint, " he said
Kersten made the execution of the final stroke look easy, soaring around the field in a huge gear. "It's never easy," he said afterwards, "but the easier you make it the better the race. It worked out really well; I got on Ashley relatively early and it took a while to get on the next guy."
With just two strong riders at or near scratch Hutchinson and Kersten really had their work cut out. "We had it hard," said Hutchinson, "with so few good riders on our mark." Typically a group of scratchmen in a wheelrace needs to be three or four strong to execute the kind of domination Kersten and Hutchinson managed in this year's Clarence St Cup - or very, very, very motivated.
Kersten chose a big gear which clearly helped in the finale as he scorched away from second-placed Dan O'Callahan, but it was also an asset earlier in the race."I was riding twice as big a gear as Ashley so it was a lot easier to stay behind him," said Kersten.
Clobbering the keirin
Shane Kelly
Photo ©: Mark Gunter

Less than an hour later, Kersten backed up his wheelrace win with a defiant, dominating victory in the New South Wales keirin championships. If the wheelrace had lacked talent in depth there was no shortage in the keirin as Kersten lined up against a field including 2002 world sprint champion Sean Eadie, Olympic keirin and sprint champion Ryan Bayley, and multiple kilo world champion Shane Kelly.
Kersten bided his time as the field followed the derny for the first four and a half laps, then sat comfortably mid-pack until one to go before unleashing a blistering sprint that none of his competitors could counter. In fairness to the riders flailing in his wake, Kersten returned to training before them and cheerfully admits that he has a head start. Nevertheless, this ride sent a clear signal that it'd be foolish to exclude him from Australian team selection for the remaining world cups and the world championships in Los Angeles in March.
Asked immediately after how he felt about his second victory of the night, Kersten laughed, "Not that good right now - it'd be all right if we didn't have to race again so soon afterwards!"
Kersten said his race had been a simple one. With a lap to go, "I kicked hard," he said. "I thought they'd be there and I looked around and they weren't so then I sat up."
Both of the night's victories been ones he was happy about, but for different reasons. "I'm equally chuffed," said Kersten, "because I dreamed of the Clarence St Cup win; I really wanted to win that. I thought the keirin wasn't my sort of event because I'm stuck beween endrance and sprint in my type of riding. I achieved beyond what I expected I would.
Other highlights
Before the final of the Clarence St Cyclery Cup wheelrace UCI vice president Ray Godkin introduced the rather astounding array of present and former world champions and Olympic champions that had turned out for this year's carnival. Godkin estimated that between the junior, senior and disabled athletes and their pilots the group boasted over 40 world titles and Olympic medals. Australia's current status as top nation in the world in track racing is an achievement that Godkin said could not have been foreseen just a few years ago. "They'd have laughed at us if we'd predicted it," said Godkin.
Anna Meares
Photo ©: Mark Gunter

The NSW women's keirin championships was the highlight of the evening's women's racing program with the final featuring an international-class field of Anna and Kerrie Meares, Rochelle Gilmore, Katherine Bates, Rebecca Ellis and Amanda Spratt.
Bates took position behind the derny but declined to make the running when the moto pulled off with two and a half to go, knowing there was little point towing one of the pure sprinters to the line. The group jockeyed for a lap before Bates made a move, attempting to power away from the field and go long, but with three-quarters of a lap to go Kerrie Meares, the elder of the two and recently returned to racing after being sidelined with an injury for much of 2004, came over the top of the field like her rivals were standing still. Anna retaliated in a spirited display of sibling rivalry, but Kerrie stayed away to take the win.
Olympic Madison and team pursuit gold medalist Graeme Brown won the elimination race with the brinksman showmanship that's made him a crowd favourite at the Tasmanian Christmas carnivals. Brown just pipped a clearly tiring Ashley Hutchinson on the line.
Chris Sutton
Photo ©: Mark Gunter

In the second-last event of the night, the New South Wales derny championship, father and son team of Gary and Chris Sutton put on a demonstration of textbook ice-cold-calm derny racing, leading from the start, staying there and psyching out all opposition as their rivals fell away behind them. Chris Pascoe and derny pilot Tom Skulander came closest to challenging, but in the final lap Pascoe couldn't hold the pace necessary to stay with the Suttons and faltered to take second.
Photography
Images by Mark Gunter. For a thumbnail gallery of these images click here
Images by Gerard Knapp/Cyclingnews.com
Images from the afternoon's junior races by Mark Gunter.
For a thumbnail gallery of these images click here
Results (unofficial)
Women's Scratch Race, "A" Reserve, 10 Laps
 
1 Kelly Furey (Port Stephens CC)
2 Sarah White (Bicisport CC)
3 Jessica Hume (Wagga Wagga CC)
 
Women's Race Scratch, "A" Grade, 10 Laps
 
1 Anna Meares (QLD)
2 Kerrie Meares (QLD)
3 Rebecca Ellis (Bankstown Sports CC)
 
"C" Grade Scratch Race, 10 Laps
 
1 Fabio Calabrio (Canberra CC)
2 David South (Waratah Vets CC)
3 Mark Wood (Kooragang CC)
 
"B" Grade Scratch Race, 12 Laps
 
1 Geoff Hopkins (Southern Cross CC)
2 Pierre Berthier (Parramatta CC)
3 Michael Mellish (Central Coast CC)
 
Elite Men's Motor Pace, 16 Laps
 
1 Ashley Hutchinson (QLD)
2 Peter Fitzpatrick (St. George CC)
3 Graeme Brown (St. George CC)
 
"A" Grade Scratch Race, 12 Laps
 
1 Joel Stewart (Canberra CC)
2 Christopher Wilson (Kangaroo Point CC)
3 Mark Jewell (Illawarra CC)
 
Women's Handicap, 4 Laps
 
1 Kelly Furey (Port Stephens CC)
2 Jessica Hume (Wagga Wagga CC)
3 Leanne Manderson (Northern Dist. CC)
 
Women's Keirin, 8 Laps
 
1 Kerrie Meares (QLD)
2 Anna Meares (QLD)
3 Rochelle Gilmore (Bankstown Sports CC)
 
Women's "A" Reserve Motor Pace, 12 Laps
 
1 Apryl Eppinger (VIC)
2 Leanne Manderson (Northern Dist. CC)
3 Jennifer Loutit (Canberra CC)
 
Clarence St Cyclery Cup, 
 
1 Ben Kersten (St George CC)
2 Dan O'Callaghan (Sydney CC)
3 Peter Fitzpatrick (St George CC)
 
Women's "A" Reserve , Scratch Race
 
1 Kelly Furey (Port Stephens CC)
2 Laura Meisel-Dennis (Canberra CC)
3 Naomi Adams (Dubbo CC)
 
Women's "A" Grade Motor Pace, 10 Laps
 
1 Anna Meares (QLD)
2 Katherine Bates (Parramatta CC)
3 Rochelle Gilmore (Bankstown Sports CC)
 
Junior U/19 Men's, NSW Keirin C'Ship, 8 Laps
 
1 J-L Rathbone (Penrith Panthers CC)
2 Tyler McLachlan (Southern Cross CC)
3 Daniel Ellis (Canberra CC)
 
Elite Men's, NSW Keirin C'Ship, 8 Laps
 
1 Ben Kersten (St George CC)
2 Shane Kelly (VIC)
3 Kial Stewart (Canberra CC)
 
Elite Men Elimination, 
 
1 Graeme Brown (St George CC)
2 Ashley Hutchinson (QLD)
3 Matthew Goss (TAS)
 
Elite Men's Derby, 3 Laps
 
1 Andrew Taylor (Dubbo CC)
2 Jason Niblett (VIC)
3 Damien Keirl (VIC)
 
Elite Men's Derby, 3 Laps
 
1 Sean Eadie (Bankstown Sports CC)
2 Shane Kelly (VIC)
3 Ryan Bayley (WA)
 
"A" Grade Motor Pace, 12 Laps
 
1 J-L Rathbone (Penrith Panthers CC)
2 Dean Windsor (Bathurst CC)
3 Paul Bayly (Bankstown Sports CC)
 
"B" Grade Motor Pace, 12 Laps
 
1 Tim Rice (Sydney CC)
2 Michael Mellish (Central Coast CC)
3 Pierre Berther (Parramatta CC)
 
NSW Open Derny C'Ship, 10km (40 laps)
 
1 Gary Sutton/Chris Sutton
2 Tom Skulander/Chris Pascoe
3 Michael Kejda/Peter Fitzpatrick
 
"C" Grade Motor Pace, 12 Laps
 
1 David South (Waratah Vets CC)
2 Hugh Gray (Waratah Vets CC)
3 James Gray (Waratah Vets CC)
Junior carnival
1. Junior U/13 Girls 3 lap Derby
 
1 Leah Guillan (Southern Cross CC)
2 Kirsty Mills (St George CC)
3 Imogen Hines (St George CC)
 
2. Junior U/13 Boys 6 lap Scratch Race
 
1 Jackson Law (Illawarra CC)
2 Scott Harding (Southern Cross CC)
3 Tirian Mc Manus (Southern Cross CC)
 
3. Junior U/15 Girls 8 lap Scratch Race
 
1 Megan Dunn (Dubbo CC)
2 Sinead Cosgrove (Goulburn CC)
3 Tara Bryan (Wagga Wagga CC)
 
4. Junior U/15 Boys 10 lap Scratch Race
 
1 Scott Law (Illawarra CC)
2 Jordan Fawkes
3 Adriano Maradini (Randwick Botany CC)
 
5. Junior U/17 Girls 8 lap Scratch Race
 
1 Jessica Ellis (Canberra CC)
2 Netasha Pearse (Wagga Wagga CC)
3 Chloe Hosking
 
6. Junior U/17 Boys (A Reserve) 10 lap Scratch Race
 
1 Matthew Meisel-Dennis (Canberra CC)
2 Blair Windsor (Bathurst CC)
3 Jonathon Cridland (Southern Cross CC)
 
7. Junior U/17 Boys (A Grade) 10 lap Scratch Race
 
1 Peter Lewis
2 Nicholas Spratt (Penrith Panthers CC)
3 Luke Davison (Randwick Botany CC)
 
8. Junior U/13 Girls 2 lap Handicap
 
1 Kirsty Mills (St George CC)
2 Leah Guillan (Southern Cross CC)
3 Imogen Hines (St George CC)
 
15. Junior U/13 Girls 1 lap Dash
 
1 Leah Guillan (Southern Cross CC)
2 Kirsty Mills (St George CC)
3 Imogen Hines (St George CC)
 
16. Junior U/13 Boys 3 lap Sprint Final
 
1 Jackson Law (Illawarra CC)
2 Scott Harding (Southern Cross CC)
3 Tirian McManus (Southern Cross)
 
17. Junior U/15 Girls 3 lap Sprint Final
 
1 Megan Dunn (Dubbo CC)
2 Naomi Pinto (Wagga Wagga CC)
3 Tara Bryan (Wagga Wagga)
 
18. Junior U/15 Boys 3 lap Sprint Final
 
1 Scott Law (Illawarra CC)
2 Jordan Fawkes
3 Angus Tobin
 
19. Junior U/17 Girls 3 lap Sprint Final
 
1 Deena Maree Faulkner (St George CC)
2 Jessica Ellis (Canberra CC)
3 Blair Windsor (Bathurst CC)
 
20A. Junior U/17 Boys 3 lap Sprint Final
 
1 Matthew Meisel-Dennis (Canberra CC)
2 Jonothan Cridland (Southern Cross CC)
3 Blair Windsor (Bathurst CC)
 
20B. Junior U/17 Boys 3 lap Sprint Final
 
1 Luke Davison (Randwick Botany CC)
2 Nicholas Spratt (Penrith Panthers CC)
3 Ben Wilkinson (Gunnedah CC)
 
21. Junior U/13 & U/15 Girls 3 lap Handicap
 
1 Megan Dunn (Dubbo CC)
2 Sinead Cosgrove (Goulburn CC)
3 Tara Bryan (Wagga Wagga CC)
 
22. Junior U/13 Boys 3 lap Handicap
 
1 Joshua Fungston (Southern Cross CC)
2 Ben Grant (Southern Cross CC)
3 Scott Harding (Southern Cross CC)
 
23. Junior U/15 Boys 3 lap Handicap
 
1 Scott Law (Illawarra CC)
2 Angus Tobin (Bathurst CC)
3 Kevin Hawes
 
24. Junior U/17 Girls 3 lap Handicap
 
1 Chloe Hosking
2 Jessica Ellis (Canberra CC)
3 Ellen Marks (Wagga Wagga CC)
 
25. Junior U/17 Boys odd numbers three lap handicap
 
1 Jonothan Cridland (Southern Cross CC)
2 Brodie Talbot (Bankstown Sports CC)
3 Joseph Northey (Goulburn CC)
 
26. Junior U/17 Boys event numbers three lap handicap
 
1 Matthew Meisel-Dennis (Canberra CC)
2 Thomas Palmer
3 J. Heaney
 
27. Junior U/13 Girls 3 lap Derby
 
1 Kirsty Mills (St George CC)
2 Leah Guillan (St George CC)
3 Imogen Hines (St George CC)
 
28. Junior U/13 Boys 8 lap Motor Pace
 
1 Jackson Law (Illawarra CC)
2 Scott Harding (Southern Cross CC)
3 Tirian McManus (Southern Cross CC)
 
29. Junior U/15 Girls 8 lap Motor Pace
 
1 Megan Dunn (Dubbo CC)
2 Tara Bryan (Wagga Wagga CC)
3 Sinead Cosgrove (Goulburn CC)
 
30. Junior U/15 Boys 10 lap Motor Pace
 
1 Scott Law (Illawarra CC)
2 Adriano Maradini (Randwick Botany CC)
3 Jackson Pratt (Central Coast CC)
 
31. Junior U/17 Girls 10 lap Motor Pace
 
1 Deena-Maree Faulkner (St George CC)
2 Netasha Pearse (Wagga Wagga CC)
3 Chloe Hosking (Canberra Cycling Club)
 
32. Junior U/17 Boys (A Reserve) 10 lap Motor Pace
 
1 Matthew Meisel-Dennis (Canberra Cycling Club)
2 Brodie Talbot (Bankstown Sports CC)
3 Jonathon Cridland (Southern Cross CC)
 
33. Junior U/17 Boys (A Grade) 12 lap Motor Pace
 
1 Thomas Palmer (Canberra Cycling Club)
2 Paul Fellows (Wagga Wagga CC)
3 Angus Morton (Port Macquarie)
Past winners
2004 Warren Scott (NSW) St George CC
2003 Dan O'Callaghan
2002 Mark Renshaw (NSW) Bathurst CC
2001 Alex Sommer (NSW) Bicisport