Introduction to Track Racing - What's a Wheelrace? - Introduction to Six Day racing - UCI codes
Tri-Nations International Track Challenge - NE
Johannesburg, Saturday, March 13, 2004
Australia takes overall; great night for Blignaut
By Mark Windsor, Australian team coach
The Australian sprint team
Photo ©: Mark Windsor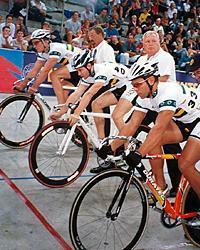 Although South Africa put in some top individual performances Australia has won the 2004 Tri National Track Challenge with a solid team performance where they aimed to put members in the major placings in all events.
South African sprinter Morne Blignaut had a great night winning the Sprint, Keirin and 1500m. However, the Australian sprinters took the minor placings and performed strongly in the endurance events. Matt Goss won the elimination race with Block second and Rossendell third, giving the Aussies the advantage early in the program.
South Africa's Garen Bloch won the Points Race came after he, Sergey Kolesnikov (Russia) and Sydney's Pete Fitzpatrick lapped the field. The Australians dominated the Teams Sprint with Team 1 (Barendilla, Taylor, Johnson) and Team 2 (Fitzpatrick, Scott, Irwin) taking the points to give the Aussies the lead going into the final event the Madison.
The Russians where brilliant in the Madison, attacking from the start. The Australian Pair of Goss/Rossendell recovered to take second after a great battle with pre race favourites Bloch and SA legend JP Van Zyl.
The teams victory gave the Aussies back to back wins in the Tri Nations, the Russians winning the junior section.
Photography
Images by Mark Windsor
Results
Senior Events

15km Points Race
 
1 Garen Bloch (South Africa)
2 Sergey Kolesnikov (Russia)
3 Peter Fitzpatrick (Australia)
4 Matthew Goss (Australia)
5 Valery Valynin (Russia)
6 Stephen Rossendell (Australia)
7 Durwan Benjamin (South Africa)
8 Ivan Kovalev (Russia)
 
Keirin
 
1 Morne Blignaut (South Africa)
2 Carlo Berendilla (Australia)
3 Grant Irvin (Australia)
4 Andrew Taylor (Australia)
 
Elimination
 
1 Matthew Goss (Australia)
2 Garen Bloch (South Africa)
3 Stephen Rossendell (Australia)
4 Gary Rabie (South Africa)
5 J P Van Zyl (South Africa)
6 Alexei Gushin (Russia)
7 Warren Scott (Australia)
8 Emile Steenkamp (South Africa)
 
1500 Metre
 
1 Morne Blignaut (South Africa)
2 Clint Johnson (Australia)
3 Warren Scott (Australia)
4 Grant Irvin (Australia)
5 Nolan Hoffman (South Africa)
 
Sprint final rankings
 
1 Morne Blignaut (South Africa)
2 Wikus Esterhuizen (South Africa)
3 Clint Johnson (Australia)
4 Carlo Berendilla (Australia)
5 Andrew Taylor (Australia)
 
Olympic Sprint
 
1 Australia 1 (Barendilla, Taylor, Johnson)
2 Australia 2
3 South Africa 1
 
Madison
 
1 Ivan Kovalev (Russia)
2 Goss / Rossendell (Australia)
3 J P Van Zyl / Bloch (South Africa)
4 Valery Valynin (Russia)
5 Scott / Fitzpatrick (Australia)
6 Reon Els (South Africa)
7 Taylor / Irwin (Australia)

Junior Events

Keirin
 
1 Stoyan Vasey (Russia)
2 Denis Dmitriev (Russia)
3 George Du Toit (South Africa)
4 Reon Els (South Africa)
 
1500 Metre
 
1 Denis Dmitriev (Russia)
2 Sergey Kolesnikov (Russia)
3 Reon Els (South Africa)
4 Emile Steenkamp (South Africa)
 
Sprint final rankings
 
1 Stoyan Vasey (Russia)
2 Denis Dmitriev (Russia)
3 Tarakanov Maxim (Russia)
4 Rolf Deppe (South Africa)
5 Gadi Chait (South Africa)
6 Brinley Hector (South Africa)
 
Olympic Sprint
 
1 Russia 1
2 Russia 1
3 South Africa Junior