Introduction to Track Racing - What's a Wheelrace? - Introduction to Six Day racing - UCI codes
Dolan All Ireland Track Championships - NE
Sundrive Road, Ireland, June 21, 2004
By Shane Stokes
Paul Doyle's effort saw him win the kilo, but it hurt - a lot!
Photo ©: Shane Stokes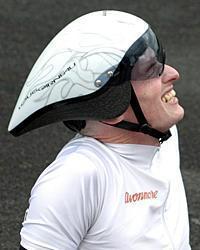 Peter Dunne (Navan Avonmore) defeated Ray Clarke (Worldwide Cycles) this evening to take the sprint final of the Dolan All-Ireland track championships. Bronze went to Malcolm Goggin (Murphy and Gunn), who beat The Bagel Bar's Keith Bannan by the same 2 - 0 margin.
The second round of the sprint final had been held over until this evening after a near-torrential rain shower soaked the track late yesterday afternoon, forcing the postponement of the contest and the points race. The sprint was completed today while the points race will be run off at a future date.
Aside from the disruptions caused by the weather, the Dolan-sponsored Track Championships went off well with several good races being held. The men's pursuit title fell to Paul Healion, the Usher IRC rider catching Paul Doyle (The Bagel Bar) close to the end of the 4 kilometre effort. Eoin Concannon (Killorglin Credit Union) secured the bronze when he posted a time four and a half seconds than that of Usher IRC rider Eddy O'Donoghue.
Louise Moriarty took the first of her three gold medals when she beat Kate Rudd (Orwell Dundrum Shopping Centre) in the women's pursuit. The Dublin Skip rider took her second victory in the sprint race, getting the better of Gillian McDarby (The Bagel Bar) in the final. She then completed a fine hat-trick when she finished over a second clear of Rudd in the 500 metre time trial, with McDarby third.
The men's solo effort was held over a kilometre, David Peelo (Usher IRC) taking an early lead in the race against the clock with a 1 minute 17.05 effort. Will Byrne then went top with a time of 1 minute 16.81 seconds, while Micheal Fitgerald (Cidona Carrick Wheelers) and Keith Bannan moved ahead of Peelo with times of 1 minute 17 and 1 minute 17.01 seconds respectively.
Byrne had taken three silver medals in the past in the sprint championship and was praying for gold in the kilometre, but with defending champion Paul Doyle last off he was understandably nervous. Byrne went to the side of the track to watch Doyle's effort, hoping that his time would stand, but he was once again frustrated in his bid to take the top spot when his rival posted a 1 minute 13.77 second time.
The day had been due to end with an 85 lap points race but dangerous conditions due the heavy rainfall led to the decision to postpone the event. The race will be run off on an as-yet unspecified date in the future; details will be provided whenever available.
Cycling Ireland's track league will continue this Saturday with a full programme of racing.
Photography
Images by Shane Stokes/www.irishcycling.com
Results

Men's kilometre
 
1 Paul Doyle (The Bagel Bar)                    1.13.77
2 Will Byrne (Hillcrest Hire Kilcullen)         1.16.81
3 Micheal Fitzgerald (Cidona Carrick Wheelers)  1.17.00
4 Keith Bannan (The Bagel Bar)                  1.17.01
5 Dave Peelo (Usher IRC)                        1.17.05
6 Ciaran Leahy (Moscow)                         1.17.24
7 Liam Collins (Moscow)                         1.17.63
8 Eddie O'Donoghue (Usher IRC)                  1.17.96
 
Men's 4 km pursuit
 
Final
 
Paul Healion (Usher IRC)                        5.13.01
ct Paul Doyle
 
Ride-off for bronze
 
Micheal Concannon (Killorglin Credit Union)     5.24.84
bt Eddie O'Donoghue                             5.29.36
 
Men's sprint
 
Quarter final
 
Ray Clarke (Worldwide Cycles) bt Noor Hassan (Usher IRC) 2 - 0
Keith Bannan bt Micheal Fitzgerald 2 - 0
Peter Dunne (Navan Avonmore) bt Ciaran Leahy 2 - 0
Malcolm Goggin (Murphy and Gunn) bt Liam Collins 2 - 1
 
Semi final
 
Ray Clarke bt Malcolm Goggin 2 - 1
Peter Dunne bt Keith Bannan 2 - 1
 
Final: Peter Dunne bt Ray Clarke 2 - 0
Ride off for bronze medal: Malcolm Goggin bt Keith Bannan 2 - 0
 
Women's 3 km pursuit
 
1 Louise Moriarty (Les Jeunes)
2 Kate Rudd (Orwell - Dundrum Shopping Centre)
 
Women's sprint
 
1 Louise Moriarty
2 Gillian McDarby (The Bagel Bar)
3 Kate Rudd
 
Women's 500 metre time trial
 
1 Louise Moriarty                                 41.40
2 Kate Rudd                                       42.56
3 Gillian McDarby                                 43.02
 
(Points race postponed due to rain, will be run off at a later date)