Introduction to Track Racing - What's a Wheelrace? - Introduction to Six Day racing - UCI codes
106th Austral Wheelrace - IM
Vodafone Arena, Melbourne, Australia, February 7, 2004
2003 results Results Past winners
Bendigo teenager claims 106th Austral
by Mal Sawford
Zac Dempster (Bendigo & District Cycling Club)
Photo ©: Shane Goss
The presence of the experienced stars of Australian cycling, Shane Kelly and Brett Aitken, together with form riders Todd Wilksch and Daniel Thorsen couldn't prevent sixteen year old sensation Zak Dempster from pulling off the ride of his life to claim the win in the world's oldest track race.
Traffic chaos caused organizers to delay the start of the program by fifteen minutes. Melbourne's sports precinct was home not only to world class track cycling, but also Super Cross and the Australian Idol Tour Concert, making parking and access to Vodafone Arena a nightmare! Despite the delay, the carnival ran like clockwork, and actually finished ahead of schedule.
How it unfolded
The podium after the 2004 Austral Wheelrace (L to R:)
Photo ©: Shane Goss

Dempster displayed remarkable maturity and presence of mind for a rider of his age, suffering a puncture while on the start line in the fifth heat, but staying calm while his handlers performed a quick wheel change in time for him to start in the sixth and final heat. The sixth heat contained Scratchmen Shane Kelly (Terry Hammond Cycles) and Todd Wilksch (Fitzroy Cycles), both of whom qualified comfortably. The generously handicapped West Australian Daniel Vogels (105m) made the most of his mark, jumping away from the lead group before the back-markers made their dash for the line, to claim the win. Dempster (90m) chased hard, only to be overhauled by Kelly and Wilksch, and squeaked into the final as the fourth and final qualifier.
Other heat winners were Steve Martin (195m), Tommy Nankervis (90m), New South Wales rider Ben Clark (150m), John Forrest (160m) from Canberra and Barry Woods (90m). Sydney Olympic Madison Gold Medallist Brett Aitken was left to do most of the work in his heat, and despite pushing all the way to the line was unable to qualify - with Thorsen benefiting from his efforts and earning a ride in the final.
The two scratchmarkers
Photo ©: Shane Goss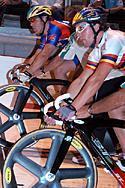 The 24 finalists were spread right round the 250 meter track: Bendigo's Paul Dalton starting from 220 meters, with the two Scratch men having to make up virtually a full lap over the 2000 meter journey. The out-markers started well, but had little chance of holding off the field. Every rider seemed to fancy his chances, and there was no sign of anyone saving their legs in the hope of following the back markers through the field.
With no help from the riders in front, Wilksch and Kelly were left to close a big gap on their own, and the task proved too much for Wilksch, as he could not swing back onto Kelly's wheel after a hard turn at the four lap mark. Kelly continued to chase, eventually making contact with the lead bunch on the final lap, but had no chance of moving up to contest the win.
Two separate falls saw veteran rider Chris Hunt (Kennedy Cycle Fit) and Steve Martin (Le Tour Cycles) hit the deck, causing some hesitation in the final two laps. Nankervis had been well placed, but ran out of steam after his earlier hard heat ride, leaving the way clear for Tasmanian rider Ryan Johnston to make his bid for glory. Carl Cubbitt (Ausivelo.com) left his run too late, while Dempster (Hardings Cycles), who had had a dream run through the field moved up on the Tasmanian's hip round the final bend and clawed his way past in the finishing straight to earn the coveted win.
Dempster, a year 11 student is coached by Elite rider Tim Decker (Decked Out), a coach who favours passion for riding over mega miles, and this was reflected in the winner's post race comments. "I'm just ecstatic to be honest. I've come so far this year, and I just want to keep going in my sport and keep going with my school and have a great life - I'm stoked."
He also made comments reminiscent of William Walker's victory speech after his surprise 2003 Bay Series Stage win. "It's just a real honour to line up on the start line with the likes of Shane Kelly and Todd Wilksch and Brett Aitken. Olympic champions and I'm only 16 and I'm racing them!
"Tim kept telling me 'you can do it, you can win this race, its really important for you to learn how to race at this age, you can do the big miles were you're older.' It's the biggest tip I've ever got, and I try to ride by it."
Dempster summed up his win in a refreshingly honest manner: "I was able to follow wheels pretty well. I just sat on Tommy Nankervis, and he got to the front markers with two to go and I was a bit nervous and had to throw a few hooks to keep second wheel, and then when some guy (Johnston) hit out with one to go, and I was stuck in there thinking 'oh no, I'm not going to get it' but coming into the final straight I found something special: pain is really short but glory lasts forever."
Despite his young years, Dempster has a varied sporting back ground. His father, Darren, is a two time Hawaii Iron Man finisher, and Zak was a representative basketball player before coming to cycling three years ago via a BMX background. Coach Decker was equally ecstatic with the win. A six time Austral finalist himself, Decker has never cracked the big one, and actually rode in the same heat as his protégé tonight. Decker has no plans for retirement in the near future, and plans on leading his pupils by example for many years to come!
Other Races
Aces
World class Aces Keirin final
Photo ©: Mal Sawford

Despite falling short in the Wheelrace, Horsham rider Todd Wilksch proved his class and versatility with outstanding rides in the Aces events. Perfectly positioned in the Elimination, he was never in trouble, and allowed endurance specialists David Pell and Leigh De Luca to set the early pace, until only he and Brett Aitken remained. Wilksch led into the final lap, and despite Aitken's impressive dive down the bank at the 200 meter mark which saw him draw level into the home turn, Wilksch kicked clear in the straight to take the win.
The Keirin win went to Shane Kelly, who wound up to speed behind big Damien Keirl (VIS), who had held the lead position behind the derny. Keirl was flying, but Kelly was able to charge past down the back straight to win by a length, with Wilksch unable to hold his wheel and having to settle for third.
The final event on the program was the traditional Aces Scratch Race, of 25 laps. The field stayed intact until a strong solo move from Brad Norton (Drapac-Porsche) with 15 laps remaining. Holding his rhythm well, Norton survived until the final six laps, when he was finally recaptured. Richard England (Le Tour Cycles) jumped away two laps later, with Austral winner Dempster quick to follow, but a strong turn from Dylan Boone saw the pair reeled in at the bell. Aitken hit the lead down the back straight, only to find Wilksch and Junior Worlds Pursuit Medallist Michael Ford on his wheel, with Wilksch slipping past to take the win in the final ten meters.
Women
Women's Wheel winner
Photo ©: Mal Sawford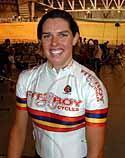 The Women's events saw the return to competition of former Junior World Champion Rahna Demarte. While not among the place getters, Demarte looked fit and comfortable on the bike, and is bound to be back on the podium soon. The Handicap Points Score was taken out by former speed skater Catherine Allen (Giramondo Sportswear), whose first and second in the opening two sprints gave her a virtually unassailable lead in a three sprint race. Jessica Berry claimed second on a countback from pre-race favourite Belinda Goss (TIS/Cyclingnews.com).
The Women's Handicap saw back markers Goss (Scratch) and Allen (15m) struggle, not making contact with the riders in front. Kylie Howlett looked strong two laps from home stretching the lead group out, but Jenny Macpherson (Fitzroy Cycles) was quick enough to come off her wheel half a lap from home, taking the win by a length from Queensland visitor Claire Schneider.
Under 19 Victorian Keirin Championship
The qualifiers for the Under 19 Keirin final included some of Australia's best junior riders. Daniel Thorsen (Drapac-Porsche) and Michael Ford (VIS), both Silver Medallists at the 2003 Junior Worlds, won their heats with impressive rides from the front of the pack, while Michael Hill displayed amazing acceleration to win his heat. The final saw Gerard Murphy claim the derny, while Ford and Docker fought for second wheel. It all proved academic in the final lap, when Hill produced another devastating burst at the bell to fly past and hold off the chasers to take the win by three lengths.
Invitational Under 17
Geelong's Leigh Howard has dominated Under 17 racing recently, but didn't have things all his own way at the Austral Carnival. After winning the Keirin with a convincing sprint, he had to settle for third in the Motorpace behind Lee Houssaye, who took the lead after the derny swung off and powered home, and Abe Hastwell.
The Elimination looked like it was going Howard's way, after a mid race attack from Houssaye ended with two laps to travel, but the chasing effort had blunted Howard's speed, allowing Luke Gooley to sprint to the win.
Photography
Images by Shane Goss/Cyclingnews.com/www.licoricegallery.com
Images by Mal Sawford/Cyclingnews.com
Results
Dairy Farmers D Grade Scratch   
 
1 Daryl Keirl (Ballarat/Sebastapol)
2 Chris Hunt (Latrobe Valley)
3 Jared Desmares (Horsham)
4 Lawrie Naughton (Bendigo)
 
Lockwood Security Concepts C Grade Teams Race   
 
1 Jeremy McLay (Chelsea & Peninsula (Team 111))
2 Nathan Hingston (Tasmania (Team 118))
3 Phil Sawyer (Bendigo (Team 113))
 
John Beasley Cycles B Grade Teams Race   
 
1 Joel Stewart (ACT (Team 145))
2 Mario Giramondo (Carnegie Caulfield (Team 146))
3 Aaron Salisbury (Carnegie Caulfield (Team 142))
 
Aces Elimination   
 
1 Todd Wilksch (Horsham)
2 Brett Aitken (South Australia)
3 David Pell (Bendigo)
4 Leigh De Luca (Carnegie Caulfield)
 
Under 17 Keirin   
 
1 Leigh Howard (Geelong West)
2 Lee Houssaye (Wangaratta)
3 Luke Gooley (Shepparton)
 
Fortress Extended Automotive Warranties Women's Handicap Points Score   
 
1 Catherine Allen (Carnegie Caulfield)
2 Jessica Berry (Bendigo)
3 Belinda Goss (Tasmania)
4 Claire Schneider (Queensland)
 
Drapac Property - Porsche 3 Man Time Trial   
 
1 Back Straight (D Keirl, T Wilksch, B Aitken)  
2 Front Straight (D Thorsen, J Leonard), S Kelly)  
 
John Beasley Cycles Under 17 Motorpace   
 
1 Lee Houssaye (Wangaratta)
2 Abe Hastwell (Ararat)
3 Leigh Howard (Geelong West)
4 Luke Gooley (Shepparton)
 
106th Austral Wheelrace Final, 2000m   
 
1 Zak Dempster (Bendigo)
2 Ryan Johnston (Tasmania)
3 Carl Cubbitt (Coburg)
4 John Forrest (NSW)
 
Fortress Extended Automotive Warranties Women's Handicap 1500m   
 
1 Jenny Macpherson (Carnegie Caulfield)
2 Claire Schneider (Queensland)
3 Kylie Howlett (Ararat)
4 Victoria Freeland (Stawell-Great Western)
 
Dairy Farmers Under 19 Victorian Keirin Championship   
 
1 Michael Hill (Shepparton)
2 Mitchell Docker (Brunswick)
3 Michael Ford (Carnegie Caulfield)
4 Zak Dempster (Bendigo)
 
John Beaslay Cycles Under 17 Elimination   
 
1 Luke Gooley (Shepparton)
2 Leigh Howard (Geelong West)
3 Lee Houssaye (Wangaratta)
4 Abe Hastwell (Ararat)
 
Lockwood Security Concepts Aces Keirin   
 
1 Shane Kelly (Stawell-Great Western)
2 Damien Keirl (Ballarat/Sebastapol)
3 Todd Wilksch (Horsham)
4 Joel Leonnard (Footscray)
 
2004 Track Cycling World Championships B Grade Elimination   
 
1 John Forrest (NSW)
2 Evan Corry (Bendigo)
3 Nathan Hingston (Tasmania)
4 Ryan Johnston (Tasmania)
 
700c Casual Wear for Cyclists Aces Scratch Race   
 
1 Todd Wilksch (Horsham)
2 Brett Aitken (South Australia)
3 Michael Ford (Carnegie Caulfield)
4 David Pell (Bendigo)