Introduction to Track Racing - What's a Wheelrace? - Introduction to Six Day racing - UCI codes
Oceania Track Championships - CC
Vodafone Arena, Melbourne, Australia, December 3-5, 2004
Main Page Results Previous Day Next Day
Day 2 - December 4
Kersten man of the moment
By Mal Sawford in Melbourne
"Hey, it was easy!"
Photo ©: Cyclingnews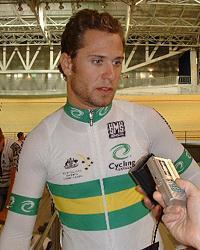 Ben Kersten, the forgotten man in the middle of the Athens Olympics selection hi-jinks, became the man of the moment at Vodafone Arena tonight. Not only did the rampaging kilo specialist win the main event, but also took out the Oceania Championship Kierin and the Aces Sprint Derby to end the night triumphant and undefeated.
The 2004 Melbourne Cup on Wheels Carnival was run in conjunction with the 2005 Oceania Track Cycling Championships. The Oceania Championships kicked off with sessions on Friday and Saturday morning and conclude on Sunday; and feature teams from Australia, New Zealand, New Caledonia and Tahiti.
The 2005 World Track Championships are scheduled for March, so the Oceania Championships, which provide direct qualification for the winners of some events into the World's, had had to be scheduled in 2004. This has forced riders to start training much earlier than they would have liked, but ensured a top quality field for the season-opening carnival at Vodafone Arena.
Melbourne Cup on Wheels Oceania Championships events
Melbourne Cup on Wheels
Tommy Nankervis
Photo ©: Cyclingnews

Run over the traditional 2000 metres, the field was split into five heats. The first three heats favoured the middle markers, with wins going to Australian Junior team members Mark O'Brien (120m) and Jeremy Hogg (145m), and late inclusion Kain Nunn (Spoke'n) off 195 metres.
Lone Scratchman Todd Wilksch (Fitzroy Cycles) faced a long chase in the fourth heat, which after a valiant effort proved too much. Team-mate and handicap specialist Tommy Nankervis stepped up in Wilksch's absence to win the heat. The final heat saw crowd favourite Shane Kelly and Stephen Rossendell ride from Scratch, with Kersten, the winner of last week's Clarence St Cyclery Cup only twenty metres ahead.
Kersten revealed after the heat that he had expected to help Kelly qualify for the final, but the efforts of reeling in a well drilled pack of outmarkers saw Kelly unable to get around the bunch when the catch came. Kersten had no such trouble and flew around the top of the track to claim a convincing win and move into the final.
With Kersten facing a long chase in the final, bookies rated him only a 5:1 chance to win, with favouritism shared by Nankervis and Tasmanian rider Ben Price. When the gun fired, Nunn and fellow limit rider Mark Prutton (Kathy Watt's Personal Training) were slow to react, while at the other end of the field, Kersten flew out of the blocks.
"I've got no chance!"
Photo ©: Cyclingnews

Only Damien Keirl (50m) waited to assist Kertsten's chase. Nankervis had found a willing group of allies around him, with Dylan Boone (Team MG-ZT), Barry Woods, Steve Sansonetti (Bike Technologies), Kiwi Dale Cheatley and Australian junior Gerard Murphy, and set off after the middle markers. At the halfway mark, there were six in the lead group, sixty metres clear of the rest of the field, which had just been joined by Kierl and Kersten.
The field came together inside three laps to go. Boone hit out hard, followed by Murphy, Price and Nankervis. Big sprinter Andrew Shannon (Kathy Watt's Personal Training) tried to muscle onto Nankervis' wheel, but it all became academic when Kersten flew from the clouds at the bell, kicking clear down the back straight to run out winner by ten metres, from Price and Nankervis.
Kersten expressed surprise at how easily the win seemed to have come. "Never have I ridden a handicap without four or five people in the group. Going into it with two, I just wrote the whole result off. Two of us took on the whole field! I saved a lot of energy, I did it easily, but it hurt a lot more a couple of laps after I got on, when I should have been recovering. I think that was because I did it so hard in the heat; did some big turns and was just full of lactate still".
Oceania Championships events
Women's Sprint
An Oceania championship sprint gold
Photo ©: Cyclingnews

Kerrie Meares earned direct entry to the World's with a convincing win in the Sprint final against New Zealand's Katrie Laike; if her sister Anna's Olympic form holds, there may well be two Meares sisters in medal contention in Los Angeles.
Meares' first semi-final ride against team mate Liz Georgouras almost saw un upset, with Meares laying a long way off Georgouras at the bell and leaving her run very late. Only the photo finish camera could separate the riders, with Meares the winner by a tyre, and consequently she was a lot more attentive in the second heat.
Her opponent in the final was somewhat of a surprise, with Laike beating the more experienced Liz Williams in straight heats. Meares proved far too strong for Laike, winning both rides in similar fashion by allowing the New Zealander to lead before powering past in the back straight. Williams proved too strong for Georgouras in the Bronze medal ride off, winning their match in straight heats.
Women's Individual Pursuit
Katie Mactier focused
Photo ©: Cyclingnews

Silver medallist at both the Athens Olympics and World Championships, local girl Katie Mactier was clearly the rider to beat in the Pursuit. Despite a long lay off since Athens, and minimal track preparation, Mactier was a comfortable winner in the gold medal ride against Dale Tye, overtaking her opponent with six laps to travel. Australian Liz Young claimed the bronze over Kiwi Annalisa Farrell.
Both Mactier and coach John Beasley were happy with the performance so early in the season, and Mactier was noticeably more relaxed with a familiar face calling the splits from the duck boards. Mactier was asked if she was aware of rumours that world record holder and Olympic Champion Sarah Ulmer may not defend her World Championships in LA, and replied: "No, I haven't heard that at all. If it's true, I have so much respect for Sarah and if she decided to sit out the 2005 World's, I can absolutely understand where's she's coming from. She's in huge demand in New Zealand, why not milk it! She won't retire, and I'll still have to face her at the Commonwealth Games in 2006 - and it's not just about New Zealand versus Australia - there are plenty of other girls out there."
Men's Keirin
Shane Kelly
Photo ©: Cyclingnews

Kersten's first win of the night came in the Keirin; and the win has finally guaranteed him a ride at the World's - with his pet Kilometre Time Trial still to come! Five Australians qualified for the final along with New Caledonian Herve Gane - a cousin of track legend Laurent. Shane Kelly is a noted Keirin rider, and positioned himself on Kersten's wheel in the early stages. With the derny off the track, Gane and Joel Leonard made a move around the outside and boxed Kelly in, but Kersten accelerated away at the bell to run out comfortable winner, and clear for a path for Kelly to sprint into the silver medal position.
Kersten was understandably elated with his win, saying: "I finally get to race something beside the kilo! It's taken me a few world championships to try and get starts in other races. I'm not just a pure time trialer, you know. I can race, obviously, and I enjoy it. I love Keirins but lately I can't get a start because we have Dajka, Eadie, Kelly and Bayley and they have seniority and get priority and choices. This was really important to me: finally I get to race the Keirin. I want to spread my wings and show people I can do other racing, I feel I'm just as good in the Keirin. Australians are going to be all over the podium at the Worlds!"
Men U19 Scratch Race
Australian junior Alex Smyth
Photo ©: Cyclingnews
The Junior Men's Scratch race saw a traditional Australia/New Zealand grudge match unfold, more typical of a cricket or rugby test. New Zealand riders Sam Bewley and Logan Hunn tried to escape one after the other in the early stages, but Australian rider Alex Smyth sacrificed his chances to pull them both back.
Josh Gundry was the first of the Aussies to attack, but quickly had Andrew Robertson and Oliver Pierce for company. Anthony Bennett jumped across to even the numbers out front for the Aussies, but towed Michael Northey up to the front group with three laps to go. Under pressure from the Australians, the bunch was back together at two to go, before Todd Dawson attacked just before the bell to take the win, relegating Robertson and Northey to the minor medals.
Support Events
Aces Elimination
Todd Wilksch was undefeated in Elimination races last season at Vodafone Arena, and continued his outstanding form tonight. The early stages of the race proved more than a little confusing for both spectators and riders alike as problems with the public address system saw riders unsure who had been eliminated. From a field of twenty, it wasn't until there were only six left that things sorted themselves out, with Kelly among the unfortunates eliminated from what he thought was a safe position. Dylan Boone rode well in his track comeback to finish third, with Pat Shaw (Giant) a fine second. Wilksch survived a scare when there were four riders left, before stamping his authority on the race to clam the win.
Women's Scratch
Belinda Goss (TIS/cyclingnews.com) bested the biggest women's field seen on Vodafone's boards, with thirty starters. With a host of New Zealand internationals in the field, the race was run at a good pace and was perhaps the best women's race seen in Melbourne, proof of the rapid improvement of the local women.
Despite an All Black train forming in the closing laps, Goss powered down the back straight on the final lap to take the win, towing Jessica Berry (Fortress) and Junior sensation Tess Downing (Drapac - Porsche) into the minor places.
Aces Sprint Derby
Kersten's third win on the trot came at the expense of Herve Gane, who had taken a flier with just under two laps to race. As Wilksch tried to get on terms with the charging Gane, Kersten turned on the afterburners to scorch past both riders down the back straight to claim another commanding win.
Women's Handicap
Tess Downing added to her fantastic results with a win in the Handicap. Downing claimed Oceania Championships Gold Medals on the opening day in the Junior Pursuit and Points Race, and stepped up to her first senior win riding from the back marks with a good sprint to hold off Apryl Eppinger (VIS) and Tiffany Cromwell (Fortress).
Women's Keirin
Belinda Goss made it two from two in the Keirin with another fine sprinting display, which is little surprise considering she proves a competitive finisher in local Criteriums against B Grade men! Berry was once again forced to settle for second ahead of Liz Williams.
Aces Scratch
Shane Kelly salvaged his night with a win in the 25 lap finale. Not known for performances over this distance, Kelly parked himself on Todd Wilksch's wheel in the closing stages. Adrian Sansonetti (Bike Technologies) had stayed fresh during the attacking race, and hit out strongly at two to go, and looked to have a winning gap until Kelly showed his class with his devastating burst. Wilksch did well to hold Kelly's wheel to pip Sansonetti for second, with Aaron Salisbury (HLP/Ridewiser) best of the rest.
Photography
Images by Mal Sawford/Cyclingnews
Results

Oceania Championship Women's Sprint
 
Semi Final Round 1
 
Round 1
1 Kerrie Meares (Australia)
2 Liz Georgouras (Australia)
 
Round 2
1 Katrie Laike (New Zealand)
2 Elizabeth Williams (New Zealand)
 
John Beasley Cycles Scratch Race
 
1 Chris Hunt (Warragul)
2 Daryl Kierl (Ballarat/Sebastapol)
3 Paul Dalton (Blackburn)
 
Oceania Championship Women's Sprint
 
Semi Final Round 2
 
Round 1
1 Kerrie Meares (Australia)
2 Liz Georgouras (Australia)
 
Round 2
1 Katrie Laike (New Zealand)
2 Elizabeth Williams (New Zealand)
 
Drapac Property - Porsche Scratch Race
 
1 Sean Pontelandolfo (Bendigo)
2 Dylan Newell (Brunswick)
3 Glen Hutchinson (Footscray)
 
Oceania Championship Junior Men's Teams Pursuit
 
1 Australia (Mark O'Brien, Gerard Murphy, Todd Dawson, Anthony Bennett)       4.06.890
2 New Zealand (Sam Bewley, Elliot Crowther, Logan Hunn, Oliver Pearce) caught at 3500m
 
Oceania Championship Junior Men's Time Trial
 
1 Scott Sunderland (Australia)                            1:08.598
2 Joel Davis (Australia)                                  1:09.176         
3 Gerard Murphy (Australia)                               1:09.509

Oceania Championship Men's Keirin
 
1 Ben Kersten (Australia)                                   10.888
2 Shane Kelly (Australia)
3 Herve Gane (New Caledonia)
 
Assos Australia Scratch Race Scratch Race
 
1 Mark O'Brien (Horsham)
2 Ben Price (Tas)
3 Alexander James (Brunswick)
 
Oceania Championship Women's Sprint
 
Final for 3rd and 4th
 
1 Elizabeth Williams (Australia)                   12.717   12.663
2 Liz Georgouras (Australia)
 
Final for 1st and 2nd
 
1 Kerrie Meares (Australia)                        12.663   12.480
2 Katrie Laike (New Zealand)
 
Australian Abalone Exports Aces Elimination
 
1 Todd Wilksch (Horsham)
2 Pat Shaw (Ballarat/Sebastapol)
3 Dylan Boone (Carnegie Caulfield)
 
Cyclists International Melbourne Cup On Wheels
 
Heat 1
1 Mark O'brien (Horsham)                                    2:07.6
2 Andrew Stewart (Preston)
3 Glen Hutchinson (Footscray)
4 Dylan Newell (Brunswick)
 
Heat 2
1 Kain Nunn (Blackburn)                                     2:06.6
2 Mark Prutton (Blackburn)
3 Andrew Shannon (New Zealand)
4 Andrew Cox (Colac)
 
Heat 3
1 Jeremy Hogg (Qld)                                         2:08.9
2 Alexander James (Brunswick)
3 Gerard Murphy (Leongatha)
4 Alexander Smyth (Carnegie Caulfield)
 
Heat 4
1 Tommy Nankervis (SA)                                      2:13.5
2 Dylan Boone (Carnegie Caulfield)
3 Dayle Cheatley (New Zealand)
4 Damien Kierl (Ballarat/Sebastapol)
 
Heat 5
1 Steve Sansonetti (Northcote)                              2:08.5
2 Barry Woods (Blackburn)
3 Ben Price (Tas)
4 Ben Kersten (NSW)
 
Oceania Championship Junior Women's Points Race
 
1 Tess Downing (Australia)
2 Peta Mullins (Australia)
3 Tiffany Cromwell (Australia)
 
Cyclesport Victoria Women's Scratch Race
 
1 Belinda Goss (Tas)                                        4:46.4
2 Jessica Berry (Bendigo)
3 Tess Downing (Carnegie Caulfield)
 
Oceania Championship Junior Men's Scratch Race
 
1 Todd Dawson (Australia)                                   9:10.7
2 Andrew Robertson (New Zealand)
3 Michael Northey (New Zealand)
 
Cyclists International Melbourne Cup On Wheels
 
Final
1 Ben Kersten (NSW)                                         2:05.6
2 Ben Price (Tas)
3 Tommy Nankervis (SA)
4 Barry Woods (Blackburn)
 
Oceania Championship Women's 3000M Individual Pursuit
 
Final For 3rd and 4th
 
1 Liz Young (Australia)                                   3:53.312
2 Annalisa Farrell (New Zealand)                       3:56.860
 
Final for 1st and 2nd
 
1 Katie Mactier (Australia)                               3:41.571
2 Dale Tye (New Zealand)                                  3:53.070
 
Men's Individual Pursuit
 
Final for 1st and 2nd
 
1 Matthew Haydock (New Zealand)                           4.38.458
2 Steven Sansonetti (Australia)                           4.38.842
 
Final for 3rd and 4th
 
3 Cameron Wise (Australia)                                4.51.158
4 Steve Martin (Australia)                                5.02.980
 
Cyclists International Sprint Derby
 
1 Ben Kersten (NSW)                                         11.244
2 Todd Wilksch (Horsham)
3 Herve Gane (New Caledonia)
 
Fortress Extended Automotive Warranties Women's Handicap
 
1 Tess Downing (Carnegie Caulfield)                         2:24.5
2 Apryl Eppinger (Carnegie Caulfield)
3 Tiffany Cromwell (SA)
 
Fortress Extended Automotive Warranties Women's Keirin
 
1 Tess Downing (Carnegie Caulfield)
2 Apryl Eppinger (Carnegie Caulfield)
3 Tiffany Cromwell (SA)
 
Royal Standard Hotel Aces Scratch Race
 
1 Shane Kelly (Stawell-Great Western)
2 Todd Wilksch (Horsham)
3 Adrian Sansonetti (Northcote)
4 Aaron Salisbury (Carnegie Caulfield)