Introduction to Track Racing - What's a Wheelrace? - Introduction to Six Day racing - UCI codes
63rd Zesdaagse Van Vlaanderen-Gent - 6D
Gent, Belgium, November 18-23, 2003
Day 1 - November 18
McGrory/Sassone take the early lead
Scott McGrory (Aus)
Photo ©: Luc Claessen/CN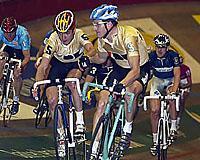 At the end of the first night of racing in Gent's Kuipke, Scott McGrory and Robert Sassone are at the head of the leader board with 38 points, seven more than German pair Andreas Kappes/Andreas Beikirch. Both teams have a one lap advantage over the rest of the field, with Robert Slippens/Danny Stam on 49 points leading a cluster of six teams on the same lap.
Slippens and Stam rode strongly in a number of events, winning the points race, the first madison and the first derny race (Stam). They were leading on points until the second madison, when McGrory/Sassone and Kappes/Beikirch took a lap out of the rest of the field and jumped to the top of the standings.
In the Six Days of the Future, Danish duo Michael L. Larsen/Michael Berling have opened up a one lap lead over Ralph Zimmermann/Olivier Mattman (Swi) and Belgians John Van den Abeele/Kenny De Ketele (Bel). The Danes have accumulated 16 points, whereas Zimmermann/Mattman have 24 and Van den Abeele/De Ketele 23, so if those two teams can get that lap back then the advantage will be with them again.
Photography
Images by Luc Claessen/Cyclingnews/actiefotos.be
Results
Points race
 
1 Jean-Pierre Van Zyl (RSA)/Marco Villa (Ita)           15 pts
2 Andreas Kappes (Ger)/Andreas Beikirch (Ger)            7
3 Matthew Gilmore (Bel)/Bradley Wiggins (GBr)            7
4 Franco Marvulli (Swi)/Alexandre Aeschbach (Swi)        7
5 Steven Deneef (Bel)/Wouter Van Mechelen (Bel)          6
6 Iljo Keisse (Bel)/Franz Stocher (Aut)                  6
7 Robert Slippens (Ned)/Danny Stam (Ned)                 6
8 Jimmi Madsen (Den)/Lars Teutenberg (Ger)               5
9 Scott McGrory (Aus)/Robert Sassone (Fra)               3
10 Marty Nothstein (USA)/Robert Hayles (GBr)             2
11 Bruno Risi (Swi)/Kurt Betschart (Swi)                 1
12 Dmitri De Fauw (Bel)/Gerd Dörich (Ger)                1
 
1 lap TT
 
1 Dmitri De Fauw (Bel)/Gerd Dörich (Ger)                15   8.83
2 Marty Nothstein (USA)/Robert Hayles (GBr)             10   8.88
3 Robert Slippens (Ned)/Danny Stam (Ned)                 8   8.98
4 Franco Marvulli (Swi)/Alexandre Aeschbach (Swi)        6   9.14
5 Jean-Pierre Van Zyl (RSA)/Marco Villa (Ita)            4   9.15
6 Steven Deneef (Bel)/Wouter Van Mechelen (Bel)          2   9.17
7 Bruno Risi (Swi)/Kurt Betschart (Swi)                  0   9.19
8 Scott McGrory (Aus)/Robert Sassone (Fra)               0   9.22
9 Matthew Gilmore (Bel)/Bradley Wiggins (GBr)            0   9.30
10 Iljo Keisse (Bel)/Franz Stocher (Aut)                 0   9.31
11 Andreas Kappes (Ger)/Andreas Beikirch (Ger)           0   9.35
12 Jimmi Madsen (Den)/Lars Teutenberg (Ger)              0   9.48
 
Madison
 
1 Matthew Gilmore (Bel)/Bradley Wiggins (GBr)           15 pts
2 Bruno Risi (Swi)/Kurt Betschart (Swi)                 10
3 Robert Slippens (Ned)/Danny Stam (Ned)                 8
4 Scott McGrory (Aus)/Robert Sassone (Fra)               6
5 Andreas Kappes (Ger)/Andreas Beikirch (Ger)            4
6 Jimmi Madsen (Den)/Lars Teutenberg (Ger)               2
 
1 lap behind
 
7 Marty Nothstein (USA)/Robert Hayles (GBr)              0
8 Iljo Keisse (Bel)/Franz Stocher (Aut)                  0
9 Franco Marvulli (Swi)/Alexandre Aeschbach (Swi)        0
 
2 laps behind
 
10 Steven Deneef (Bel)/Wouter Van Mechelen (Bel)         0
11 Dmitri De Fauw (Bel)/Gerd Dörich (Ger)                0
12 Jean-Pierre Van Zyl (RSA)/Marco Villa (Ita)           0
 
Team elimination
 
1 Franco Marvulli (Swi)/Alexandre Aeschbach (Swi)       15 pts
2 Matthew Gilmore (Bel)/Bradley Wiggins (GBr)           10
3 Scott McGrory (Aus)/Robert Sassone (Fra)               8
4 Andreas Kappes (Ger)/Andreas Beikirch (Ger)            6
5 Robert Slippens (Ned)/Danny Stam (Ned)                 4
6 Iljo Keisse (Bel)/Franz Stocher (Aut)                  2
7 Dmitri De Fauw (Bel)/Gerd Dörich (Ger)                 0
8 Jean-Pierre Van Zyl (RSA)/Marco Villa (Ita)            0
9 Jimmi Madsen (Den)/Lars Teutenberg (Ger)               0
10 Marty Nothstein (USA)/Robert Hayles (GBr)             0
11 Steven Deneef (Bel)/Wouter Van Mechelen (Bel)         0
12 Bruno Risi (Swi)/Kurt Betschart (Swi)                 0
 
Derny - Round 1
 
1 Jimmi Madsen (Den)                                     5 pts
2 Bradley Wiggins (GBr)                                  4
3 Iljo Keisse (Bel)                                      3
4 Kurt Betschart (Swi)                                   2
5 Robert Sassone (Fra)                                   1
6 Franco Marvulli (Swi)                                  0
 
Elimination
 
1 Bruno Risi (Swi)                                      15 pts
2 Robert Slippens (Ned)                                 10
3 Marty Nothstein (USA)                                  8
4 Jean-Pierre Van Zyl (RSA)                              6
5 Dmitri De Fauw (Bel)                                   4
6 Alexandre Aeschbach (Swi)                              2
7 Wouter Van Mechelen (Bel)                              0
8 Scott McGrory (Aus)                                    0
9 Matthew Gilmore (Bel)                                  0
10 Lars Teutenberg (Ger)                                 0
11 Andreas Kappes (Ger)                                  0
12 Franz Stocher (Aut)                                   0
 
Derny - Round 2
 
1 Steven Deneef (Bel)                                    5 pts
2 Danny Stam (Ned)                                       4
3 Marco Villa (Ita)                                      3
4 Andreas Beikirch (Ger)                                 2
5 Robert Hayles (GBr)                                    1
6 Gerd Dörich (Ger)                                      0
 
500m TT
 
1 Dmitri De Fauw (Bel)/Gerd Dörich (Ger)                15  28.44
2 Marty Nothstein (USA)/Robert Hayles (GBr)             10  28.77
3 Franco Marvulli (Swi)/Alexandre Aeschbach (Swi)        8  28.78
4 Jean-Pierre Van Zyl (RSA)/Marco Villa (Ita)            6  28.91
5 Robert Slippens (Ned)/Danny Stam (Ned)                 4  29.13
6 Andreas Kappes (Ger)/Andreas Beikirch (Ger)            2  29.36
7 Scott McGrory (Aus)/Robert Sassone (Fra)               0  29.37
8 Matthew Gilmore (Bel)/Bradley Wiggins (GBr)            0  29.56
9 Steven Deneef (Bel)/Wouter Van Mechelen (Bel)          0  29.63
10 Bruno Risi (Swi)/Kurt Betschart (Swi)                 0  29.66
11 Iljo Keisse (Bel)/Franz Stocher (Aut)                 0  29.90
12 Jimmi Madsen (Den)/Lars Teutenberg (Ger)              0  30.31
 
Midnight sprint
 
1 Bruno Risi (Swi)/Kurt Betschart (Swi)                 15 pts
2 Franco Marvulli (Swi)/Alexandre Aeschbach (Swi)       10
3 Steven Deneef (Bel)/Wouter Van Mechelen (Bel)          8
4 Jean-Pierre Van Zyl (RSA)/Marco Villa (Ita)            6
5 Matthew Gilmore (Bel)/Bradley Wiggins (GBr)            4
6 Scott McGrory (Aus)/Robert Sassone (Fra)               2
7 Andreas Kappes (Ger)/Andreas Beikirch (Ger)            0
8 Robert Slippens (Ned)/Danny Stam (Ned)                 0
9 Jimmi Madsen (Den)/Lars Teutenberg (Ger)               0
10 Marty Nothstein (USA)/Robert Hayles (GBr)             0
11 Iljo Keisse (Bel)/Franz Stocher (Aut)                 0
12 Dmitri De Fauw (Bel)/Gerd Dörich (Ger)                0
 
Madison
 
1 Scott McGrory (Aus)/Robert Sassone (Fra)              15 pts
2 Andreas Kappes (Ger)/Andreas Beikirch (Ger)           10
3 Marty Nothstein (USA)/Robert Hayles (GBr)              8
4 Iljo Keisse (Bel)/Franz Stocher (Aut)                  6
 
1 lap behind
 
5 Robert Slippens (Ned)/Danny Stam (Ned)                 4
6 Matthew Gilmore (Bel)/Bradley Wiggins (GBr)            2
7 Jimmi Madsen (Den)/Lars Teutenberg (Ger)               0
8 Steven Deneef (Bel)/Wouter Van Mechelen (Bel)          0
9 Franco Marvulli (Swi)/Alexandre Aeschbach (Swi)        0
10 Bruno Risi (Swi)/Kurt Betschart (Swi)                 0
11 Jean-Pierre Van Zyl (RSA)/Marco Villa (Ita)           0
 
2 laps behind
 
12 Dmitri De Fauw (Bel)/Gerd Dörich (Ger)                0
 
Supersprint
 
1 Marty Nothstein (USA)/Robert Hayles (GBr)              5 pts
2 Scott McGrory (Aus)/Robert Sassone (Fra)               3
3 Jean-Pierre Van Zyl (RSA)/Marco Villa (Ita)            2
4 Franco Marvulli (Swi)/Alexandre Aeschbach (Swi)        1
5 Bruno Risi (Swi)/Kurt Betschart (Swi)                  0
6 Andreas Kappes (Ger)/Andreas Beikirch (Ger)            0
7 Matthew Gilmore (Bel)/Bradley Wiggins (GBr)            0
8 Robert Slippens (Ned)/Danny Stam (Ned)                 0
9 Jimmi Madsen (Den)/Lars Teutenberg (Ger)               0
10 Steven Deneef (Bel)/Wouter Van Mechelen (Bel)         0
11 Iljo Keisse (Bel)/Franz Stocher (Aut)                 0
12 Dmitri De Fauw (Bel)/Gerd Dörich (Ger)                0
 
Derny - Round 3
 
1 Bradley Wiggins (GBr)                                  5 pts
2 Jimmi Madsen (Den)                                     4
3 Steven Deneef (Bel)                                    3
4 Marco Villa (Ita)                                      2
5 Danny Stam (Ned)                                       1
6 Iljo Keisse (Bel)                                      0

Standings after night 1

1 Scott McGrory (Aus)/Robert Sassone (Fra)              38 pts
2 Andreas Kappes/Andreas Beikirch (Ger)                 31
 
1 lap behind
 
3 Robert Slippens/Danny Stam (Ned)                      49
4 Matthew Gilmore (Bel)/Bradley Wiggins (GBr)           47
5 Rob Hayles (GBr)/Marty Nothstein (USA)                44
6 Bruno Risi/Kurt Betschart (Swi)                       43
7 Iljo Keisse (Bel)/Franz Stocher (Aut)                 17
8 Jimmi Madsen (Den)/Lars Teutenberg (Ger)              16
 
2 laps behind
 
9 Franco Marvulli (Swi)/Alexander Aeschbach (Swi)       49
 
3 laps behind
 
10 Jean-Pierre Van Zyl (RSA)/Marco Villa (Ita)          44
11 Steven Deneef/Wouter Van Mechelen (Bel)              24
 
4 laps behind
 
12 Dimitri Defauw (Bel)/Gerd Dörich (Ger)               35
 
Six Days of the Future

Standings after night 1

1 Michael L. Larsen/Michael Berling (Den)               16 pts
 
1 lap behind
 
2 Ralph Zimmermann/Olivier Mattman (Swi)                24
3 John Van den Abeele/Kenny De Ketele (Bel)             23
4 Ingmar De Poortere/Steve Schets (Bel)                 21
5 Davy Tuytens/Tim Mertens (Bel)                        6
 
2 laps behind
 
6 Marc Hester/Michael Morkov (Den)                      15 
7 Davide Tortella/Martino Marcotto (Ita)                14
8 Gerd-Jan Jonkman/Kevin Sluimer (Ned)                  13
 
3 laps behind
 
9 Kristof Sels/Wim Stroetinga (Bel/Ned)                 10
10 Tim van der Zanden/Erik Voetman (Ned)                3
 
5 laps behind
 
11 Lode Boes/Pieter Brackeveldt (Bel)                   4