Introduction to Track Racing - What's a Wheelrace? - Introduction to Six Day racing - UCI codes
European Derny Championships
Newport, South Wales, Great Britain, November 14, 2003
Wiggins claims Euro derny title
By Nick Rosenthal
Bradley Wiggins (GBr)
Photo ©: Nick Rosenthal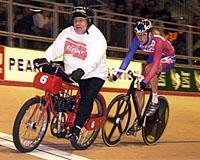 The brand new velodrome in Newport, South Wales, hosted the European Derny championship on Friday 14 November as part of a gala opening race meeting that featured many of Europe's top track riders.
A glut of entries for the Derny title meant that the start of the race meeting had to be brought forward to allow time for two heats to be run, the fastest three riders from each heat going through to the final, along with the fastest of the two fourth place riders.
The first heat was won by Rob Slippens, from Brad Wiggins and Steven De Neef. Heat two saw Walter van Mechelen win from Marco Villa, with Patrick Kops in third place. Mario Vonhof was the fastest fourth-place man, to make up the field in the final.
The final of the European Derny Championship was dominated from start to finish by Britain's reigning world pursuit champion, Bradley Wiggins. Paced by Joop Zijlaard, Wiggins looked comfortable and relaxed from start to finish. Second place went to Belgium's Steven De Neef, with the Netherlands' Rob Slippens in third place.
Photography
Images by Nick Rosenthal/fatnick.com
Results
International Sprint Omnium
 
4 Lap Sprint
 
1 Chris Hoy (Great Britain)
2 Craig Maclean (Great Britain)
3 Jamie Staff (Great Britain)
4 Ross Edgar (Great Britain)
5 Pavel Buran (Czech Republic)
6 Arnost Dromanek (Czech Republic)
 
Elmination Race
 
1 Franco Marvulli (Switzerland)
2 Jos Pronk (Netherlands)
3 John Van den Abeele (Belgium)
4 Bas Gilling (Netherlands)
 
Sprint Heats
 
Heat 1
 
1 Craig Maclean (Great Britain)                     12.270
2 Arnost Dromanek (Czech Republic)
 
Heat 2
 
1 Pavel Buran (Czech Republic)                      13.116
2 Jamie Staff (Great Britain)
 
Heat 3
 
1 Ross Edgar (Great Britain)                        13.825
2 Chris Hoy (Great Britain)
 
Sprint Repechage
 
1 Jamie Staff (Great Britain)                       11.873
2 Chris Hoy (Great Britain)
3 Arnost Dromanek (Czech Republic)
 
Youth Omnium
 
15 lap Scratch Race
 
1 Steven Burke
2 Jack Hibberd
3 Mike Partridge
4 Ross Dingley
5 James Cruikshank
6 Rhys Lloyd
7 Luke Rowe
8 Mark Bell
9 Matt Rowe
10 Michael Giverin
11 James Griffin
12 Andrew Davies
13 Harry Penn
14 Tom Price
 
1 lap behind
 
15 Jenny Middlehurst
16 Helen Scott
17 Sarah Byrne
18 Jessica Varnish
 
8km Scratch Race
 
1 Huw Pritchard (Wales)                           9.41.373
2 Franco Marvulli (Switzerland)
3 Tom Smith (Wales)
4 Ingmar De Poortere (Belgium)
5 Jon Norfolk (Yasimitsu Schlapp)
6 Dominique Perissi (Belgium)
7 Andrew Russell (Wales)
8 Chris Richardson (Scunthorpe Poly CC)
9 Joby Ingram-Dodd (Wales)
10 Matthew Crampton (Sportcity Velo)
11 Anthony Malarczyk (Wales)
12 Tom Walters (Dataphonics RT)
13 Jos Pronk (Netherlands)
14 Nick Kenwright (Wales)
15 Andrew Hoskins (Wales)
16 Ben Swift (Scunthorpe Poly CC)
17 Tom White (VC De Londres)
18 Geraint Thomas (Wales)
19 Matthew Haynes (City Of Edinburgh RT)
20 Eric Voetnam (Netherlands)
 
Youth Omnium

Sprint
 
Heat 1
 
1 James Griffin (Manchester)                        21.586
2 Jessica Varnish (Halesowen)
3 Tom Price (Newport)
 
Heat 2
 
1 Steve Burke (Manchester)                          20.761
2 Harry Penn (Halesowen)
3 Jo Tinsley (Newport)
 
Heat 3
 
1 Josh Hargreaves (Manchester)                      19.041
2 Will Penn (Halesowen)
3 Rachel Davis (Newport)
 
Heat 4
 
1 Jack Hibbard (Halesowen)                          19.659
2 Christian Lyte (Manchester)
3 Andrew Davis (Newport)
 
International Sprint Omnium
 
Semi Finals
 
Heat 1
 
1 Craig Maclean (Great Britain)                     11.776
2 Jamie Staff (Great Britain)
 
Heat 2
 
1 Pavel Buran (Czech Republic)                      11.750
2 Ross Edgar (Great Britain)
 
Final
 
Ride off for 5th & 6th
 
1 Chris Hoy (Great Britain)
2 Armost Dromanek (Czech Republic)
 
Ride off for 3rd & 4th
 
1 Jamie Staff (Great Britain)
2 Ross Edgar (Great Britain)
 
Ride off for 1st & 2nd
 
1 Craig Maclean (Great Britain)
2 Pavel Buran (Czech Republic)
 
Welsh Open 25km Points Race
 
1 Franco Marvulli (Switzerland)                         68 pts
2 Franck Perque (France)                                59
3 Jos Pronk (Netherlands)                               46
4 Russell Anderson (Classic Walls CRT)                  45
5 Magnus Backstedt (Sweden)                             45
6 Kenny De Ketele (Belgium)                             44
7 Anthony Malarczyk (Wales)                             40
8 Rob Hayles (Great Britain)                            30
9 Jerome Neuville (France)                               8
10 Paul Sheppard (Wales)                                 5
11 Bas Gilling (Netherlands)                             5
12 Tom White (VC De Londres)                             3
13 James Taylor (City Of Edinburgh RT)                   3
14 Bryan Taylor (VC De Londres)                          2
15 Ed Clancy (Wheelspin Cycles)                          2
16 Julian Winn (Great Britain)                           1
17 Tom Smith (Wales)                                     0
18 Huw Pritchard (Wales)                                 0
 
International Sprint Omnium
 
Final
 
Ride off for 5th & 6th
 
5 Chris Hoy (Great Britain)                         11.553
6 Armost Dromanek (Czech Republic)
 
Ride off for 3rd & 4th
 
3 Ross Edgar (Great Britain)                        11.641
4 Jamie Staff (Great Britain)
 
Ride off for 1st & 2nd
 
1 Craig Maclean (Great Britain)                     12.013
2 Pavel Buran (Czech Republic)
 
2km Handicap
 
Heat 1
 
1 Chris Richardson                               2.14.770
2 Ed Clancy
3 Andrew Russell
4 Geraint Thomas
5 Bas Gilling
6 Jerome Neuville
7 Kenny De Ketele
8 Jon Norfolk
9 James Notley
 
Heat 2
 
1 Ben Swift                                      2.15.247
2 Tom White
3 Tom Walters
4 Franck Perque
5 Russell Anderson
6 Steve Schets
7 Ray Clarke
8 Nick Kenwright
9 Rob Hayles
 
Heat 3
 
1 Ingmar De Poortere                             2.20.259
2 Mark Cavendish
3 Anthony Malarczyk
4 Matthew Crampton
5 Joby Ingram-Dodd
 
Heat 4
 
1 Matthew Haynes                                 2.21.804
2 John Van den Abeele
3 James Taylor
4 Huw Pritchard
5 Tom Smith
6 Magnus Backstedt
7 Dominique Perissi
8 Andrew Hoskins
9 Paul Sheppard
 
Youth Omnium
 
Team Sprint
 
Heat 1 - Newport
 
1 Mike Partridge                                  1.14.124
2 Matt Rowe
3 Rhys Lloyd
4 Luke Rowe
 
Heat 2 - Halesowen
 
1 Helen Scott                                     1.12.846
2 Jack Hibberd
3 Ross Dingley
4 Tom Hibberd
 
Heat 3 - Manchester
 
1 Steven Burke                                    1.10.051
2 James Griffin
3 Christian Lyte
4 Josh Hargreaves
 
International Sprint Omnium
 
Keirin
 
1 Jamie Staff (Great Britain )                      11.865
2 Chris Hoy (Great Britain)
3 Pavel Buran (Czech Republic)
4 Craig Maclean (Great Britain)
5 Arnost Dromanek (Czech Republic)
6 Ross Edgar (Great Britain)
 
Final result
 
1 Jamie Staff (Great Britain )
2 Chris Hoy (Great Britain)
3 Pavel Buran (Czech Republic)
4 Craig Maclean (Great Britain)
5 Arnost Dromanek (Czech Republic)
6 Ross Edgar (Great Britain)
 
Newport International Challege 3km Individual Pursuit
 
1 Leontien Zjilaard/Van Moorsel (Netherlands)    3.44.865
2 Miriam Melchers (Netherlands)                  3.56.436
 
Youth Omnium - 6km Points Race
 
1 Steven Burke (Manchester)                             21 pts
2 Jack Hibberd (Halesowen)                               8
3 Ross Dingley (Halesowen)                               8
4 Josh Hargreaves (Manchester)                           7
5 Luke Rowe (Newport)                                    6
6 James Griffin (Manchester)                             3
7 Mark Bell (Halesowen)                                  2
8 Michael Giverin (Manchester)                           2
9 Matt Rowe (Newport)                                    2
10 Mike Partridge (Newport)                              1
11 Tom Hibberd (Halesowen)                               1
12 Andrew Davies (Newport)                               0
13 Harry Penn (Halesowen)                                0
14 Sarah Byrne (Manchester)                              0
15 Rhys Lloyd (Newport)                                 -7
16 William Penn (Halesowen)                             -8
17 Jo Tinsley (Newport)                                -10
18 Jenny Middlehurst (Manchester)                      -10
 
Youth Omnium - Final Result
 
1 Manchester
2 Halesowen
3 Newport
 
2km Handicap
 
1 Ben Swift                                       
2 Chris Richardson
3 Matthew Haynes
4 John Van den Abeele
5 Ed Clancy
6 Mark Cavendish
7 Ingmar De Poortere
8 Tom White
 
European Derny Paced Championship
 
Heat 1 - 20 km
 
1 Robert Slippens (Netherlands)/Walrave          18.55.191
2 Bradley Wiggins (Great Britain)/Zjilaard
3 Steven De Neef (Belgium)/Vaarten
4 Mario Vonhof (Germany)/Dippel
5 Franck Perque (France)/Persyn
 
Heat 2 - 20 km
 
1 Walter van Mechelen (Belgium)/Vaarten          18.53.065
2 Marco Villa (Italy)/Walrave
3 Patrick Kops (Netherlands)/Fack
4 Franco Marvulli (Switzerland)/Aebi
5 Rob Hayles (Great Britain)/Durst
 
1 lap behind
 
6 Magnus Backstedt (Sweden)/Bauerlein
7 Jerome Neuville (France)/Persyn
 
Final - 30km
 
1 Bradley Wiggins (Great Britain)/Zjilaard
 
1 lap behind
 
2 Steven De Neef (Belgium)/Vaarten
 
2 laps behind
 
3 Robert Slippens (Netherlands)/Walrave
4 Mario Vonhof (Germany)/Dippel
5 Marco Villa (Italy)/Durst
 
3 laps behind
 
6 Walter van Mechelen (Belgium)/Persyn
 
Team Sprint
 
1 Great Britain
 Chris Hoy (Great Britain)                          47.911
 Craig Maclean (Great Britain)
 Jamie Staff (Great Britain)
 
2 International Team
 Pavel Buran (Cze)                                  49.877
 Martin Benjamin (Ned)
 Arnost Dromanek (Cze)