Recently on Cyclingnews.com
Introduction to Track Racing - What's a Wheelrace? - Introduction to Six Day racing - UCI codes
Michael Hutchinson's Hour Record Attempt
Manchester Velodrome, UK, July 2, 2003
Hutchinson abandons Hour Record try after 40 minutes
By Nick Rosenthal
Ready
Photo: © Nick Rosenthal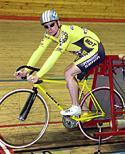 British time trial champion Michael Hutchinson yesterday failed in his attempt to break the most-prized record in cycling, the Hour, currently held by Chris Boardman who recorded an official distance of 49.441872km here during the 2000 world track championships. Riding an all-steel track bike in the colours of his sponsor Giant, Hutchinson made a valiant effort, but was consistently down on Boardman's times and climbed off after 40 minutes, by which point he was about two minutes down on Boardman.
In action
Photo: © Nick Rosenthal

Several times during the ride, Michael Hutchinson showed signs of discomfort, his hands moving to the top of the bars to give his arms a rest from the 1970s 'down on the bends' position. He gave it his all for 40 minutes, but then acknowledged that he was not going to pull back a two minute deficit and brought his attempt to an end. Hutchinson drew to a halt in the back straight, visibly exhausted, spending a few moments getting his breath back and composing himself before waving to the crowd and expressing his thanks for their support and applause.
Thankyou
Photo: © Nick Rosenthal

Although he was not quite on the pace at the Manchester Velodrome this evening, he was not very far off it. Hutchinson is an intelligent rider, known for his scientific and methodical approach, so it is possible that he may choose to analyse the data from this evening's attempt on the world hour record and have a careful think about trying again at some stage.
Images by Nick Rosenthal/www.fatnick.com