Introduction to Track Racing - What's a Wheelrace? - Introduction to Six Day racing - UCI codes
Wellington Velodrome Re-opening - NE
Wellington, New Zealand, December 16, 2003
Thompson takes out wheelrace at re-opening celebration
By Kevin Smith
"And God bless all who sail in her"
Photo ©: Gary Milbanke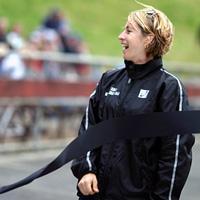 Almost 35 years to the day since the Wellington velodrome was first opened, Wellington's Deputy Mayor Alick Shaw last night joined cycling greats Sarah Ulmer and Harry Kent in the opening of the refurbished velodrome. A great turnout of local riders was bolstered by visitors from Levin resulting in a record 58 riders racing on the night.
Errol Thompson rode the race of his life to take out the first big wheelrace (handicap race) of the season in a close finish with other front markers Dave McGee, Grant Robinson and Laurie Farrington. The four of them worked well together and stayed away from the chasing riders on longer marks. The velodrome's most prolific winner Shayne Riches took out the Cat 1 heat for the wheelrace with his trademark last lap sprint and Mathew Bell chalked up his third win on the velodrome in the Cat 2 heat.
Robyn Wong opened the night with an emphatic win in the women's 2 lap scratch race. Vaughan Plant scored an upset win in the open scratch race by demolishing a strong field of Cat 1 riders.
Photography
Images by Gary Milbanke/www.pbase.com
Results
Wheelrace Final (Handicap race over 5 laps)
 
1 Errol Thompson
2 Dave McGee
3 Grant Robinson
4 Laurie Farrington
 
Wheelrace Heat 1 
 
1 Shayne Riches
2 Steve Bale
3 G O'Flynn
 
Heat 2 
 
1 Mathew Bell
2 Malcom Allen
3 Peter Philipsen
 
Heat 3 
 
1 G Robinson
2 E Thompson
3 D McGee
 
666m Scratch race
 
Cat 1 
 
1 V Plant                 0.51.06
2 J Thynne
3 H Kent
 
Cat 2 
 
1 P James                 0.53.18
2 D Bell
3 C Sanson
 
Women 
 
1 R Wong                  0.54.75
2 S Butt
3 S Wood
 
Cat 1 Road bike
 
1 B Blinkhorne            0.55.40
2 N White
3 J McCarty
 
Cat 2 Road bike
 
1 M Farr                  0.56.25
2 S Butler
3 T Smart
 
Mystery distance
 
Cat 1 Road bike
 
1 B Blinkhorne
2 N White
3 J McCarty
 
Cat 2 Road bike
 
1 M Farr
2 N Graham
3 B Phahlert
 
Elimination Race
 
Cat 1 & 2 
 
1 J Thynne
2 V Plant
3 H Kent