Introduction to Track Racing - What's a Wheelrace? - Introduction to Six Day racing - UCI codes
Sydney Cup on Wheels - NE
Dunc Gray Velodrome, Sydney, December 6, 2003
2002 results Results Past winners
Brown scores first Sydney Cup on Wheels treble
Aisbett pips Gilmore on the post for women's SCOW win
By Karen Forman in Sydney
Men's Sydney Cup on Wheels
Brownie does the treble
Photo ©: John Veage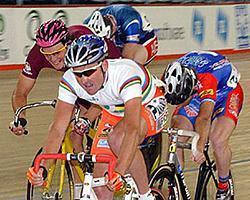 Sydney rider Graeme Brown became the first person ever to win the Bankstown Sports Men's Sydney Cup on Wheels (SCOW) three times in what he described as his "fastest wheel race ever" at Dunc Gray Velodrome on Saturday night.
Ironically, it also took three attempts at a start to get the race underway due to wheel problems and a starting gun delay. But having been part of Australia's world champion and record breaking teams pursuit squad in Stuttgart that also got off to a false start, that was the least of the 24 year old's worries.
Riding from scratch with South Australian Luke Roberts and with the front markers David South and Keith Oliver (both NSW) well out at 220 metres, Brown had seven laps to get himself through the field of 23 riders and first across the line.
"I have done a lot of training in the last month and have been going fairly well, so I knew - well I hoped - that I could do it tonight," he said after steaming past Mark Renshaw (NSW), Stephen Fitzpatrick (NSW) and Ryan Bayley (WA) in the finish straight. "I left my run till the last moment, but it was my plan and it was important for the scratch markers to band together to help each other. I wouldn't say it went perfectly, but it was okay. If it had gone perfectly according to plan, we would have been one, two and three for the backmarkers (Renshaw was off 15, Steve Wooldridge of Victoria 25 and Bayley 30), but the important thing for me is that I won, I guess."
Brown said the event, the feature race on the 17-race SCOW program, which preceded the BMC Software 2003 Australian Cyclist of the Year Awards presentation dinner, had been "incredibly fast".
"It started obviously quite hesitantly due to the two false starts. But we had a false start at the World's and we still won and broke the world record," he said. "It was fast from the start, the fastest wheel race I have ever done. Roberts was in front of me and then he lost the wheel he had and we dropped back a few places. It took a bit of what do you call it, intuitive thinking, to get it back.
It might have been a fast race, but it took a while to get started. First Jobie Dajka (30 metres) - who earlier had been throwing up into a rubbish bin near the officials stand after going all out to win the Men's Handle Bar Tavern International Keirin ahead of French and Bayley - had a problem with his disc wheel.
Then 10 minutes of reorganisation later, there was another false start, when the starting gun appeared to delay firing and a number of pushers sending their riders forward before it resounded.
Finally on the third attempt, limit markers South and Oliver got off to a quick start, while the backmarkers - who included Roberts, Brown, Wooldridge, Renshaw, Dajka and Bayley - organised themselves into a group of seven led by Mark French. Soon the field had organised itself into were four distinct groups.
The limit markers were out on their own for three laps, but were joined by NSW rider David Browne (120) with two and a half laps to go. In the next half lap, Roberts had taken Brown to join the limit markers, with Ross Harding of NSW (150) setting the pace on the front. Brown then began moving up through the centre and Renshaw led out at the bell.
Brown made his run from fourth wheel on the first corner with half a lap to go. Fitzpatrick was trying hard, but Brown took the lead into the straight and held off Fitzpatrick and Irwin to win his third SCOW to tumultuous applause from the stands.
"I won last year and I have won two Clarence St Cups here as well. I hope I will be back next year for both of them," said Brown. "January to October is pretty busy due to team commitments… but if they keep running the events in December, I will keep coming."
Unfortunately, Brown won't be able to take his 2003 successes to the world championships in Melbourne next year due to road commitments. "Next year I will miss the world championships due to a clash with the Tour of Italy… it's disappointing but my future is on the road. That's the way it is. My first priority is the Olympics."
He paid tribute to coach Gary Sutton, Teschner track bikes, Bontrager wheels and Matt Bazzano from Shimano for supplying the equipment he said had made his win possible.
Women's Sydney Cup on Wheels
Leonie Aisbett can hardly believe it as she beats Rochelle Gilmore to the line
Photo ©: John Veage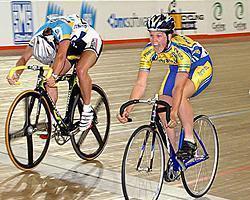 Despite a brilliant effort to move to the front of the field from her scratch mark, defending winner Rochelle Gilmore was unable to hold off a fast-finishing Leonie Aisbett to collect another Women's Hillbrick Frames Sydney Cup on Wheels at Dunc Gray Velodrome.
Riding off 60 metres, NSW rider Aisbett, 20, a former runner who was discovered during the NSWIS women's talent search two years ago, rode from midfield to join the sprint in its final moments to score narrowly from Gilmore and NSW rider Rebecca Borgo (65).
The race began with the formation of four distinct groups - the front three markers Sophie Cape (NSW) of 160, Tunde Berryhil (NSW) off 150 and Keely McNamarra (NSW) off 140 working together steadily and Michelle Simpson (WLD) 80, Claire Schneider (Queensland) 90 and Toirease Ryan (NSW) banding together for a strong team time trial effort to bridge the gap.
In the middle, Borgo, who had crashed with three other riders earlier in the night, appeared well recovered from her fall. The four backmarkers - Anna Meares (Queensland), Gilmore, Katherine Bates (NSW) and Alex Rhodes (South Australia) joined up smartly.
The two middle marker groups joined up with three laps to go and Bates was working hard on the front of the backmarkers. With two to go Eve Hood (NSW-130 metres) took the front and then the backmarkers caught the pack just in time for the bell.
It was a mad sprint for the line, with Armstrong on Borgo's wheel and Gilmore flying from the rafters to push across the line, but Aisbett just hung on from the fast finishing Gilmore. Borgo finished third.
Aisbett was a surprised but delighted winner, saying she had been "feeling pretty ordinary" because she had not been training well.
"I actually made a bet with CJ (Chris Sutton) who was holding me, five bucks that the scratch markers would get up," she said.
"I thought I would go as hard as I could for as long as I could and with two laps to go, I thought I might swing up, because the riders behind would come up and I would get onto them. Then with half a lap to go I came around Eve Wood, who was one of the front markers and then just sprinted for the line."
Aisbett said she was "stoked" to have won the event. "I was in awe of Rochelle who won it last year," she says. "I can't believe I have beaten her and won it."
Aisbett recently won the Mooloolaba club nationals, also by riding off the front. "Really I am still learning," she said. "I was won of the talent squad girls. I came from running and was quite surprised when it was found I was going to be a cyclist."
She has a busy racing season coming up, starting with the Skilled Bay Classic in Victoria, the nationals, the Tour Down Under and the Geelong women's tour, along with the track nationals next year.
"I'd like to do well at the track nationals… the podium would be nice, but it's going to be hard as everyone else is getting their acts together," she said.
Photography
Images by John Veage

Heat One
 
1 Graeme Brown
2 Luke Roberts
3 Steve Wooldridge
4 Mark Renshaw
 
Heat Two
 
1 Ryan Bayley
2 Mark French
3 Andrew Tyalor
4 Greg McFarlane
 
Heat Three
 
1 Grant Irwin
2 Stephen Fitzpatrick
3 Andrew Taylor
4 Brian Appleyard
 
Heat Four
 
1 Scott McGrath
2 Paul Bayly
3 Phillip Stokes
4 Brian Appleyard
 
Heat Five
 
1 David Browne
2 Nick Vinsen
3 Grant Law
4 Brenton Crawley
 
Womens Scratch A Reserve 15-22, 7 laps
 
1 Liz Georgouras
2 Sky L Armstrong
3 Claire Schneider
 
Womens Scratch A Grade 1 to 14, 7 laps
 
1 Anna Meares
2 Rochelle Gilmore
3 Kate Bates
4 Alex Rhodes
 
Mens Cycling Australian International Scratch, 12 laps
 
1 Warren Scott
2 Stephen Fitzpatrick
3 Mark Renshaw
4 Grant Irwin, 
5 Miles Olman
 
Mens Handle Bar Tavern International Keirin
 
Heat One
 
1 Mark French
2 Andrew Taylor
3 Shane Perkins
 
Heat Two
 
1 Ryan Bailey
2 Jobie Dajka
3 Damiel Kierl
 
Mens A Reserve Motor Paced, 12 laps
 
1 Ross Harding
2 Grant Law
3 Brenton Crawley
 
Womens Cycling NSW Keirin Challenge, 8 laps
 
1 Rochelle Gilmore
2 Anna Meares
3 Lucy Stewart
 
Womens 10 Lap Scratch, 10 laps
 
1 Katherine Bates
2 Alex Rhodes
3 Leonie Aisbett
 
Mens Handle Bar Tavern International Keirin Final, 8 laps
 
1 Jobie Dajka
2 Mark French
3 Ryan Bayley
 
Millenium Trophies Stars of the Future, handicap
 
1 Scott Law, Illawarra
2 Callum Dokker
3 Alex Taylor
 
Sydney Cup on Wheels Handicaps
 
Men
 
Luke Roberts (Norwood CC SA)                Scr
Graeme Brown (St George CC)                 Scr
Mark Renshaw (Bathurst CC NSW)               15
Steve Wooldridge (St George CC NSW)          25
Jobie Dajka (Central Districts CC SA)        30
Ryan Bayley (Midland WA)                     30
Mark French (Carnegie Caulfield CC VIC)      40
Andrew Taylor (Dubbo CC NSW)                 55
Jono Hamlin (NZ)                             50
Phillip Stokes (Penrith Panthers CC NSW)     60
Steven Fitzpatrick (St George CC NSW)        60
Grant Irwin (Rockhampton QLD)                60
Greg McFarlane (Italy)                       65
Paul Bayly (Bankstown CC NSW)                70
Scott McGrath (Hunter District CC NSW)       80
Dean Thompson (Goulburn CC NSW)             115
Chris Vinsen (NZ)                           120
David Browne (Bicisport CC NSW)             120
Grant Law (Illawarra CC NSW)                130
Ross Harding (Southern Cross CC NSW)        150
Duncan Crosby (Northern Sydney CC NSW)      160
Hugh Gray (Waratah V NSW)                   200
David South (Waratah Vets CC NSW)           220
Keith Oliver (Parramatta CC NSW)            220
 
Women
 
Anna Meares (Rockhampton/QLD)               Scr
Rochelle Gilmore (Bankstown/NSW)            Scr
Katherine Bates (Parramatta/NSW)             15
Alex Rhodes (Norwood CC/SA)                  25
Alex Bright (Rockhampton/QLD)                30
Rebecca Ellis (Parramatta NSW)               40
Lucy Stewart (Canberra CC ACT)               30
Katie Brown (St George NSW)                  55
Leonie Aisbett Parramatta NSW)               60
Rebecca Borgo (Illawarra CC NSW)             65
Christine Riakos (St George FRF NSW)         70
Kate Nichols (St George Clarence St NSW)     75
Michelle Simpson (Rockhampton QLD)           80
Toireasa Ryan (Bathurst CC NSW)              85
Claire Schneider (Broncos CC QLD)            90
Liz Georgouras (Bicisport NSW)              100
Sky L Armstong (Parramatta NSW)             110
Meg Windsor (Bathurst CC NSW)               120
Eve Hood (Parramatta NSW)                   130
Keely McNamarra (Bicisport NSW)             140
Tunde Berryhill (Parramatta NSW)            150
Sophie Cape (Parramatta NSW)                160
 
Womens Hillbrick Frames Sydney Cup on Wheels, 6 laps
 
1 Leonie Aisbett (Parramatta NSW) (60m)
2 Rochelle Gilmore (Bankstown/NSW) (Scr)
3 Rebecca Borgo (Illawarra CC NSW) (65m)
 
Bankstown Sports Mens Sydney Cup on Wheels Final, 7 laps
 
1 Graeme Brown (St George CC) (Scr)
2 Steven Fitzpatrick (St George CC NSW) (60m)
3 Grant Irwin (Rockhampton QLD) (60m)
 
Womens Motor paced Scratch, 12 laps
 
1 Anna Meares
2 Rochelle Gilmore
3 Alex Rhodes
 
Mens A Reserve Elimination
 
1 Phil Dixon
2 Louise Trueba
3 Keith Oliver
4 Brett Johnson
 
Mens Cycling NSW International Sprinters Scratch, 8 laps
 
1 Ryan Bayley
2 Mark French
3 Jono Hamlin
 
Mens Cycling Australia International 16 lap Motor Pace, 16 laps
 
1 Mark Renshaw
2 Graeme Brown 
3 Miles Olman


Luke Roberts (Norwood CC SA) Scr
Graeme Brown (St George CC) Scr
Mark Renshaw (Bathurst CC NSW) 15
Steve Wooldridge (St George CC NSW) 25
Jobie Dajka (Central Districts CC SA) 30
Ryan Bayley (Midland WA) 30
Mark French (Carnegie Caulfield CC VIC) 40
Andrew Taylor (Dubbo CC NSW) 55
Jono Hamlin (NZ) 50
Phillip Stokes (Penrith Panthers CC NSW) 60
Peter Fitzpatrick (St George CC NSW) 60
Grant Irwin (Rockhampton QLD) 60
Greg McFarlane (Italy) 65
Paul Bayly (Bankstown CC NSW) 70
Scott McGrath (Hunter District CC NSW) 80
Dean Thompson (Goulburn CC NSW) 115
Chris Vinsen (NZ) 120
David Browne (Bicisport CC NSW) 120
Grant Law (Illawarra CC NSW) 130
Ross Harding (Southern Cross CC NSW) 150
Duncan Crosby (Northern Sydney CC NSW) 160
Hugh Gray (Waratah V NSW) 200
David South (Waratah Vets CC NSW) 220
Keith Oliver (Parramatta CC NSW) 220

women

Anna Meares (Rockhampton/QLD) Scr
Rochelle Gilmore (Bankstown/NSW) Scr
Rebecca Borgo (Illawarra CC NSW) 65
Katherine Bates (Parramatta/NSW) 15
Alex Rhodes (Norwood CC/SA) 25
Alex Bright (Rockhampton/Q LD)30
Rebecca Ellis (Parramatta NSW) 40
Lucy Stewart (Canberra CC ACT)30
Katie Brown (St George NSW) 55
Leonie Aisbett (Parramatta NSW) 60

Christine Riakos (St George FRF NSW) 70
Kate Nichols (St George Clarence St NSW) 75
Michelle Simpson (Rockhampton QLD) 80
Toireasa Ryan (Bathurst CC NSW) 85
Claire Schneider (Broncos CC QLD)90
Liz Georgouras (Bicisport NSW) 100
Sky L Armstong (Parramatta NSW) 110
Meg Windsor (Bathurst CC NSW) 120
Eve Hood (Parramatta NSW) 130
Keely McNamarra (Bicisport NSW) 140
Tunde Berryhill (Parramatta NSW) 150
Sophie Cape (Parramatta NSW) 160