Introduction to Track Racing - What's a Wheelrace? - Introduction to Six Day racing - UCI codes
Patrick's Latrobe Trial Wheelrace - NE
Latrobe, Tasmania, Australia, December 9, 2003
Cutting wins Latrobe Trial Wheel
From Rod Morris in Latrobe
Cutting wins
Photo: © Lynne Ryan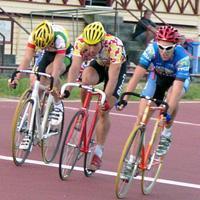 Former Rosebery Wheel and AJ Clarke & Sons Handicap winner Daniel Cutting added another string to his bow with victory in the re-vamped Patrick's Latrobe Trial Wheel this week.
Cutting, trying desperately to find the right form on the eve of the Basslink Tasmanian Christmas Carnivals, won the 3000 m Latrobe Trial Wheel in a photo finish from Launceston based Karl Menzies with Ulverstone teenager Ben Price not far away in third place. Another Ulverstone youngster, Kaidan Homan, claimed fourth.
The Latrobe Trial Wheel was returned to the Tasmanian cycling calendar by the Mersey Valley - Devonport Cycling Club, which next week (December 16) will host the annual Devonport Trial Wheel, also over 3000 m.
A field of 18 of Tasmania's best track riders faced the starter for the final, which was raced in the solid time of 3.32.41 minutes, suggesting visiting mainland riders at Christmas won't everything their own way from the local Tasmanians.
Cutting has only just returned from an illness, which has hindered his lead-up to the major carnivals.
Cutting also finished second in the warm-up scratch, lowering his colours to Mark Jamieson, who registered a fine double when he won the A Grade Pursuit.
Scratchman Nathan Clarke won the 1000 m Lightning Handicap, while Ben Price was successful in the B Grade Pursuit.
Race organisers were more than pleased with the healthy number of junior riders who competed.
Major Latrobe Trial Wheel winners in the junior ranks included Jarrod Harman (Under 17), Alex Holden (Under 15) and Ben Lawrence (Under 13).
With no track carnival scheduled in Tasmania this weekend, riders will now turn their attention to the Devonport Trial Wheel before the Rosebery Carnival on December 20.
Results
Patrick's Latrobe Trial Wheelrace, 3000 m
 
1 Daniel Cutting (90)           3.32.41
2 Karl Menzies (120)
3 Ben Price (210)
4 Kaidan Homan (210)
 
Open Warm-up Scratch
 
1 Mark Jamieson                 7.46.10
2 Daniel Cutting
3 Stephen Pearce
4 Nathan Clarke 
 
Open Lightning Handicap
 
1 Nathan Clarke (scr)           1.09.67
2 Ben Price (70)
3 Stephen Pearce (30)
4 Brendon Geale (35) 
 
A Grade Pursuit Scratch
 
1 Mark Jamieson                 9.12.57
2 Nathan Clarke
3 Stephen Pearce
4 Karl Menzies 
 
B Grade Pursuit Scratch
 
1 Ben Price                     9.01.79
2 Wes Sulzberger
3 Craig Burrows
4 Kaidan Homan 
 
Junior 1 Latrobe Trial Wheel
 
1 Jarrod Harman (30)            2.42.93
2 Ben Laskey (95)
3 Natasha Mapley (210)
4 Grace Sulzberger (220) 
 
Junior 2 Latrobe Trial Wheel
 
1 Alex Holden (75)              2.45.07
2 Samantha Hellyer (130)
3 Daniel Jamieson (100)
4 Andrew Dolan (320) 
 
Junior 3 Latrobe Trial Wheel
 
1 Ben Lawrence (105)            1.26.40
2 Karissa Ling (110)
3 Alex Benson (80)
4 Jake Laskey (75) 
 
Junior 1 Lightning Handicap
 
1 Matthew Bonham (5)            1.17.18
2 Ben Laskey (95)
3 Natasha Mapley (85)
4 John Rayner (scr) 
 
Junior 2 Lightning Handicap
 
1 Alex Holden (30)              1.20.67
2 Daniel Jamieson (50)
3 Carrie Price (90)
4 Samantha Hellyer (60) 
 
Junior 3 Lightning Handicap
 
1 Alex Benson (130)             1.23.55
2 Karissa Ling (140)
3 Ben Lawrence (135)
4 Callum Walker (230) 
 
Junior 1 Scratch
 
1 Ben Fielding                  4.49.10
2 Matthew Bonham
3 John Rayner
4 Jarrod Harman 
 
Junior 2 Scratch
 
1 Alex Holden                   3.36.42
2 Samantha Hellyer
3 Nick Kaine
4 Daniel Jamieson 
 
Junior 3 Scratch
 
1 Brandon Stewart               2.38.69
2 Alex Benson
3 Jack Stokes
4 Jake Laskey