Recently on Cyclingnews.com
Introduction to Track Racing - What's a Wheelrace? - Introduction to Six Day racing - UCI codes
DVD review:The Six-Day Bicycle Races, August 10, 2007
Six-Day races may still be popular in Europe, but they've all but faded from the place that originally made them what they are today: America. Few Americans are aware of just how popular track racing was at the turn of the 20th century, but thanks to a new DVD by Jeff Groman, memories of this era will be saved from oblivion. Cyclingnews' Peter Hymas reviews The Six-Day Bicycle Races.
Peter Nye's Six Day Bicycle Races DVD
Photo ©: Peter Joffre Nye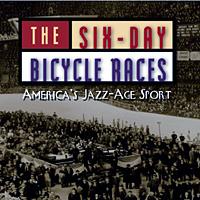 "It used to be a helluva show", says Sammy Gastman, a 1920s-era professional six-day cyclist still rife with vim and vigor at age 93, as he stares straight into producer Jeff Groman's camera. And indeed, The Six-Day Bicycle Races DVD is a helluva show. Encompassing the complete history of American six-day racing from the 1890's through the sport's last gasp in 1961, this documentary film skillfully weaves insightful commentary, oral histories, stunning still and moving imagery, the steady timbre of narrator [and Sports Illustrated senior writer -ed.] Frank Deford's voice, and a jazz-era piano score into a chronological series of 30 vignettes underscoring this once vibrant sporting endeavor.
That such a integral part of 20th century American history has virtually left our collective memory is a shame, but the filmmakers deftly manage to place six-day racing in its social context and portray the scope and breadth of the sport's prominence in pre-World War II American culture. The history of six-day racing is riddled with compelling personalities, drama, heartbreak, wealth, and showmanship. All taking place within the larger scope of the Jazz Age, waves of immigration, World Wars, and the Depression, this film leaves no stone unturned.
Whether it's the superstars of the cycling world (the Walthours, Alf Goullet, Reggie McNamara, Kilian & Vopel), the promoters (John M. Chapman, Floyd MacFarland, Tex Rickard), hallowed venues (the multiple incarnations of Madison Square Garden, the Newark Velodrome, Chicago Stadium), or vagaries such as diet, track construction, drug use, or bicycle technology, The Six-Day Bicyle Races dissects the full panorama of professional six-day racing with aplomb.
Alf Goulette
Photo ©: Peter Joffre Nye

Each of the Madison Square Garden six-day events is likened to a present day Super Bowl in its predilection for publicity, glitz, and star-power. Celebrities such as Douglas Fairbanks, Mary Pickford, John Barrymore, and Enrico Caruso appeared trackside. Gangsters Al Capone and Albert "Mad Hatter" Anastasia graced the velodrome and offered up fistfuls of $100 primes. The riders themselves were awash in cash receiving from $150 to $1000 per day in appearance money alone on top of their split of a $50,000 purse, all at a time when the average working man brought home approximately $4 a day in wages.
The video highlights the importance of the sport by pointing out that the six-day riders received audiences with Presidents, Pope Pius XI, and European royalty, and were immortalized in prose by literary giants Earnest Hemingway, James Thurber, and Damon Runyan. Riders were even courted by Hollywood for the Depression-era film Six Day Bike Rider starring Joe E. Brown.
The DVD contains plenty of captivating film footage, particularly of Madison Square Garden, which transports the viewer into the confused frenzy of approximately 20 riders slinging their partners into competition to the drone of the boards and the fervor of the crowd. It offers unique views of the riders' sometimes skillful, sometimes disasterous exchanges within the tight confines of a track lapped in 10 seconds.
A crash is about to spell disaster
Photo ©: Peter Joffre Nye

While the filmmakers' finished product would undoubtedly have been compelling and visually stunning with only the photographs and film footage mined from repositories such as Getty Images, the Brett Horton Collection, the Jeff Groman Collection, the U.S. Bicycling Hall of Fame, the Library of Congress, the National Archives, plus numerous personal collections held by the families of six-day veterans, the true gems of this documentary are the oral histories captured by Jeff Groman.
In the 1990's, Groman managed to capture on film the last remaining pre-WWII six-day professionals (Charlie Bergna, Sammy Gastman, Alf Goullet, Norman Hill, Bill Jacoby, Erwin Pesek, Jerry Rodman, Frank Turano) before their stories disappeared with them forever. Their anecdotes, asides, and insights invigorate the historical narrative with the humour and honesty that only first-hand experience can produce.
Currently a bicycle shop owner, cycling historian and museum curator living in the Seattle area, Groman is a New Jersey native who grew up working in northern New Jersey bike shops and amongst the descendants of six-day professionals. His passion for the sport runs deep: he's a curator of a wealth of cycling ephemera saved from "Pop" Brennan's Newark, NJ bicycle shop, he was the proxy recipient of "Pop" Brennan's 1996 induction into the U.S. Bicycling Hall of Fame, and this documentary project is the culmination of more than 10 years of work.
In addition to Groman, the other historian appearing throughout the film should be a familiar name to cycling history buffs. Peter Joffre Nye wrote the script and has authored two seminal works of American cycling history: Hearts of Lions: The Story of American Bicycle Racing and Pushing the Limits: The Story of John Howard, the Incredible Human Machine.
Bonus features
Bandages are a common sight
Photo ©: Peter Joffre Nye

In addition to the 77-minute feature documentary, the DVD also contains a number of bonus features: a slide show of 72 photographs, a 10 minute short (entitled Six Day Grind) with footage from the 1930's of the 58th International 6 Day Bike Race held at Madison Square Garden, and a remarkable, unedited 40 minute span of conversation called "Billy and Sammy Uncensored".
The raw footage of Bill Brennan and Sammy Gastman talking to producer Jeff Groman is a true testament to the power and vitality of oral history. Gastman was in his 90's and Brennan, the son of mechanic and frame builder John "Pop" Brennan, was in his 70s. The pair recall their experiences with six-day events from the 1920's through the 1940's with exemplary lucidity and verve.
The recollections of Sammy Gastman are particularly vivid, and encompass the full breadth of experience accumulated through a decade of professional racing in the 1920's. Frank discussions of drug use among peers, practical jokes, his experience of being a Jewish athlete, tales from the bunks and bowels of Madison Square Garden, salaries, contracts, promoters - peppered throughout with somewhat salty language - it's all utterly fascinating. Every question Groman asks is greeted with detailed and impassioned replies. You'll likely need the companion book The Six-Day Bicycle Races: America's Jazz Age Sport for reference purposes as their memories are densely packed with personalities and events more thoroughly documented in the equally as impressive print version.
There's no doubt that The Six-Day Bicycle Races deserves a place in every cyclists' video collection. No matter what your level of historical knowledge concerning cycling history, you'll be entertained and enlightened by this DVD about an era which deserves to be immortalized in the annals of sport.
To purchase a copy of the DVD from the USA, click here. For the companion book, please visit this page for ordering in the USA, or here for the UK and Europe.