Introduction to Track Racing - What's a Wheelrace? - Introduction to Six Day racing - UCI codes
Wanted: Bums on seats in velodromes
Part two: An interview with Ron Webb
In part one we looked at the struggle track promoters have to put bums on seats in velodromes. In search of some answers to the problem, who better to consult than track-building legend Ron Webb, the builder of the world's fastest tracks including the one at Sydney's Dunc Gray Velodrome and many, many others. Ron pulled no punches when he gave a rare interview to Karen Forman.
Dunc Gray velodrome
Photo: © Jeff Jones/CN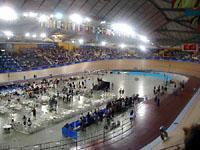 Ron Webb's company, Ron V Ltd has been responsible for the on-site construction of 61 cycle tracks since 1970. Many of these tracks have been temporary installations in multi-purpose halls for European six-day races. Ron built the Tasmanian Silver Dome track, the Edinburgh Commonwealth Games track, the Seoul Olympic track, the SE Asian Games track at Epoh Malaysia, and the Speed-Dome track in
"Exceptional promoters capable of putting together a spectacular programme to entertain are few and far between in track racing."
Perth, Western Australia. He also worked on design and construction for the Athens Olympic track, the centenary rebuild of London's Herne Hill track, the Adelaide Super Drome track in South Australia, the British National Cycling Centre track in Manchester, the Wanganui Velodrome New Zealand, Calshot Velodrome Hampshire, the Taichung Velodrome Taiwan, the Sydney Olympic track and the Melbourne Vodafone Arena track.

Ron's current projects include tracks in Port Macquarie, Australia and the Welsh National Cycling Centre, Newport. Ron is cycle track consultant to Cycling Australia, British Cycling and Sport England. He has organised cycling events including six-day races for professionals on small indoor tracks. He was promoter of the SKOL six-day race at Wembley Arena for 12 years, Herning Halls Denmark Race Director for 10 years and Hanover, Germany Race Director for three years. Since 1999 R.V.Webb Consultants has been pivotal in the organisation of the Tour Down Under road race in South Australia.

Cyclingnews: How healthy is the track sport?

Ron Webb: One cannot comment upon the weak state of track racing without appreciating the present buoyant popularity of road racing. It is the same sport, but a different level of commercialism. Track cycling has a tough time because it is not, in the public's eyes, a fashionable sport. Big spectacular track events are very few and far between, whereas the road-racing season covers every week for 10 months of the year. Big races are covered by TV and all events are reported by the media in some form. There is public interest and admiration for athletes racing over cobblestones and mountains. Of course, the interest in road racing lessens, by image and pay cheque in a downward spiral when leaving the first division. But that is what professional sport is about.

Olympic podium
Photo: © AFP

Important international track tournaments often programme repetitive qualifying series, complicated race formats, rules and official decisions which mystify any spectator, who might never have seen track racing before and has bought tickets, on sight of an advertising poster.
Many stadium announcers, track enthusiasts themselves, do little to unravel the complexity. Road racing on the other hand requires little or no technical knowledge from spectators.
CN: Has track cycling declined or improved in recent years?
RW: Declined big time. In the period from the finish of the second world war until the seventies, the European track Grand Prix series, Paris, Milan, Amsterdam, Copenhagen, London etc, saw stadiums packed with spectators. Then, if you went to those venues in the eighties and nineties, it was like going to a County cricket match - a busload of spectators might double the crowd. Now it is difficult to get information when a Grand Prix may be on, if at all.
You can be sure that traditional track enthusiasts will have ready solutions for this decline, such as better standards of living, younger folk focused on higher education and families now in the comfort zone, no longer keen to sit trackside in varying climatic conditions, not to mention a possible mundane programme of events.
People don't need to leave home to be entertained. TV brings the best of the world's sports into the lounge room. That is a very tough act for track cycling to follow. Just think of watching Paris-Roubaix on TV and see the many thousands of people along the route, usually standing in the rain and slogging through mud to be there. Mate, this is worth watching.
Team Italy gives Dunc Gray a spin
Photo: © AFP

Road racing is commercially stronger than it has ever been, thanks to the organisers of the three big tours, France, Italy and Spain. By bringing these races to a pinnacle of commercialism, the big money sponsorship of teams has followed. It is no longer an insurmountable step for a talented rider with ambition and attitude to achieve a million dollar contract after attaining a high level of winning results. Compare this with the 'great' days of road racing in the fifties and sixties when many talented - and later famous - riders turned pro for a bike, some clothing and money bonuses for wins. With what is now on offer, plus worldwide exposure on TV, who can blame young riders only dreaming of a future on the road? Many present stars started on the track and then saw where the future beckoned. All of this is happening because commercially motivated businessmen raised the stakes in road racing.
How does track racing find an answer to that level of spectator and commercial appeal? Well, by now it should be obvious to all, that track cycling is lacking in entrepreneurial skills. Exceptional promoters capable of putting together a spectacular programme to entertain are few and far between in track racing.
The Société du Tour de France, promoters of Paris-Roubaix by the way, promotes the Open des Nations track series. It is the best track promotion with the best riders and the best programme of events.
If track cycling will have a commercial future it needs spectacular events. Only a couple in each country each year, but of such importance that the media cannot ignore track racing. And who will be found to bring track racing to this level? Probably people who know little of cycling but are already well established in the world of entertainment. Big hitters who can knock on the right doors to attract sponsorship and media coverage. Impresarios are badly needed. If they can fill the grandstands, pay the riders good contracts, introduce spectator friendly, easy to understand programmes and bring national TV with them, who is going to begrudge their profits? If the track facilities can be used and the track riders given regular employment, the track sport as a whole would be all the richer.
Whether they are impressed with the infrastructure of cycling in their country is another matter.
Inside Vodaphone
Photo: © Mal Sawford

They may despair of the culture of controlling rather than furthering the sport. One must be diplomatic when dealing with people who may have officiated at grass roots level for many years and have their hearts in the sport 110 percent. But we are not talking of grass roots here. The task is to bring track racing to a commercial high and also comfort those City/national governments who have built multi-million dollar velodromes, with tax-payers' money, perhaps misguided in thinking that it is just necessary to throw open the doors of these cycling palaces and cycling promotions would be motivated at the level of tennis or basketball tournaments.
Tracks must have the ambition to take on board changes. Amateur enthusiasts may find some sacrifices hard to take, but E grade races on the card at an important showcase promotion is not showbiz. A spectacular promotion is a showcase for the sport. We appreciate that grass roots cycling must be nurtured but that is for club nights/days. As the riders improve they will get their chance to be centre stage. Lets face it; cycling enthusiasts would not buy expensive tickets to a tennis tournament and expect to see club players in minor games. It is not a question of spoiling someone's fun. It is all about showcase promotions to further the sport. There should be some events staged for the ticket buying public - and TV audiences.
CN: So is money the answer?
RW: Well, what comes first? Before one can attract the money, it is necessary to open the company books, so to speak and reveal the business plan. Sponsorship is essential, but sponsors only see value for money when impressed by the possible returns. The sponsor wants to see the grandstands full of people, a captive audience for the sponsor's interests. The sponsor needs to know his programme will be entertaining and, after that, the crowd plus his/her corporate guests, will go home hooked on cycling and the sponsor will have found an alternative sport within a promotion for his marketing aims. The cost to him of his three-hour showcase televised promotion, plus his entertainment and publicity outlay, probably would not go anywhere towards buying a small unreadable patch on the lower leg of a Formula 1 driver's overall.
If a promoter has no hope of giving the sponsor what he wants, then that promoter is not really looking for sponsorship - he is chasing patronage. Unfortunately, White Knights are sparse on the ground.
Manchester
Photo: © DJ Clark

TV coverage is essential for a showcase event. But unless track cycling can convince the TV companies that the sport is big enough to provide an interesting programme, national free-to-air broadcasters are unlikely to come to the party. We must bear in mind that TV companies have their own agenda. It's about viewing figures and ratings.
It will be a hard slog but the basic material is there. Track racing is, when understood, very exciting and there are some exceptionally good riders around at the moment. But we really do need entrepreneurs with fresh ideas to come into the sport.
Section b - the top track nations and why