Recently on Cyclingnews.com
An interview with Robbie McEwen
Seeing green
Compared to his previous season, sprinter Robbie McEwen is having a tough time. Injury and then lack of form, interspersed by moments of frustration, not surprisingly led to a verbal hit-out with his directeur-sportif soon afterwards. But McEwen has toughed things out, got back on the program, and is now ready to defend his points competition title at the Centenary Tour de France. Story by Anthony Tan.
Robbie McEwen
Born: June 24, 1972
Place of birth: Brisbane, Australia
Resides when in Australia: Gold Coast.
Resides when in Europe: Everbeek, Belgium
Married to: Angelique, with one son Ewan.
Height: 171 cm (5'6")
Race weight: 67 kg (148 lbs)
Team: Lotto-Domo
Turned pro: 1996
Web site: http://robbiemcewen.tripod.com/
Career highlights (1999 - 2003)
2003 - Lotto - Domo
1st, Dwars Door Vlaanderen
1st, Stage 4 & 11, Giro d'Italia
1st, Stage 2, Tour de Suisse
1st, Stage 4, Etoile Des Besseges
1st, Stage 3, Tour Down Under
2nd, Stage 8 & 9, Giro d'Italia
2nd, Stage 1, Paris - Nice
2nd, Stage 3, Etoile Des Besseges
2nd, Stage 1 & 2, Tour Down Under
3rd, Veenendaal-Veenendaal
2002 - Lotto - Adecco
1st, Australian Road Championship
1st, Paris-Bruxelles
1st, Grote Scheldeprijs
1st, Delta Ronde Van Midden-Zeeland
1st, Circuit Franco-Belge
1st, Etoile De Besseges
1st, Sprints Competition, Tour Down Under
1st, Stage 3, 20 & Points Competition, Tour de France
1st, Stage 4 & 10, Giro d'Italia
1st, Stage 2 & 7, Paris - Nice
1st, Stage 2 & 3, Circuit Franco-Belge
1st, Stage 1, Etoile De Besseges
1st, Stage 1, 3, 4 & 6, Tour Down Under
2nd, World Road Championship
2nd, GP Rik Van Steenbergen
2nd, Stage 2, Tour de France
2nd, Stage 9, Giro d'Italia
2nd, Stage 6, Volta A Catalunya
2nd, Stage 3, Tour Mediterraneen
2nd, Stage 3, 4, 5, Etoile De Besseges
3rd, Veenendaal-Veenendaal
3rd, Tour Du Haut Var
3rd, Stage 1 & 6, Tour de France
3rd, Stage 1, Giro d'Italia
3rd, Stage 2, Etoile De Besseges
2001 - Domo - Farm Frites
1st, Trofeo Palmanova - Palmanova
1st, Circuit Du Brabant Wallon
1st, Stage 2, Ronde Van Nederland
1st, Stage 4, Tour De La Region Wallonne
1st, Stage 2, Tour Mediterraneen
1st, Stage 3 & 4, Herald Sun Tour
1st, Stage 2 & 3, International Uniqa Classic
2nd, Stage 3, Vuelta A España
2nd, Stage 4, Danmark Rundt
2nd, Stage 1, International Uniqa Classic
3rd, Trofeo Manacor - Can Picafort
3rd, Trofeo Cala Bona - Cala Rajada
3rd, Stage 2 & 17, Vuelta A España
3rd, Stage 3 & 9, Tour de Suisse
3rd, Stage 3 & 6, Danmark Rundt
3rd, Stage 2, Tour De Luxembourg
3rd, Stage 2, Tour De La Region Wallonne
2000 - Farm Frites
1st, Trofeo Cala Ratjada - Cala Millor
1st, Stage 6, Tour Down Under
2nd, stage 20 & Points Competition, Tour de France
3rd, Stage 1, Ronde Van Nederland
3rd, Stage 5, Postgirot Open
1999 - Rabobank
1st, Stage 3, 6, Sprint & Mountain Competition, Herald Sun Tour
1st, Stage 20, Tour de France
1st, Stage 2, Ronde Van Nederland
1st, Stage 2, Tour De Luxembourg
1st, Stage 1A, Route Du Sud
2nd, Trofeo Luis Puig
2nd, Cala Millor - Cala Rajada
2nd, Stage 17, Tour de France
2nd, Stage 1, Ronde Van Nederland
2nd, Stage 7, Vuelta A España
3rd, Stage 1, Vuelta A España
3rd, Stage 4, Ruta Del Sol
ONE THING I ALWAYS FIND FASCINATING but is hardly ever reported is a top sprinter's uncanny ability to make the time limit on a mountain stage.
While we cheer ourselves silly for our heroes Armstrong, Vinokourov, Mayo, Ullrich and Pantani, once guys like Robbie McEwen near the finish, we're all cheered out. Or we've packed up our bags (or bike) and gone home. And why not - it was getting cold up there, right?
So when McEwen finishes outside the time limit on the sixth stage of the Tour de Suisse around Silvaplana by less than two minutes, did the math go wrong?
Things started going wrong Down Under
Photo: © Tom Balks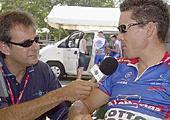 "No, not at all - I was feeling bad early but a bit better later, so I was just riding the stage at my own tempo and didn't force myself," he tells me. "But there was a traffic jam in the last kilometre, and I was trying to get through team buses and cars and spectators where I had to go off the road and on the footpath, trying to do 60 k's an hour just like everybody else."
No wonder the pocket rocket from Down Under didn't make it. His team manager Hendrik Redant even tried to get him reinstated as a result of this organisational kerfuffle. Not only that, but on the day before, McEwen's stomach was churning so bad he couldn't eat or drink for the second half of the stage, and on a 178 kilometre mountain stage, that's a hell of a long way without food. "I was pretty empty after that and had to be treated by the doctor," adds McEwen in a blasé kind of way.
Quite a change from last year, where the Australian appeared to be winning races so easily he looked like he could have done it with his eyes shut. (Thank God he didn't, though.) If you include his points jerseys in the Tour Down Under and the Tour de France, that's 21 wins, most of which came in first half of the season.
"If you miss one bunch sprint, you can almost discount your chances of the green jersey "
In the beginning of 2003, all appeared to be going well for another blinder of a year for the 31 year old, first winning the Bay Series criteriums back home in Oz, and then a stage win at the Tour Down Under suddenly put him contention to win the race overall. The next day, however, McEwen exited the TDU in dramatic fashion with a left knee muscle strain. Fortunately, Robbie was still able to dance a little on the closing night's celebrations opposite the Adelaide Hilton, sporting a Tour de France-green T-shirt that appeared to exude the words 'I'll be there in July' without any need to say it.
"Athletes can be fragile at times, especially when you're in good shape," said McEwen after exiting stage left from the TDU. "The best decision to take was to stop. To keep pushing would have been too great a risk, and if I did more damage, I wouldn't forgive myself."
The door opened at Dwars
Photo: © AFP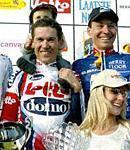 His decision proved a wise one. One week later, McEwen was back at his Belgium home in Brakel, and one week after that, he won the fourth stage of the Etoile des Bessèges in France, beating Jan Kirsipuu and Jean-Patrick Nazon. But then it all started going wrong again: McEwen abandoned on the fifth stage, had a dummy spit with his directeur-sportif Redant, and found himself back to where he was at the beginning of the season.
"I've raced a little too much too early this season, and the condition was a little less," says McEwen. "First I got that knee problem, then overloaded the right leg, changed position, and then got a twisted pelvis."
Not an ideal start, but his first big objective, Milan-San Remo, was still over a month away. A tenth at Het Volk looked promising, however another drop-out in Paris-Nice - his third in as many months - got McEwen and his punters worried:
"In the lead-up to it [M-SR], I was worried I wasn't quite on form as a result of previous problems with my injury and getting sick", says McEwen, "but I was actually riding really well there and was in good form." However an unstoppable il grillo [the cricket], Paolo Bettini, hopped over the Poggio ahead of the pack, and it was a bug's life that ruled the day in San Remo.
Doubly delighted at the Giro
Photo: © Sirotti
McEwen was satisfied though, and went on to win the Dwars door Vlaanderen four days later after escaping in a 14-man break with around 10 kilometres to go. After a short period of rest, it seemed the old McEwen was back, and said with some confidence afterwards that "you don't have to be good the whole year".
His high speed crash in Scheldeprijs in the final two kilometres, a UCI 1.1 race that McEwen was tipped to win, meant McEwen wasn't going to 'be good' for a little while longer. Somehow, Robbie bounced back once again: his positive, slightly cocky (you need that when you're one of the world's best) attitude allowed him to return from yet another forced break stronger than ever, and if it wasn't for a parochial judgment call at the Giro d'Italia, McEwen would have come away from the race with another three stage wins.
"You've always got to rate your season based on what you've been through," analyses McEwen. "For some other riders, that would have completely blown the first half of their season, but I've had six wins and some pretty good ones, so all in all, it seems to be pretty positive so far."
I'm just about to fire off another question, but there's more: "I mean, I think anybody who can go and win Dwars door Vlaanderen, two Giro stages and a stage in the Tour de Suisse could already say they've had a good season, and now my most important race is coming up, so I'm pretty happy with things so far." Now I never said Robbie was modest.
So now that we've established he's feeling good, what does McEwen think about his competition?
Personal stuff

Room-mate for the Tour? Nick Gates.
Favourite music while on Tour? Bit of everything - I've got a heap of CDs. Phooarrhh... hard to say... Chilli Peppers, Powderfinger and a lot of hip-hop and R&B.
Opinion on Mario Cipollini not being selected? It's not fair for that team. It's very simple: the world champion deserves to ride the Tour de France.
Who will be standing on the podium in Paris? Armstrong on top, Iban Mayo and Jan Ullrich.
Favourite part of the Tour? The parade lap on the Champs Elysees - so long as you get to stand on the podium afterwards!
Petacchi a 'real' threat
Photo: © Sirotti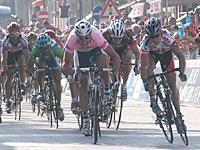 "Probably tougher than other years if you look at it before the start," he says. "There's a number of riders capable of winning the green jersey and whose teams are making it a priority, so you've got to have a close look at who the real contenders are going to be."
McEwen names Zabel, O'Grady, Cooke, Petacchi and possibly Oscar Freire as his 'real' adversaries in the battle for the maillot vert. Anyone else isn't worth worrying about: "Nah, that's about it, I reckon," he says in a matter-of-fact sort of way.
This may sound slightly dismissive to riders like Jan Kirsipuu, Fabio Baldato, Stefano Zanini and Fred Rodriguez, but the fact is you can't watch everyone. Erik Zabel was virtually given a free ride for four of his five green jerseys until Stuart O'Grady decided to have a dig himself in the 2001 Tour. Since then (and possibly a consequence of Lance Armstrong's virtual stranglehold on general classification), things have really started hotting up in the game for green, and the battle has been a compelling reason for viewers to stay tuned until the Champs Elysées.
Saying cheese at Suisse
Photo: © AFP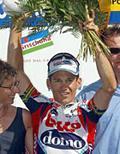 "If you miss one bunch sprint and have a bad result, you can almost discount your chances of the green jersey," McEwen says. "There's ten flat stages, but there's also sprints right throughout the race, which will be very important in the last half of the Tour."
Speaking about the home stretch, tactics come into play more than ever. The decision whether to contest the intermediate sprints or to save all your energy for the final dash to the line must be decided well beforehand, and is something McEwen acknowledges will require some forethought.
"Last year I probably gave away about 25 points not doing the intermediate sprints for the first four or five days, so that's something I'll have to consider over the next few days to decide exactly what my tactics will be," he says.
Wouldn't Misters Zabel, O'Grady, Cooke and Petacchi love to have a piece of that conversation.