Interbike show
Las Vegas, Nevada, USA, September 22-26, 2008
Main Page Previous Part Next Part
Part 8 - September 26, 2008: Mavic joins the pedal push, Shop goodies from Pedro's
By John Stevenson in Las Vegas, Nevada
The Race SL Ti is Mavic's flagship road pedal
Photo ©: John Stevenson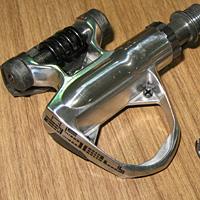 If you thought you were spoiled for choice in clipless pedals, Mavic has just made your life harder with a trio of new pedals on show at the Interbike expo. And it's not just road cyclists who'll suffer – there are mountain bike clipless pedals coming down the Mavic pipe too, but not for a few more months.
The road pedal resembles Look's classic 'hook at the front, spring clip at the back' design, but unlike recent Looks, the Mavics have aluminium bodies with a minimal, pared-down design. A broad contact plate supports a three-bolt cleat, and a grub screw in the back plate provides release tension adjustment.
The axle is held in place with a collar into the pedal body, so the axle and bearings can be easily removed for servicing, according to Mavic's Michael Berlinger. All three pedals will work with either a zero degree or 7 degree release angle cleat. Mavic has not yet decided whether the pedals will ship with one cleat or both, though Berlinger said he thought including both would be sensible.
From the top, the new road pedal range starts with the inevitable titanium-axled wonderpedal, the Race SL Ti. It weighs a claimed 220g/pair and will retail for US$250. Its rear plate and contact plate are both carbon reinforced and it has three bearings in each pedal – a regular cartridge bearing at each end and a needle roller in the middle.
The 260g/pair, US$150 Race sits in the middle of the range. Its chromoly axle and two-bearing internals save cost over the SL Ti and it has straightforward composite contact and rear plates.
US$100 and 290g/pair gets you the entry-level Avenir, which is less well-finished than the Race, and has a more basic axle with spanner flats instead of the Race's 8mm Allen key fitting.
The road clipless pedals are available now.
Mystery mountain pedals coming
The XC Pro Ti
Photo ©: John Stevenson

Late Spring 2009 will see a proper launch of Mavic's mountain bike pedal, and Mavic didn't even have samples at the show, but did have these computer-generated pics in its press kit.
There will be two compact models – XC Pro Ti and XC Race - and a platform version, Trail Max.
It's not clear from Mavic's images how the mountain bike pedal mechanism works, but it appears to have sprung retention bars front and rear.
Retail prices are not yet set, but weights will be in the ballpark of 210g/pair for the XC Pro Ti, 260g/pair for XC Race and 360g/pair for Trail Max.
New workshop goodies from Pedro's
No more skinned knuckles
Photo ©: John Stevenson

Lube and tool specialist Pedro's unveiled a small but sweet range of new gear at Interbike, with something for everyone from the pro wrench to the casual home mechanic.
A trio of new tools were getting the most attention: the Trixie, for fixie riders, the Demi-Torque micrometric torque wrench and the Vise Whip sprocket tool.
The Trixie incorporates a 15mm spanner for hubs, a lockring hook spanner, 5mm Allen key and 8, 9 and 10mm box spanners and, of course, a bottle opener. It will retail for US$30.
On the more 'serious workshop' side, the Vise Whip looks like a boon to shop mechanics. It clamps round sprockets from 11 to 23-teeth and acts like a Mole grip or combination wrench, removing the need for a chain whip when you're unscrewing a cassette. It should save a lot of skinned knuckles.
Initially the Vise Whip will be available for 3/32in sprockets only, but a 1/4in version for track sprockets is coming.
Also more likely to be used by pros than punters, the Demi-Torque has settings to 0.2 Nm precision, with a range of 3-15Nm. It's reversible, so it can be used as regular 1/4in socket driver to undo bolts as well as tighten them, and best of all it can be recalibrated by the user.
Most click-type torque wrenches need to be sent back to the factory for recalibration, and it's usually recommended this happens annually. The Demi-Torque includes instructions for a recalibration process that eliminates this step, which is too likely to be forgotten.
The scale is clear and easy to read...
Photo ©: John Stevenson

Other introductions from Pedro's include a Y-shaped Torx wrench with T10, T25 and T30 heads, and reformulated versions of two popular lubricants.
Ice Wax has long been Pedro's most popular lube, and it's been a source of embarrassment to the company that it wasn't biodegradable. Ice Wax 2.0 is biodegradable, and was developed with help from chemists at Massachusetts Institute for Technology who helped Pedro's figure out how to persuade natural waxes, including beeswax, to spread and adhere to chains.
Also now more environmentally friendly is Bio Grease, which Pedro's Chris Zigmont says is a better lubricant than synthetic greases. It also meets ASTM standards for non-toxicity.
Finally, there are no more aerosols in Pedro's range. Instead, you fill the Bio Shot canister with the lube of your choice, pump it up and away you go. According to Zigmont, abandoning aerosols wasn't just a matter of deciding to stop sending round canisters that were half-full of pressurized gas. Not only can companies like Pedro's no longer send aerosol canisters by air, but some ship captains are refusing to carry pressurized items, making it hard to, say, ship a container of spray lube to Germany.
Photography
For a thumbnail gallery of these images, click here
Images by John Stevenson/BikeRadar.com