Interbike show
Las Vegas, Nevada, USA, September 22-26, 2008
Part 1 - September 22: First day of Outdoor Demo brings new rigs from Pivot - Updated
By Marcus Farley
Pivot Cycles expands on the Mach 4 and Mach 5 bikes that were first introduced in 2007 with new women's versions of each, a superlight Mach 4 build and an all-new long-travel platform. If these things ride as well as the originals, things are looking good for Pivot for 2009.
The Firebird
Pivot Cycles moves into the 6" travel realm with its new Firebird.
Photo ©: Pivot Cycles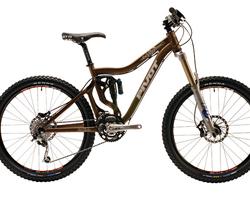 Pivot founder Chris Cocalis is hopeful that his company's first stab at the popular six-inch travel trail bike category will light up the Outdoor Demo.
Like the existing line, the Firebird has been developed in conjunction with Dave Weagle and employs the dw-link rear suspension design but Pivot has also added downhill designer Kevin Tisue into the mix. "The result is a trail gobbling 6.50 inches (167mm) of rear travel," said Cocalis, who intends the Firebird to be "as a long travel trail bike that is also a pedalling marvel when pointed uphill."
Part of the formula is the continued use of Weagle's superb dw-link rear suspension design that has now been hot-rodded with a fully floating rear shock. The rear shock sits independently of the frame, mounting to the carbon rocker at one end and to the lower link at the other, resulting in what Cocalis feels is "a constantly variable shock rate, giving precise control over the suspension performance at every point in the travel."
Although "not a dirt jumper, freeride or downhill bike," Cocalis is hopeful that the Firebird will be capable to handle these disciplines with its 1.5 inch head tube and flexibility to handle single or dual crown 160-170mm travel forks.
The Firebird continues to use the superb dw-link suspension design
Photo ©: Pivot Cycles

That flexibility will invariably include both single-ring and multiple-chainring setups and the Firebird will be well equipped for the challenge. In addition to the built-in ISCG05 mounts, there's also a new floating front derailleur that tracks the rear end as it moves through its travel.
According to Cocalis, this keeps the front derailleur in the "sweet spot" for better chain retention and shifting performance and there will even be a custom Pivot-specific E-thirteen double ring chain guide on the way that is specifically designed to function with the floating front derailleur design.
The Firebird frame is made of triple-butted and hydroformed 6061 aluminium and boasts a very respectable 3.15kg (6.95lb) claimed weight for a small anodized sample including the custom tuned Fox Racing Shox RP23 rear shock. A Fox DHX Air 5.0 can also be had for a small up-charge.
Pivot will offer the Firebird in small, medium and large sizes in two anodized colors: black or "root beer brown". Customers looking to build their own can choose from bare frame or frameset options (including a fork, headset and front derailleur); otherwise, there will be three complete build options as well.
The Firebird will be available in the US by the end of the year and in the United Kingdom and Australia by February.
Mach 4 goes superlight
The new Firebird uses triple-butted 6061 aluminium tubes
Photo ©: Pivot Cycles

The existing Mach 4 frame isn't exactly the lightest in the world but Cocalis has proven quite handily that it can still be built into an ultralight race machine. The new SL built kit uses some of the"lightest, strongest, and best performing components in the world", says Cocalis, and reputedly yields a 9.68kg (21.3lb) complete bike that he feels makes no compromises in frame weight or overall performance.
Highlights of the SL kit are as follows:
DT Swiss XRC100 Carbon fork and XR Carbon rear shock.
DT Swiss XRC1250 Carbon Wheels with ceramic bearings
Magura Marta SL Magnesium brakes
Race Face Next Carbon cranks
Syntace carbon bars, carbon post, and F119 stem
Shimano XTR drivetrain
Suggested retail price for the complete bike is US$7,695.
Something for the ladies
There will also be a women's-specific version of the Mach 5
Photo ©: Pivot Cycles

Cocalis developed a good reputation during his stint at Titus for making his bikes available for a wide variety of rider sizes, women included. This was something he was keen to carry on when he started Pivot in 2007 and now there will be proper women's versions of the Mach 4 and Mach 5.
According to Cocalis, the new frames are "way more than a pretty paint job (although the paint is sweet)". Changes include a complete reconfiguration of the frame's suspension with shorter stroke shocks and higher leverage ratios to maintain the proper air pressure range and valving for lighter riders plus and smaller tubes that yield proportionally lighter and better riding frames. Combined with an ultra short head tube, Cocalis hopes to give the female rider the perfect fit with a performance that matches that of the men's range.
The women's Mach 4 and Mach 5 come in new Power Pink and Baby Blue colours, as well as the standard anodized options, to fit sizes from 1.5m to 1.65m (4' 11" to 5' 5"). Pivot will also be offering limited edition quantities of the larger size Mach 4 and Mach 5 with WTB Deva women's saddles.
Photography
For a thumbnail gallery of these images, click here
Images by Pivot Cycles
Images by James Huang/Cyclingnews.com