Interbike show -
Las Vegas, Nevada USA, September 25-29, 2006
Main Page Previous Part Next Part
On Show 2006: Part 5 - Interbike Expo, Day One, September 27, 2006
By James Huang in Las Vegas, NV
Seven Cycles' line of custom carbon road bikes grows to three
Seven's customizable carbon fiber Diamas
Photo ©: James Huang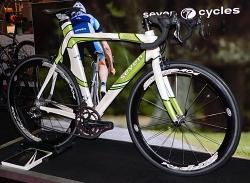 Seven's inventive Diamas custom carbon road bike has spawned two progeny: the V.II and the Triad. The V.II takes the basic design philosophies of the Diamas and tones them down a bit. The less radically shaped tubes and round, non-integrated seatpost offer a more conventional look that doesn't sacrifice any of the customization flexibility of the original. On average, the V.II actually tips the scales 0.1lb lighter than the Diamas at 2.8lbs but gives up a little in the way of aerodynamics. The Triad utilizes the same patent-pending carbon construction techniques and materials of its higher-end siblings but in a decidedly conventional format.
Last year's IMX carbon fiber and titanium hardtail mountain bike has developed a cyclocross offshoot. The 3.1lb frame uses the same carbon fiber top tube and seat tube construction technique that shaves nearly half a pound from Seven's full-ti Mudhoney while also offering a smoother ride. Oh, right, and it looks totally sweet. Better make sure you can clear those barriers, though, as the IMX Cross will set you back US$3195.
The cutting-edge carbon fiber and titanium construction
Photo ©: James Huang
On the mountain bike side of things, Seven's line of full-suspension bikes continue to mimic the development of co-conspirator Maverick American. The aluminum rear end of Maverick's ML7.5 finds its way on to the back of a Seven titanium front triangle to yield a new 5 inch travel Duo 5. While not quite offering the 6.5" of travel of the Duo 6.5, the new mid-travel frame is decidedly cleaner-looking and nearly half a pound lighter.
Knog lights up the dark with clever Aussie styling
Australian firm Knog has set a rather lofty precedent for itself with its cleverly designed Frog mini-light that housed a reasonably bright single LED in a tiny silicon rubber body that featured an especially adaptable wraparound mounting system.
The Toad incorporates five white LEDs
Photo ©: James Huang

New for 2007 is the Toad and Bullfrog models, both of which use similar styling and materials as the original Frog but in a larger (and brighter) five LED format. The Toad uses a linear array of white LEDs and comes equipped with one steady and two flashing modes.
The Bullfrog is basically a Toad flipped 90 degrees and is meant to act as a seatpost-mounted rear light. Five high-visibility red LEDs can be lit up in one steady or three flashing modes. Both the Toad and Bullfrog are said to be visible at a distance of up to 600m. The Toad will be offered at an MSRP of $39.95, while the Bullfrog will be a bit cheaper due to its less inexpensive LED array.
No longer content just to make moderately bright (but exceptionally cute) little lights, Knog also introduced a line of high-performance LED headlights dubbed Gator. The new trio is as cleverly designed as the rest of Knog's lights with versatile wraparound silicon rubber mounts and a particularly intuitive remote power switch.
The 105 model (US$149.99 MSRP) pairs a 1W LED with a more standard white LED beacon with a sleek 4-cell NiMH battery pack that offers a 4.5hr burn time on the high setting. A higher-power 305 model (US$299.99 MSRP) swaps the 1W LED for a 3W version and adds an additional pair of NiMH cells to maintain the same burn time. The top-end 605 (yikes, US$399.99 MSRP) adds yet another 3W LED and boasts an extra-high capacity 8-cell Li-ion battery that keeps the run time at a very reasonable 3hr at the highest setting.
New XC and AM/FR wheels from Full Speed Ahead
FSA's exceptionally smooth rolling
Photo ©: James Huang

FSA's value-leader XC-300 mountain bike wheelset has now been eclipsed by the 2007 XC-500. The new rim features full tubeless-compatibility without the need for a rim strip. As with Mavic's FORE-drilled UST rims, the XC-500 utilizes a solid outer wall that is inherently air-tight.
No clever brazing or drilling is used to attach the nipples. Rather, FSA's in-house builders will feed them in to the rim at the valve hole and feed them around the internal cavity of the rim until they find their home at the appropriate hole. The rim will also feature anti-pinch flat bead profiling and will be joined to the cartridge bearing-equipped hubs with 32 straight pull stainless steel spokes.
FSA's Scatto quick release levers will be included at the US$470 MSRP, and total wheelset weight is said to be about 1880g.
The new sub-US$500 Gravity wheelset incorporates a much wider and stiffer 32mm wide rim to handle more abuse. Thirty-two straight pull spokes are used here as well, and three rear hub configurations will be offered: standard 135mm quick-release, 135mm OLD with 10mm thru-axle, and 150mm OLD with a 12mm thru-axle. All rear hubs will incorporate a 24 tooth cassette driver for relatively fast engagement and 20mm front thru-axles will be standard across the board.
FSA's XC-500 rim has no holes in its outer wall
Photo ©: James Huang

FSA is also beginning to embrace the use of assembly compounds for a variety of its products, especially ones made from carbon. A surprisingly effective carbon fiber assembly compound incorporates tiny polymer beads that dramatically increase the friction coefficient between clamped parts. FSA claims that use of the assembly compound reduces the required clamping force by 30% which should greatly reduce the frequency of overtightening. All of FSA's carbon fiber posts should already now be supplied with a little packet of the magic red stuff. It's good stuff; use it wisely.
Likewise, FSA has also begun to include a 10cc tube of Loctite 641 with its splined MegaExo cranksets. Company PR spokesperson Ric Hjertberg insists that the green goop is not intended as an adhesive. Rather, it supposedly just fills the inherent spaces of its splined system to provide a more consistent fit. Admittedly, the use of assembly compounds sound a bit hokey to many bike folk, but bear in mind that their use is widespread in automotive applications and, the last time I checked, my old VW engine still hadn't lost any bolts at 140k miles.
Photography
For a thumbnail gallery of these images, click here
Images by James Huang/Cyclingnews.com