Interbike show -
Las Vegas, Nevada USA, September 25-29, 2006
Main Page Previous Part Next Part
Part 16 - October 10: Interbike Expo - Reynolds 29er wheels; Nine new WTB tires; Beefier Rolf tandem wheelset
By James Huang, Technical Editor
Reynolds uncorks carbon fiber 29er disc wheelset
Reynolds' new carbon-rimmed 29er disc wheelset
Photo ©: James Huang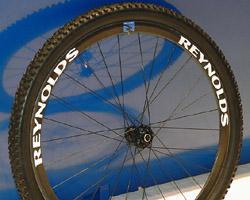 We covered Reynolds' 2007 lineup at the Eurobike show, but there were still surprises to be had in Las Vegas. Reynolds had originally planned to display its new disc brake-compatible, carbon fiber, cyclocross wheelset until someone had a grand idea: swap the axle end on the rear DT Swiss hub and install a full-sized 29" mountain bike tire, and voilà, the world's first carbon fiber 29er disc wheelset is born.
The new "29er" wheelset isn't ideal, however. As it was intended for narrower cyclocross tires, the 32mm deep carbon clincher rim is still just 23mm wide. In fact, the rim is virtually identical to the company's road-specific MV32 model. In any case, fatter 29er rubber will certainly fit, but the skinny rim won't provide as much support for the casing as some would like.
That being said, Reynolds' new pseudo-29er wheelset is still the highest performance option out there by a wide margin, and also just about the priciest at about US$1799 for the pair. Reynolds says that if the demand proves to be strong enough for the new wagon wheels, it will develop a true 29er mountain bike rim with a wider 25mm base, similar in profile to its 26" Topo C carbon mountain bike clinchers.
More info: www.reynoldscycling.com

WTB returns to its roots for '07
Two ends of WTB's new tire spectrum:
Photo ©: James Huang
After several years of attention to saddles, components, and 29" tires, WTB shifts its focus back to its core products with nine new 26" mountain bike tires for 2007. In particular, WTB will emphasize larger 2.3"/2.5" casings for the all-mountain crowd.
A new Prowler line will include the XT 2.3" and MX 2.5" models, both with paired outer knobs. Pairing the side knobs close together should keep them from folding underneath the casing during hard cornering but still offers twice as many biting edges as a single knob. The XT features more of a paddle-type center tread for good driving and braking traction, while the MX utilizes offset center knobs for more directional stability.
The Dissent 2.5 will be the new official tire of the Whistler Mountain Bike Park. As the trails have evolved, resort planners found the need for a tire that was more suited to the mountain's heavily used terrain. The Dissent still offers a large high-volume 2.5" wide casing but with a faster rolling tread pattern that works better on Whistler's increasingly hardpacked surfaces than typical DH-style tires.
Stout is designed primarily for looser terrain with a wide open knob pattern. The 2.3" casing features a slightly rounder profile as compared to WTB's other models, and the bi-directional tread is for either front or rear use.
Who says the semi-slick is dead? WTB developed the race-specific Vulpine to be a fast-rolling cross-country tire for use in dry conditions. Given its intent, it should come as no surprise that the Vulpine will be offered only in a 2.1" wide casing.
In response to its Japanese contingent, WTB developed the Raijin for use in muddy and/or sandy conditions. As with any good mud tire, Raijin features a widely spaced large knob pattern that should resist clogging even in sticky muck, and the relatively narrow 2.1" casing should be able to dig down through the slop into the tackier dirt.
More info: www.wtb.com

Rolf Prima adds carbon clincher and tandem disc wheels
Rolf Dietrich standing proud
Photo ©: James Huang

Last year's paired-spoke and carbon-rimmed TdF38 mid-section road tubular wheelset now has a clincher brother. The TdF38 clincher uses a bonded aluminum and carbon fiber rim that offers easier day-to-day liveability as well as the dependability of a machined aluminum brake track. All of that convenience comes with a hefty weight penalty, though: the tubular version weighs just 1165 g for the set, but the clinchers tack on a whopping 430g extra.
For the fortunate few with a particularly robust marriage, Rolf Prima introduces a Vigor Tandem Disc road wheelset for 2007. The tandem version uses a similar rim to the standard aero Vigor but with a higher spoke count and is rated for a maximum combined rider weight of 380 lbs. Both front and rear hubs will be compatible with IS six-bolt disc rotors, and the rear hub can also be used with a drum brake instead if you so choose.
More info: www.rolfprima.com
Photography
For a thumbnail gallery of these images, click here
Images by James Huang/Cyclingnews.com