Interbike 2002
Las Vegas, USA, October 5 - 8, 2002
Gold and silver at the '02 worlds for US bike makers
Sponsoring a professional cycling team can have its rewards, but there are also pitfalls when teams don't perform. Gerard Knapp reviews the year in sponsorship for American bike manufacturers and looks ahead to 2003, where Canadian company Cervelo will make its official debut in Division 1.
Photo: © Miwako Sasaki

As Mario Cipollini crossed the line ahead of Robbie McEwen in the elite men's road race of the World Road Championships in Zolder, Belgium, on October 13, it was not only a victory for a deserving champion, but also the American bike manufacturers who provided their machines.
The manufacturers can bask in the reflected glory of the riders' achievements by producing replica models which remind potential buyers of the kudos. In fact, not long after Cipo finished the race, a rainbow-striped replica Specialized emerged for the obligatory promotional photos.
In terms of delivering promotional bang for the buck, nothing beats a good sprinter. In fact, all three red-hot favourites for the men's and women's road races this year were on American bicycles. Cipollini on his Specialized, McEwen on a Litespeed and Germany's Petra Rossner on her LeMond, have put in stellar performances all year.
Photo: © Miwako Sasaki

In the Grand Tours, Lance Armstrong rode his Trek OCLV to yet another Tour de France victory, and his team-mate Roberto Heras came very close in the Vuelta. Davide Rebellin and his team-mates from the Gerolsteiner team have ridden their Klein road bikes through 2002 and Rebellin has also made it onto the podium for the US frame-builder (part of Trek).
On the other hand, the trials and tribulations of the Saeco-Longoni Sport team led to some introspection from Cannondale, which began to openly question if its ongoing support of pro cycling was worth the time and money. However, company founder Joe Montgomery released a statement outlining their philosophy, and the Connecticut-based firm has stayed committed to the team and sport. They can only rue the 'what ifs' of 2002, when former Saeco-Cannondale riders had stomping years, such as Cadel Evans and Paolo Savoldelli. However, those stars of the Giro d'Italia were on Italian-made bikes this year, as Saeco were unable to secure their services for 2002 and beyond.
For manufacturers, there is undeniable kudos and credibility afforded by having a top team riding their products, particularly if they actually win. There is also the risk that riders will have brain explosions and drag everyone's names through the mud. It has to be said that little - if any - of that mud sticks to the bikes and their makers. Consumers realise that Cannondale didn't buy the lollies which busted Gilberto Simoni out of the Giro, nor did Fondriest pack the boot of Edita Rumsas's car.
Meanwhile, if a bike which is meant to be supplied by a particular maker is not what it seems (as when a star rider prefers another brand) then it can backfire almost irrepairably. Also, mechanicals such as jammed gears and flats are part and parcel of the sport, whereas broken aero bars and forks can cost races and the rider's health, not to mention the maker's credibility.
Photo: © Cyclingnews

Generally, it would seem that these relationships are worth the six-figure sums which go along with the kudos of a top trade team swinging their collective legs over particular brands. But what really came out of left field for Litespeed this year was a decision by a few powerful folks in the Belgian cycling scene to create a super squad for 2003 by merging Lotto-Adecco (Litespeed) with Domo-Farm Frites (Merckx). This merger squeezed out Litespeed, a relatively new entrant in the division 1 kit stakes (although Litespeeds have been ridden under a variety of guises over the years).
The merged Lotto-Domo super team saw Merckx get the nod for 2003, and the American Bicycle Group - the owners of Litespeed - relegated. Through no fault of its own, a good solid year's momentum for the US firm was stalled by the internal cycling politics of a cycling super-power. The big performer for Lotto in 2002 was not a Belgian, but a brash Australian sprinter who ended Erik Zabel's domination of the green jersey in the Tour.
Photo: © Rob Karman

In cycling, the combination of national politics, sentiment and tradition can conflict with the commercial interests of foreign sponsors. After only one year, Litespeed had become a casualty to the politics of Belgian cycling, even though the company builds the fine titanium frames offered by the Merckx company.
The company's director of marketing, Herbert Krabel, told Cyclingnews the real benefits only begin to accrue in the second year of sponsorship. The recognition continues and the association becomes more entrenched (like Giant and ONCE, Telekom and Pinarello, etc).
It also means the makers can release signature models which highlight successes in the previous year. It's not surprising that Specialized had the rainbow-striped replica on hand to maximise its investment in providing bikes to Cipo's Aqua e Sapone trade team. (Despite Colnago's sponsorship of the Italian national team, in the world championships riders use their trade team sponsored-bikes and also carry their principal team sponsors' brands on their national team knicks and jerseys.)
Photo: © Cyclingnews

Next year Aqua e Sapone will continue on their Californian-made bikes and US Postal Service will ride Trek. Meanwhile, Litespeed has had several offers, but turned them down. "We're not interested in a team like Mercatone-Uno," Krabel said. "We don't want to sponsor a team ranked 24th or 25th in the world, or one which is only popular in Italy. There's nothing in it for us." The maker is looking for marketable, winning riders, preferably from a variety of nations and in a team which is competitive outside of domestic competition.
"It's not over yet," Krabel said of Litespeed's possible role in Europe next year, but at the time of writing he could only announce the sponsorship of the US-based Schroeder Iron team for 2003. Krabel said the company was "very happy" with how the Schroeder team had performed in 2002, providing valuable exposure in the home market. "We're also looking at someone else," he said of another possible team sponsorship in the domestic US competition.
Photo: © Cyclingnews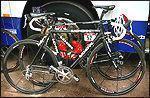 A team which does have a good spread of riders from around the world is CSC-Tiscali, providing ample marketing opportunities in a variety of markets, particularly as team boss Bjarne Riis continues in his quest to secure the services of Jan Ullrich in 2003. Canadian firm Cervelo is the big winner in the sponsorship stakes for 2003, as it will be supplying its steel, aluminium and carbon bikes to Riis's riders, such as Tyler Hamilton, in 2003.
It's fair to say that CSC's relationship with outgoing bike sponsor Look was somewhat strained this year, particularly as Tyler Hamilton rode a Parlee Cycles custom-made carbon fibre bike during the majority of the Giro, and then Laurent Jalabert used a Cervelo TT bike during the Tour. Clearly, something wasn't working on all levels, even though teams like Kelme and Credit Agricole have used Look bikes for years, and Jalabert provided Look with valuable marketing opps by riding his Look on all road stages of the Tour.
Photo: © Cyclingnews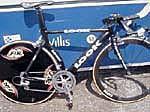 Manufacturers can't hide behind a badge over frames which are clearly different shapes. Although Cyclingnews' European editor Tim Maloney was waved away from photographing Tyler's mount as it lay against a bus prior to a stage of the Giro this year (he still got the shot), there are enough close-ups of the riders on the road to reveal the origins of the frame. The Parlee did take a while to 'come out', given the similarity of naked carbon frames.
Cervelo's Gerard Vroomen told Cyclingnews that the "only chance we had (to secure the sponsorship) was based on our product", because he readily admits his firm doesn't have the cash to compete with the more established builders. While the final road TT of the Tour may have caused some embarrassment for Cervelo, as both Jalabert and team mechanics struggled to remove the rear wheel from his Cervelo P3 after a puncture, a few minutes familiarisation with the rear-facing drop-out design of the Canadian bike should have resulted in a quicker wheel change. Instead, the world witnessed some fairly clumsy support before they gave up and provided Jaja with a spare bike and he set off down the road. (Many commented that changing a rear wheel on a TT bike is not the best option where seconds can make all the difference. Grabbing the spare bike is usually the fastest solution. Riis himself once hurled a fancy Pinarello TT bike into the weeds in frustration after a mechanical in the Tour prevented his progress.)
Vroomen said there will be no change to the design of its P3 TT bike in 2003. The P3 is easily recognisable due to the dramatically curved seat tube as it provides coverage to almost 60 degrees of the radius of the rear wheel. The curved tube and large cut-out is said to improve the aerodynamics of the rear wheel, which sits snugly next to the curved frame.
Photo: © Rob Karman

Next year the CSC-Tiscali riders will have carbon, aluminium and steel bikes at their disposal. Vroomen said the as yet unreleased carbon bike features carbon lugs and "more conventionally-shaped" tubes and will weigh in at less than 1100 grams for the frame. "We don't believe in the lightest bike for its own sake," he said. "Everyone wants to climb on it but no-one wants to descend. We believed that adding about 100 grams to the frame goes straight into the stiffness (of the frame)."
The main road weapon will be the aluminium Soloist, a compact-style frame that can also be adapted into a TT-style bike with an apparent 76 degree seat angle. Except the CSC-Tiscali riders will have the P3, P2K and Dual models specifically for time trials.
Cervelo will also supply its lightweight Prodigy steel frameset for the CSC riders to use in the Classics or for training. Vroomen said the investment in steel "has been awesome for us. We don't mind holding on to tradition and when everyone else was getting out of steel, we decided to use it for new bikes". The steel frames are made from Columbus Thermacrom and feature horizontally ovalised top tubes and bi-conically ovalised down tubes for increased stiffness. Cervelo will also supply some P2T track frames, including one destined for Hamilton who may be doing some fixed gear riding in the off-season.
Vroomen is remarkably frank about his company's approach to the bike business. The company has only 10 employees, yet sells thousands of bikes. It was formed by Vroomen and Phil White, two engineers who met at university in Canada. Vroomen was born and educated in Holland, until he went to Canada to complete his university studies. While at univeristy, where his major project was a bicycle frameset, he met White and the rest is history.
All production work is outsourced to the best fabrication facilities they can find. He described production as "sort of a black box with design and engineering as the input and quality control for what comes out of it, and that by taking care of those three issues the end result will be a good bike". He wondered if consumers really cared who actually made the frames as long as they are of excellent design and meet strict quality controls. Outsourcing is rampant in the bike industry, it's just that some companies insist on phoney artisan-like mystique.
The advantage for a small company like Cervelo is that it can ramp up production significantly by outsourcing and grow without major capital expenditure. Cervelo designed and patented the aluminium tubes used in their bikes so they have more meat on the sides for improved lateral stiffness. The bikes are design leaders, as can be expected from a firm owned and run by engineers. They also know how to test for product quality and they have grown rapidly by following this approach.
Photo: © Rob Karman

Growing rapidly is the issue facing Bob Parlee, the artisan frame-builder in Massachussetts who makes custom carbon frames (such as the one used by Hamilton), a service which is quite possibly the most labour-intensive and expensive method of building frames in the world.
But Parlee is passionate about building his bikes, and for him that is all that matters. For 2003 he is ramping to offer production versions of his frames, namely the Z3c compact and Z2 Classic, which will still have the care of the artisan shop. The challenge for Parlee is accommodate this growth in-house, as building carbon fibre frames requires skill and training.
Whether consumers can really tell any difference while riding the bikes is quite subjective; perhaps it is the knowledge that one of the world's best frame-builders personally laid the carbon fibre which is what drives his sales, apart from accommodating specific dimensions only available on custom frames. And to be sure, the frames are beautiful: sleek, rich dark carbon framesets that reek of class.
Also, having a classy, gutsy rider like Hamilton on board - although it was not something he could openly market - certainly helps this cause. Hamilton's bike on display at Interbike was devoid of any other company's logos, but once word had filtered out following the Giro, Parlee began to receive enquiries from around the world.
As well as the mass-production factories, a custom shop can also enjoy the benefits of its products being discreetly used in the pro peloton. Even at the other end of the scale, it can still be good for business.