Recently on Cyclingnews.com
On test: BMC SLC01 Pro Machine, August 24, 2007
Nothing but carbon nanotubes running through these veins
The bike featured Dura-Ace and Easton
Photo ©: Shane Stokes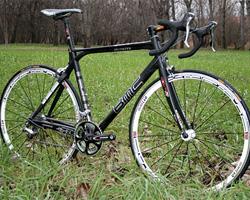 Swiss bicycle company BMC has certainly had its fair share of bad luck in recent seasons with its sponsored teams, but its bikes continue to soldier on seemingly oblivious to the chaos surrounding them. Shane Stokes and Cyclingnews Tech Editor James Huang team up for an intercontinental up-close-and-personal look at BMC's top road racer, the SLC01 Pro Machine.
In spite of its setbacks in the professional road racing ranks, BMC has continued to grow at a steady clip. Gross sales for the 2003-2004 season were reportedly just over US$10M, and that figure has more than doubled just three years later. According to BMC, projections for 2009-2010 are set to nearly US$45M, which would easily transform the company from a rarely-seen oddity on the street to a relatively common brand name on showroom floors.
Scandal or not, BMC's high-profile sponsorships have clearly been a key part of the equation in helping the company gain visibility and spurring such growth. Be that as it may, BMC has also rightfully marketed the products themselves on their performance and aesthetic virtues. BMC frames are not just viewed as 'the bike that Vino rode', but are also perceived as light, technologically advanced, and striking in appearance thanks to their unique frame tube layouts.
No, you don't have to be 'pro' to ride one
BMC maximizes the width
Photo ©: Shane Stokes
FSA also makes the headset
Photo ©: Shane Stokes

The saddle is the Selle Italia SLR
Photo ©: Shane Stokes

The BMC is easily recognisable
Photo ©: Shane Stokes

Unidirectional carbon fiber
Photo ©: Shane Stokes

Careful tightening these bolts!
Photo ©: Shane Stokes

The Naked Carbon finish is visible here
Photo ©: Shane Stokes

Compact chainrings
Photo ©: Shane Stokes

Derailleur cables are internally routed
Photo ©: Shane Stokes

Sitting at the top of BMC's range, the SLC01 Pro Machine boasts a near-100% unidirectional carbon frame reinforced throughout with Easton carbon nanotube-enhanced (CNT) resin in order to decrease weight and supposedly increase overall strength. Little is left untouched by BMC's carbon fiber hands, including the dropouts and integrated seat collar. The company's precision manufacturing techniques are also evident throughout the structure: the integrated headset cartridge bearings ride directly on precision molded bearing seats, and even the internally-routed cable stops are ready to go straight out of the mold. Other than the threaded aluminum bottom bracket shell insert, replaceable rear derailleur hanger, and water bottle mounts, there is barely a shred of aluminum (or any other metal) to be found.
In addition to its high-tech ingredients, the SLC01 Pro Machine also wears a distinctly unusual shape. The so-called 'Integrated Skelton Concept' design includes a short strut spanning between the seat stay wishbone and top of the seat tube to create a theoretically stiffer rear triangle. If nothing else, it also means that the bikes are readily identifiable as coming from the Swiss company, no small feat in this era of 'me too' designs currently on the market.
The distinctive shaping carries through elsewhere as well, including a T-shaped top tube that flares noticeably as it joins the head tube, and a down tube that takes advantage of nearly every millimetre of real estate offered up with the standard width bottom bracket shell. The tall-and-flat chain stays are also widely-set at the bottom bracket and closely follow the profile of the rear wheel before swinging out to meet with the carbon rear dropouts.
Naturally, the design goal of all of this shaping is to create a frame that is appropriately stiff, yet reasonably compliant. Whether or not that holds true, published weight on a bare 55cm SLC01 Pro Machine frame is just 1045g, putting it over 200g lighter than the carbon-and-aluminum SLT01 Team Machine that BMC's sponsored riders used up until 2005.
Our 53cm tester was outfitted with a full array of Shimano Dura-Ace with the exception of an FSA K-Force MegaExo compact crankset and a variety of Easton components, including its CNT EC90 SLX fork, EC90 seat post and handlebar, and EA70 stem. DT's medium-section RR1850 clincher wheels (in fetching white, no less) were wrapped in Continental's Attack/Force tire combination, and Selle Italia's SLR saddle capped off the ensemble. Complete weight as tested, without pedals, was 7.1kg (15.7lb).
Ride impressions
The first couple of spins on the BMC were admittedly somewhat of an anti-climax. The bike's militant appearance and aggressive tube shaping practically scream out 'rigid' and conjured up vivid images of asphalt rooster tails under power. Yet on the road, the SLC01 Pro Machine doesn't quite offer up the near-instant response of some other carbon machines we've tested in recent memory, nor is the front triangle particularly immune to twisting.
This is not to say that it's a noodle, though; the Pro Machine is far from it, actually, in the grand spectrum of things. However, it was quite clear in the early going that it was not going to dominate any bench tests for frame rigidity (as confirmed by third party lab tests we commissioned early on in the test period). The Kraken after seeing the head of Medusa in Clash of the Titans it is not.
What the BMC lacks in rigidity, though, is largely made up in ride quality as the Pro Machine delivers what is truthfully about the closest thing to the snap and twang of a good steel bike as we've experienced in some time. It's also not quite as comfortable as some other offerings, but this thing is darn near breathing in terms of its liveliness.
Whether logical or not, climbing is a relative joy thanks in no small part to the frame's inspiringly low mass, and out-of-the-saddle bursts are answered with a springy resilience. High-speed technical descents were similarly handled with aplomb, aided in part by the relatively tight wheelbase. On rolling terrain, the Pro Machine ticks along nicely (almost cheerfully, in fact), and overall road feel is impeccable. Is this the most rigid thing on two wheels? Not by a long shot, but the SLC01 oozes personality like it's its job.
As might be expected, the Dura-Ace groupset performed very well overall with the exception of somewhat finicky shifting and a slightly sticky rear brake, both of which we eventually traced back to excess friction from the somewhat convoluted internal cable routing (BMC engineers take note: sharp bends are bad). The Selle Italia saddle proved comfortable once adjusted properly, and the Easton seatpost, stem and carbon handlebars look (and function) well.
A noted oddity in the parts spec, however, was the DT Swiss wheels. They feel absolutely fine in use, but as the name suggests, their 1850g weight (without skewers) is somewhat of a juxtaposition considering the featherweight status of the frame. Some readers might attribute some of our initial impressions to the somewhat weighty hoops, but subsequent wheel changes did little to change the bike's overall character.
Otherwise, the rest of the test period was largely a non-issue in terms of maintenance or durability. We should mention, however, that BMC places quite a bit of emphasis on the need to properly torque the seat collar (and even applies a decal in the area to make sure you don't forget). As the seat collar is fully integrated into the rest of the carbon structure, it's not an area to be clumsy, and we can say from collective experience that it's also not a part that's particularly tolerant of the ham-fisted mechanic. A torque wrench is your friend here (as is friction paste). Actually, make that your BFF.
So what if you're not a pro
The BMC SLC01 Pro Machine may not be the stiffest frame out there, but we have to stress that that's no death sentence. As it is, we're not convinced that frame rigidity should be the be-all-end-all metric of a bicycle's worth, and the Pro Machine delivers in spades in enough other areas that we would hardly fret over having it as our primary ride.
Still, this bike is best experienced when ridden fast, and increased wattage brings with it increased appreciation of what's underneath the rider and how that machine helps to translate those efforts into forward speed. Bear in mind the somewhat fragile seat binder, toss out the notions that 'stiffer is always better', and enjoy the ride.
Price: US$5549 (as built)
Weight: 7.1kg (15.7lb)
Pros: light weight, lively feel, animated personality, killer looks
Cons: may not be stiff enough for some, internal cable routing could benefit from straighter paths
Cyclingnews rating:

Photography
For a thumbnail gallery of these images, click here
Images by Shane Stokes/Cyclingnews.com
Frame: BMC SLC01 Pro Machine, Pure Carbon Unidirectional, Easton carbon nanotube reinforced
Available sizes: 47, 49, 51, 53 (tested), 55, 57, 59, 61cm
Fork: Easton EC90 SLX
Headset: FSA Orbit IS Carbon
Stem: Easton EA70
Handlebars: Easton EC90 Equipe
Tape/grips: Easton cork
Front brake: Shimano Dura-Ace BR-7800
Rear brake: Shimano Dura-Ace BR-7800
Brake levers: Shimano Dura-Ace Dual Control ST-7800
Front derailleur: Shimano Dura-Ace FD-7800
Rear derailleur: Shimano Dura-Ace RD-7800-SS


Shift levers: Shimano Dura-Ace Dual Control ST-7800
Cassette: Shimano Dura-Ace CS-7800, 12-27T
Chain: Shimano Dura-Ace CN-7801
Crankset: FSA K-Force MegaExo, 172.5mm, 34/50T
Bottom bracket: FSA MegaExo
Pedals: not included
Wheelset: DT Swiss RR1850
Front tire: Continental Grand Prix Attack, 700 x 21c
Rear tire: Continental Grand Prix Force, 700 x 23c
Saddle: Selle Italia SLR
Seat post: Easton EC90