On test: fi'zi:k Nisene HP, May 24, 2006
Long-distance off-road comfort
fi'zi:k's Nisene saddle is a medium-weight seat intended for cross-country mountain bike riding and for racing in longer events where comfort starts to get more important than weight. Dave Hughes has been putting it through its paces.
fi'zi:k Nisene HP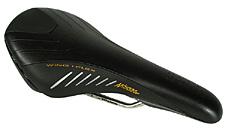 A while ago, Cyclingnews editor John Stevenson got a chance to try out fi'zi:k's rather tasty cross-country saddle, the Gobi. Despite the date on that review, he really liked the saddle, so when I was offered a chance to try fi'zi:k's redesigned Nisene HP, I jumped straight on.
When viewed from the side, the Nisene HP has a very flat profile. There is no real difference in the height of the saddle from front to rear. By contrast, the Gobi has a traditional bowed saddle shape. You sit in a saddle like that, much like the saddle on a horse, while you sit on a flat saddle. Which style you ride is a question of anatomy and setup, so it's nice to see an option for those who prefer a flatter saddle.
The Nisene weighs a reasonable 290g. That's considerably more than some of the lightest unpadded carbon-hulled saddles out there, but it's about average for a good quality cross-country perch. It includes useful real world features like plastic scuff guards on the corners, so you're unlikely to dramatically reduce the weight of your saddle in an unplanned dismount. Solid titanium rails help keep the weight down while still providing reasonable strength and durability.
The name plate

Plenty of ribbing

Flat top

J'us:t in c'as:e

The Nisene also incorporates fi'zi:k's Integrated Clip System (ICS), which allows compatible saddlebags to clip straight to the saddle without a separate mount. This saves a few grams, and also puts the bag a bit further back, which can keep it out of the way when pedalling. It also means you can quickly swap your tube and tools between bikes without having to find spare mounts.
Cosmetically there's an interesting layered chevron pattern that's vaguely reminescent of a corporal's stripes, but otherwise this saddle follows Hotblack Desiato's (or Henry Ford's) colour scheme - black, black, and more black. My preference is for subdued colours on saddles, and it appears fi'zi:k are aiming the Nisene at riders like me the only other colour scheme has a very muted blue cover, with black sides.
The Nisene uses fi'zi:k's 'Wing Flex' technology, where the plastic chassis of the saddle has a series of small slits that allow the plastic to flex and crack to accommodate the rider's anatomy. This saddle definitely feels more comfortable now than it did when I first put it on my bike, but my previous saddle was considerably more bowed. How much was the saddle adapting to me, and how much was me adapting to the saddle is hard to tell without getting a second saddle.
I've had the Nisene for a while now. I've used it on quite a few short rides and also in a couple of longer events - as part of a team of two in an eight hour enduro, and also the second running of the Dirtworks Classic, a 100km offroad ride. While my legs were feeling somewhat less than enthusiastic about further riding, I was still comfortable in the saddle at the end of the Dirtworks. So if you like a reasonably plain saddle with a fairly flat profile, check out the Nisene.
Weight: 290g
Prices: US$99; €89.00
Pro: Comfortable, ICS system, reasonable weight, subdued colours
Con: Weight weenies will whinge, subdued colours.
Cyclingnews rating:


More information: www.fizik.it