Tech review - April 1, 2005
fi'zi:k Gobi 2005
fi'zi:k has updated its top-end mountain bike saddle for 2005. John Stevenson vanished into the woods on one and came back impressed.
fi'zi:k Gobi 2005
Photo ©: Paul Mirtschin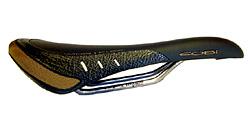 Is there anything more down to personal taste in bikes than saddle shape? The last few years seem to have seen a rash of very 'flat' seats, which the rider perches on rather than sits in. Some of these seats have been extraordinarily light, but for many of us, they haven't been extraordinarily comfortable.
I'm one of the class of riders who likes saddles to be shaped like, well, saddles. That means slightly dipped in the middle, in a shape that resembles a horse-riding saddle rather than a flat seat. For me, this shape gives more support to both the sit bones and the various soft tissues in what for the sake of delicacy we shall refer to as 'the saddle area'.
fi'zi:k 's Gobi mountain bike saddle is distinctly saddle shaped, and this, the latest version, adds Cordura scrape guards and a lower profile rail design to an already very successful seat. With titanium rails and lightweight synthetic leather cover, the 2005 Gobi tips the scales at 255g. That's not featherweight, but it's lighter than most stock saddles on mountain bikes, which tend to be built for durability not for speed and heft in the 350g range. While I could do with to lose a few grams myself, I'm not going to complain about painlessly shedding a hundred of them from the bike (I also swapped by Klein Palomino's seatpost for a Thomson, shedding another 100g at the same time).
The nose knows
Photo ©: Paul Mirtschin

View from the top
Photo ©: Paul Mirtschin

Cordura scuff guards
Photo ©: Paul Mirtschin

The underside
Photo ©: Paul Mirtschin

The Gobi is one of fi'zi:k 's 'Wing Flex' group of saddles, with sides and a tail that are supposed to be able to move with you as you pedal. I'm not convinced this matters as much for mountain bikes as for the road, because you're not in the saddle for as long at any one time on the dirt. What matters more is that the seat has a good hull shape; dense padding that provides support without being squishy; and is narrow so you can move around on it.
The Gobi scores on all of these fronts, even at the expense of some weight savings. After we mentioned a few months ago that fi'zi:k 's saddles weren't the lightest out there, fi'zi:k marketing honchette Suzette Ayotte pointed out some reasons why. "We DO NOT use hollow titanium rails (except on the Arione Carbon which also has an aluminum insert for strength) because tests and experience shows that these are significantly more apt to fail or snap, when compared to solid titanium," Ayotte told us. Also, she added, "fi'zi:k's foam is more dense than standard foam in order to give the saddle an overall longer life without breaking down, compressing or otherwise, deteriorating."
One thing that's slightly puzzling is that fi'zi:k hasn't incorporated into the Gobi an Integrated Clip System (ICS) mount for its new saddle pa:k seat packs. These nifty little devices click into a slot in some models of fi'zi:k saddle, notably the latest US versions of the Aliante and fi'zi:k 's new Rondine touring saddle. When we queried this, Ayotte explained that the saddle pa:k had been developed for the Aliante and Rondine, but couldn't be accommodated within the existing shape of the Gobi and Arione.
"To make a version that comes with the ICS, means essentially, redesigning the saddle (and making a new mold) so that these two parts can be married. We are working on trying to incorporate this into our new saddles -- without having to make new molds and without damaging the integrity of the structure on the original designs," said Ayotte.
The lack of this feature, however, doesn't affect the Gobi's excellent comfort. I've found it to be one of the best saddles I've ridden on or off road, and the test period has included some long rides and an eight-hour race (I was half of a team of two). If your tastes also run to dipped saddles, the Gobi is well worth a look.
Recommended retail price: $140
Weight: 255g
Pro: Very comfortable, sane weight suggests durability
Con: No ICS mount; weight weenies will grumble
More information: www.fizik.com
Cyclingnews Rating: