Recently on Cyclingnews.com
On test: Felt F1C, October 30, 2006
Felt delivers a surprisingly comfy speedster
Felt Bicycles has come a long way from its early days of exclusively producing aluminum-tubed aerodynamic TT/Tri frames. These days, though, Felt has filled out its catalog with a full range that covers the gamut from road racing, triathlon, so-called "sport" road riding, and mountain biking utilizing both aluminum and carbon construction. Cyclingnews Tech Editor James Huang gives its top-of-the-line F1C road racing machine a long-term run.
Felt's F1C is a top-level race bike, but with impressive vertical compliance
Photo ©: James Huang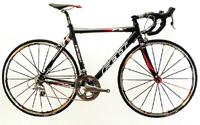 Straight out of the box, Felt's F1C is an impressive machine with a total weight of just 6.8kg (15.05lb) for our bone stock 54cm test model (without pedals). Much of the credit for this lack of mass goes to the F1C's full carbon "modular monocoque" construction. The front triangle, seatstay assembly, and chainstay assembly are individually molded from ultra-high modulus carbon fiber, and the resultant components are then joined and cured as a single unit which Felt says requires no putty or filler material. Bare frame weight of our 54cm test bike (yes, we really did strip it down!) was a very respectable 1100g, including the alloy seat collar and down tube cable adjusters.
Felt claims this method of assembly allows its designers to more precisely tune each section for its intended goal, and indeed, certain internal details are present which likely would be impossible to produce using a true monocoque. For example, the frame is internally ribbed behind the bottom bracket shell as an analogue to a conventional chainstay bridge. According to Felt, this provides an additional structural element to combat lateral flex, and also effectively shortens the chainstays for better drivetrain response.
Speaking of response, the bottom bracket and head tube areas are both particularly well endowed with material (as is becoming the standard of the day for carbon frames) to promote both drivetrain stiffness and torsional rigidity of the front triangle. Not surprisingly, there isn't a round tube to be found anywhere on the F1C: the seat tube flares considerably from top to bottom, and both the top tube and down tube change shape radically from end-to-end. On a seemingly more pedestrian note (but no less critical from a mechanical standpoint), the external cable routing is textbook-perfect with clean lines and smooth bends that produce minimal friction.
Felt engineers tucked an internal rib behind the bottom bracket,
Photo ©: James Huang

Dura-Ace, Dura-Ace, and more Dura-Ace:
Photo ©: James Huang

Shimano's super rigid Dura-Ace 10spd crankset
Photo ©: James Huang

Cleanly done external cable routing,
Photo ©: James Huang

Mavic Ksryium ES front hub uses a large-diameter carbon fiber center section
Photo ©: James Huang

The FSA K-Wing handlebar
Photo ©: James Huang

The FSA bar mated well with the Shimano Dura-Ace STI levers
Photo ©: James Huang

Large cross-section tubes up front and lots of carbon
Photo ©: James Huang

Rolling duties on the Felt F1C are handled by Mavic's Ksyrium ES wheelset
Photo ©: James Huang

Felt supplied its own house-brand saddle with carbon-reinforced shell
Photo ©: James Huang

Felt foregoes the more standard two-piece dropout
Photo ©: James Huang

Reynolds provides its outstanding Ouzo Pro Integrated fork
Photo ©: James Huang

In spite of the three-piece "modular monocoque" construction,
Photo ©: James Huang

Felt's house-brand stem is CNC-machined and includes titanium hardware.
Photo ©: James Huang

In spite of the three-piece construction, the smoothly blended transitions and cleanly radiused joints present a visually seamless package. Aluminum is used for the integrated head tube inserts, bottom bracket sleeve, seat tube insert, and dropouts. Regarding the dropouts, Felt uses a 3D forged one-piece design instead of the more commonly used (and often cheaper) jointed dropout for better rear-end rigidity. Naturally, the rear derailleur hanger is replaceable but it should be worth mentioning that Felt's sacrificial bit is of dramatically better quality and notably more rigid than most. Also worth noting is the stout stainless steel front derailleur mount that provides a stable foundation for solid shifts.
Race-ready parts spec
Needless to say, a flagship frame deserves top-shelf parts, and Felt delivers here in spades. Shimano's Dura-Ace logo can be found on the shifter/brake levers, crankset and bottom bracket, both derailleurs, chain, cassette, and brake calipers. Rolling duties are handled by Mavic's Ksyrium ES wheels and Vittoria Diamante Pro-Light clincher tires, and the cockpit is filled out with a Ritchey WCS Carbon seatpost, FSA K-Wing carbon fiber handlebar and integrated headset, and Felt's own house brand carbon and titanium saddle and CNC-machined aluminum stem with titanium hardware. Reynolds supplies its exceptional Ouzo Pro Integrated full carbon fiber fork to complete the package.
Felt squarely hit the aesthetic mark for a serious road racing machine with a bare matte clearcoated finish and minimal, yet bold, red and white graphics which complemented the Ksyriums and FSA bar quite nicely. Although purposeful, the lines of the frame are not the most elegant that we've encountered but the F1C is, overall, a handsome bike nonetheless.
Comfortable all-day racer
The race-inspired nature of the F1C is plainly obvious out on the road with its excellent pedaling response that quickly turns hard efforts into speed. This perception was especially reinforced during one particularly long series of stoplight sprints (with a few chase downs of a few local mass transit buses) that yielded virtually no perceptible drivetrain lag.
So far, that sounds like the standard description of the vast majority of carbon frames these days, which is both good and bad. Carbon fiber frames, as a whole, have gotten astoundingly good with remarkable rigidity given their ethereal weight, and most also seem to be surprisingly durable. Where the Felt stands apart from the crowd, though, is with its outstanding vertical compliance. In fact, I actually pulled over on more than one occasion to make sure my tires weren't losing air as broken pavement, choppy dirt roads, and even poorly made driveway and sidewalk transitions were all absorbed with aplomb. This uncanny smoothness also seemed to be proportional to speed, as the F1C was arguably happier the faster it went and gobbled up pavement at an alarming rate as long as the legs were up to the task.
The overall ride quality of the F1C was quite good with a reasonably lively feel that many less carefully tuned carbon chassis lack. However, it didn't quite have that pronounced 'snap' and 'twang' that is so prevalent and highly prized in the liveliest of frames out there. Nevertheless, the F1C's vertical compliance was most welcome in hard and fast corners, as the tires felt more securely attached to the ground than on some other more rigid frames we've ridden. Felt's engineers also seem to have a good handle on carbon fiber layups; in spite of the heaps of vertical compliance, the front triangle displayed excellent torsional rigidity that combined with the predictable nature of Reynolds' Ouzo Pro fork to lend plenty of confidence when plummeting downhill.
Handling characteristics were largely neutral with a middle-of-the-road 73° front end but a decidedly steep 74.5° seat tube angle. This suited my rather stubby legs pretty well but could be a bit of a concern with the longer-femured members of the world. Felt does, however, equip the F1C with a setback post to go along with that steep angle to provide some additional sizing flexibility.
Parts-wise, things went pretty much as expected. Thanks to the clean cable routing, the Dura-Ace drivetrain shifted flawlessly and the brakes provided consistent power and modulation. Mavic's Ksyrium ES wheelset delivered solid performance during our test and remained straight and true, although the freehub body did require servicing once during our long-term test (this issue has since been addressed in newer Mavic freehub bodies.
Besides the freehub body, the only other parts quibbles were all cockpit-related. In spite of countless tilt and brake lever adjustments, the FSA K-Wing bar just never felt quite right beneath my hands. The flattened tops become too sharply angled if you tilt the bar up even a reasonable amount, and the multitude of shaping designed to be more "anatomically correct" in pre-designated positions didn't seem to fit my anatomy. Perhaps I am a bit of a curmudgeon in this sense, but I prefer more of a quasi-anatomic bar that allows for more rider choice as to where to put your hands. As for the saddle…let's just say it wasn't terribly comfortable for me over the long haul (or the short one, for that matter), and the Ritchey WCS seat post's quirky side-by-side two-bolt design seemed a bit redundant and was cumbersome to use.
Changes for '07
Felt has updated the F1C significantly for 2007 with new carbon fiber blends and layups as well as a revised parts spec. Last year's Ksyrium ES wheelset has been replaced by Mavic's more aerodynamic Cosmic Carbone SL Premium hoops; the saddle has been upgraded to a Selle Italia SLR; Ritchey now also supplies a stem with its WCS 4-Axis aluminum model; and Felt now offers its own, and more conventionally shaped, carbon fiber bar. More significantly, Felt has also replaced the Reynolds Ouzo Pro Integrated fork with one of its own design that it claims to be both lighter and more precise-handling.
Instead of the exclusively ultra-high modulus carbon used in the current F1C, the 2007 version now uses what Felt describes as Ultra Hybrid Carbon (UHC) that employs a mix of both ultra-stiff and ultra-strong fibers in an effort to cut weight while improving performance. Without a doubt, the new frame is heaps lighter; the '07 F1C manages to shave well over 100g from last year bringing the total figure down to just 974g for a 54cm frame.
Independent testing of both iterations by Bike Testing, Inc. also confirms that the new version is a whopping 21% stiffer (in torsion) at the front triangle as well as 12% stiffer laterally at the bottom bracket. Moreover, Felt claims that these improvements were made without adversely affecting the frame's vertical compliance and rear triangle testing figures seem to support that.
Final thoughts
If Felt's goal for the F1C was to create a premium road racing machine, it certainly hit the mark with a light, appropriately stiff, and neutral-handling chassis that was still comfortable enough to get you to the end of a long stage without rattling your fillings loose. As much as we liked the '06 F1C, testing suggests that the new '07 F1C will prove to be even more responsive with significantly improved handling precision. Add in the bike's premium parts spec plus the rather reasonable cost and that should be enough to put the F1C near the top of most racers' shopping list.
Suggested retail prices: USA: US$5,699.
Weight: 15.05lbs (6.8kg) (without pedals)
Pros: Light and responsive with supreme vertical compliance, top-shelf parts spec
Cons: Doesn't quite offer the magical ride quality of some others
Cyclingnews Rating:

More information: www.feltracing.com
Photography
For a thumbnail gallery of these images, click here
Images by James Huang/Cyclingnews.com
Full specification: Felt F1C

Frame: Felt F1C modular monocoque ultra-high modulus carbon fiber
Fork: Reynolds Ouzo Pro Integrated
Headset: FSA 1 1/8" integrated
Colors: Clearcoat carbon weave
Sizes: 50/52/54 (tested)/56/58/60cm


Levers: Shimano Dura-Ace Dual Control ST-7800
Brakes: Shimano Dura-Ace BR-7800
Derailleur (Rear): Shimano Dura-Ace RD-7800-SS
Derailleur (Front): Shimano Dura-Ace RD-7800-F

Handlebar: FSA K-Wing, 42cm (c-c)
Stem: Felt ST-21
Pedals: Not included
Seatpost: Ritchey WCS Carbon, 27.2mm
Saddle: Felt Race Lite

Crankset: Shimano Dura-Ace FC-7800, 39/53T
Bottom-bracket: Shimano Dura-Ace SC-FC7800
Chain: Shimano Dura-Ace CN-7800
Cassette: Shimano Dura-Ace CS-7800, 11-23T

Wheels: Mavic Ksyrium ES clincher
Tires: Vittoria Diamante Pro-Light, 700x23c

Weight: 15.05lbs (6.8kg)