Tech feature: SRAM unveils Force and Rival road components, April 6, 2006
SRAM jumps in with both boots
Rivals to feel the Force as road newcomer unveils two new groups?
Component maker SRAM has carved itself a sizable niche of the mountain bike market by offering a viable alternative to dominant player Shimano. Last year the Chicago-based company announced that it would add road parts to its line-up in 2006, and at Sea Otter it has unveiled finished versions of two road groups: Force at pro level and Rival for less lavish budgets. James Huang takes a test ride.
SRAMís new top-end Force road component group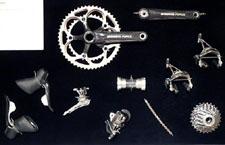 SRAM has officially unveiled details of its highly anticipated road component packages, to be released around mid-year. Two complete groups will be offered: Force is intended to be a pro-level kit to compete with Shimano's Dura-Ace and Campagnolo's Record while Rival will offer consumers a more economical alternative that will be similarly priced to Shimano's Ultegra but - SRAM says - with a 200g weight advantage. Each group will include its own set of shifters, front and rear derailleurs, crankset, brakes, cassette, and chain but will retain full cross-compatibility with each other.
Shifters
Force and Rival share a wealth of new technology, the most important of which is SRAM's DoubleTap method of shifting. Up until now, integrated road brake/shift levers have typically incorporated two separate levers in order to actuate shifts in both directions. DoubleTap, however, enables riders to initiate both upshifts and downshifts with a single dedicated lever as we described in an earlier article.
Ergonomics was a key factor

During prototype testing, Ben Jacques-Maynes

The Force rear derailleur

Force marks SRAMís first

The new road cassette

SRAMís dual-pivot Force brakeset

Our Force test group

The mid-level Rival shifters

As with the shifters, the Rival rear derailleur

Both of SRAMís new road front derailleurs

Rival marks the first use of hollow forging

Rivalís cold-forged dual-pivot brake arms

A single swing of the lever can shift one smaller cog at a time or up to three larger ones. Shifter throws are impressively short, and both shifters utilize fully internally routed cables for a tidy appearance. The Force shifters will feature a carbon fiber main lever with a magnesium secondary for a total weight of just 305g per pair. The Rival shifters will use aluminum for both the brake and shift levers for a slightly heavier weight of 335g.
Derailleurs
As expected, SRAM has carried over some of the features of its MTB rear derailleurs to the road versions. The new derailleurs use what SRAM calls Exact Actuation cable pull ratio. This requires more cable movement than competing systems in order to actuate a shift, but not as much as on SRAM's mountain systems, resulting in a more robust setup that should be more tolerant of cable friction or slight misadjustment. While this bodes well for long-term and all-weather performance, it does, however, mean that SRAM's new rear derailleurs will not be compatible with either Shimano or Campagnolo levers. The top level Force rear changer will include a carbon fiber pulley cage and magnesium inner parallelogram plate that reduces the weight to only 174g. Rival will use a more conventional aluminum pulley cage and inner link but still will only tip the scales at just 190g. Both rear derailleurs will handle up to a 27-teeth rear cog.
SRAM has wisely designed the new Force and Rival front derailleurs to be fully compatible with either standard or compact chainrings, the latter of which is becoming increasingly common. A proprietary cable pull ratio is also used here as well (again, signaling a lack of compatibility with existing components) and both front derailleurs will be available in braze-on style with additional clamps required for band-type mounting. Both Force and Rival front derailleurs use a steel cage and aluminum construction for weights of 88g in braze-on version, and 102-103g for the clamp version.
Cranksets
Both Force and Rival cranksets will wear the SRAM brand name rather than SRAM's chainset brand Truvatuiv, to give a common identity to all the the new road components. The Force crankset features a new one-piece integrated carbon fiber crankarm and spider while Rival will see SRAM's first hollow forged aluminum crankset. Both will use the proven GXP external bearing bottom bracket from Truvativ. No triple chainring versions will be available initially, but both Force and Rival will be offered in a standard ring configuration (53/39T) as well as two compact varieties (50/36T and 50/34T). The Force crankset with bottom bracket will weigh in at 780g while Rival will, as you might expect, come in a little heavier at 820g.
Cassettes and chains
SRAM will debut a wholly new style of cassette for the road groups rather than carry over its previously ubiquitous PowerGlide shift gates and ramps. Rather than simply shave down or shape teeth, the new OpenGlide technology removes complete teeth from smaller cogs in order to speed up shifts, particularly under load. Intuition would suggest that this would result in premature cog wear, but these smaller cogs typically don't experience much torque unlike larger cogs which generally undergo much higher load (that is, unless your nickname includes the word 'Jet' or 'Super'). For now, SRAM will only be introducing one cassette for both groups, OG-1070. This cassette will include an aluminum carrier for the largest three cogs and an aluminum lockring, and will be available in 11-26T, 12-26T, and 11-23T flavors. The 11-23T version will weigh 220g.
SRAM has also updated its chains for Force and Rival, and the new PC-1090R, PC-1090, and PC-1070 chains will all feature SRAM's new PowerLock connecting pin as well as hollow pins in an ultra-narrow 5.9mm width that should be compatible with all currently available 10 speed drivetrains. Chain weights should come in around 265g (for 114 links).
Brakes
SRAM chose to use cold-forged aluminum construction for the Force and Rival brakes for its appealing combination of light weight and durability. Both brakes feature a stiff, triangulated geometry and strong return springs provide a snappy lever feel. Cartridge-style pads with angular adjustability will be used on both groups. The Force version will use titanium for the pivot bolts and hardware for a weight of 279g per pair while the stainless steel bits on Rival will add a marginal amount of mass, bringing the total to 295g for the set.
Out on the road
The weather was looking particularly dicey during our short stay in Carmel, but somehow SRAM managed to open up a perfectly timed window of clear and sunny weather for a three hour long test ride of the new Force group along the Pacific coast.
SRAM directed an enormous amount of energy towards perfecting the shifter's ergonomics during the group's development, and the results of that effort are plainly obvious. True right-hand and left-hand specific asymmetric 'fighter pilot' hood shapes immediately fit noticeably better in my hands than current offerings, and the outward cant of the brake levers fell naturally at my fingertips. In addition, the pivot axis of the shift paddles themselves is tilted by 15į to more closely approximate your fingers' natural movement and the paddle is equally accessible from either the hoods or the drops.
Acclimating to the DoubleTap style of shifting was more of a mental exercise than anything as the new shifters represent a wholly new method of changing gears. Not only am I used to having two shift levers, each of which moves the derailleur in just a single direction, but the DoubleTap shifting produces TWO clicks for just a single downshift (one to disengage the upshift pawl, and another to actually wind the cable spool). Moreover, the use of the single paddle combines the movements of both STI and Ergopower.
Regardless, adaptation to the new style was fairly quick, provided I remained conscious of how the shifters were supposed to work. I certainly did mis-shift a handful of times during the first couple of hours on my Eddy Merckx test bike, but working the new DoubleTap shifters became quite natural by around hour three. Racers, however, will want to put more time on them prior to use in competition to ensure that they can use them properly in the heat of battle.
Like SRAM's off-road shifters, the Force shifters provided a reassuring amount of audible and tactile feedback when changing gears. Shifts were impressively fast, solid and precise. It is difficult to say if SRAM's new OpenGlide cassette cog profiling actually sped up shifts in the affected gears, but the bike did shift well under full load.
The front shifting worked quite well, also, but is a bit quirky. Unlike the other systems out on the market, SRAM's DoubleTap shifter has no trim position for the large chainring. The derailleur cage position can, however, be trimmed when in the small ring, but SRAM engineers say the cage profile does not require there to be two positions for the large ring. Admittedly, there was no rubbing in the 'big-big' combination, but this was arguably the biggest hurdle to cross in terms of adaptation.
As for the other components, it is impossible for me to comment on the stiffness of the crankset as I was riding the Merckx for the first time and had no frame of reference. SRAM claims the new crank is stiffer than their previous top road crank offering, and I'll just have to take their word on it.
Although the rain mostly held off during our ride, there was more than enough water either standing in or flowing across the road to adequately test the wet weather performance of SRAM's new pad compound. As predicted, the pads did seem to compromise just a bit of dry weather grip, but wet weather performance was surprisingly good. Overall power and modulation were both impressive, and the rigid brake caliper arms produced a solid feel at the lever.
Quirks
SRAM's new Force group was not without its minor quibbles. The reach to the levers was short enough to accommodate most small hands out there, but the brake lever itself could possibly stand to be just a hair longer for easier access from the drops. The short reach also didn't leave much room behind the levers for other fingers when braking while resting on the hoods, but it wasn't an unreasonably tight space and I never actually pinched my fingers. More importantly, downshifts that are attempted if you are already in the largest cog out back can inadvertently result in an UPSHIFT depending on setup. Due to how the shifter internals function, a short push of the lever first disengages the cable spool, but since there is not a lower gear to which to shift in that situation, there is no choice but to release the lever and upshift one gear. This is largely another mental hurdle to overcome (and it can apparently be alleviated with careful setup), but it's one thing to consider as you're entering the red zone during a hard climb.
All in all, though, SRAM has done an extraordinary job of developing a wholly new pair of road drivetrains from scratch. While not quite perfect yet, it's amazingly close in both function and finish, plus there are still a handful of refinements that are yet to be integrated into the final production. At the very least, though, the components are polished enough for both the Kodakgallery.com/Sierra Nevada teams and Team Orbea to race on the complete kits this weekend at the Sea Otter Classic, many of whose riders will be using the groups for nearly the first time. We'll reserve final judgment on SRAM's efforts for our full production test kit, but for now, things are looking good.