Tech review - February 10, 2005
Scott CR1 Team Issue
UCI limit here we come
After five months aboard Scott's flagship CR1 Team, John Stevenson finds himself in love with yet another carbon wonderbike - and struggling to resist an attack of weight-weeniedom.
The Scott CR1 Team Issue
Photo ©: Paul Mirtschin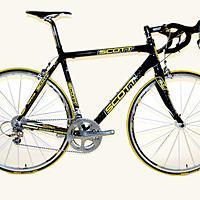 It's easy to get into stereotyped thinking about bike frame materials. Steel, people will tell you, is springy, lively and - if they're into rhyming - 'real'. Aluminium, of course, is very stiff, but a bit 'dead' and carbon is light but somehow unromantic. Thing is, not many people actually get to ride lots of different frames and even fewer get to ride more than one or two spendy carbon fiber framed bikes for long enough to uncover their strengths and quirks.
I'm in the fortunate position of having spent significant saddle time in the last twelve months on four high-end carbon fiber bikes, and I'm here to tell you that the idea that all carbon fiber bikes are the same is just so much unbaked resin and cloth. Take, for example, the bike we're looking at today, Scott's 2005 CR1 Team Issue. This is a bike that has personality by the bucketload; I defy anyone to climb off the CR1 and complain about carbon bikes being dull.
Of course, the term 'personality' can cover a multitude of sins. Charles Manson had lots of personality, but you wouldn't want to invite him and his mates to your next pool party. But if a bike is like a faithful sidekick, then different personalities have their place. Think of the difference between Bruce Wayne's butler Alfred and Shrek's buddy Donkey. Both are indispensable, but they get things done in very different ways - Alfred's quiet skill and dry wit couldn't be more different from Donkey's mania, but would their heroes succeed without them?
Plenty of material round the bottom bracket
Photo ©: Paul Mirtschin

I hopped aboard the CR1 after riding Trek's Madone 5.9 which is part of the reason for the Alfred/Donkey comparison here. The Madone is definitely Alfred: quiet, but supremely capable. The CR1 is more like Donkey: endlessly enthusiastic and looking for a good time. I'm not really making a direct comparison here. If I had unlimited funds I'd like both in my stable because they're different enough that there would be days I'd want to ride one or the other.The point is, there's more than one way for a bike to be good.
The frame
Enough of my philosophizing and pop-culture comparisons and let's look at the nuts and bolts of the CR1 Team Issue.
The first thing you need to know is this is, unarguably and unequivocally, a light bike. On our scales it comes in at 6850g before you add pedals, which means it would be relatively easy to build this frame into a UCI-illegal, sub-6.8kg bike. Lighter wheels and tyres, latex tubes, a carbon bar and maybe some Zero Gravity brakes and you'd be there, figuring out how add weight to keep the commissaries happy.
The front derailleur mount
Photo ©: Paul Mirtschin

Given that the group is almost entirely Shimano Dura-Ace, which is light but not hysterically so, that implies the CR1 frame really does weigh something around Scott's claimed 880g.
Scott's frame construction is unusual, even in an area - carbon fiber - which boasts numerous innovative ways of assembling materials into frames. The CR1 Team Issue starts life as a set of tubes, but rather than joining them with lugs, Scott uses a process it calls "weld-gluing". Scott claims this results in good-looking joints that are lighter than lugged designs, because there's no extra pieces of carbon holding the frame together, and stronger than a monocoque.
The practical upshot is that the CR1 is rigid and reassuringly 'solid' under the rider despite weighing three-fifths of bugger-all.
Up front, the CR1 is guided down the road by Scott's very racy-looking CR1 Team Issue fork. This is a sleek and torsionally stiff unit, but at over 380g it's not the lightest fork in existence. If weight's your bag (and it'd be very hard to own a CR1 Team Issue and not be constantly thinking "how can I shave just a little bit more weight?") you'd slap on something like Look's 300g HSC5 SL fork and be a very happy camper.
The beefy wishbone seatstay
Photo ©: Paul Mirtschin

The whole shebang is finished with black paint around the joints (presumably to cover the glue-weld process) and bare carbon mid-spans. And decals. Lots and lots of decals. There are at least 28 logos, brand names and bits of graphics on the frame, covering Scott itself, Saunier Duval (this is their team frame after all) and Saunier Duval's sponsors including Ritchey, Mavic, Continental and Topeak. Opinion around the Cyclingnews office was divided between those who liked the authentic 'full team issue' appearance and those who wanted it to be all-black with a Scott decal in charcoal grey...
The parts
The CR1 Team Issue rolls down the road on Mavic Ksyrium SLs shod with Continental Grand Prix 3000 23mm tyres with yellow tread to match all those decals. For the most part the Ksyrium SLs worked fine, but there were a couple of moments - in one case attempting to sprint after Cyclingnews chief on-line editor Jeff Jones when he attacked at the end of a 'friendly' after-work ride - that they felt a little less solid than I'd really like. Nevertheless they've stayed true over a couple of thousand kilometers of crappy Sydney roads, so I'm not complaining.
The rear dropouts are lightened
Photo ©: Paul Mirtschin

Three parts of the finishing kit on the CR1 come from Ritchey: the bar, stem, and seatpost. The bar is a Ritchey WCS, very similar to the carbon bar recently reviewed by Steve Beletich on this site, but in Ritchey's own TRX50 aluminium alloy, which Ritchey says is more fatigue resistant than the commonly used 6000 and 7000 series alloys. There's a 150mm drop with an 'anatomic' flat section in the middle of the curve a design I'm still ambivalent about. On the one hand (sorry) it's nice to grip something straight, but on the other an anatomic bar has just one 'correct' hand position rather than a number of places on the curve where you can put your mitts. The CR1's bars and I got on well enough, and especially liked the wide top section but my very personal preference is for simple curves in the drops.
Ritchey's 31.8mm WCS stem is currently vying for the title of my favourite handlebar stem. Our 56cm CR1 came with a 110mm extension which I swapped for a 130mm job. The 110mm stem weighs just 115g, and that's for a stem not made from materials that need kid-gloves handling like some superlight stems: a practical lightweight stem.
Ritchey WCS handlebar
Photo ©: Paul Mirtschin

I'm a bit puzzled by the WCS seatpost, however. It's a two-bolt design but instead of the bolts being fore and aft there's one either side, just inboard of the rails. To adjust the angle you slide curved parts against each other, then tighten both bolts, unlike most two-bolt designs where the bolts work on opposition to provide security and fine-tuning of the seat angle. I found adjusting the saddle angle was fiddly, but it stayed put fine once the bolts were snugged up.
The Ritchey post supported a 135g Selle Italia SLR saddle. I didn't get on with this hard, flat seat at all, and soon swapped it for something comfier, but if it fits you it has the tremendous advantage of hardly weighing anything.
I'm not going to discuss the Shimano Dura-Ace group in any depth. For that see our previous Dura-Ace review. Our CR1 came specced with a 53/39 chainset and 12-25 sprocket cluster. I occasionally found myself wishing for an 11-tooth sprocket for those moments when you just want to go like a loon downhill (I'm not deluded enough to think I can push 53/11 on the flat in any useful manner), but I really appreciated the 25 for steeper climbs and end-of-ride tiredness. Seems to me that if we're going to have ten sprockets, the extra ones are best deployed like this, making life easier when we need it.
The in-cable tension adjusters
Photo ©: Paul Mirtschin

My only gripe with the shifting and braking ensemble came from the gear cable adjusters (which, it has to be said, are not a Shimano part). On the CR1 the gear cable adjusters are built into the gear cables, where they're easy to get at as you ride should the shifting go out of whack. However, every time I used the rear mech adjuster while riding, I'd come back to the bike the next day to find it had slipped back to its bottom setting and the gears needed tuning again. I eventually resorted to making adjustments only at the rear derailleur, where they stuck.
The ride
As you'd expect from a bike that's stiff and dances around the UCI weight limit, the CR1 is a terrific, inspiring climber. Point it uphill, turn on the juice and dagnabbit you goooo! uphill. If you can't climb quickly on this thing, it's surely not the bike's fault.
Selle Italia SLR saddle
Photo ©: Paul Mirtschin

Aiding this ability to climb is the frame's overall rigidity, especially in the area round the bottom bracket. To see frame flex in the CR1 requires the kind of aggressive sideways leaning on the cranks that gets tyre-kickers asked to leave bike shops the world over. If you can feel it while you ride - well, princess, I know a mattress factory that has an opening for a pea detector.
That lateral and torsional rigidity also translates to even, predictable handling at speed, which is a good thing because the fundamental handling characteristics of the CR1 are distinctly lively. Cornering this bike is a matter of thinking about it and it's leaning into the curve before the thought is even completed.
If you like to go downhill fast, you'll love the CR1. I have to confess to being what's scathingly referred to round here as a 'downhill hero', mostly because I'm no 60kg uphill stick insect, so it's my chance to leave usually faster riders behind and the CR1 suited me just fine. It was unfazed by the twistiest descents, transitioning from straight to tight curve at speed with enthusiasm.
Mavic Ksyrium SL wheel
Photo ©: Paul Mirtschin

That responsiveness in turns never quite translates into twitchiness, but at the end of a long ride you might feel the need for something just a bit less enthusiastic. We're back to the Donkey/Alfred comparison I opened up with - for shorter rides, crits, belting round the streets and traffic-jamming the CR1 is your perfect sidekick, but for longer journeys its desire to chuck itself right into every curve can get a bit wearying and you wish perhaps for something with a bit more calm to its manners.
Scott claims a big advantage of the CR1 is its Shock Dampening System, a way of laying the fibers that reduces shock to the rider. I have to say that compared to the other carbon bikes I've ridden this year, I couldn't tell much difference in vertical harshness, a trait that's far more easily tuned by changing tyre pressure and size anyway, in my opinion. However, maybe I'm just spoiled. Another tester who went out on the Scott instead of his usual inexpensive aluminium-framed bike developed a very bad case of 'carbon envy' because he was certain he was less beat up at the end of the ride.
Conclusion
Choosing a bike is always about horses for courses. The CR1 is an excellent bike for hilly rides and twisty roads, and for those days when you want to go out and hammer and come back so drained you feel like you're just done 15 rounds with Evander Holyfield. Its low weight and combination of quick handling and in-the-turn stability makes it perfect for mountain roads and hammering round the streets. As a basis for a weight-weenie project it's also almost unsurpassed - we've seen sub-6kg builds on CR1 frames and Scott had a show bike at Interbike that weighed just over 4kg.
Continental Grand prix 3000 tyres
Photo ©: Paul Mirtschin
Downsides to this lightweight wonder are easily rectified - I'd change the saddle for something friendlier to my bum, and while I had no problems with the Ksyriums, I'm a retro-grouch when it comes to wheels (I like to be able to maintain wheels with conventional spoke keys and spokes you can buy anywhere) so I'd choose more conventional wheels even if that meant sacrificing a few grams. But that's just me.
And of course if I didn't have to give this bike back, there'd be the irristible temptation to take the gram scale shopping for lightweight parts and see just how light a bike I could build on the CR1 Team Issue's already light foundation...
Pro: Very light; stiff; well-tuned combination of quick-handling and stability
Con: Hard saddle; relatively heavy fork
Cyclingnews Rating:

Photography
Images by Paul Mirtschin/Cyclingnews.com
Full specification: Scott CR1 Team Issue

Frame: Scott CR 1 Team Issue Carbon
Fork: Scott Carbone CR1 Team Issue 1 1/8in carbon steerer
Colour: Black/bare
Sizes: XS (49cm), S (52cm), M (54cm), L (56cm), XL (58cm), XXL (61cm)
Seat Angle: 73.5° (varies - this is for size L)
Weight: 6.85kg (without pedals)

Cranks: Shimano Dura-Ace 53/39
Bottom bracket: Shimano Dura-Ace
Front derailleur: Shimano Dura-Ace
Rear derailleur: Shimano Dura-Ace
Brakes and levers: Shimano Dura-Ace
Rear cassette: Shimano Dura-Ace 12-25

RRP: US$5278.99; frame and fork - US$2913.99

Wheels: Mavic Ksyrium SL
Tyres: Continental Grand Prix 3000 700x23


Stem: Ritchey WCS
Bars: Ritchey WCS
Tape: Black
Head set: Integrated

Pedals: Not supplied
Seat post: Ritchey WCS
Saddle: Selle Italia SLR Ti

More information: www.scottusa.com