Tech review - November 5, 2004
On test: Shimano's 2004 Dura-Ace group
Worth the wait
Shimano's long-awaited Dura-Ace group took more than a few years to match its arch rival in the 10-speed stakes. After parting with a wad of hard-earned cash†, Anthony Tan was happy to discover it was worth the wait.
The rear derailleur from Shimano's 2004 Dura-Ace group
Photo ©: Cyclingnews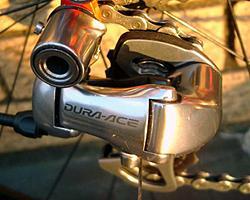 Shimano boasts a long and solid history as an innovator. The introduction of simultaneous brake/gear shifting with their STI (Shimano Total Integration) levers and mass-produced dual pivot brakes were two of their most significant developments in the road bike market in recent years, and if my memory serves me correctly, Shimano pipped the post with the introduction of both eight and nine speed cassettes.
So when rival firm Campagnolo took line honours - by some margin - to release its 10 speed group to the public more than three years ago, many Shimano aficionados wondered: 'Did someone fall asleep at the tech wheel?'
It was a good two years later before the first Dura-Ace 10 speed groups were spy-spotted in the pro peloton in early-to-mid 2003, and it was not until the end of the year before they landed in stores around the world.
In my 13 years of riding a road bike, I've spent roughly 11 of those riding Shimano groups. Beginning with a second-hand, late '80s Shimano 600 group (later known as Ultegra) with downtube levers and a Columbus SL frame which tipped the scales at a little over 11 kilos; to an early '90s Ultegra two years later that I spent the bulk of my early racing career on; to a short spell with a first-generation, Ergopower-equipped Campagnolo Record group, circa 1995, (I was informed, or rather told at the time, that mixing a Colnago Master frame with Shimano components was a travesty of justice); back to Shimano, when, racing in Belgium and Holland in 1997, I saw many more riders on Colnago Masters using Shimano rather than Campy (travesty my arse!); then, would you believe, another brief spell with Campagnolo's Record group c.1999, before reverting to ol' faithful and coming full-circle from the Millennium onwards.
The brake/gear levers
Photo ©: Cyclingnews

The front brake
Photo ©: Cyclingnews

On-the-road cable adjustment
Photo ©: Cyclingnews

Love 'em or hate 'em
Photo ©: Cyclingnews

Plenty of warning signs
Photo ©: Cyclingnews

Teeth on both front chainrings
Photo ©: Cyclingnews

The front derailleur
Photo ©: Cyclingnews

Lateral and vertical adjustment
Photo ©: Cyclingnews

Finally - 10 speed!
Photo ©: Cyclingnews

Besides a new chain, cassette and some new brakepads, that same nine-speed Dura-Ace group has served me well ever since, going on and off various test bikes and frames I've bought myself. With no noticeable functional or aesthetic change to the Shimano D-A group coupled with a far less serious approach to my cycling, I've had no reason to change. That was until I decided I just had to have a custom-built De Rosa Molteni replica complete with a new Shimano Dura-Ace 10-speed group.
Apart from a extra gear, the most significant difference ironically can't be seen. The one-piece crankarm and bottom bracket borrows its design from Shimano's XTR mountain bike group, and results in a weight saving of 30 grams - a large chunk of the 125 gram difference over its predecessor.
The outboard bearing design, allowing both the axle and bearings to be larger and spaced wider apart, is said to provide a stiffer and lighter axle, with the left crank held in place by a bolt and a clamp. Aesthetically speaking, the cranks are the also most controversial modification. The beefed-up cross-section also allows for a thinner wall but increased rigidity - the latter point proven in a number of torsional rigidity tests, often topping the class among the major brands tested.
One of the biggest positives with the latest group from the East has been its shift/brake levers that I've always found to be far more comfortable than anything Campagnolo has thrown at me, although that said, the Vicenza firm's current design is a marked improvement on its pointy hoods of old.
Intelligently, Shimano has kept its incarnation mostly unchanged, with one subtle but significant design improvement: the new, narrower shape allows the hoods to sit higher up on the bars and accomodates a greater number of hand sizes. Especially important for those riders who spend loads of time on the 'tops' rather than in the 'drops' and with a growing number of handlebar shapes and sizes, particularly thoughtful. The shifters have also received a noticeable cosmetic upgrade, and are now more curvaceous and shinier than before.
Curvy and shiny are adjectives that can also be applied to the rest of group. Brake calipers and derailleurs are doused in brushed lightweight steel, the former style of dual-pivot design but now a more compact construction, which Shimano claims to result in an increase in leverage and power by as much as 25 percent up front.
The 10-speed cassette (I've gone for the 12-25 combo, one of six variants) fitted easily onto my existing nine-speed freewheel with the addition of the spacer provided, and with the chain linked up, I was ready to emulate 'The Cannibal' in his heyday! (OK, suffer at the back of the bunch, sucking wheels.)
First impressions were mostly positive. Working your way down the gears along the rear cassette one-by-one, those familiar, smooth, precise gear shifts I've long been accustomed to are still there. And as you flick your right lever inwards to move into a lower gear (larger sprocket), the Hyperglide chain glides back up one, two, three or four gears at a time, with a swift but neat skip. However, like Campagnolo's Ergopower levers, where you can move from, say, the 25 cog down into the 12 cog in one fell swoop, it'd be nice one day to be able to do this with Shimano, rather than multiple gear shifts.
The small-to-big chainring upshift - an area where I believe Shimano has a mechanical advantage over Campagnolo due to greater leverage - is effortless, and especially good under load. Although through my own fault entirely, I didn't have the front derailleur perfectly dialled in at first, which saw the chain throw itself off the large chainwheel (and almost give me a mini-heart attack - heaven forbid scratching those beautifully polished cranks on my first couple of rides!). However once adjusted, no amount of force could dislodge the chain, even on moderate uphills (5-7 percent gradient).
Down-shifting into the small ring is another matter, though. You really need to hit the inside lever hard with your left index finger - so hard, in fact, that I thought lever was jammed at first, thinking I was going to break something. That really surprised me.
Two months down the track, it's still like this, so I asked my tech colleague John Stevenson (who's currently testing a Trek Madone with the same component spec but with a few more miles on the clock) whether his steed did the same. "Yeah, it is," replied John simply, but since John's a mountain biker at heart, maybe he's used to shifting with a bit more force. Or maybe I'm a wimp.
Also, the chain has fallen off twice so far, but two times in two months ain't too bad.
The redesign of the hoods, allowing you to sit higher on the bars without compromising reach to the brake/gear lever, is a superb idea and works a treat. Especially so per moi, since I've gone back to the older-style, classic-shaped handlebars (my previous bars being the ITM Millenium ergo-shape) that has both a smaller reach (-8mm) and drop (-20mm). I never had a problem with the width of the previous Dura-Ace hoods, although their slightly narrower girth should benefit women who tend to have smaller hands. (Apart from that lady with big hands who Jerry Seinfeld had problems dating.)
Another thing I can't complain about are the brakes. As well as having being redesigned to be a little curvier and a little lighter, the brake pads have also been changed, and are quite simply brilliant. They took only one decent ride to wear in and grab as they should. After that, they work a charm, providing progressive yet aggressive stopping power. (I'll get back to you in 6-9 months' time regarding the pads' durability.)
As I wrote above, one of my only gripes is the amount of effort required to change down into the small chainring; it's annoying, but not to the point of frustration. However, as many of us know, at the end of a five or six hour bike ride, it's often the small things which bother you.
Also, whether it's due to the extra gear or narrower chain or a combination of both, 2004 Dura-Ace does seem slightly more susceptible to requiring minor tweaks to have both derailleurs functioning spot-on and gears working perfectly. And I'm still getting used to (or trying to, anyway) those beefy-style cranks; it looks cool on some fatter tubed aluminium and carbon bikes, but on my bellissima steel bici, I'm not so sure.
Price varies considerably from country to country, but for its nine basic items*, Dura-Ace generally sits just below Campagnolo's Record but well above Chorus and Shimano's Ultegra groups. I remember the last D-A group I bought included a seatpost, headset and hubs, so it does feel I'm getting less for more, but with the greater variation in seat tube and head tube diameters, coupled with the explosion of pre-built wheels in the last two to three years, it's probably a wise move to sell the group without these bits and pieces. That said, I'd still like to see a seatpost included in the price, since over 90 percent of road bikes are still made with a 27.2mm post in mind.
While this is somewhere between a 'first impressions' and a full review, I'm quite comfortable rating this group now. After all, I know what Dura-Ace is like: it works from the word 'go' and works very well, it lasts and it's attractive, although lacking the sex-factor of Campagnolo, which, let's face it, the Italians have always been hard to beat at.
Note: I'll get back to you in 6-9 months' time regarding durability of the items tested, and adjust the current rating accordingly, if needed. As you'd expect, with less than 5,000 kilometres on the clock, everything's still looking dandy and is working perfectly, with no signs of fatigue or breakage anytime soon.
† The Dura-Ace group was purchased by the writer.
* In the USA, Australia and Europe, the 2004 Dura-Ace group is generally sold with nine basic items: brake/gear levers (x2), bottom bracket/crankset (x1), derailleurs (x2), brake calipers (x2), cassette (x1) and chain (x1); headset, pedals and seat post are not included.
Photography
Images by Anthony Tan/Cyclingnews
Recommended retail price: Depends on country and varies by dealer
Pro: Precise, smooth shifting; lurv those new hoods; powerful, progressive braking; works and keeps working
Con: Big-to-small chainring downshift a little too difficult; gears appear to require more frequent tweaking; love/hate relationship with the cranks; go on Shimano, throw in a seatpost
More information: Shimano Dura-Ace website
Cyclingnews Rating: