Recently on Cyclingnews.com
On test: Cyfac Nerv custom frame, September 13, 2005
"Sur Mesure?" Sure!
Part 2 of 2: On the bike, on the road, all systems go!
For many riders, a custom road frame, tailored to fit like a fine suit, is the heart of their dream bike. Chris Henry's dream began to turn real last year when he visited French framebuilder Cyfac for a fitting, and the resulting frame arrived in early 2005. So how does reality measure up to the dream?
Cyfac Nerv Custom
Photo ©: Chris Henry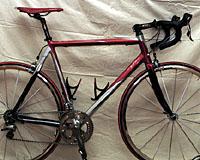 In signing myself up to get fit for and test a custom Cyfac, in this case the Nerv aluminum/carbon frame, I signed myself up for a two-part evaluation. This would be my first experience with a custom-built frameset, measured to fit my body and theoretically suit my preferred riding style (racing/fast recreational), meaning the bike fit would be almost equally important as how well the bike actually rides. I say almost because the fact is however a frame might be designed, a lot can change when you move a saddle here, add a longer stem there, and so forth.
When I paid a visit to French manufacturer Cyfac's factory last fall, I was measured head to toe and asked some essential questions about how I normally ride, how much, and what sort of frame I would like. The numbers were plugged into Cyfac's "Etude Posturale" sizing system, developed by the company to deliver its high-end frames with a new personal touch to consumers willing to pay a slight premium. I walked away with my dossier explaining the geometry of the frame and prescribed sizing such as saddle height and setback, stem length, handlebar width, etc. Since the components were to be delivered with the bike, the only measurement I would really put into play myself would be the saddle position. I followed the numbers and happily set about riding a glorious red and silver frame (naturally, I chose the paint scheme) and marveling at just how nice a bike could be.
Custom sizing
Shimano Dura-Ace cranks
Photo ©: Chris Henry

Cyfac's seatstays
Photo ©: Chris Henry

Easton EC-90 handlebar
Photo ©: Chris Henry

The head tube
Photo ©: Chris Henry

Carbon seatstays
Photo ©: Chris Henry

Cyfac carbon post
Photo ©: Chris Henry

Tidy hidden headset and Easton stem
Photo ©: Chris Henry

An early stage
Photo ©: Chris Henry

Now that I've had the bike for several months and have been riding more frequently, it's time to weigh in on the virtues of the custom sizing. Admittedly, this is not entirely scientific as I don't have a stock Cyfac with which I can compare notes on the subtleties of head and seat tube angles. But ultimately the question is simple: how well does the bike setup fit me and how comfortable am I when I ride?
The answer? It fits me well and I am very comfortable.
It's easy to jump to conclusions when looking at a bike, particularly when it's not your usual frame. I first thought the Cyfac looked a tad large and noticed right away that there was a bit less clearance than I was used to between me and the top tube when standing over the bike. But hey, I'm not getting set up in a department store here. On the bike, while riding, I feel very much at home on my Nerv. I also thought at first glance that the stem and handlebars might be a bit high, but in fact I feel low enough but don't need to force myself into an unnatural tuck just to reach the bottom of the drops. One thing I will note is that I have no regrets about insisting on 42cm handlebars rather than the prescribed 40cm. That was the one veto I made during the sizing process. All other measurements are courtesy of Cyfac.
With the front end feeling well tuned, I turned my attention to the saddle position. This has been the more noticeable change from my traditional riding position. Cyfac came up with a more compact position with the saddle pushed forward a bit, but also a lower saddle height. I fairly quickly adapted to and began to appreciate being farther forward, but I never quite got used to a saddle that was almost a centimetre lower than my usual setup. I rode for the first few months strictly by the Cyfac numbers, but after raising the saddle somewhat recently, I am certain that higher is better for me own riding.
I'd say we struck a compromise there: farther forward but still up high. I still find that I scoot back a bit on the saddle when climbing seated, compensating a bit for the setback I've been used to over the years, but this doesn't cause problems while riding. Thankfully the change in fore/aft position was notable yet not overly dramatic. On the flats and rolling hills, I definitely feel faster and more supple with the saddle nudged forward. The bike feels fast and I want to make it go fast. How fast or slow I actually go is a question of my own fitness, obviously, but I'm not blaming anything on the bike when it doesn't go my way.
Nerv performance
Going into this test, I didn't exactly have doubts about the Nerv's performance on the road. Having tested an XL8R several years ago, I knew Cyfac made a nice ride. I am much more fond of the Nerv, and I presume that comes not only from Cyfac's own improvements in framebuilding, but also the fact that this bike was designed to fit me down to the millimetre.
Cyfac makes the Nerv in both an all carbon model and a carbon/aluminum combo. Having ridden several all carbon bikes recently, I wanted to see how the aluminum model felt. With a carbon fork and carbon rear stays, I hoped for a nice combination of aluminum stiffness and enough shock absorption and forgiveness from the carbon. I wasn't disappointed. The main triangle is made of triple-butted, 7000 series aluminum/zinc/ magnesium, while the rear seat and chain stays and fork are T800 high modulus carbon. The rear stays feature S bends and Cyfac's own 'Double Stay' design whereby two independent stays join the lug at the top of the seat tube. The integrated 1-1/8" headset is supplied by FSA.
The bike never feels sluggish or flexible, but I'm not being pounded by every bump in the road either. This was a pleasant surprise. My last test bike was an all carbon frame built for performance but also with long-distance comfort in mind. I wondered how anything would feel after that smooth ride. The Nerv does well to meet the challenge for blending performance with comfort. At the end of four hours on the bike in the early season, my legs complained freely but my neck, shoulders, wrists, etc. felt no worse for the wear.
Not being too heavy a guy, I opted for the slightly more forgiving of two tube diameters available for the Nerv. Heavier or particularly strong riders can choose an even stiffer, larger diameter tubing. The down tube flares laterally at the bottom bracket and morphs into a vertical flare at the head tube to give stiffness and some flexibility where appropriate.
The 73 degree head tube angle feels just right, mixing enough responsiveness with steady steering and a no-jitters ride. I have complete confidence in the bike while riding no-handed and feel as though the Nerv will turn on a dime when I need it to. I've never been a tremendously flexible person, and the shallow drop handlebars are perfect for getting aero when I want to cruise but not coming up for air with a sore back or crooked neck. The bike is not the lightest racer out there (frame and fork advertised at 1,300 grams), but as with some other manufacturers, I don't think that was ever Cyfac's sole intention. Racing bikes have become so light in recent years that there is nothing about the Nerv's weight that would prompt me to complain. It's not weighing me down on climbs, and likewise it doesn't feel too skittish or feathery on rough roads or descents. Climbing, sprinting, descending or cruising, I can say quite simply that this is the bike for me.
Component choices
There's not much point in cutting corners on components when you're making the investment in a custom frame. My Nerv is equipped with a tried and true Shimano Dura Ace 10 speed groupset, Mavic Ksyrium SSC SL wheels, Easton EA-70 stem and EC-90Equipe Pro handlebars, and a trusty Fi'zi:k Arione saddle. The bike was delivered with a carbon Easton seat post, which I have to say did not live up to the rest of the components. Not only did the post slip a few millimetres on almost every ride, but the saddle would also slide back because there was not enough friction between the metal rails and the carbon clamp mechanism of the post. Thankfully Cyfac's US importer Velo Europa sent along a matching Cyfac carbon post and I'm pleased to report no slippage, no hassles. Look's A5.1 pedals and Vittoria Open Corsa EVO-CX clinchers round out the mix. Overall this is one smooth rolling machine.
One relatively minor but disappointing moment came when tightening the rear brake. Evidently it didn't take too much force to cause a small crack in the paint on the carbon stay. It was nothing catastrophic, but Cyfac does a nice job making the bike look so beautiful, to have paint crack in the early months of ownership was a shame. By the same token, the crack hasn't gotten any worse since and I imagine that much has to do with the adhesive nature (or lack thereof) of paint on carbon. Otherwise, the bike is looking great and catching plenty of admiring glances on the road. Having my name painted on the frame helps when meeting new people too. I let the Cyfac do the talking.
I would love to give this bike a five jersey rating. That's a tall order, and although I'm in love with the bike, I'm sticking with 4.5 because of the modest change made in seat position from the prescribed sizing, as well as the cracked paint during routine brake tightening. Relatively minor complaints alongside otherwise glowing praise for a finely crafted bike that rides as well as it catches attention on the road. Allez Cyfac!
Pro: Impeccable construction, highly responsive and comfortable ride, it's got my name on it!
Con: Prescribed seat position slightly too low for my taste, cracked paint from brake adjustment
Cyclingnews rating:


Full specification: Cyfac Nerv

Frame: Nerv aluminum/carbon
Fork: High modulus T800 carbon
Color: Red/silver ("Griffe" paint scheme)
Sizes: 50, 52, 54, 56, 58cm (custom sizing available)

Cranks: Shimano Dura-Ace, 52x39
Bottom bracket: Shimano Dura-Ace
Front derailleur: Shimano Dura-Ace
Rear derailleur: Shimano Dura-Ace
Brakes and levers: Shimano Dura-Ace
Rear cassette: Shimano Dura-Ace 10 speed, 12-23


Wheels: Mavic Ksyrium SSC SL
Tires: Vittoria Open Corsa EVO-CX

Stem: Easton EA-70, 120mm
Handlebars: Easton EC-90 Equipe Pro, 42cm
Head set: FSA 1 1/8" integrated
Seat post: Cyfac carbon 27.2mm
Saddle: Fi'zi:k Arione
Pedals: Look A5.1


Suggested retail price: $2250 for standard frame/fork & headset; custom frames add $300-$500 depending on the complexity of the design. Custom frame includes carbon seatpost & bottle cages
More information: www.veloeuropa.com (US importer); www.cyfac.fr