On test: Cyfac Nerv custom frame, May 2, 2005
"Sur Mesure?" Sure!
Part 1 of 2: Getting fit for a custom frame from Cyfac
For many riders, a custom road frame, tailored to fit like a fine suit, is the heart of their dream bike. Chris Henry's dream began to turn real last year when he visited French framebuilder Cyfac for a fitting, and the resulting frame recently arrived. So how does reality measure up to the dream?
The Cyfac Nerv
Photo ©: Chris Henry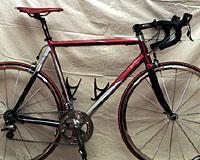 Cyfac, a small road frame manufacturer in France, is a company rich with success but without the name recognition that comes through big sponsorship deals in professional cycling. Even if you're not familiar with the brand, though, you're sure to be familiar with some of the great names who have ridden its frames to victory. In fact, Cyfac has carried riders to victory in grand tours, classics, and the world road championships. Perhaps the one thing lacking is the biggest prize in the sport, a Tour de France title. The catch is that many of the teams who have ridden Cyfac over the years have ridden the frames painted with another manufacturer's name, such as the Raleighs of Laurent Fignon's Super U team in the late 1980s and Cofidis' MBK bikes in the late 1990s.
The company, headed by renowned frame builder Francis Quillon, has entered a new phase in recent years. Cyfac is devoting more of its energy to producing high quality, custom-designed frames for riders who want not only a fine frame, but one built to suit their bodies. All of Cyfac's frames are handmade in its modest La Fuye Ôworkshop', located in the sleepy countryside west of Tours in the Loire Valley.
Every frame, by hand.
Photo ©: Chris Henry

Every step
Photo ©: Chris Henry

The genesis of a Cyfac Nerv.
Photo ©: Chris Henry

Finished Nerv frames
Photo ©: Chris Henry

Daniel Mahier
Photo ©: Chris Henry

Recipe
Photo ©: Chris Henry

Personal!
Photo ©: Chris Henry

Attention to detail
Photo ©: Chris Henry

Having enjoyed my test period with a Cyfac XL8R in early 2002, I wasn't about to turn down an invitation in September 2004 to visit La Fuye and go through Cyfac's "Etude Posturale" sizing system for a custom Nerv aluminum/carbon frame. A short TGV ride from Paris took me to Tours, where Cyfac's Product Manager, Aymeric Le Brun, met me for the drive west to La Fuye. At the company's headquarters I met Monsieur Quillon and Daniel Mahier, who would take care of my measurements and create the template for my new frame.
Sizing me up
The first step of the custom fitting process was a discussion of my traits as a rider. I explained that my preference was competitive riding (even if I spend considerably more time thinking about racing than actually doing it), plugged in my annual riding distance, and offered my opinion on whether I wanted stiffer or a more forgiving frame.
My first surprise came when I realized that I would not be hopping on a turbotrainer, playing with adjustable stems and seat posts, and guiding my own frame fit. No. Cyfac has a system, one which represents a company investment of time and education. The Cyfac Postural System is largely the work of Matthieu Papin, whose doctoral research at the Faculté des Sciences du Sport de Marseille focused on this very issue of ergonomics and biomechanics.
Cyfac's system involves a special booth with magnetized markers placed at shoulder width, arm's length, and so forth with the appropriate distances measured between. Inseam is measured via a spring-loaded bar (careful with that) designed to mimic the slight pressure one feels when actually sitting in the saddle. No detail is ignored in finding the precise dimensions of a client's frame that will guide the production of his new Cyfac frame.
I walked away from my visit with a dossier containing all of the pertinent information pertaining to my fitting and to the bike that would soon go into production. At first glance the numbers seemed to add up nicely. The head and seat angles (73 and 72.7 degrees, respectively) were, on paper, to my liking. The fact that the frame would not be a compact or sloping layout was also to my liking. There is in fact a trace of slope to the top tube, but given the way the geometry for my bike came out, this is a non-issue.
The one measurement that immediately caught my eye was the prescribed handlebar width of 40cm. I'm of average height (5'10") and have what I suppose are somewhat narrow shoulders (measured at 38cm by Cyfac), but this was one part of the fitting process that prompted me to speak up and request an override. For years I had ridden 40cm handlebars, but a change in the past year to 42cm bars has made a world of difference to me, mainly in terms of comfort but also to some degree with my bike handling. Thus there was no question in my mind that I wanted 42cm bars with this bike, even if the Cyfac system recommended 40cm bars based on my shoulder width. For all other measurements, I would trust the judgment of Matthieu Papin and his sizing system.
I had faith in the system because of the level of detail involved in the sizing, and also the knowledge that Cyfac understands how component choices can have a remarkable impact on positioning. Cyfac takes measurements for all major brands of saddle, pedal, handlebar, etc. for use in its sizing system. They understand that saddle height and setback cannot simply be measured from the nose or tail of the saddle, and the point at which the height should be measured varies from model to model. My Fi'zi:k Arione, for example, is a longer saddle than most brands, so it's important to know that a prescribed measurement from the rear of the saddle to the center of the handlebars is taking this into account, down to the millimetre.
I also had faith in the process because I got to see the manufacturing process first-hand. It's nice to meet the people who will actually build your bike. One such man is Christophe Brochard, brother of former world champion Laurent. Christophe works as a frame builder in La Fuye, taking aluminum tubes and turning them into complete frames, based on the specific measurements of each Cyfac customer.
I fear change
Still, as excited as I was to begin the process of building a custom bike, I began to come to terms with the fact that somebody else was going to tell me how I should be perched on my machine. Bike positioning is one of those things - Is it an art or is it a science? Most would argue that it's science, but personal preferences (and comfort) don't always go by the numbers. My position has been steadily honed over the years through a process of mimicking certain riding styles, but steadily adapting the positioning style to my own comfort level.
For me, this has traditionally meant a fairly stretched out position, and I certainly prefer my saddle set back rather than forward. As for saddle height, I've followed the traditional thinking of maximum extension, minus just enough height to allow for a slight bend of the knee at the bottom of the pedal stroke. I have no doubt that different philosophies might place me differently on the bike, but I also know that my position has not been set without plenty of thought, trial and error.
The burning question in my mind was how different the Cyfac would feel. Would it be a radical change, a subtle difference, or somewhere in between? Only time and kilometres will tell.
Getting on my Nerv
Unfortunately, the bike arrived in the depths of New York winter, but initial impressions are positive after laps in the park, one race, and more trips out of the city now that spring is finally here. The bike feels smooth, solid, agile, and also more comfortable that I had anticipated when it comes to rolling over the rough stuff. I'll have to go looking for a good stretch of pavé at some point, but so far it has kept my confidence level high that this is the bike- my bike- that I've been waiting for.
Time to ride
Look for a full review of the bike once Cyclingnews has logged sufficient time in the saddle for the true verdict on both Cyfac's sizing system and the Nerv itself.
Suggested retail price: $2250 for standard frame/fork & headset; custom frames add $300-$500 depending on the complexity of the design. Custom frame includes carbon seatpost & bottle cages
More information: www.veloeuropa.com (US importer); www.cyfac.fr