Tech News – August 27, 2005
Edited by John Stevenson
Got tech? Send press releases, news, and tech questions to the Cyclingnews tech desk.
Oops! Murphy's Law costs Ullrich German victory
Jan Ullrich (T-Mobile) at the Tour de France, with Xentis front wheel correctly orientated - the white marks cut the air first.
Photo ©: Sirotti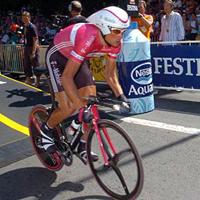 Jan Ullrich (T-Mobile) in the final time trial of the Tour of Germany, with the wheel reversed. Worth 30 seconds?
Photo ©: Mani Wollner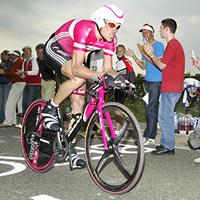 Did a combination of Murphy's Law and a mechanic's blunder cost Jan Ullrich overall victory in the Tour of Germany last week?
Take a close look at the front wheel in these two pics. It's a four-spoke Xentis carbon fiber aero wheel, claimed to be one of the most aerodynamic wheels available. Jan Ullrich's T-Mobile team is sponsored by Shimano, but Ullrich himself is widely believed to have a clause in his contract that allows him to use any equipment he likes - provided it's better for the particular purpose than the sponsor's. So you better believe that if he decides to use a Xentis wheel up front, he's certain there's an advantage to using it.
Xentis wheels are designed to rotate in a particular direction. The spokes are an airfoil shape, which means they will have less drag if they're rotating in one direction than if they're going in the other.To help mechanics install them properly, the wheels have painted markings on the leading edges of the spokes.
Back to the pics. The top one is Jan Ullrich in the final time trial of this year's Tour de France. The bottom is from the Tour of Germany. Notice that the front wheel is orientated differently in the two pics. In the Tour, the wheel was correctly fitted, with the painted markings cutting the air first.
At the Tour of Germany, the wheel was the wrong way round.
While Ullrich won the stage 8 time trial, he finished second overall to Levi Leipheimer in the Tour of Germany. The final margin was just 31 seconds. If the wheel had been the right way round, might Ullrich have won stage 8 by a greater margin, perhaps enough to win the race overall?
Gerald Possarnig of Xentis certainly thinks so. In an email obtained by Cyclingnews, he said, "It can be assumed that this error cost victory in the Tour of Germany. The 30 second deficit Ullrich showed in the general classification indicates about a 20 Watt difference in power over the race distance of 31km. We don't have measurements to confirm this, but we can estimate that this mistake caused a 20 Watt loss."
While it would be easy to blame Ullrich's mechanic for fitting the wheel the wrong way round, let's not forget one of the classic formulations of Murphy's Law: "If a component can be fitted in two ways, and one of them is wrong, it will invariably be installed incorrectly."
[ Since the Cyclingnews tech desk doesn't claim to be completely fluent in German, here's Herr Possarnig's original comment: "Es steht zu vermuten, dass dieser Irrtum den Sieg bei der Deutschland-Tour gekostet hat. Die 30 sec Rückstand, die Jan Ullrich in der Gesamtwertung aufwies, bedeuten etwa 20 Watt an Mehrleistung über die Zeitfahrdistanz von 31 km. Wir haben zwar keine Messwerte zur Verfügung, aber es lässt sich abschätzen, dass dieser Fauxpas eben diese 20 Watt Verluste gefordert hat."]

Carbon MTB wheels from Bontrager
Bontrager carbon MTB wheel

Wheel guru Keith Bontrager is known to be a huge fan of carbon fiber as a rim material for road bikes, so these pics of proto mountain bike wheels with carbon rims aren't entirely surprising. But for anyone looking to lose some weight off a racing mountain bike, they're still pretty exciting!
The rim

Details are currently sparse, but according to Gary Fisher team mechanic Ben Coates, they're significantly lighter than Bontrager's current aluminium-rimmed wheels (and Bontrager's Race X Lite MTB wheels are already some of the lightest available); and they're stiffer. The spokes used in these wheels are thicker than usual for Bontrager's lightest wheels, Coates said, and the wheels still end up lighter. Bring on the version with 14/17 spokes!
Side view shows the rim shape

Close examination of the pics points up a few other details. These will be disc-only rims, which makes perfect sense for carbon rims on mountain bikes, given the marginal braking of carbon wheels on road bikes - with no braking surface nobody will be tempted to build these rims into wheels for a rim-braked bike. The hubs appear to be DT Swiss units (probably 240s) with Center Lock spline, like the current Race X Lite. These wheels are using DT's adapater that mounts a six-hole rotor on a Center Lock hub, however.
There's no word as to whether these wheels will work with UST tubeless tyres or Bontrager's 'Tubeless ready' sealant system, but given Keith Bontrager's liking for tubeless tyres, we'd be surprised if they're not.
More info: www.bontrager.com

On your back! Park Tool puts a workshop in a pack
Park Tool RK-41

In the first of what promises to be a deluge of new equipment from the big blue tool company, Park Tool has announced the RK-41 backpack tool kit, a complete set of tools contained in a special backpack that folds out into a full-scale tool board.
Inside the Park Tool RK-41

"We designed it for professional team mechanics, but it also works for that one guy in the group who brings his tools to the ride and ends up wrenching on everybody's bike in the parking lot," said Park Tool sales & marketing guy, Bill Armas who sounds like he was watched Cyclingnews unload a half car-full of tools and workstand at mountain bike races lately.
The pack has an internal framework to contain the tool kit, and the tool holdrs fold out to provide a tool board that can be parked (sorry) on a table or car tailgate so they're easily to hand. The tool pallets can even be removed to mount ona home tool board.
As the RK-41, the pack comes with 41 tools; it's also available as a backpack only so you can fill it with your own tools.
More info: www.parktool.com

Zipp cranks - at last!
Zipp 300 cranks

Zipp announced its 300 model cranks at last year's Interbike show and got lots of folks very excited at the prospect of a US-made, all-carbon crank that weighed under 400g with rings. Almost a year later, Zipp has announced that the 300 cranks are finally shipping, and back-ordered Zipp fans should have received their cranks in the last three or four weeks.
The 300 crank certainly looks like it should be worth the weight, er, wait. Zipp has upped the claimed weight a little - to 440g - but that will still make the 300 the lightest production crankset we're aware of. Zipp achieves this staggeringly low weight by dispensing with the aluminium spine that supports most carbon cranks, and by making the pedal and bottom bracket mounts in two separate components from a new 2000 series aluminium alloy from Alcoa.
The Zipp 300 crank mounts on an ISIS spline bottom bracket and Zipp's own bottom bracket is an optional extra. It's available in 170mm, 172.5mm and 175mm lengths, is compatible with Shimano and Campagnolo nine- and ten-speed transmissions and, of course, comes in any colour you like as long as it's black.
More info: www.zipp.com

Slingshot introduces U.C.I. legal cyclo-cross frame
Slingshot DD-X

Bike maker Slingshot is known for its radical suspension frame that uses a steel cable instead of a down tube, with a hinge at the top tube/seat tube junction to provide cushion over rough ground. The design has been used over the years for road, mountain and cyclo-cross bikes, but in the latter discipline, Slingshot has always had a problem - its bike contravenes UCI design rules.
To get round the problem Slingshot made conventional frames for its sponsored cyclo-cross riders so they could race in UCI-sanctioned events. Now that frame is available to everyone else as the DD-X, which Slingshot president, Scott Templar says is designed to be the ultimate race machine, within U.C.I. regulations.
Slingshot's suspension frames had some other problems for cyclo-cross, Tempar admits. "They are crazy fast and comfortable for cross, but the compact frame and cable design made shouldering the bike a challenge," he said. The DD-X has a horizontal top tube with more room in the front triangle to stick an arm through, and the top tube has been ovalized for quick hand placement during high speed barrier dismounts, while the down tube is round which allows the rider to quickly grab and shoulder in one quick motion.
The Slingshot DD-X is priced at $1,250 for the frame and will be available in limited quantities for 2005.
More info: www.slingshotbikes.com

Serotta to raffle first custom carbon for Phinney Foundation
If you can't afford to buy a custom carbon frame, you could win one. Serotta Competition Bicycles will raffle the first of its new Meivici carbon frames to raise funds for the Davis Phinney Foundation.
The new frame will be unveiled at the Interbike show, September 26-29 in Las Vegas, Nevada and the raffle will be drawn September 28. Tickets are $100, and no more than 1000 will be sold.
The new frame's name is a composite word with Latin roots meaning 'my victory' and Serotta is clearly excited about its new baby. Eponymous company founder Ben Serotta says, "The Meivici is not the first all carbon custom frame to hit the market, but it's by far the most rider tunable, the most customizable in every way, making it hands down the best all carbon bicycle ever built."
Serotta has had to move its offices out of the factory and into a nearby farmhouse to accommodate new machinery for the Meivici, which will enter full production in 2006. First though, Serotta will build a limited introductory production run of 21 bikes between October and December.
For your chance to win the first Meivici, see the Davis Phinney Foundation website.
More info: www.serotta.com

2nd annual handmade bike show
An impressive list of specialist framebuilders has signed up to exhibit at the second annual North American Handmade Bicycle Show March 3 - 5, 2006 in San Jose, California, and show organiuser Don Walker has recently announced a cocktail reception for Friday evening. This is a chance for show goers to mingle with exhibitors in a social atmosphere and possibly discuss business.
The 2006 show will be almost four times as large as the first show. "This event is taking off so quickly," said Walker, "I expect all 100 booths to be sold out before Interbike which is still almost 6 months before our show dates."
The list of confirmed exhibitors to date is: Rich Adams, Ahrens Bicycles/Mike Ahrens, Joseph Ahearne, Brian Baylis, Badger Cycles, Calfee Design/Craig Calfee, Matt Chester, Co-Motion, Columbine Cycles/John Murphy, Columbus Tubing, Nick Crumpton, Roland Della Santa, DeKerf Cycle Innovation, Mike DeSalvo, Jenny Frayer, Henry James, Independent Fabrication, Jonny Cycles/Jon Kendziera, Kaisei Tubing, National Insurance Professionals Corp, Patrick Cycles/Greg Gardner, Bill Rider, Rivendell, Richard Sachs, Rock Lobster/Paul Sadoff, Charles Schlessinger, Soulcraft, Spectrum Cycles/Tom Kellogg, Strawberry/Andy Newlands, Bob Summersett, Jamie Swan, Sycip Design, Thursday Bicycles, True Temper/Alpha Q, Don Walker, Vanilla Cycles/Sacha White, Vulture Cycles, Mike Zancanato, Zipp Speed Weaponry.
More info (mostly about the first show): www.handmadebicycleshow.com

Leggerra & Teschner join forces
Two of Australia's top high-end bike companies, Teschner Bikes and Leggera International, are to merge. The two firms have complementary skills with Teschner being known for exceptional aluminium frames, and Leggera specializing in carbon fiber. Leggera is relatively new on the cycling scene, but Teschner this year celebrates 15 years of continuous and highly successful production.
The new company, Teschner-Leggera International will operate from Leggera's new headquarters and factory located on the Gold Coast, Queensland, Australia.
While Teschner's bike have always been highly regarded, he has struggled - as many small framebuilders do - to increase production. Leggera, on the other hand, is a specialist in working with Asian manufacturers to produce well-designed bikes in decent numbers.
"Over time we've built a solid world-wide reputation for our bikes" said Teschner Bikes CEO Peter Teschner "as witnessed by the number of national, international, world and Commonwealth and Olympics titles our bikes have helped riders to achieve. Supplying in volume has always been an issue for us. Leggera has the ability to produce in quantity the highest quality product. We also share the dream of bringing the best Australian designed bikes to the world market and equipping Australia's elite cyclists and Commonwealth and Olympic teams."
To that end, Leggera has recently established a research and design office in the factory of one of the largest carbon frame manufacturers in Asia. "We now have a team of Australian technicians, engineers and designers working with our supplier at the factory" said Leggera CEO Paul Farrell. "This is a significant step forward - being able to design, build and road test new products along with Peter Teschner, Australia's number one frame designer."
Teschner's custom and production bikes will still be made in Australia, however. The merger will bring Teschner's knowledge and experience to Leggera's carbon line, and to the merged company's new line of parts and accessories, but bike lines currently made in Australia will remain so.
The first fruits of the new collaboration will be on display at the Eurobike show, and Farrell is hinting that a track bike will be front and centre. "We have a very exciting prototype monocoque track bike currently under test on the Gold Coast," he said. "The frame is immensely stiff whilst with clever engineering we have managed to produce a frame at a significant low weight that will certainly surprise our competitors and please our customers." The new frame is expected to be available in time for the beginning of the Australian track season.
More info: www.leggerabikes.com and www.teschnerbikes.com